Rokua National Park is not a bad place to stop by for a coffee on roadtrip and walk the dog along its beautiful trails. But I wish I could have spent much more time at Rokua, preferably with a bicycle! Rokua made a good impression on me. The forests were so pretty and clean, the air was fresh in the morning, and the coffee tasted better than ever.
Rokua is an old national park established in 1956. It is located in Muhos, Vaala and Utajärvi municipalities. It's main sights include ancient dunes and impressive kettle holes, as well as the view from Pookivaara hill. Rokua is also a Geopark listed by UNESCO. The Rokua Geopark comprises of Rokua, Lake Oulujärvi and the Oulujoki River Valley.
The best place for a short walk to strech your legs and have a cup of coffee is a fully accessible campfire site by Lake Pitkäjärvi less than a kilometer from the closest parking lot. The family friendly trail to the lake is wide and easy, suitable for all. Dogs should be kept on a leash as usual in the national parks.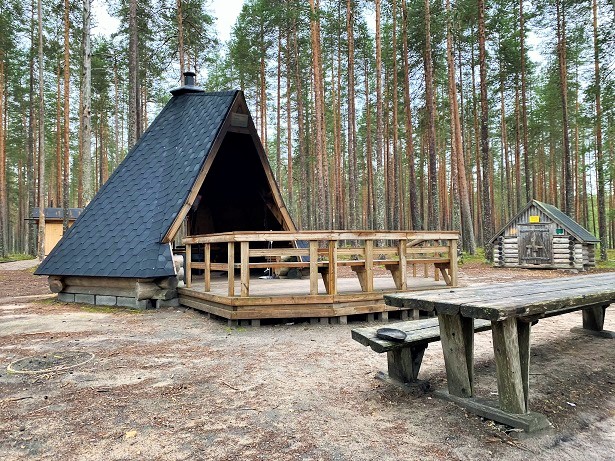 The campsite had a barbeque hut with a flue and terraza, picnic table, firewood shelter and two outhouses. We saw some people camping by the parking lot when we arrived, but no-one was staying overnight by the lake. What a lovely place, all to ourselves!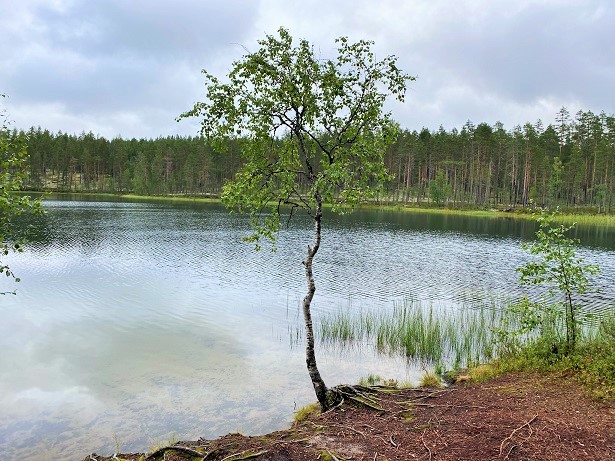 Why stop on a busy and dirty gas station when you can have your coffee break by the scenic lake in the nature? The lake had a sand bottom and it is a good spot for swimming. Nalle can confirm that.
Coffee from traditional kuksa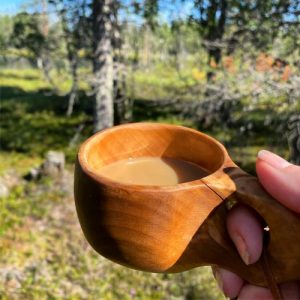 We have received some questions about this wooden cup in our Instagram. Kuksa is a traditional sustainable coffee cup, that many outdoor enthusiasts in Finland like to use. Some even dare to say that every self-respecting outdoorsman should craft the kuksa by themselves and that the only acceptable material for kuksa is birch burl. One interesting fact about kuksa is, that according to Finnish folklore it should never be washed, only rinsed in a river. Read more about the Finnish kuksa.
Trails at Rokua National Park
There are 58 kilometers of trails so slightly more than what we discovered during our brief coffee break. You should note that hikers are recommended to stay on marked trails to prevent erosion.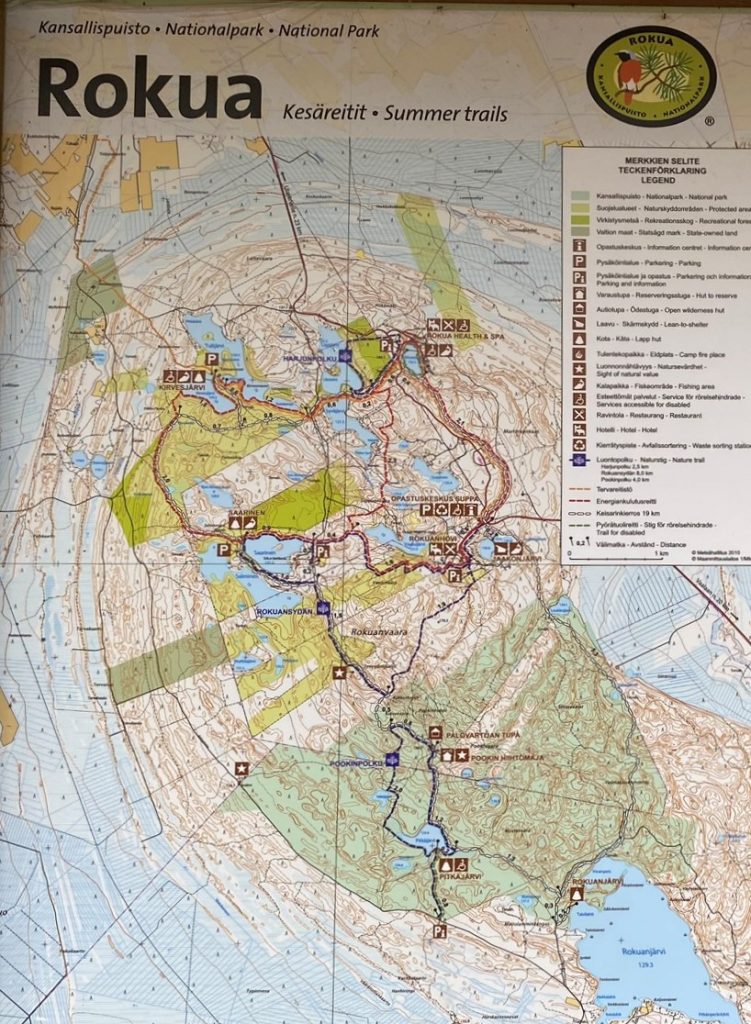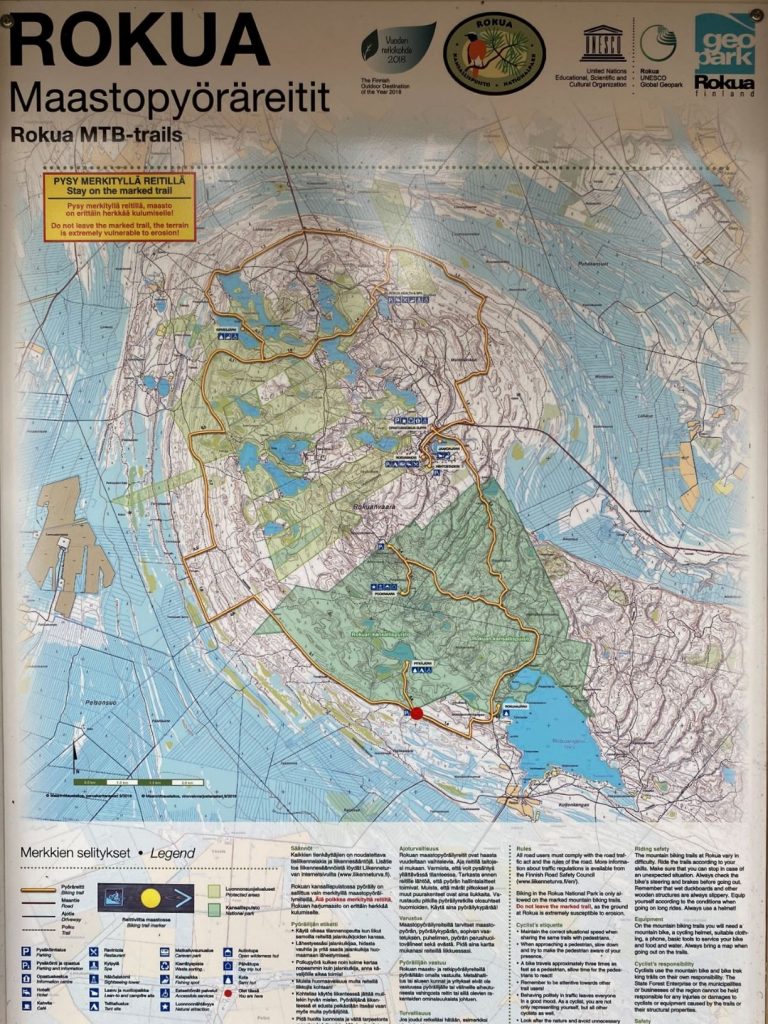 In winter Rokua ski tracks mainly follow hiking trails, but not all parking lots are maintained during the winter. Mountain biking trails are marked separately. All maps can be downloaded also from nationalparks.fi/rokuanp. There are several parking areas and starting points for the trails at Rokua.
Directions to Pitkäjärvi lake in Rokua
Address:
Rokua National Park
Pitkäjärvi parking area
Keisarintie 1742
92810 Vaala
Google Maps on my phone doesn't recognize all names, and it needs an address to find the route. This parking lot was mentioned in thousand places without any street name. I don't think I have ever struggled so much with such a simple route! In the end we just drove towards Rokua and hoped to spot some parking lot along the way. With national parks it usually works as they are pretty well marked. But I found out the street name too, in case you need it: Keisarintie (Emperor's road).
The Keisarintie is Rokua National Park's south border. The road actually has an interesting history. It was built in the beginning of the 17th century to connect castles in Oulu and Kajaani. King of Sweden, Gustav II Adolf, travelled the road in 1622 on his way to Stockholm from a war. It is somewhat confusing that the road wasn't named King's road after Gustav II Adolf, but Emperor's road after Alexander I, who was the Emperor of Russia, but who never actually used the road. Mysterious are the Emperor's roads.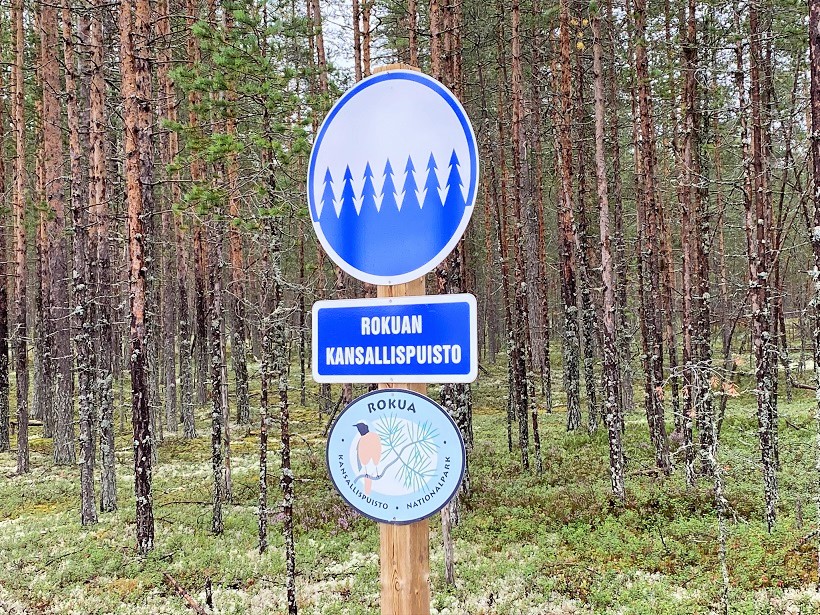 Fun fact: Did you know that all Finnish national parks have their own logo? They include animals, plants or sights that are connected to each national park. Rokua has a redstart in their logo. See the full list of national park logos in Wikipedia. You can purchase the national park batches for example from Nuuksio's Haltia online store.
Read more about all National Parks in Finland or take our fun quiz to find out which Finnish national park suits you the best!
If you've found this article about Rokua in Finland interesting, please share it and click the picture below to Pin It for later!