If you have already checked out the largest and most impressive rapids at Imatrankoski, another great nature place to visit at Imatra is Malonsaari island. Popular among the locals, the peaceful and small 1km-long Malonsaari is one of the many islands located just outside of Imatra. I visited it on a Sunday afternoon, and I gave myself a lot of time to enjoy the experience.
I drove to a carpark on Somertie at Imatra because I felt it was the best place to start off. A little trail without any signs starts off right next to some old boat houses, which sit calmly side to side along the lake shore.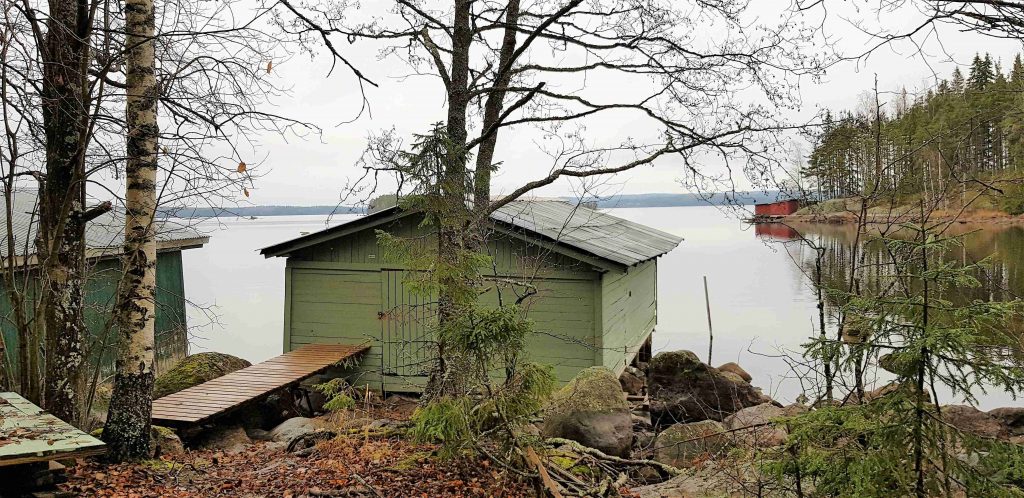 It was a crisp early winter day without any rain but since the trail is just next to a lake, the cobbled rocks on the forest floor were definitely slippery enough to warrant my hiking boots.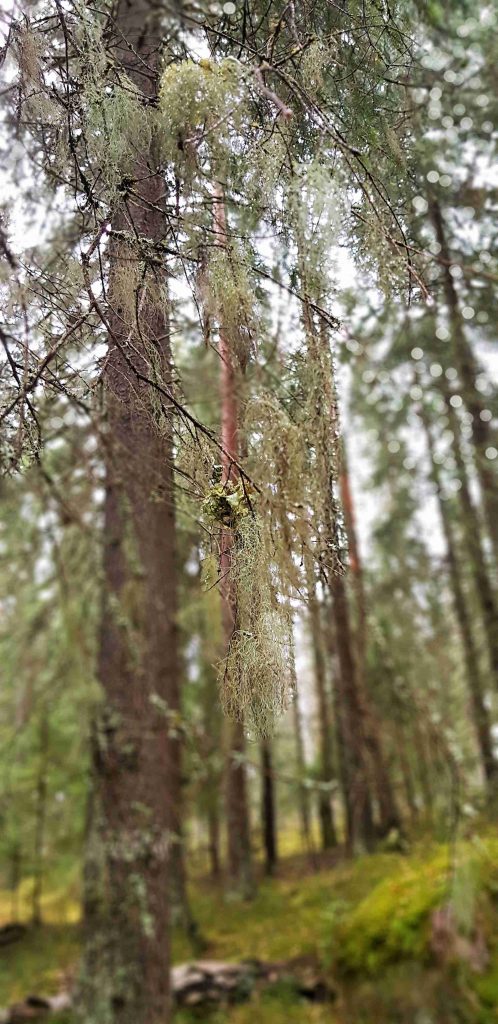 A sure-fire way to know if a nature area is clean or not is to look for usnea, which is also known as "old man's beard" or "beard lichen": usnea is extremely sensitive to air pollution, especially sulphur dioxide, so any area where you find usnea, definitely has very clean and good air. And, lo and behold, there was usnea as far as the eye could see near Malonsaari! I stopped to admire the beautifully fragile and long lichen hanging from the pines and spruces. A perfect place to just breathe in deeply because you know it's good for you.
Going past the boat houses, I soon reached a fork in the path with duckboards leading towards Malonsaari island. Because it was not rainy, the duckboards seemed excessive, but I guess this area would flood easily if the lake surface rises quickly. The path is marked only with blue dots on trees which lead you to the right direction, so finding the duckboards did reassure me that I was going in the right direction. I did end up finding a proper sign for Malonsaari but only when I actually reached the turn for the island itself.
The bridge from the mainland to Malonsaari island is admittely a bit scary. It was only built in 2012, but it has suffered its share of wear and tear: it measures about max. 1.5m (5ft) width-wise and it has a platform in the middle. I made sure I held on to both railings when I crossed it, and at the end I was glad I did: one of the four 2×4 planks had collapsed so I ended up penguin-walking on the outer-most planks until I reached the other shore. Must have been hilarious to watch!
Malonsaari in short
Malonsaari is only about 1km (0.62mi) in length. Unlike elsewhere along the Saimaa lakes, there are no summer cottages on Malonsaari island. This quaint little island offers solitude for everyone but it also means there are no facilities and even the paths are in a more natural state than elsewhere on more popular areas.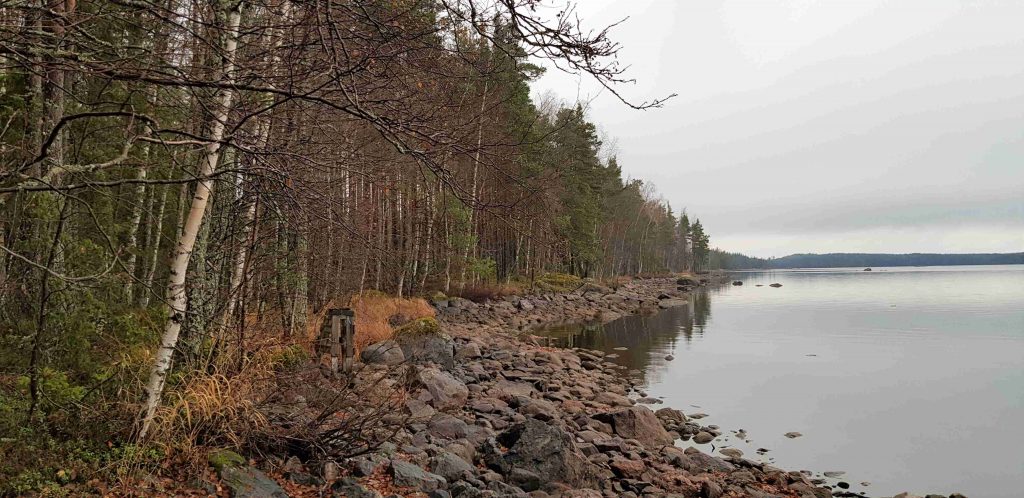 There are also large glacial erratic rocks both by the bridge and then midway on the island. All in all, there are a lot of glacial erratic rocks in this area so make sure you stop to admire them!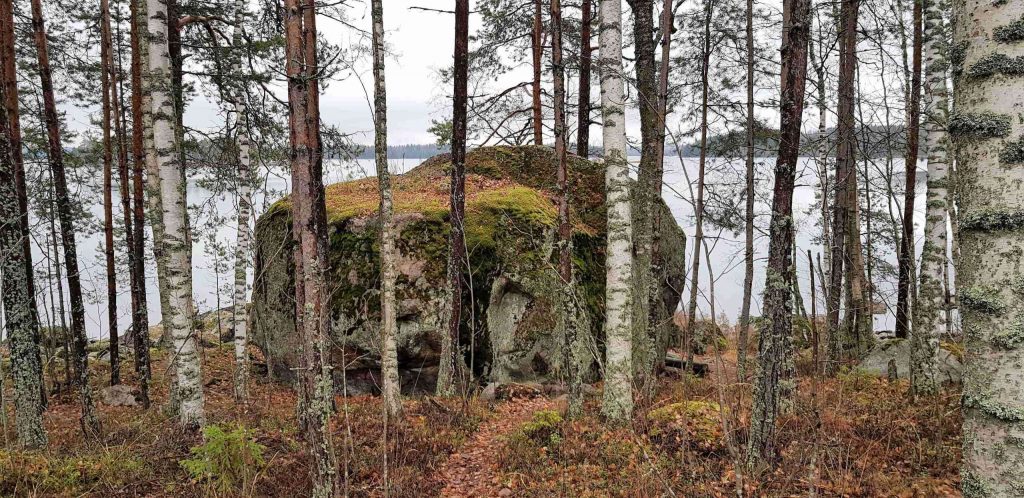 The circular route around the island is about 2.5km (1.5mi) long, and depending on how fast you go, it takes anywhere from 30mins to 1h to walk around.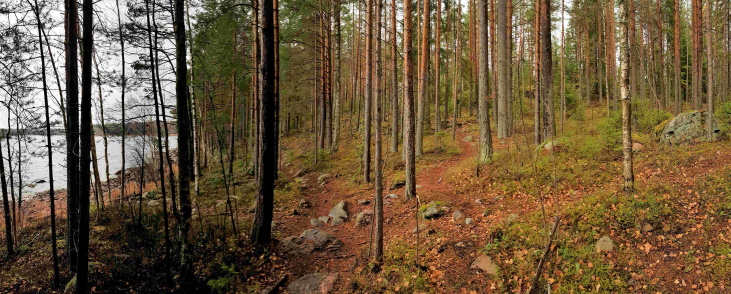 If you wonder why there is a large open patch of field in the middle of the island, it was created in 2013 when clearcut logging was done on the island. These areas may create great areas for raspberry picking, but on small islands on Saimaa lakes, they look devastating. Still, eastern Finland is "promised land" for large bio-industry companies which benefit from the huge swaths of dense forest… and admittedly, Finland has definitely made its fortunes with forests.
From start to finish, my trip to Malonsaari and back to the boat houses took about 1.5h total. What a wonderful way to spend time in the crisp, clean air and by walking under the shady green fir canopies stretching as far as the eye can see.
Directions
Address: Malonsaari, Imatra.
How to get there: You can get to Malonsaari by car, by bicycle or by public transport.
Car: There are two possible areas where cars can be parked.

Shortest walking distance: Somerkuja 9-11, Imatra. This has a larger upper carpark area but there is also a few spots downhill close to the lake shore for cars.
Longer walk: Hosseinlahdentie 139, Imatra. This is next to a restaurant so the carpark may be fuller.

Bicycle: The bicycle routes follow closely to the car route. The cycling route is basically the same road cars use so please take care.
Public transport: The best way to get to Imatra is by train or by bus. The travel time on public transport is about 4h from Helsinki. Check out connections via the train Routeplanner or Matkahuolto for buses. You will have to walk about 3.6km from Imatra centre to Malonsaari (45mins).
Accessibility: The island can only be accessed by crossing quite a narrow bridge. The bridge has 5 steps both ways and is only four (4) planks wide (approx. 1.5m). The island has dedicated trails which are still very rocky at places. Not suitable for wheelchairs, children's buggies, or those hard of walking.
When to go: You can visit the area at any time of the year. Make sure you are careful because there is no winter upkeep (no snow removal) and a lot of the more tricky rocky areas can be hidden by snow. Also note that there are no lights in the area so make sure you visit the area when there is enough light.
What to wear: Hiking shoes are good but normal sneakers will suffice as long as they have a good grip on them. Mosquito repellent in the summer as there are a lot of mosquitoes.
Facilities: There are no facilities in the area. There is a campfire site on the mainland as well as on the island but they can only be used when there is no forest fire warning on. If you want to make a fire, make sure you bring firewood with you.
Things to experience near by
Since you're in south eastern Finland, check out the glacial erratic aka the Kummakivi balancing rock, as well as the Luumäki bolt bunker and forts.