Visiting Porkkala is the perfect way to get to know a lot about Finnish nature as well as Finnish history. The recently improved hiking areas now have even more accessibility for more people to enjoy a place where beautiful seaside cliffs and pine forests meet the glistening sea.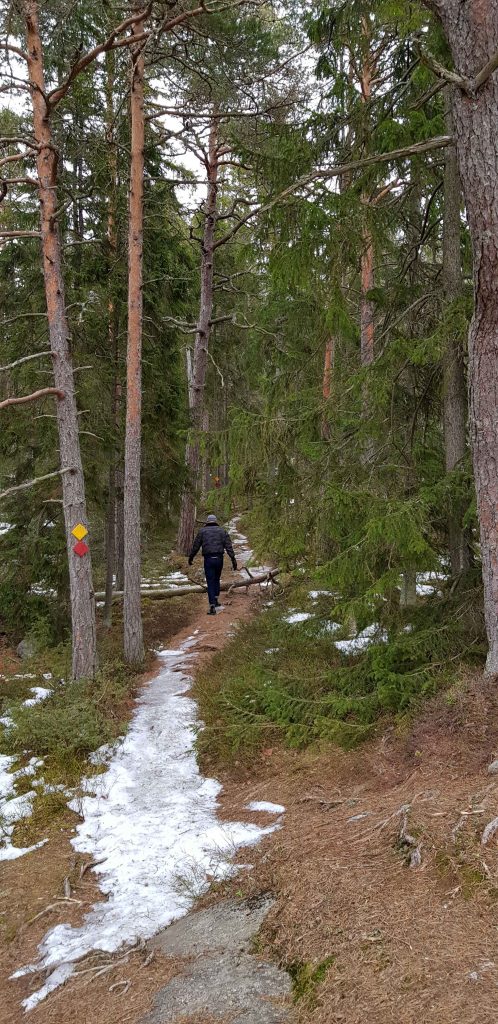 I visited Porkkala with a friend during an especially slippery weekend. The road to Porkkalanniemi was covered in thick ice, and I thanked the creators of studded car tires all the way. We parked our car at the furthest possible carpark and decided to walk the circular Telebergetin lenkki trail (2,2kms). The reason we chose this trail is that it offers the best scenic views over the cliffs (and it also looked the least slippery at the time). I have to admit the route didn't seem particularly accessible to me at the time simply due to the slipperiness of the sloped cliffs.
The trails are relatively well marked with diamond-shaped markers so as long as you keep an eye out for them, you will be fine. We obviously didn't keep a careful eye out for these markers because we were too focused on not breaking our ankles on the slippery cliffs. However, as soon as we got past the worst spots, we were walking on safe and sturdy forest floors past wood sheds and camping grounds.
We even stumbled upon an incredible tiny pond which looked like a creation of magical beings: it had a tiny layer of ice on its edges, and it looked bottomless and serene.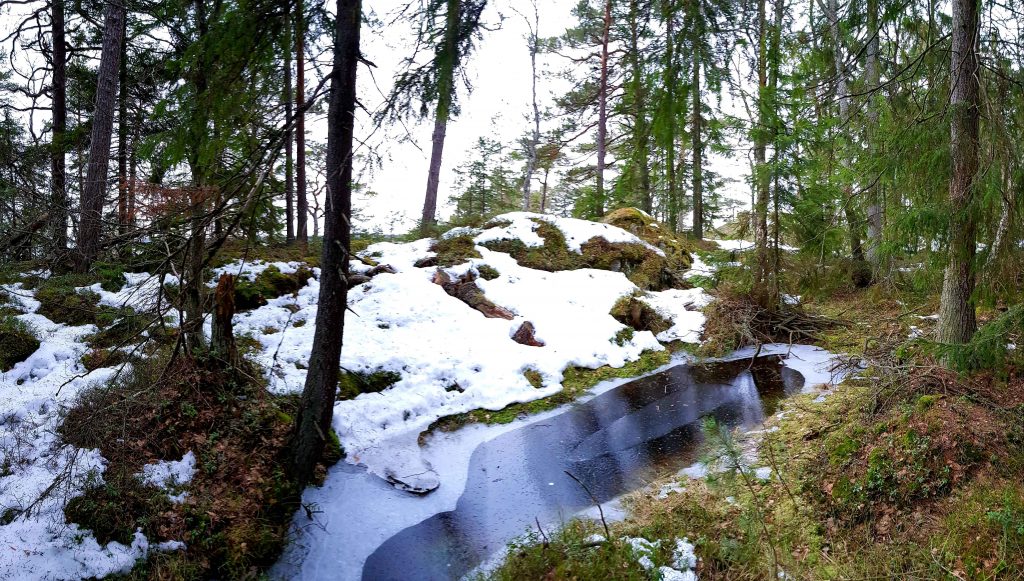 The trails weave through pine forests alongside scenic vistas over the Baltic Sea. Walking past the cooking area (with a flue so it can be used carefully even during forest fire warnings), we briefly stopped by a picnic table overlooking the water. Perfect spot to have a cup of hot chocolate we had brought with us!
We weren't alone in the area but it felt we were… it was so quiet and peaceful. The crisp but surprisingly mild sea breeze only tickled our faces while we watched the steam rising from our hot chocolate.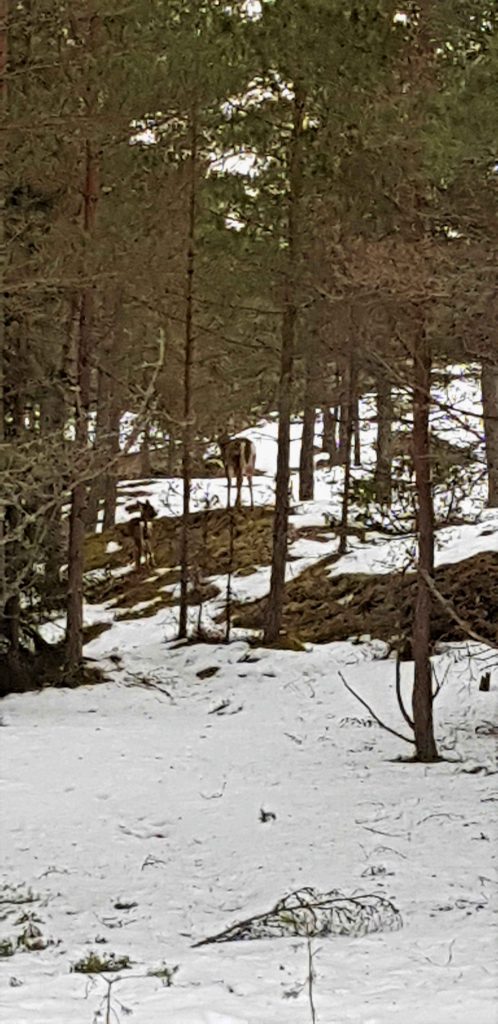 And we weren't the only ones who felt at peace: when we got to an open clearing, we saw four deer quietly munching some liken only about 20m away from us. We stopped to admire the pastoral scene and the fact that these jumpy animals didn't stop their activities even with us watching them. Being one with nature – it felt amazing.
After a few minutes we quietly moved onwards on the trail. When we got to the gravel road leading back to the parking area, we reassessed the remaining strength of our thigh muscles and ended up shortening our trek. Feeling nearly invincible with my metal-studded hiking boots, I bravely walked on the icy road surface whereas my friend wisely chose the thin snow banks alongside the road. Latest at this moment, skidding on the ice, our squeals and laughter most likely scared off the deer but hey, if you can't be free in nature, where can you be free?!
The history of Porkkala
Porkkala area has been inhabited since the Bronze Age, and there are several burial mounds dating back to that era around the popular hiking grounds. These mounds may look simple, just a pile of rocks to an untrained eye, but they are protected by the Antiquities Act (meaning that touching the burial mound is strictly forbidden). The reason for the attractiveness of Porkkala has been due to seal-hunting … which then led to a lot of shipwrecks outside of Porkkala as well.
Porkkala was a national park briefly in the 1930s until 1944: this is when Finland made the Moscow Peace Treaty with the Soviet Union in which the Porkkala area had to be leased to the Soviet Union for 50 years. The reason behind this demand by the Soviet Union was the strategic position near Helsinki and Porkkala also being the narrowest spot on the Gulf of Finland. However, Porkkala was released back to Finland already 12 years later in 1956: due to the advancement in weapons manufacturing, distance and strategic positioning was no longer important to the Soviet Union.
Directions
Address: Omsatuntie 76, Kirkkonummi.
How to get there: You can get to Porkkalanniemi by car, by bicycle or by public transport.
Car: You can write Porkkalanniemen ulkoilualue or Omsatuntie 76 on your navigator.
Bicycle: The bicycle routes follow closely to the car route. The cycling route is basically the same road cars use so please take care.
Public transport: The best way to get to Porkkalanniemi is by train and by bus. The travel time on public transport is about 1,5h total from Helsinki. Check out connections via the Routeplanner. From this bus stop, you will still have to walk about 8,5km (takes about 1.5h) to reach Porkkalanniemi but at least there are some beautiful views along the way.

Closest bus stop: Storkanskog

Take a train to Kirkkonummi, then bus 902 or 902K towards Porkkalanniemi.
Accessibility: The Porkkalanniemi area has been renovated in 2018 to make it more accessible. Not all the routes are wheelchair-accessible so check out the maps in advance if you are travelling with a wheelchair or a children's buggy.
When to go: You can visit the area at any time of the year but bear in mind that due to the proximity of the sea, the seaside cliffs will get slippery during cold times. Make sure you are careful because there is no winter upkeep (no snow removal) and a lot of the more tricky areas can be hidden by snow. You don't want to fall and injure yourself (or worse). Also note that there are no lights in the area so make sure you visit the area when there is enough light. During very slippery times, even the gravel roads leading to Porkkalanniemi will become extremely slippery even though they are generally cleared of snow.
What to wear: Hiking shoes are good but normal sneakers will suffice as long as they have a good grip on them. During winter or slippery times, a good idea would be to wear studded hiking shoes. Mosquito repellent in the summer as there are a lot of mosquitoes.
Facilities: There are dry toilets available along most routes. There are also cooking shelters and campfire areas dotted around. Always remember to take out any rubbish you bring!
Make sure to check out where and when you are allowed to make a fire. Fires can not be lit if the forest fire warning or the grass fire warning is in effect. However, you are allowed to make a fire in cooking shelters or other fireplaces with a shelter and a flue.
You are allowed to camp max. 2 nights in the area. There are a few carparks in the area as well as docking areas for boats.
Things to experience near by
Since you're here, also check out the Lähteelä hiking and camping area just minutes away. You can also visit the striking Högberget erosion cave nearby. Another interesting nature area on the other side of the peninsula is the Kopparnäs-Störsvik nature area.