What are duckboards? Duckboards are wooden walkways that help you to walk in bogs or over muddy areas along nature trails. There are about 500 kilometers of duckboards in public nature trails in Finland. Duckboards can be exciting walkways for children, and they are also a great way to develop your balance at any age. Some of them are narrow and consists of only one plank. In some locations wooden walkways resemble more boardwalks as they are wide and meant for wheelchairs.
Meaning of duckboards
​Duckboards are long narrow wooden boards used to make a path over wet ground. According to dictionaries, the word "duckboard" was created during the early 20th century to describe the boards or slats of wood laid down to provide safe footing for the soldiers of World War I across wet or muddy ground in trenches or camps. Duckboards came by their name because someone walking on wet duckboards was liable to slide off them much like water slides off a duck's back.
Duckboards in Finnish are called pitkospuut. Long in Finnish is pitkä, and wood or tree is puu.
What is the purpose of duckboards?
Duckboards allow you to access areas that would be really difficult to access otherwise, such as bogs and marshlands. They also prevent the soil erosion, so if there are duckboards even in dry locations, they are meant to be used.
Traditional outdoor duckboards in Finland do not include any nails as they are attached to transverse boards by wooden pins. Usually, they are made of pine or larch planks and they last about 10-15 years. Constructing and maintaining them is a costly investment, most often covered by Metsähallitus (Parks & Wildlife Finland), who also manage Finnish national parks. According to them, 1 kilometer of duckboards costs roughly 20 000 euros. That is why they are also using alternative and more durable materials such as steel or composite, which are generally not that liked by hikers or dog owners.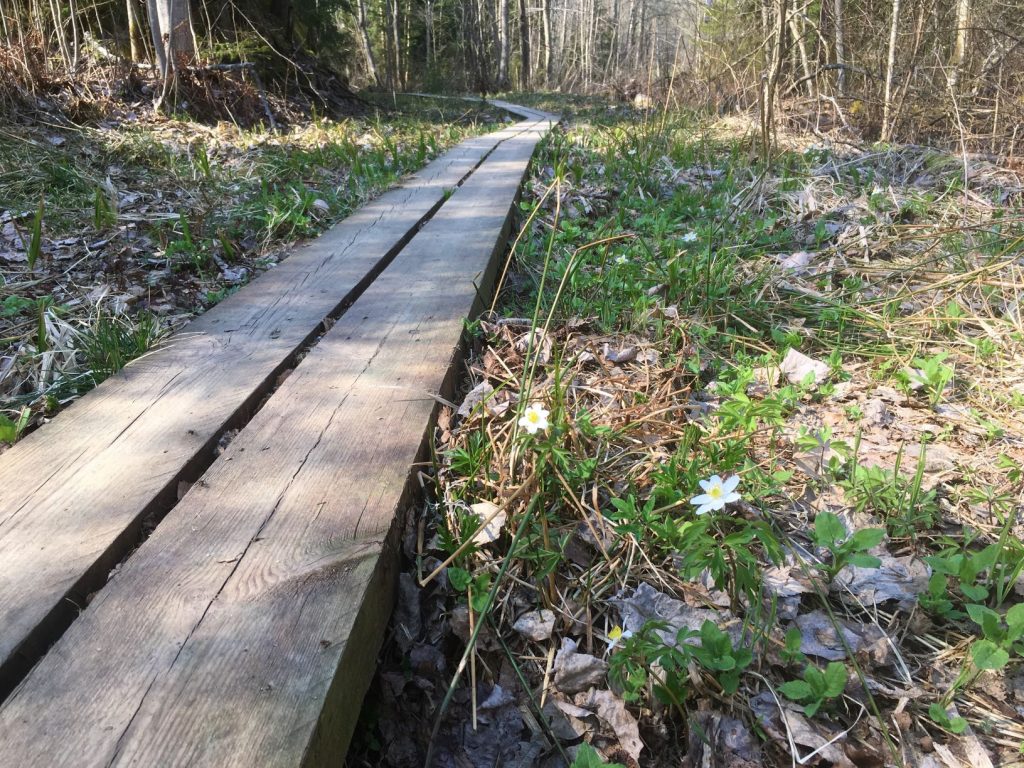 FAQ about duckboard etiquette in Finland
What happens when someone comes in the opposite direction to you?
Check if there is a place for you to safely step off the and let the others pass. Finns are not known for small talk, but in situations like this it is customary to greet fellow hikers and even exchange few words. Believe it or not!
Can you cycle or mountain-bike on the duckboards?
Yes, cycling is part of everyman's rights in Finland. However, cycling can be restricted in protected areas such as many national parks. Some national parks that include official cycling trails are Hossa, Isojärvi, Pallas-Yllästunturi, Syöte, and Nuuksio National Park.
Which one gives way, hiker or cyclist?
General but usually unwritten rule is, that the one who moves faster, gives way. This would mean that cyclists should give way to hikers. For example, in Syöte and Pallas-Yllästunturi National Park there are also signs that state this. In practice, many hikers give way to cyclists especially on the duckboards. This is because it is easier to step aside when you are moving by foot, and it is easier for the cyclist to continue straight on the bike. In any case you should be able to pass each other politely and safely using common sense.
Are dogs allowed on the duckboards?
Yes, but they should be kept on a leash. Make sure that their paws don't get stuck between the boards. Duckboards that are not brand-new anymore can give way widening the gap and therefore be more dangerous to little paws.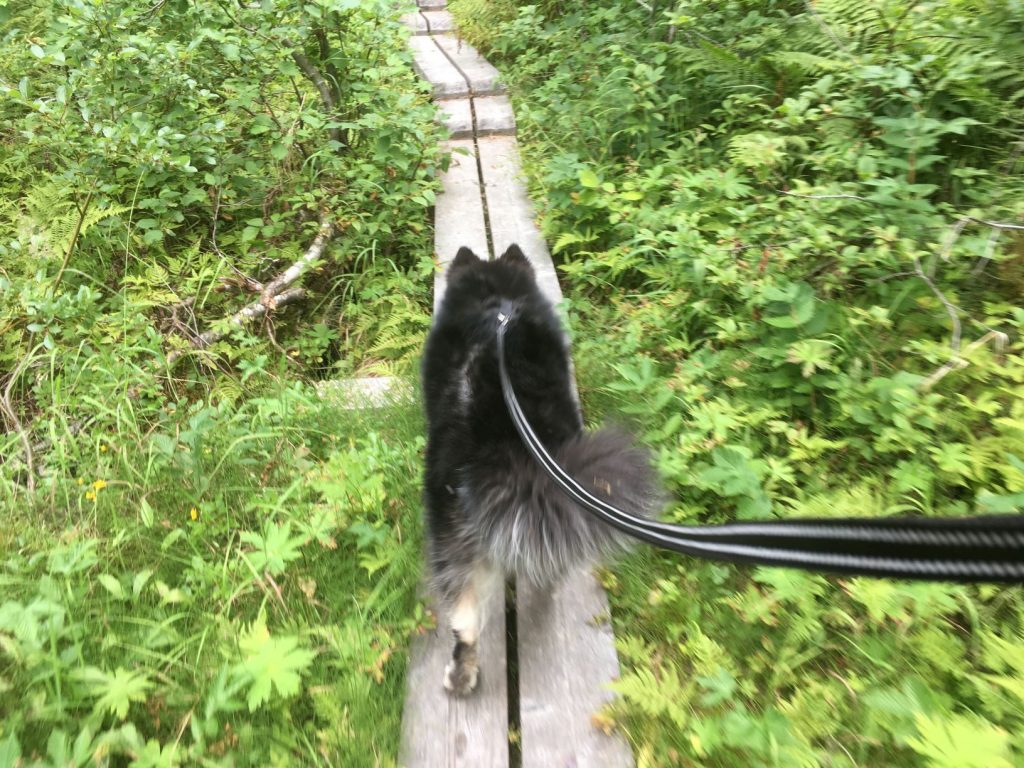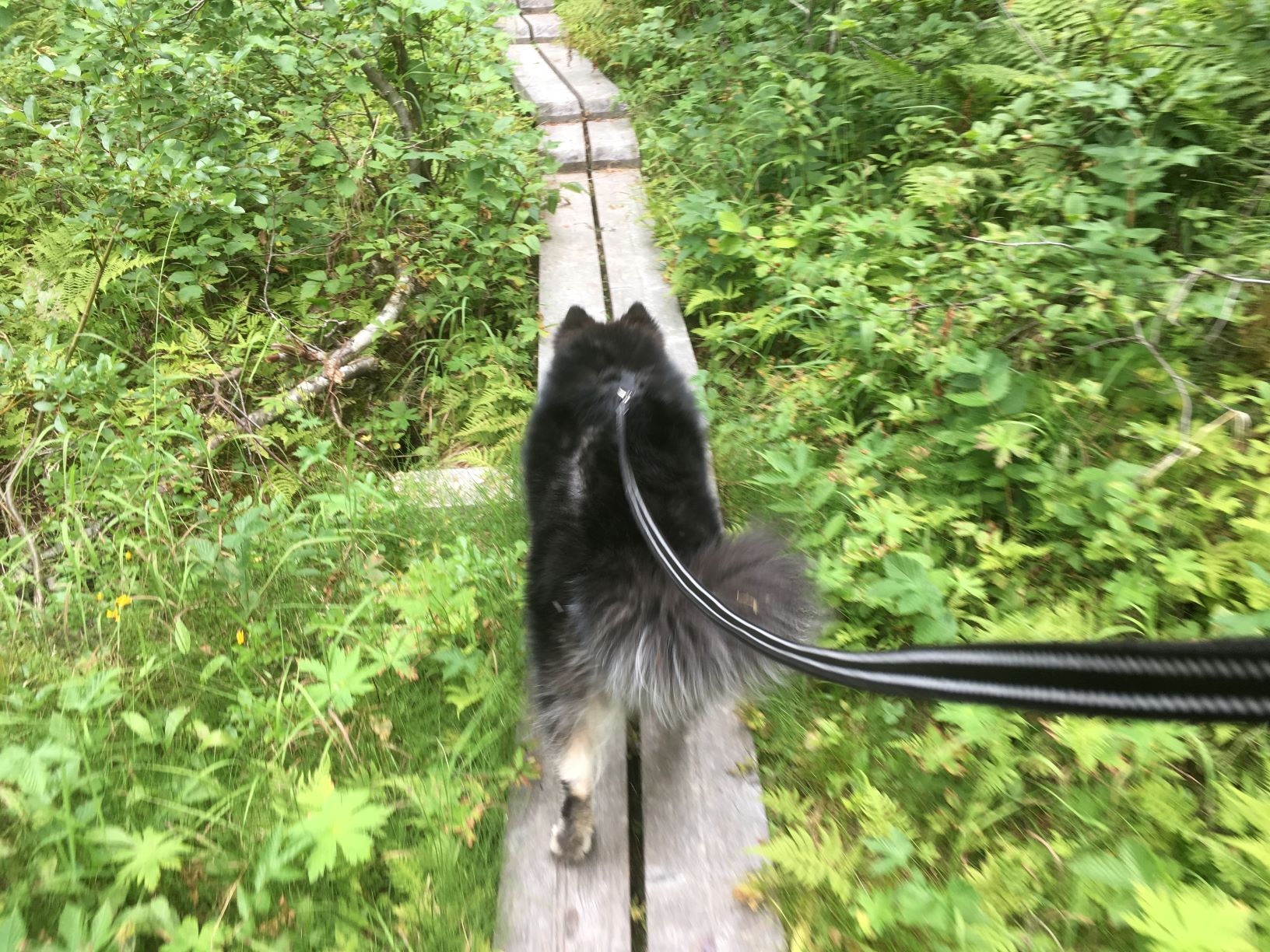 Where to find duckboards in Finland?
You can find duckboards everywhere in Finland and they vary in length. But here are few of our favorites that you can check out.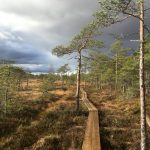 Torronsuo National Park in Tammela has long duckboards that take you over the bog, which is known as the deepest bog in Finland. Torronsuo is suitable for kids and more experienced hikers due to its two circle trails. Short circle trail is 1,5 km long and has recently renewed duckboards for the most part. Longer circle trail at Torronsuo is about 10 km long. Torronsuo is ideal for daytrips, it has a fire place and few birdwatching towers as well. Camping is not allowed.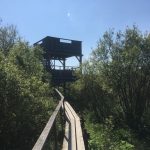 Aneriojärvi nature trail in Salo includes 1,2 km long wooden walkway that has been raised higher from the ground. This nature trail has a jungle like feeling as it leads you to the birdwatching tower overlooking Lake Aneriojärvi. Birdwatching is popular especially during spring migration from April to June and autumn migration from July to September. The wooden walkway is easy to walk with a railing but it has few steep steps in the beginning.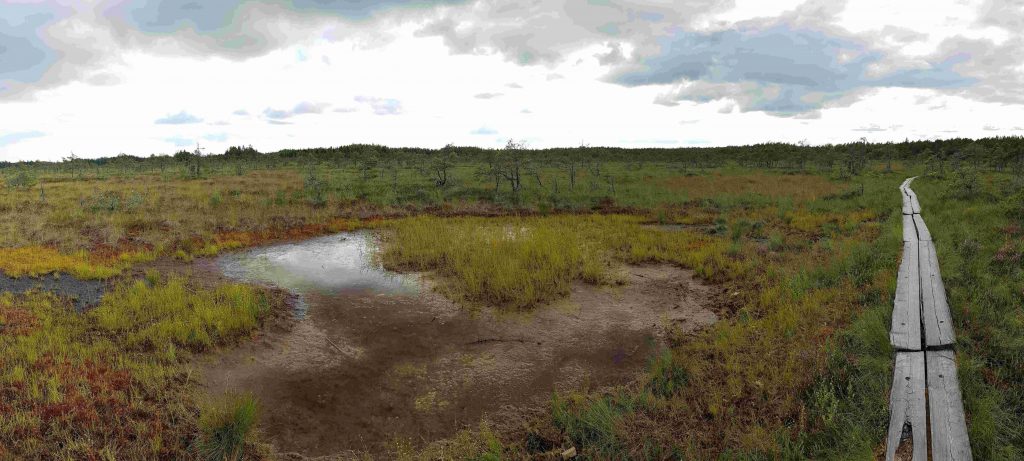 Valkmusa National Park in Pyhtää has one circle trail with duckboards called Läntisen keitaan lenkki, which is 2.3km long. There are six osprey couples at Valkmusa, and you can see their massive nests on top of some trees in the center of the marshlands. The marshes are popular among other species as well: cranes, common redshanks, whimbrels, black grouses, and common pochards.
Koskikara nature trail in Nurmijärvi is about 1,5 kilometers long. The path along Vantaanjoki river takes you through Natura -protected area partly on the duckboards. There are few fire places, an ancient mill site Myllykoski, and a possibility to spot some white-throated dippers.
Martimoaapa is a nature reserve offers nice duckboard trails with several wilderness huts, lean-to shelters, and birdwatching towers along the way. The Martimoaapa mire is located in the Northern Finland in a small village called Simo.
Where are your favorite duckboards located?