Evijärvi municipality has built a lovely 4km nature path at Jokikylä, which runs alongside a former log driving river called Tervareitti (Tar route). This easy nature path goes by two names: the Jokikylä nature path and the Uittomiehen lenkki (the Log Driver's route). Nowadays, the Tervareitti log driving river route is used for canoeing but interestingly, there is also a training site for log runners nearby!
Duckboards and bear caches
Most of the Jokikylä nature path has been built on top of a forested swamp. Large parts of the path go along duckboards, which may or may not be to your liking. This shouldn't be a surprise, though. The Ostrobothnia region (Pohjanmaa in Finnish) is famous for its swamps, and it could very well claim the title of the swampiest region in Finland. Apparently over 31 % of Southern Ostrobothnia (Etelä-Pohjanmaa) is covered in various types of swamps!
But, it's not just duckboards all the way. There are more forested patches along the route as well. The top loop runs along Nöörpakankangas pinelands. In the middle of the route is a lean-to shelter and a fireplace with a chimney. There is also a wonderful bear cache (niliaitta in Finnish) near the lean-to shelter. These bear caches are tiny storages built on top of poles to prevent wild animals from reaching the stored goods. There is also a statue representing a log runner preparing logs for the river near the lean-to shelter.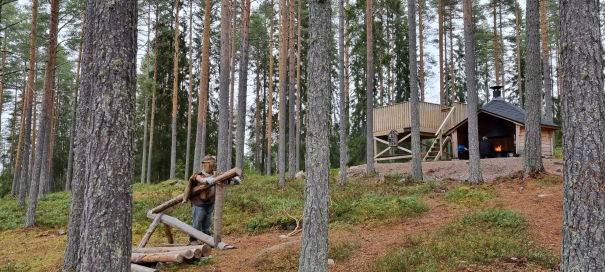 The path veers off a wider forest path onto duckboards soon after the lean-to shelter. Thankfully the nature path is well marked with yellow markers. The route alternates from duckboards to proper pinewoods until the path reaches Evijärvi lake and an observation tower. If you're into bird-watching, this is a good spot in the spring.
Multipurpose river routes
Jokikylä literally means "river village" in Finnish. For a while, the Jokikylä nature path goes alongside Välijoki (The In-Between river), which connects the Lappajärvi crater lake to Evijärvi lake. These rivers are popular among paddlers even though the Hanhikoski rapids are a bit challenging. You can check out more about the Tervareitti (Tar route) canoeing route here. It's also possible to do some fishing and angling here, so check out fishing permits and best spots here.
Directions to Jokikylä nature path
Address: Type Uittomiehentie 35, 62500 Evijärvi on your navigator. Alternatively, you can also type in Jokikylän luontopolku.
Car: There is a free parking area that fits about six cars.
Bicycle: There is no official cycling path but the smaller roads run through picturesque countryside villages, so the views are worth the sweat.
Public transport: We admit that public transport to Evijärvi is not good. First, it's best to get yourself to Seinäjoki by train, from where you can catch a bus towards Evijärvi. Then, you have to catch another bus from Evijärvi school centre (Evijärven koulukeskus). Lassila is the closest bus stop to the Jokikylä nature path. Check out timetables for the Evijärvi-Lassila bus from Route planner.
Map of the nature path: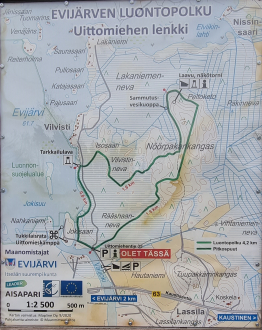 Accessibility: The Jokikylä nature path is not accessible. The area has some well-worn paths but the terrain is varying with a lot of duckboards.
When to go: You can visit at any time of the year. In the winter, the duckboards get dipped in water and can get very slippery. Make sure you wear your studded shoes and maybe take Nordic walking sticks with you, too.
What to wear: Studded shoes during the winter/slippery season. If you visit during the autumn, remember that there may be / will be deer keds.
Facilities: There is a fireplace with a chimney in the area so you can use the fireplace carefully even when there is forest fire warning on. There is no toilet in the area.
Make sure you also check out
Check out Menkijärvi dugout and the Suokonmäki observation tower at Alajärvi as well as the Lappajärvi crater lake.