Rumavaara is a hill that overlooks Korentojärvi lake in Pudasjärvi municipality in the province of Oulu. Pudasjärvi is famous for its nature, and it is home to Syöte, the southernmost fell area in Finland. In order to reach Rumavaara, you have to cross the devil's field first!
Rumavaara literally means ugly hill, and earlier it used to be called dick hill. Perhaps people thought, that the devil's field makes this whole place ugly, but the views from the top of Rumavaara, especially overlooking the lake, are anything but. It is also a short hike and relative easy climb to the top of the hill from Rumavaara lean-to shelter. I heard they are planning to build a viewpoint on top of Rumavaara, so perhaps this will be more popular destination in the future.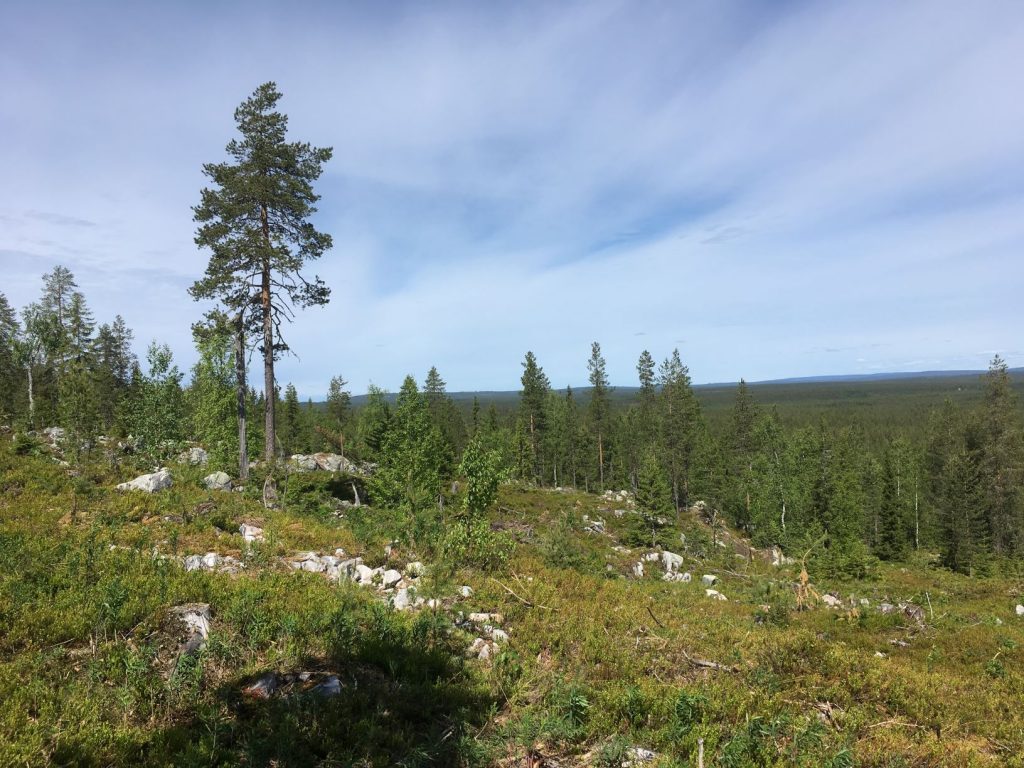 The Rumavaara lean-to shelter and trail to the top
The shortest trail (800 meters, marked with green paint) to the devil's field and Rumavaara departs by the shelter, near the road. There is a signpost directing to the top of Rumavaara (Rumavaaran laki). From Rumavaara the trail continues back to the same road and you are also able to find this trail from the road as there is a signpost at that end too. In the map below, the black line is the road ending to a little circle, and dotted lines are trails. Laavu = lean-to shelter.
The Rumavaara lean-to shelter has dry toilets and firewood provided for overnight stay. Before setting the fire, remember to check that there is no active forest fire warning from the Finnish Meteorological Institute website. We take that warning seriously and so should you.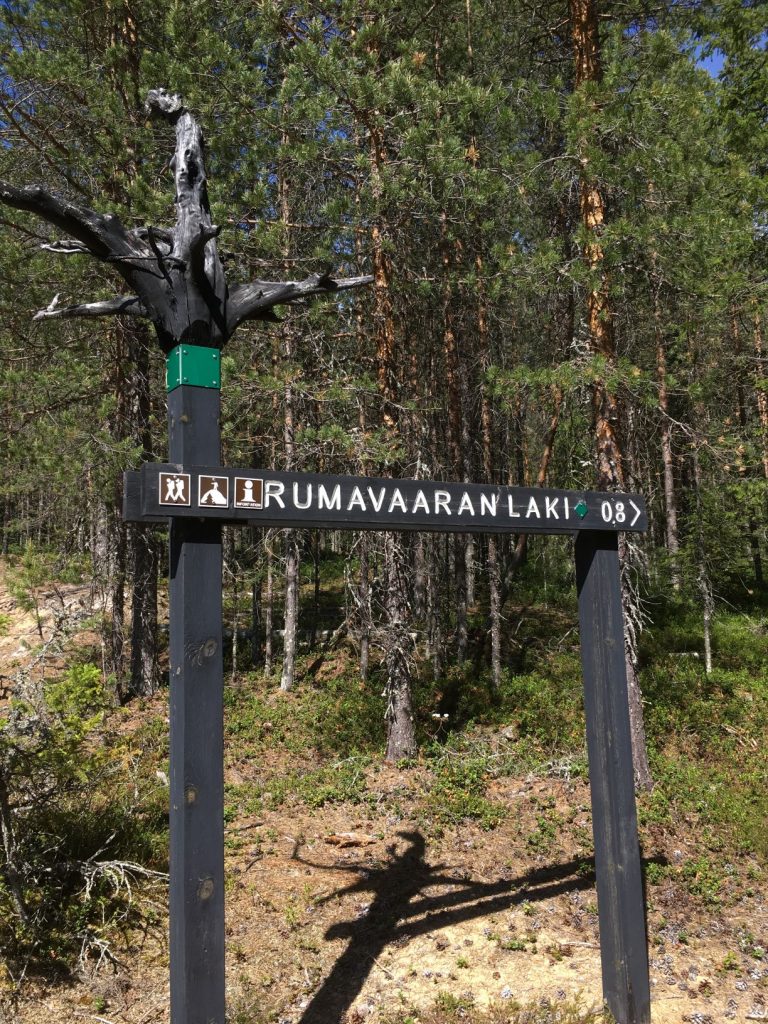 Trekking trail Kannonnousu passes Rumavaara
The trail passing Rumavaara is part of 68 kilometer long Kannonnousu trail, also known as Syöte-Kurenalus trail. This trail is marked with orange paint, and Rumavaara shelter is a popular resting location near this trail.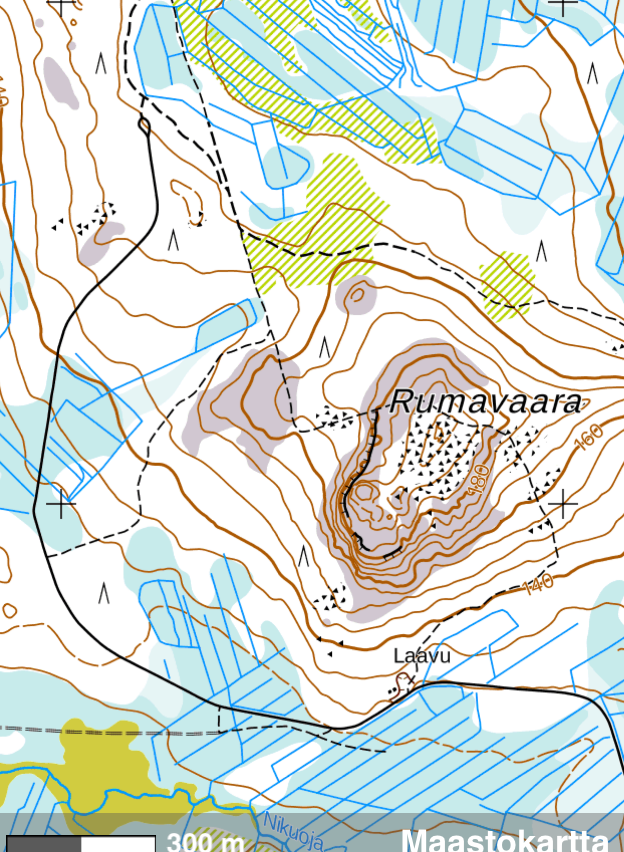 Devil's field in Finnish mythology
The devil's field is quite difficult to walk on, and it's a lot bigger than it seems in my photos. This is only the beginning of it. It is originally an ancient beach, but the name 'devil's field' originates in the belief that the devil was responsible for creating these boulder fields. In Finnish mythology the devil, piru in Finnish, was believed to be opposite of God, making everything in opposite way and cultivating crops in boulder fields. Or just being angry and throwing rocks on the fields. The mythology is strongly present in Finnish nature, as you may have seen in our previous stories on this site. Read for example about gnome's rocks in Kittilä, Pakasaivo lake in Muonio, or mysterious giant's kettles in Askola.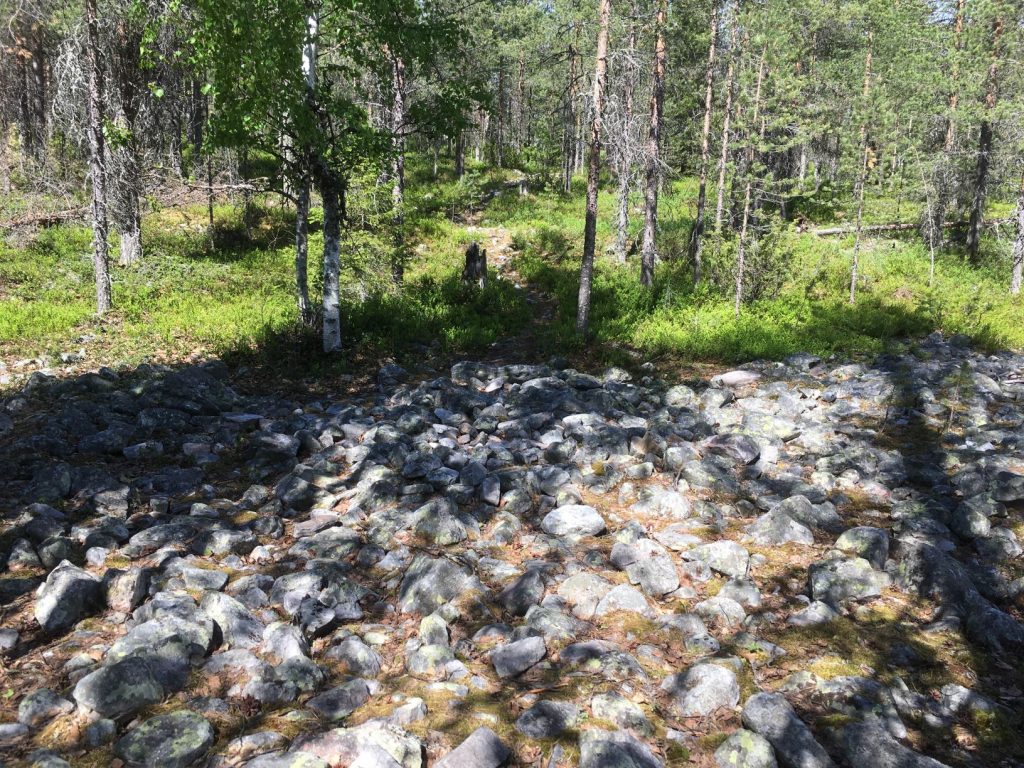 Directions to Rumavaara lean-to shelter
Lean-to shelter coordinates:
65.386948, 27.401501
How to get there:
Car: Set Rumavaara's lean-to shelter's coordinates 65.386948, 27.401501 in your navigator. If you are arriving from Kuusamontie (road 20) between Pudasjärvi and Kuusamo, turn south to road 78 towards Puolanka and drive approximately 5,1 kilometers. There is a small forest road on your left without any signs or name. Continue this little road about 4,2 kilometers to reach the lean-to shelter of Rumavaara on the right side of the road. If you continue this road till the end, you have reached the trail, which goes pass Rumavaara. You are able to turn back at the end, but there's nothing else there. Map below shows you the little road to Rumavaara and partly around it.
Bicycle: There are no specific pedestrian or cyclist roads in this area so you will have to cycle next to the road.
Public transport: The public transport schedules can be checked in Matkahuolto website. There is a daily bus from Pudasjärvi to road 78, passing the intersection to Rumavaara. The closest stop is called Penttilä, but it's about 1,8 km before the intersection, meaning that the walking distance to the shelter is 7 km.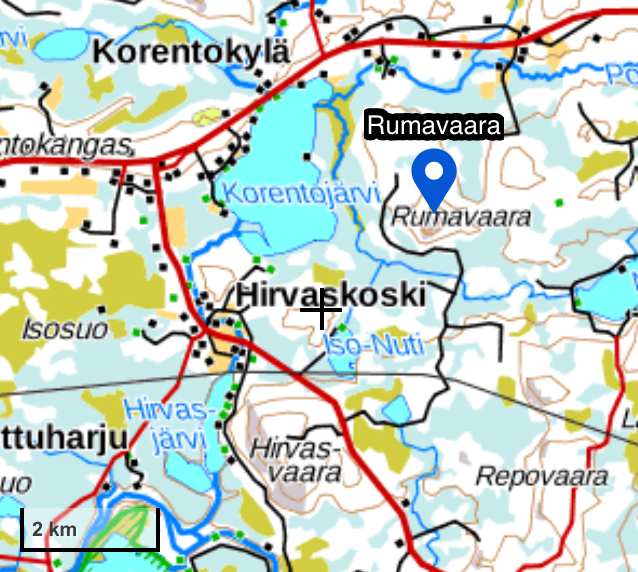 Accessibility: The Rumavaara is not accessible to people with limited mobility or to any wheeled vehicles such as children's buggies or wheelchairs. There are many rocks on the trail near the devil's field. The lean-to shelter is right next to the road.
When to go: You can visit this area when there isn't any snow on the ground from May until mid-November, because I don't think there will be any snow removal for this small road in the winter. I recommend summer months June-August.
What to wear: Mosquito repellent in the summer as mosquitoes nearly killed me when I was here. I also recommend hiking boots, because wearing sneakers on the devil's field might lead to a sprained ankle.
Special to remember: Reindeers live in this area and if you are lucky, you might spot them or they might even wonder to the shelter. Reindeers in Finland are wild or semi-domesticated, which means that even though they are wondering around freely, they quite possibly belong to reindeer herders. Both male and female reindeer have antlers and they make new antlers annually. Beware of large male reindeers as they could be aggressive in the autumn during the rutting season. Usually reindeers just walk away from people, like this fellow who we met at Rumavaara. He's wearing a collar with a tracking devise. Little spy!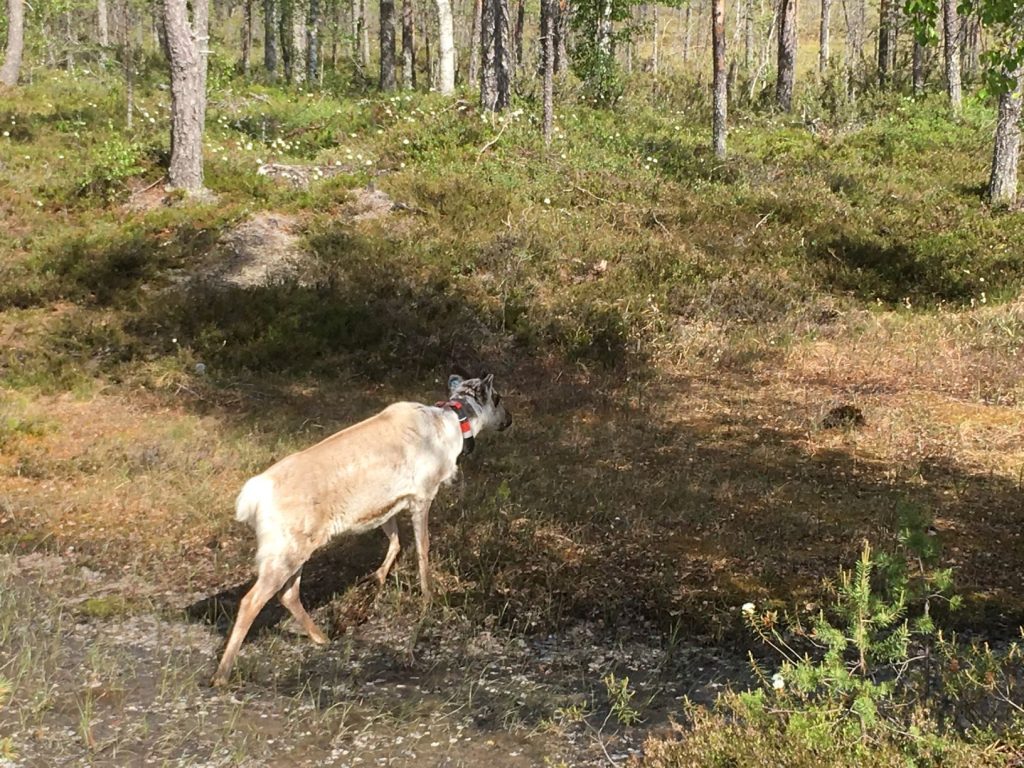 Also visit nearby
While you are in the area, check out Hepoköngäs, the largest free waterfalls of Finland in Puolanka. Hepoköngäs is about 80 kilometers south from Rumavaara.