Everyone knows Finland is a flat country. In fact, Finland is known for lakes, winters, and not being Norway when it comes to views. Ostrobothnia in particular is as flat as a Finnish pancake. So my expectations were not very high, when I visited Suokonmäki observation tower this summer.
The Suokonmäki observation tower is located in Lehtimäki village in Alajärvi. The area is known as the Switzerland of South Ostrobothnia, but I suspect those who gave that nickname haven't been to Switzerland… Anyhow, the views turned out to be pretty beautiful. I think I could even see famous Lappajärvi meteor lake in the north. Lappajärvi is Europe's largest crater lake, formed from a 23 km wide meteorite impact crater, which is estimated to be 76 million years old.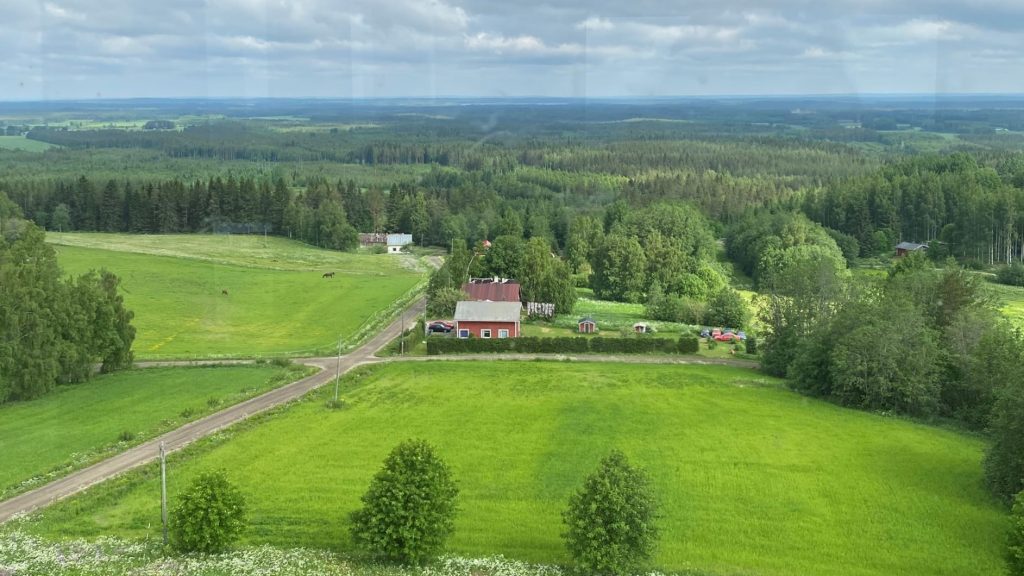 The tower was built in 2001 by volunteers of Suokonmäen Seudun Kylät association. This is actually the third observation tower in this location, so not quite as old as Lappajärvi. It is just over 30 meters high and sits on a small hill roughly 230 meters above the sea level. I was particularly fond of the architecture of the tower. The stairs felt safe to walk, all 132 steps of them, but I didn't like the glass windows at the top. Maybe it has been closed with windows because of birds.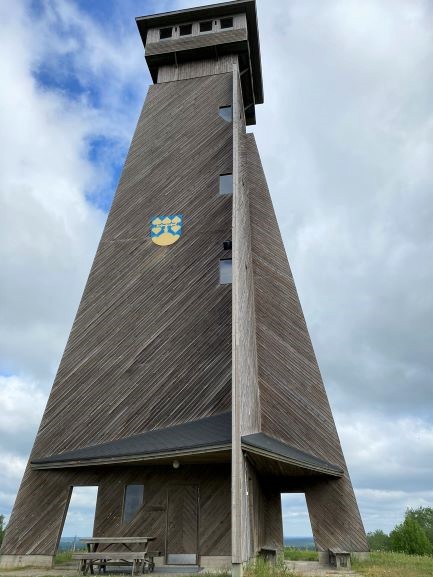 The Lehtimäki area had some settlements already in Stone Age between 7400 and 4300 BC. That is around the same time as Suomusjärvi culture, when Finland was being freed from the ice and the emerging land areas were being colonised. Permanently Lehtimäki area became inhabited much later in the 16th century. Another interesting historical sight in Lehtimäki is its wooden church, that was built in 1800. The address for the church is Kirkonmäentie 24, it's located about 6 kilometers south from the tower.
Directions
Address:
Suokonmäen näkötorni / Suokonmäki observation tower
Suokonmäentie 69
63540 Alajärvi
How to get there: The Suokonmäki observation tower is located about 40 kilometers north from Ähtäri and 30 kilometers south from the centre of Alajärvi. It is best reached by car or by bicycle.
Car: From route 68 between Ähtäri and Vimpeli, turn onto Hernesmaantie route 7069. In 300 meters turn left onto Suokonmäentie. You won't miss the observation tower on your right.
Bicycle: The cycling routes are the same as vehicle roads.
Accessibility: The tower is not accessible for all.
Facilities: There is a small parking area near the observation tower, and a picnic table outside. Visitors of the tower are recommended to sign the guest book. Do not leave any trash on site, and respect the neighbours by limiting your visits to daytime. A small building next to the observation tower is an outhouse available for the public.
Special to know: The observation tower is sometimes used as workout stairs by the locals. How fast can you get to the top?