Cranberries are said to be the world's healthiest food. This is of course open for debate, but nobody can deny that cranberries have very good fiber content, very low sugar content, and they are known for their concentration of antioxidant and anti-inflammatory phytonutrients. This superfood grows in bogs and the best part is that in Finland anyone can go and pick them.
How to find cranberries?
I have recently been picking the berries at Torronsuo National Park. In some years bogs have red mats of cranberries, but in some other years like this year they are harder to find. Once you stop and start staring on the ground, you began to see the world through berry-pickers' eyes.
At first I didn't see any, but the berries were right there by my rubber boots, hidden in the moss and under the grass. When I kneeled down to pick the berries, I suddenly see many of them. I pick as many as I can in this spot and stand back up to flex my back. When I'm standing upright, I suddenly don't see any berries at all. Where did they go? The dark red berries seem to vanish because their branches are so low on the ground and they don't grow in high bushes like many other berries.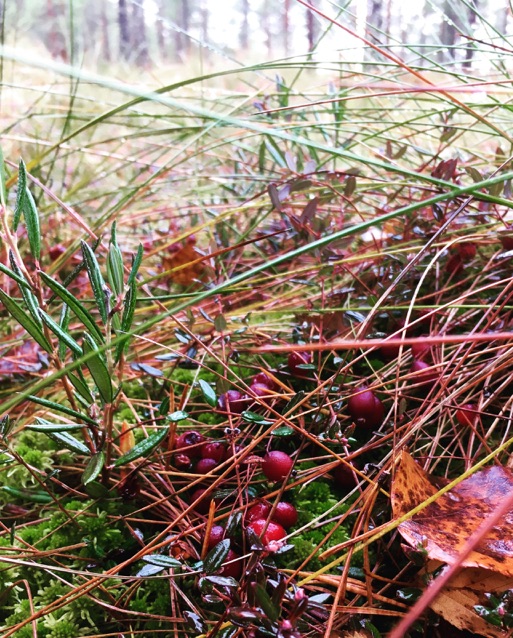 We have two types of cranberries growing in bogs, Vaccinium oxycoccus and smaller Vaccinium microcarpum. Both are common and get mixed in your bucket when you go picking the berries. It doesn't matter as both are edible. The smaller ones can more often be found in northern parts of the country. Cranberries ripe at the end of September or early October and they can be picked until snow covers the ground. Freezing temperatures make bogs easier to walk on, and many prefer picking cranberries after few cold nights as temperatures below zero take away some of the bitterness in the berries. You can also go pick cranberries in spring after the snow has melted. I highly recommend picking cranberries, if you have never done it before. A small amount of cranberries is enough to be used in salads, sauces, or side dishes.
In Finland cranberries are valued because they are high in vitamin C, actually they contain it twice as much as lingonberries. Studies have also shown the ability of cranberry phytonutrients to raise the overall antioxidant capacity in our bloodstream and to help reduce risk of oxidative stress. Fresh ripe cranberries can be stored in the refrigerator for approximately 3 weeks. Refrigeration will help preserve their overall quality as well as their vitamin C content. Once frozen, cranberries will keep for 6–12 months.
While cranberry is one of our most important berries and it is used in food and cosmetics, many of us could still improve our eating habits and consume more of it.
Some ideas for enjoying the berries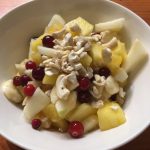 – Take advantage of cranberries' tartness by using them to replace vinegar or lemon in your green salads
– For a quick fruit salad mix 1 cups of fresh berries along with some fresh pineapple, 1 sliced orange, 1 sliced sweet apple, 1 sliced banana and a handful of crushed cashews or walnuts
– Add color and variety to your favorite baking recipes such as muffins or cookies by using dried unsweetened cranberries
– Sprinkle a handful of dried unsweetened cranberries over a bowl of porridge or any cold cereal
Do you have any good recipes for cranberries? Other than cranberry vodka.
Read also our other posts about wild berries in Finland:
Blueberries are the superfood of Finland
Cloudberries are the real gold of Lapland
Food from the nature – luscious lingonberries