There are a variety of mire types at Martimoaapa, Lumiaapa and Penikat mire reserve to explore. This nature reserve offers nice duckboard trails with several wilderness huts, lean-to shelters, and birdwatching towers along the way. We visited Martimoaapa at the end of July with Nalle. Remember, that dogs should be kept on the leash on the nature trails.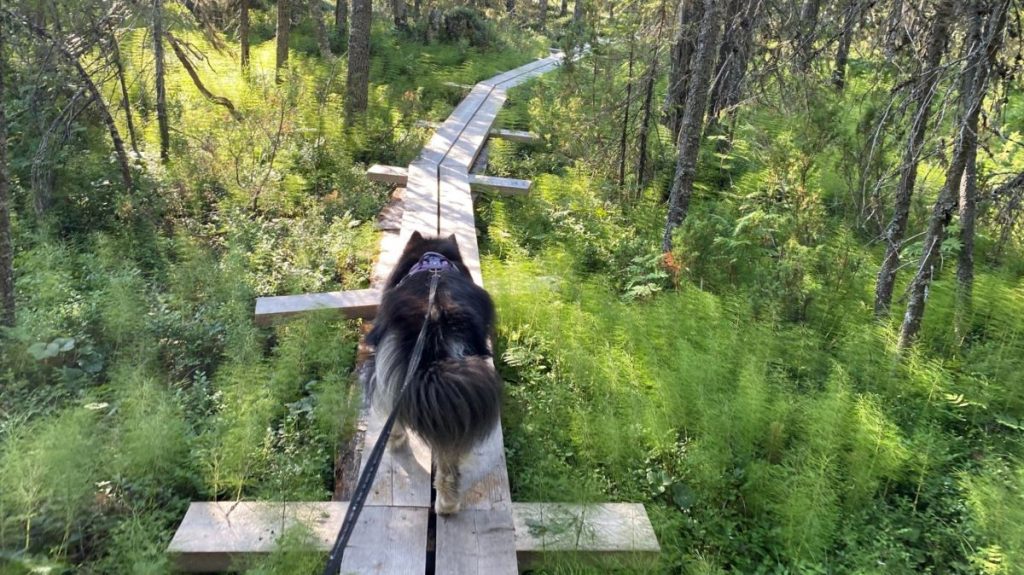 The nature reserve consists of Yli-Penikka, Keski-Penikka, and Ala-Penikka (alltogether Penikat) forest areas and hills, Martimojärvi lake, and Martimoaapa, Lumiaapa, Kivalonaapa, Järviaapa, and Simoskanaapa mires. Sompujärventie road cuts through the nature reserve. Out of these mires, Lumiaapa and Simoskanaapa offer open, treeless views. Järviaapa differs from these other aapa bogs as the vegetation there is dependant on rain water. After a long rainless season the mire seemed very dry. The absolute gem of the area is Lake Martimojärvi in the east part of the reserve.
Birdwatching is not Nalle's cup of tea, but someone more patient could be able to spot cranes, whooper swans, arctic loons, red-throated divers, willow warblers, pipits, yellow wagtails, capercaillies, grouses, geese, and many types of hawks and owls. Nearly a hundred bird species nest in the area.
Trails at Martimoaapa
Good starting points for hikes are either Kivalot parking area in Keminmaa or Hangassalmenaho parking area in Simo.
Circular 3-kilometre-long nature trail is suitable for children and starts from the Hangassalmenaho parking area. It is recommended that you walk the route clockwise. The trail passes a small birdwatching tower overlooking Järviaapa mire.
Circular Järviaapa Trail, 9 km, encircles the Järviaapa mire and also departs from Hangassalmenaho. There is a lean-to shelter and a birdwatching tower by the Järviaapa trail. The trail starts from the Hangassalmenaho parking area and for the first 4,4 km takes you along Martimoaapa hiking trail. In Poropellonaho, the Järviaapa Trail branches off to the right.
12,8-km-long Martimoaapa hiking trail from Hangassalmenaho to Kivalot passes Koivuselkä and Saunasaari wilderness huts located along the trail. Most of the trail, approximately 8,5 km, is duckboards.
Keski-Penikka observation tower trail is demanding but short trail taking you to the top of Keski-Penikka hill and to the third birdwatching tower in the area. The easiest way to reach it is from Jääkärikämppä day trip hut near Kivalot.
36 km long Lautiosaari – Puukkokumpu trail serves as hiking trail in summer and skiing trail in winter. Kaltiolampi wilderness hut is located along the skiing trail.
Snowmobile track, which starts from Kemi, joins the Ranua – Rovaniemi trail and passes through the western part of Martimoaapa.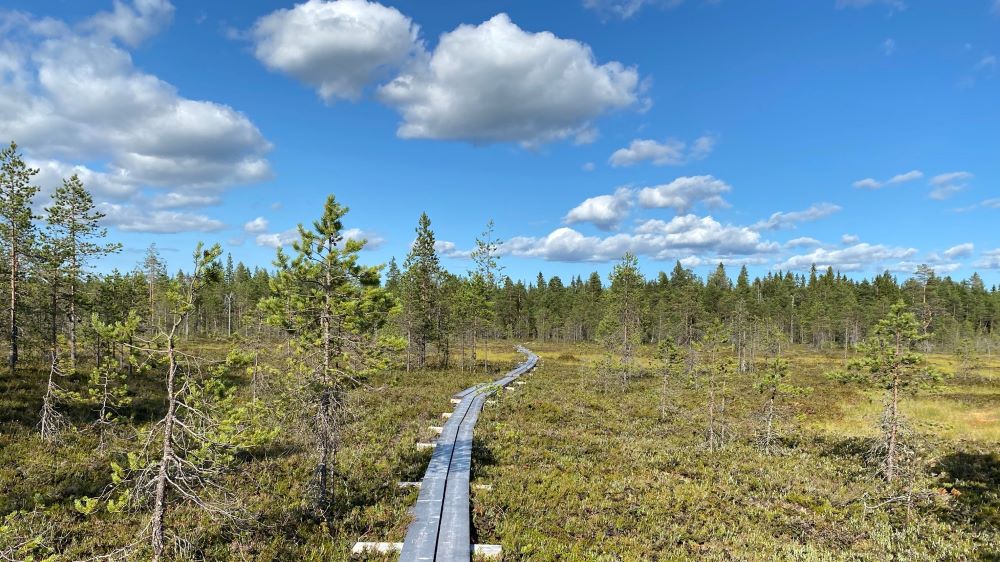 Some people were picking cloudberries from the bog, some had come to photograph birds, and some were obviously heading to the wilderness huts to camp overnight when we exploring the trails on a day trip. It was a sunny and warm day, but not too hot for Nalle to walk on the duckboards. Some mosquitos attacked us in the forest, but dissapeared in the open areas due to light breeze.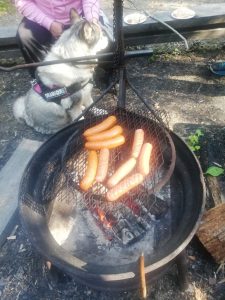 Cloudberries ripe in this area at the end of July and picking of berries and mushrooms is permitted in the reserve. One good location for that could be the north side of lake Martimojärvi. I also saw many berries right next to the duckboards near Järviaapa. The picking season is very short, making this berry a highly valued delicacy in Finland. Read more about them from our earlier post: Cloudberries are the real gold of Lapland.
We have been suffering from a heat wave in Finland for most of the summer. That means, that forest fire warning has been in effect and it has been forbidden to make a fire along the nature trails. This time there was no forest fire warning in Simo, so we barbequed sausages for lunch. Nalle made a new friend at the fireplace and shared a water bowl and a sausage with her. What a picnic!
Directions to Hangassalmenaho in Martimoaapa
Address:
Hangassalmenaho parking lot
Sompujärventie 31
95200 Simo
How to get there:
Car: Hangassalmenaho parking lot is easy to find as it is located right next to Sompujärventie road. Take into consideration that it is located about 29 kilometers northeast from Simo. The Kivalot parking area is also located about 30 kilometers from Kemi. See a map of the area on Metsähallitus website.
Bicycle: Cycling route is the same and there are no special cycling lanes.
Public transport: The area is not easily reached by the public transport, the closest bus stop is in the village of Alaniemi, which is located about 4 kilometers from Hangassalmenaho.
Accessibility: There are no services for the disabled in the area and plenty of duckboards along the trails. The 3-kilometer-long nature trail is suitable for children but not for prams. Please note that Järviaapa and Martimoaapa duckboards are being renewed in 2021.
Facilities: There are five lean-to shelters with fireplaces, three birdwathing towers, and many outhouse toilets in the area. There are alltogether five wilderness huts, here are links to them on Metsähallitus website: Koivuselkä, Saunasaari, Kivalo, Kaltiolampi, and Martimo-ojan Niittytupa. Jääkärikämppä near Kivalot serves as a day hut.
Special to remember: Please take away your trash as there is no waste management in the area. Fishing on Martimojärvi lake is allowed by everyman's rights; fishing with a worm bait is allowed, but fishing with a reel and lure requires a permit, which is obtained by paying national fisheries management fee. Lighting a campfire in open fireplaces is forbidden if the forest fire warning is in effect. Check the latest information on forest fire warnings at the Finnish Meteorological Institute's website. This does not apply to the fireplace in Jääkärinkämppä or the stoves inside the wilderness huts.