Kasakallio is a high hilltop at Östersundom district in Helsinki. It is overlooks the Baltic Sea in the east of Helsinki, and this is also why there is a Bronze Age tomb there.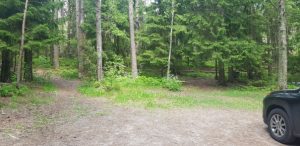 This protected site also has some lovely forest trails that circle Kasakallio hill. We spotted a lot of berry flowers so it is also a nice place to pick some filling for a pie.
The climb from the small parking area is only about 200m. There is a well-trodden trail that leads up the hill. It is relatively easy climb and there are several options for going around more steep areas. It had just rained when we got to Kasakallio and some of the cliffs were a bit slippery. However, the air was so fresh that we just decided to sit at the very top and smell the green in the air. Butterflies were flying around the serene Bronze Age tomb, which rose high on its regal perch atop the hill.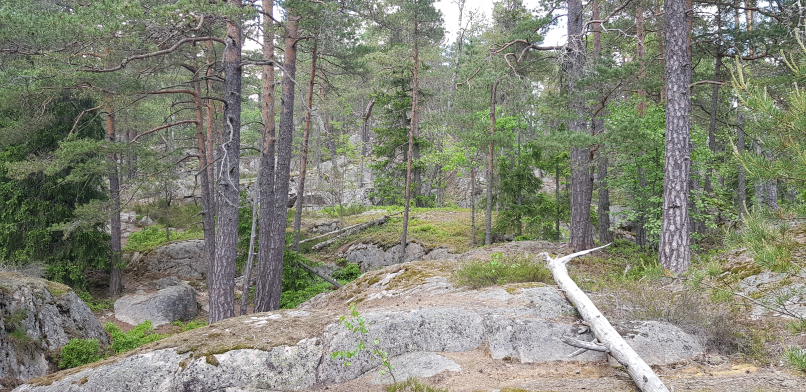 The height of this hill was used to protect the bay area in the 13th and 14th centuries. Guard lights were lit high up on Kasakallio, and no one could pass without being seen by the sentinels there. The 50m hill also provided shelter as there are natural crevasses and huge glacial erratics perched on the sheer sides of the hill. Kasakallio has been well appreciated for at least a millenia, so naturally we also took in all its grandeur.
Bronze Age tombs in Finland
Many Bronze Age tombs found in the Nordics are so called heap tombs (röykkiöhauta in Finnish). They are known by many other names such as tumulus (Latin for mound), barrows, or burial mounds depending on how they were built and where. They have been known in Finnish folklore are hiidenkiuas, which means a giant's stove. More specifically, after the knowledge of what these tombs actually contained was lost in history, superstitious Finns started to think that goblins (hiisi) lived inside these mounds. Hiisi used to mean a sacred area in old Finnish but with the expansion of Christianity, the meaning changed and became synonymous with devils and goblins.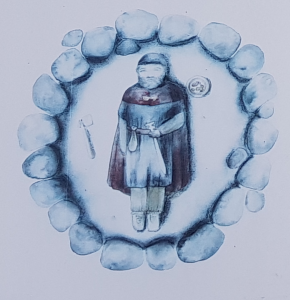 During the Bronze Age (1500-500 BCE), seafaring connections increased and Finland adopted many traditions such as burial practices from elsewhere in Europe. Notable persons were revered by burying them in monumental heap tombs located on the top of high hills or cliffs. These burial mounds were especially used on the coastal areas. These traditions held out in Finland until the 12th century, after which the nowadays-common practice of burying people in dug graves became the norm. So, the Kasakallio heap tomb is a part of a millennia old tradition, and should be respected as such. No matter how much you may want to walk on top of it to get the perfect selfie, just don't.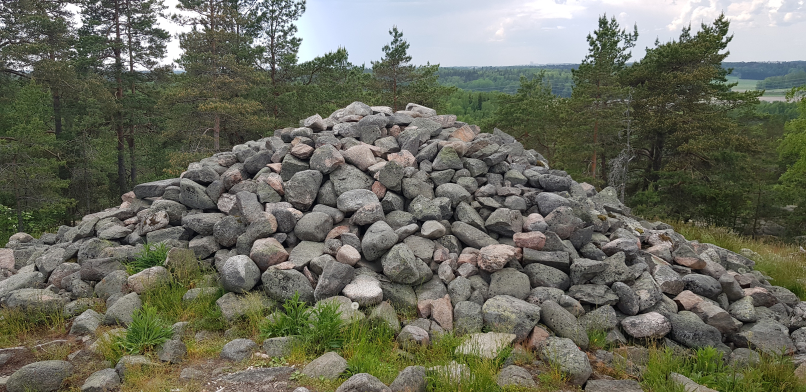 Directions
How to get there: The Kasakallio nature reserve is close to Vikkullantie 22, Helsinki.
Car: Type Kasakallion luonnonsuojelualue on your navigator. There is a small niche by the road where you can fit 2-3 cars.
Bicycle: You can cycle to the site but you have to share the road with cars.
Public transport: The closest bus stop is Vikkulla 2. The buses to Kasakallio depart from Itäkeskus, check out timetables here. You will have to walk about 1km from the bus stop to Kasakallio.
Accessibility: Kasakallio is open at all times. It is not very accessible and climbing must be done to access it. Perhaps not the best suited for young children due to falling hazard.
Facilities: There are no facilities in the area. There is a free parking niche about 200m from the tomb.
When to go: We recommend visiting this place when there is no snow. If there is a lot of snow, it may be difficult to see the tomb formation itself.
Sights nearby
While you are in the area, check out the Mustavuori area or Talosaari island trails.
If you want to explore other ancient heap tombs, check out Lehtisaari in southern Helsinki and Hanikka in Espoo.