Piilolammi recreational area is part of Kytäjä-Usmi, which is an exceptionally large forested area in Hyvinkää in southern Finland. We met at Piilolammi this summer to spent a day outdoors exploring some trails and catch up with each other during Covid-19. Keeping distance is easier outside, so meeting on the nature trail was perfect.
Piilolammi was not as hidden as its name in Finnish, Hidden Pond, suggests. The parking lot was very crowded on Sunday morning. From the parking lot there is an approximately 500 meters long accessible trail to Piilolammi beach, where you will find a swimming dock next to a campfire site. It would have been a gorgeous location for a picnic, but as it was already busy, we continued along the trails.
What to expect at Piilolammi
The trail around Piilolammi lake is 2,3 kilometers long and categorised as intermediate in difficulty due to the hilly sections and rough terrain such as roots and rocks. You should take into consideration that there is a private property on the lake's eastern shore: visitors are kindly asked to go around it instead of trespassing.
On the opposite side of the first fireplace is a beautiful scenic cliff, which requires a bit of climbing to get to the top (there is a rope to help you hold on to something while climbing up and down). One family had just arrived to this site and were putting up a tent when we got there. The crowdedness of the parking lot wasn't really visible on the trails. Long trails and vast area helped.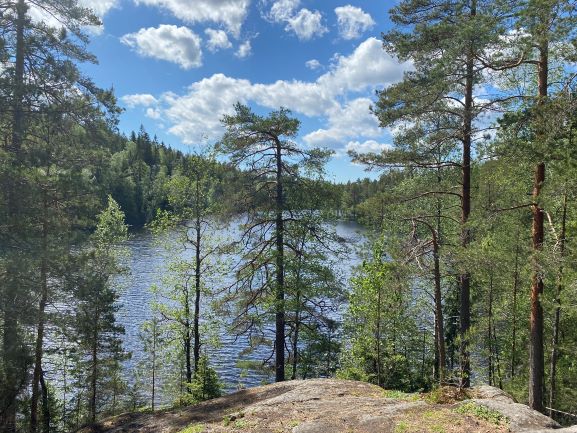 The eastern shore of Piilolammi houses a granite quarry full of massive chunks of rock close to the water's edge. The trail turns up fairly soon, and leg muscles are definitely needed. Once you reach the top, you can enjoy some duckboards until you dive once again down towards the pond again. Just before the final descent there is a place called "Poor man's Koli": unfortunately, even though the rocks are pretty, the view (if you can call it that) can't be compared to Koli National Park.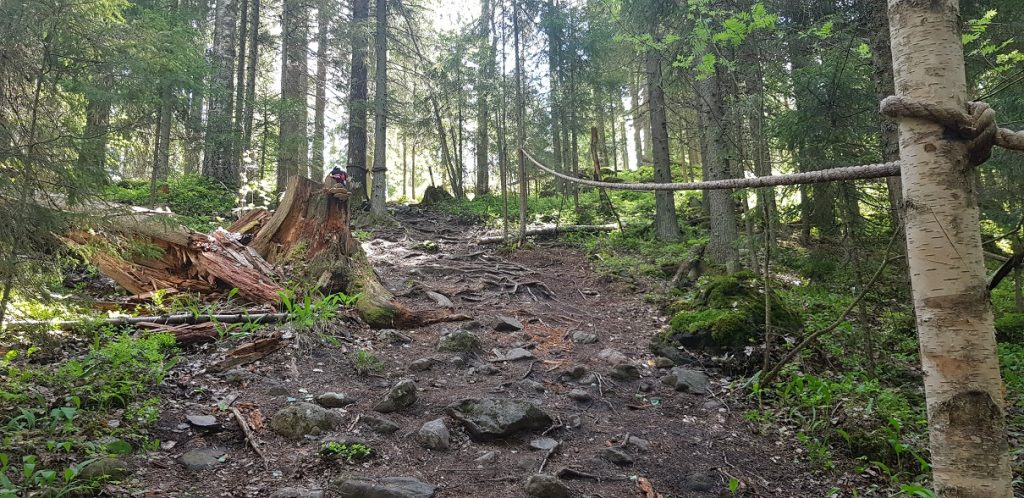 When we returned to the start/end of the trail, we noticed a barbeque area that wasn't occupied. It was almost hidden and we were wondering if that particular area had contributed to the name Piilolammi. The Piilolammi lake is especially popular for camping and there are firewood as well as an outhouse available at the beginning of the trail.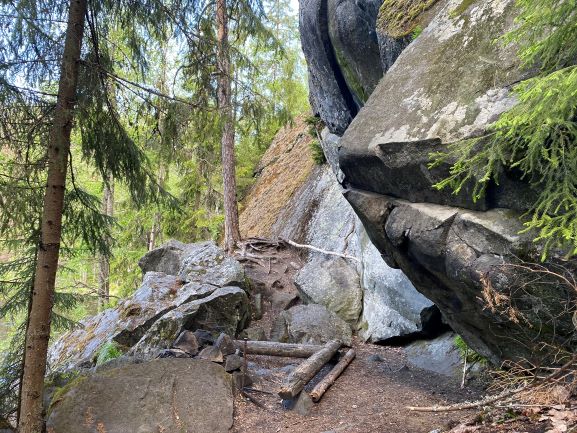 Hidden gems at the "Hidden Pond"
The actual pond at Piilolammi is about 9m deep and relatively see-through. You can catch perch, lavarets, and even eels from the pond if you are patient (and make sure you follow everyman's rights)! The rocks in the area are so-called black granite, and you can even see some marks of the quarry which was built in the 1800s. There also used to be a farm here, and you can still see some signs of it: you may be able to pick some blackberries from bushes that have survived.
The Kytäjä-Usmi area is very clean and has lots of flora and fauna to experience. You can also see some lichen or "Old man's beard" hanging from the branches of trees: this tells you the air is incredibly clean. There are also several different species of owls as well as Siberian flying squirrels that call Piilolammi home.
Check out trails nearby
A further extensive trail network is accessible from Piilolammi as you can see in this map provided by the city of Hyvinkää. Piilolammi is directly connected to Kahden piilon kierros ("Two Hide Trail") 11,5 km and Kolmen lammen kierros ("Three Ponds Trail") 9,8 km in Kytäjä-Usmi area.
Directions to Piilolammi
Piilolammintie 162
05800 Hyvinkää
How to get there:
Car: Set Piilolammintie 162 Hyvinkää on your navigator. From Kytäjäntie road number 1361 turn to Jauholammintie and continue for 300 metres. Then turn left to Piilolammintie and drive 2 kilometers to the end of the road where you will find the parking lot.
Bicycle: The cycling routes are the same as vehicle roads.
Public transport: The nearest bus stop is Maaseutuopisto P about 6.5km from Piilolammi. You can catch a train to Hyvinkää and then hop on a bus to get you closer: for example, bus 10 goes from Hyvinkää to Kytäjä.
Accessibility: The nature trail around the lake is not accessible for all, but the first campfire site by the lake is accessible.
Facilities: There is an outhouse in the beginning of the Piilolammi nature trail. The Piilolammi beach has a picnic table and campfire area. Firewood is also available. Remember to check the forest fire warning at the Finnish Meteorological Institute's website before making any fire.
When to go: Piilolammi can be visited any time of the year as the parking area and road are maintained also during winter time.
What to wear: Normal sneakers are fine when it's dry.