You might not expect to see a Japanese-style cherry tree park in Finland. However, this curiosity does exist in the middle of an otherwise non-descript suburb in East Helsinki called Roihuvuori, and every May the glorious pink foliage magically appears after months of snow. It vanishes almost as quickly as it has appeared so you have to be prepared.
As weather in Finland varies anywhere from snow and sleet to summer-like temperatures during May, it is best to enjoy the weather whenever possible. I had noticed that some trees similar to cherries were blooming so I knew it was time to visit Roihuvuori cherry tree park. I decided to go right away because just the day before we had had sleet, so there was every possibility that tomorrow all the flowers would have vanished under metres of snow. Well, not really, but that's how it sometimes feels in springtime Finland: anything can (and will) happen weather-wise.
Arriving at the cherry tree park by bus fills you with suspicion: how can such a colourful scene be situated in a suburb that seems to have more than 50 shades of gray? Thankfully there were others on the same bus from the Herttoniemi metro station heading towards the park so my mother and I felt confident that we hadn't been tricked. When we got off the bus, we were nonetheless surrounded by more grayness… until the bus sped away and behind it opened up a green vista and undulating pink canopies. And…. a UFO?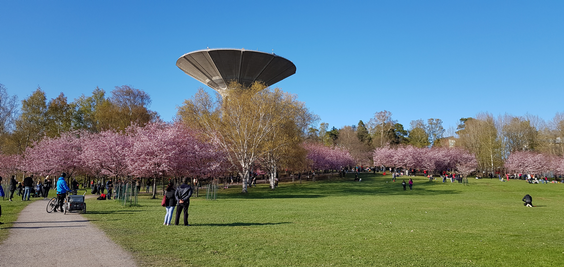 Thankfully Roihuvuori hadn't been invaded by little green aliens – it was just the watertower guarding over the park. Even from a distance, we could see that the park was full of people on proper hanami picnics, enjoying the beautiful, if slightly fresh, spring air.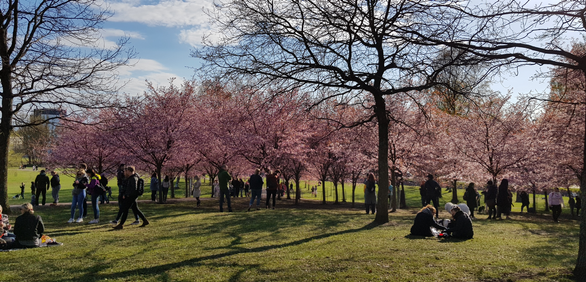 The vibrant pink is like your childhood stories come to life: the Never-ending story and flying amongst pink puffy clouds high above the problems of the real world. That's how it felt. We immersed ourselves in the age-old tradition of just simply enjoying the graceful beauty of nature, occasionally trying to capture the tender pink flowers on camera. Children were running around, photographers were snapping shots of their chosen trees, pets enjoyed treats given to them from the picnic basket. It was so easy to forget that you were in Helsinki, close to a warehouse districts. We sat on the warm rocks by the watertower and just breathed in spring.
Cherry trees and hanamiin Helsinki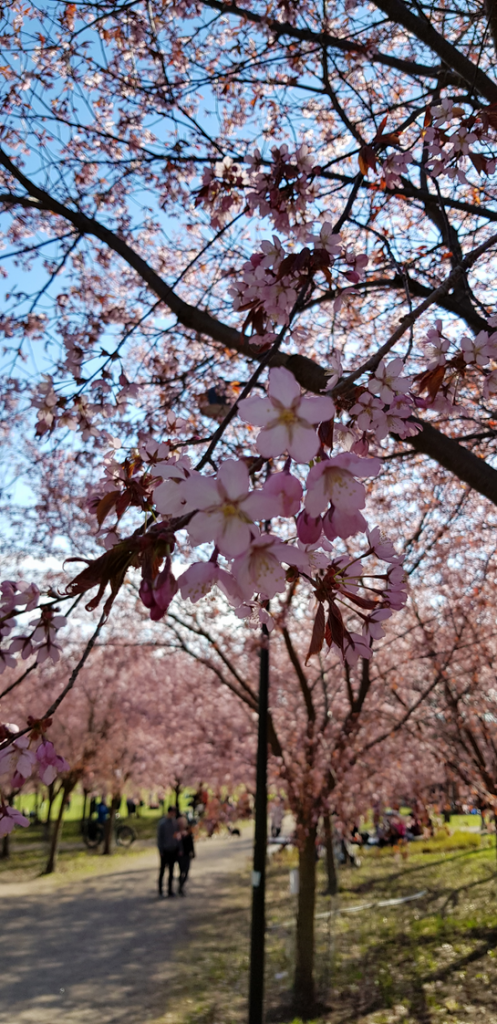 The cherry tree park in Roihuvuori (Fire mountain in Finnish) suburb of Helsinki was the brain child of a Japanese businessman Norio Tomida, who thought it would be a lovely idea to create a Japanese cherry tree garden in Helsinki for expats and Finnish people to enjoy. Japanese expats joined together and donated a total of 152 different cherry tree varieties, which were planted in Roihuvuori between 2007-2009. Ever since they were planted, the Japanese community in Finland has arranged yearly Roihuvuorihanami festivals (cherry flower observation festivals in Japanese) in mid-May: the full bloom of all the cherry flowers only lasts a few days but even when only some of the flowers are in bloom, the sights is mesmerizing.
Amazingly, the gentle pink colour is actually the colour of samurais in Japan. The momentary glory of the pink blooms reminded samurai warriors of the fleeting momentariness of life: it can all be gone in an instant. To samurais, cherry blossoms also symbolises their life: they mature, blossom, shine brightest for a moment, and then fade away. The pink flowers are also more appreciated than white ones, even if it means that the trees will only be decorative and produce no edible berries. In Roihuvuori, there are some trees that bear edible cherries but they are in the minority. The park is divided into two sections, one focusing on cherry trees, one dedicated as a distinct Japanese garden.
Directions
Address: Type Jättiläisenpolku 1, Helsinki on your navigator. You can also try Roihuvuoren kirsikkapuisto and you will find your way to the park.
How to get there: You can get to the cherry tree park by car, by bicycle, and by public transport.
Car: There are limited amount of places to park your car near the park. You can try to see if there is space on Sahaajankatu. Otherwise, use the park address for navigation.
Bicycle: The cycling routes follow pedestrian and vehicle roads. A good option is to cycle by the sea for extra lovely views.
Public transport: The easiest and best way to get to Roihuvuori cherry tree park is by public transport. Check the timetable from the Capital area Route planner.

The nearest bus stops are Porolahti or Porolahden koulu. These are right next to the park.
Accessibility: The park is very accessible. The park has gravel pathways that are easily accessible to people with limited mobility or children in buggies. There are lights in the park so you can visit even when it's getting a bit darker.
When to go: The park is open 24/7. The cherry blossoms bloom at certain temperatures but usually are best in mid-May. The cherry trees will be beautiful to see also in summer and autumn seasons: when autumn colours arrive in September, the trees get a new life before resting in the winter.
Read also