Uunisaari is a small, 3 hectare island right off Kaivopuisto park at the very southernmost tip of Helsinki. In the summer, its long sandy beaches attract visitors by boat. In the winter, you can visit Uunisaari by walking across the strait on a pontoon bridge. No matter what time of the year it is, the island is definitely worth checking out!
I took the long way from Helsinki centre to Uunisaari on a sunny December day. I walked all the way from the Market Square past the Old Market Hall to the Olympia ferry terminal. From there, I continued along Ehrenströmintie road next to the sea. In the cloudless sunlight, it was easy to enjoy the views over Kaivopuisto park to my right, the sea and Suomelinna fortress to my left.
Winter at Uunisaari
First of all, I have to say that the views over to Ullanlinna and Kaivopuisto park from Uunisaari and Liuskasaari are magnificent! You are at a perfect distance to appreciate the skyline of Helsinki so make sure you stop for a bit. You also have great views over nearby Harakka island (Magpie island in English) and even Suomelinna fortress island. Walking around these three islands is only about 1,6km so it doesn't take long unless you actually stop to enjoy your surroundings.
From November to April, Uunisaari island is accessible by a pontoon footbridge. When I visited the island, it had just snowed heavily (about 20cm!!), so none of the previous paths were really visible. All I could do was sort of "shoe ski" through the snow because I had no idea where the path was. Yes indeed, our esteemed friends and folks – I just made "shoe skiing" into an official term since it's a very necessary thing sometimes to avoid falling/slipping.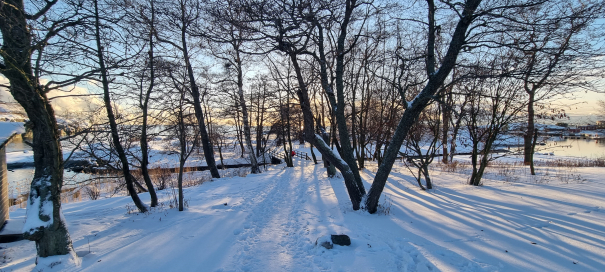 Uunisaari is actually two islands – the Northern Uunisaari and Southern Uunisaari. There is a channel passing between these two islands but they are connected with a wooden bridge. The open sea greets you on the southern island with waves crashing on smooth rocks and cliffs.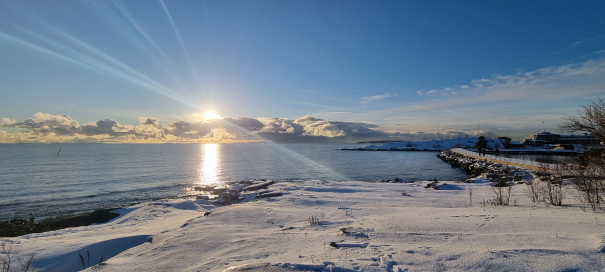 Southern Uunisaari and the nearby Liuskasaari have a large connecting bridge. Next time I will have to visit Uunisaari in the summer, because this time I wasn't wearing enough clothes to just stand there and admire the sea (and the freezing breeze). I had to keep walking to stay warm, so it was nice to do a bit of climbing on Liuskasaari. There are no proper paths on the island in the winter, so I had to be careful not to slip. Not surprisingly, when I was passing by the beach, I saw people coming from the sauna on their way into the icy Baltic sea for winter swimming. So, if you are brave enough, check out more about winter swimming on Uunisaari.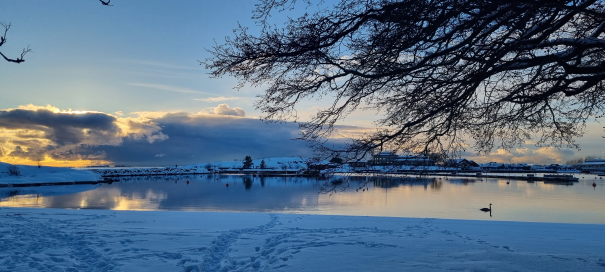 Other seasons at Uunisaari
You can access Uunisaari in early spring to late autumn (April-November) on your own boat or by an electric callboat. Even though it's relatively small, Uunisaari has long sandy beaches perfect for a dip in the Baltic Sea. This beach faces Ullanlinna so you definitely have a unique place for a swim.
Liuskasaari has an active guest marina for many types of vessels, and there is connecting boat to the mainland when the sea is open. Both islands are also popular spots for picnics, and there are many ready-set picnic tables available for visitors.
History of the islands
Its position right off the coast of Helsinki proper made Uunisaari a great place for early manufacturing. The captain of an overseas merchant ship (kofferdikapteeni in Finnish) called J. H. Holmström stated manufacturing on Uunisaari in the 1870s. First, there was a factory producing oil products. Later on, Finland's most significant varnish factory was built on Uunisaari in 1916 (see picture below). Interestingly, at one point there also was a coffin-making shop on the island. However, all manufacturing ended in Uunisaari over a 100 years ago, but one of the factories is now a cafe.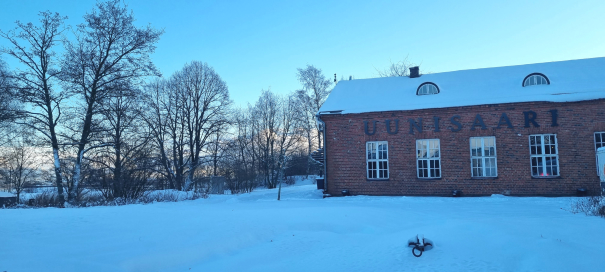 The island was in recreational use already in the 1800s but in the 1930s, a seawater bath was established on Uunisaari. The seawater bath was built between Uunisaari and Liuskasaari, where now a bridge stands. Apparently, swimming, jumping into, and racing in the Baltic sea suited the Spartan spirit of the 1930s. Another island popular among swimmers and sun-worshipers is Mustikkamaa island a few kilometres away.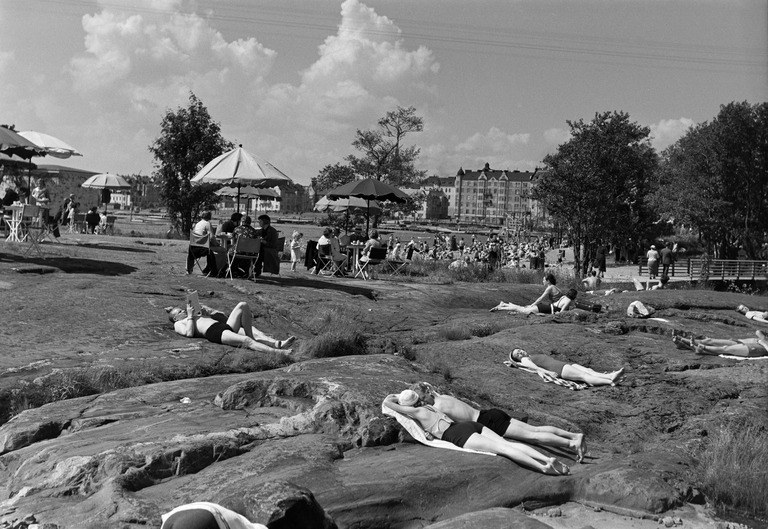 Directions
Address: In April-November, the only ways to get over the channel are by an Aava transfer boat to nearby Liuskasaari or by a special electric call boats to Uunisaari. The boats depart from Kompassitori. You can also write Uunisaaren laituri on your navigator. In the winter (November-April), there is a pontoon bridge on Ehrenströmintie just opposite the island.
Boat: The HSS marina on Liuskasaari provides mooring and other services for visiting boats and yachts.
Car: We advise not using a car to get close to Uunisaari due to the traffic congestion at Helsinki centre. However, there are some paid parking spots at Merisatamanranta.
Bicycle: There are great cycling routes that take you to Uunisaari. Basically, there are specific cyclist and pedestrian paths. However, cycling on the island is not advised.
Public transport: The best way to get to Uunisaari by public transport is to take a tram to Kaivopuisto park and walk through. If you want a scenic route from Helsinki centre, walk on Ehrenströmintie until you reach Uunisaari. Check out different options on the Route advisor.
Accessibility: When there is no snow, most of Uunisaari and the nearby islands have some well-worn paths but the terrain is varying. Note that in the summer, wheelchairs and trolleys have to be collapsed in order to fit on the access boats. In the winter, there may be some paths suitable for those hard of walking or with trolleys or wheelchairs.
When to go: You can visit at any time of the year. There is no access to the island by foot from April to November, so you must take a special boat to get to Uunisaari. In November, the Helsinki municipality installs a pontoon footbridge for winter use when the sea is frozen.
Facilities: There is a cafe on the island. There are some fireplaces in the area so but can't use them when there is forest fire warning on because they have no chimney. There is a public beach on the island.
Special notice for dog owners: You can take dogs on the island but they must always be on a leash. However, dogs are not allowed on the island when the birds nest in April-July.
Make sure you also check out
The large Kaivopuisto park is right next to Uunisaari, so make sure to take a walk there, too. The famous Suomenlinna fortress island is also visible, and it's UNESCO world heritage site.