Right in the heart of Helsinki city centre is a secret garden full of lavish colours and scents. It is the Helsinki Winter and Rose Garden, unknown to many. This secret has been hidden in plain sight but it is still unfamiliar to too many. The palacial Winter Garden and its lush Rose Garden sit right at the nook of Töölönlahti Bay, so the views in and from the garden are spectacular. The Helsinki city gardens surround these two gated ones, so there is plenty to admire elsewhere, too.
Roses roses roses
The Rose Garden of the Helsinki city Winter Garden was designed by City Gardener Svante Olsson and built in 1924. It has entertained visitors for almost a century now, and it has been as popular as the Winter Garden. The garden can be visited free of charge, and can be visited between 7am and 9pm. We popped by at the turn of August-September, and we found that the roses were all still in spectacular bloom! In fact, over 3000 species of roses cover this geometrical park!
Winter Garden all year around
The glasshouse that is the Winter Garden is free for visitors to gaze at all year around. It houses over 200 exotic plants in a beautiful mishmash of colours.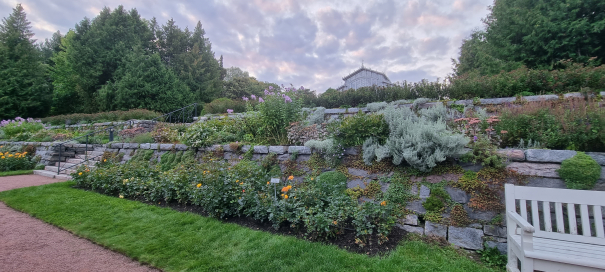 It was built originally for private ownership Major General Jakob Julius af Lindfors, and the inspiration behind it can be traced back to London's famous Crystal Palace. He cooperated with his father-in-law Henrik Borgström, who was passionate about gardening. Working together, they wanted to create public gardens in Finland and also train professional gardeners to tend them. af Lindfors kindly donated the building to Helsinki municipality in 1893 and requested that it was made available for all people without any charge, so that people from all walks of life could enjoy it.
Architect Gustaf Nyström (1856-1917) designed the Winter Garden to have three separate areas. The Palm room houses palms, island pines, and ancient camellia trees. The West Wing showcases more palm trees but also ancient house plants. The Cactus room is full of succulents and cacti. Sprinkled around the Winter Garden are also azaleas, hyacinths, lilies of the valley, and tulips.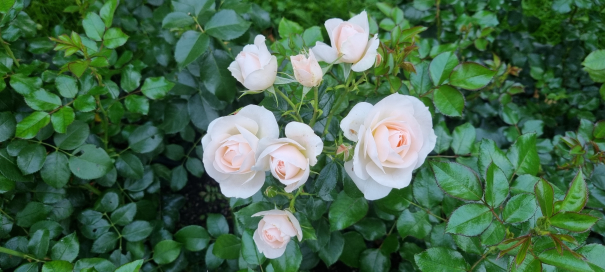 Fairytale gardens
It is easy to see why these gardens have fascinated people for over a century. The colours are fairytale-like in their vibrancy, and one almost expects to see pixies and fairies playing among the flowers. Above the Rose garden, flowers of all sorts bloom at different times of the year. There are a few benches on the upper levels, so you can easily escape the hustle and bustle of Helsinki centre and come to study there. One mythical creature already stands visible to all: a statue of Kullervo addressing his sword. Kullervo is an ill-fated character of Kalevala, the Finnish national epic compiled by Elias Lönnrot.
Directions to the Helsinki Winter and Rose Garden
Address: The entrance to the gardens is at Hammarskjöldintie 1 A, Helsinki. However, it may be easier to write Talvipuutarha.
Car: There is no parking at the Winter Gardens. There are some parking spaces next to the Olympic Stadium at Mäntymäen kenttä 100m away.
Bicycle: You can cycle to the Helsinki Winter and Rose Garden either either through Töölönlahti Bay park gravel roads or specified cycling routes.
Public transport: The best way to get to the park is by public transport. Most trams stop about 500m away from the garden entrance. Check out timetables from the Route planner.
Accessibility: Especially the Rose garden is suitable for wheelchairs, people hard of walking, and children's buggies. There are some steps leading up to the Winter Garden, but they can be circumnavigated.
When to go: The best time to visit the Rose Garden is from spring to early autumn. The Rose Garden gates are open every day from 7am to 9pm. The Winter Garden is open all year around from 12noon to 3pm (check opening times or aukioloajat here).
What else to see?
Make sure to check out Töölönlahti Bay and its surroundings nearby. If you want to experience more gardens, check out the rhododendron park and cherry tree park of Helsinki. Further away, the Ilola arboretum in Salo is also worth visiting.