Haltiala is a part of Paloheinä area in northern Helsinki and at the top of Helsinki central park. There are dozens of nature trails at Paloheinä so whatever your fitness or energy levels are, you can surely find the right one. We went to Haltiala on a very hot day but thankfully the shade of the trees made even the hills more bearable.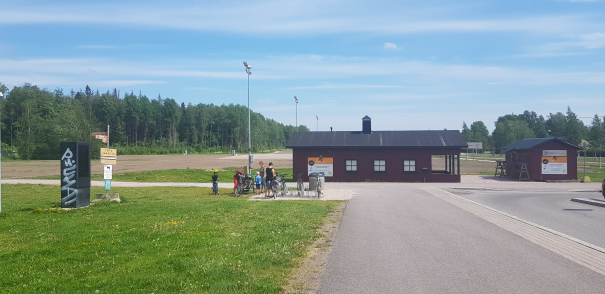 The trails depart at the Paloheinä hut – there are signs directing you into the forests and a handy map as well. We decided to do a 4km trail and check out an ancient quarry and Haltiavuori hilltop at the same time. The trails zigzag across each other so checking out your destination on the map helps you choose the best path there.
The gravel covered trails are easy to walk on. At one point the wind died down and the mosquitoes from the nearest 5km found me. Me alone. Thankfully I was prepared because I knew I wanted to check out the ancient quarry located a bit off track… there are always mosquitoes in the forest.
We slowly made our way towards the highest areas of Haltiala where I knew the quarry was located. There is no sign pointing to the quarry, so we just kept our Google map on. However, a 1.5km green marker tied around a pole which is exactly where the quarry is located. There is a small trail leading from the gravel road, only about 20m to the right. The quarry is slightly hidden by trees so make sure you keep your eyes open: you don't want to fall down 3m! This ancient quarry used to be a slate quarry. It is at least 3m deep and 25m long. The quarry is a protected area so it is best enjoyed carefully and respectfully.
Back on the trail, we kept on walking higher up towards Haltiavuori hilltop. It is at the centre of several crossroads and surrounded by strange looking pines and tons of lush berry shrubs. There used to be a lookout tower on top of this 53m high hill but it has been demolished. You can still enjoy a warm day or even have a picnic on top of this smooth rocky surface before heading back down towards Paloheinä.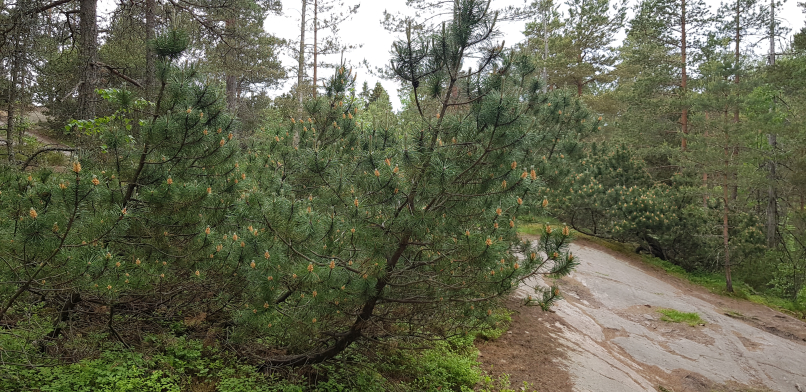 Helsinki central park at Haltiala
The air at Haltiala is clean and fresh so even in the hot air we were tempted to skip and hop down the hills. This is exactly why the Helsinki central park was created in the early 20th century: to provide clean air and recreation for the city folk. When there is snow, Paloheinä and the central park in its entirety is one huge ski track. When there is no snow, the trails are used by trail-runners, hikers, and simply anyone enjoying the outdoors. There is good signage and plenty of room for everyone.
There are quite a few non-indigenous trees at Haltiala. They were introduced in the late 19th century by the owner of the area Mr Jakob Kavaleff, an enthusiastic arborist. There are Norway spruces (Picea abies f. virgata) and dwarf mountain pines (Pinus mugo) aplenty around Haltiala. You can see these especially around Haltiavuori hilltop, so keep your eyes peeled.
Directions
How to get there: Paloheinä peak is at Pakilantie 124, Helsinki. We recommend taking public transport even though there is free parking at Paloheinä (it is very popular so a bus is more convenient).
Car: Type the address or Paloheinän ulkoilumaja on your navigator.
Bicycle: There are excellent cycling paths at Paloheinä.
Public transport: The closest bus stop is Paloheinän jäähalli. There are several buses that go to Paloheinä, check out timetables here.
The ancient quarry is here (about 20m off the official track):
Accessibility: Paloheinä and the Haltiala trail is open at all times, and there are lights on most paths. The paths are covered with gravel so they are accessible to children's buggies and wheelchairs.
Facilities: There is a large free parking area. Paloheinä hut (ulkoilumaja) has some facilities available but at opening hours.
When to go: We recommend visiting this place at any time of the year.
What to wear: The trails at Paloheinä and Haltiala are gravel so no need for specialised shoes. There are usually mosquitoes so make sure you have some repellent with you.
Sights nearby
While you are in the area, check out Paloheinä peak and its awesome views over Helsinki central park.