The Orinoro gorge and the surrounding hiking route takes you to a vertical chasm carved out by glaciers. As with many natural wonders, we had to make a bit of an effort to get to it but this canyon was definitely oh-so-worth it in the end!
I had noticed a small mention of Orinoro gorge by accident. We had been visiting nearby Valamo and Lintula monasteries, and our way home took us via Leppävirta. A tiny unassuming town with incredible views over lakes and bridges stretching high over narrows – that's Leppävirta. Leppävirta is also the home of Orinoro gorge, a chasm cut into the bedrock. It is as if a giant had taken an axe and sliced the rock in two.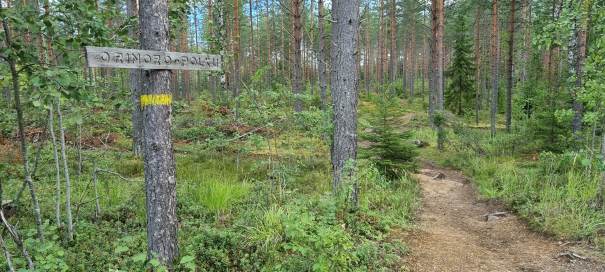 The path leading from the Hanhiahontie parking area to the canyon is 900m/one way. It had rained the previous day so the ground was a bit muddy.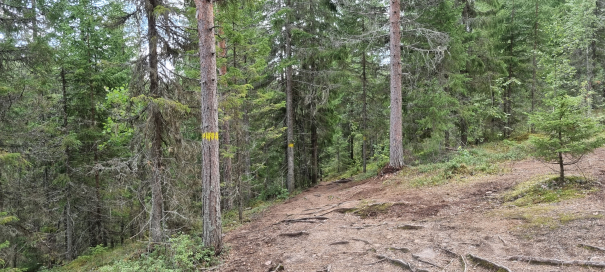 It is relatively easy to walk, only some roots and soggy bits need avoiding. However, in the beginning, there is a short but a bit steep hill that takes you down about 7m. We held onto some trees on our way down just in case it was more slippery than it seemed.
Signage to Orinoro gorge was good, and there was no worry of stepping off the yellow-marked beaten path. Soon, the duckboards appeared to lift us above the wet shrubs. Watching our feet, we walked for a few minutes until suddenly, massive walls of rock opened in front of us.
On the narrow ledges of the gorge, in impossible places, tall trees grew.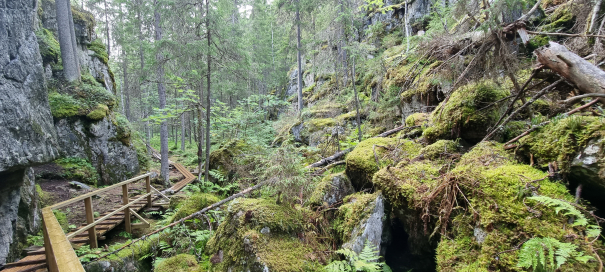 Huge boulders stood at the feet of the gorge, covered with lush and deeply green moss. In a word – magical. Truly deserving of the title "One of the seven wonders of Savo."
Directions to Orinoro gorge
Address for the short route: The nearest address and the site of a small parking area is at Hanhiahontie 248, Leppävirta. You will have to walk about 1km/one way to the Orinoro gorge from the carpark.
Address for the longer hike route: If you want a bit of a walk (7km), then the best address is Mustinmäentie 83, Leppävirta or Mustinmäki-talo. There are some areas for cars but make sure you park legally.
Map of the area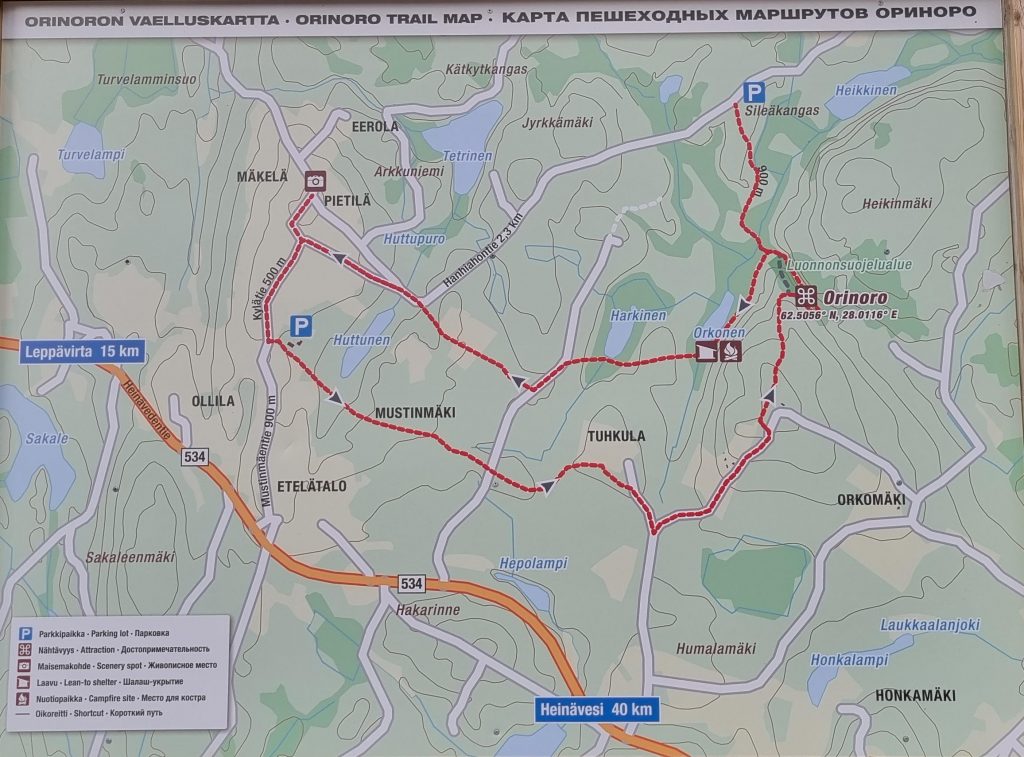 Car: Car is the best way to get to Orinoro gorge is by car. However, you will still have to walk 2km total.
Bicycle: Cycling s possible to cycle there alongside cars but the shoulders of roads are narrow.
Public transport: Unfortunately there are not so many public transportation options near Orinoro. There is a bus service from Varkaus to Kauppilanmäki; the nearest bus stop is called Sorsakoski th but is still 19km away from Orinoro gorge.
Taxi: There are local taxis that drive to Orinoro. Check with them before embarking on the trail first.
Accessibility: The shorter trail is relatively easy to walk, but it has one hill to tackle. The longer trail has a fair bit of duckboards. Closer to Orinoro gorge, there are also some stairs. The place is suited mainly for children who are used to walking independently on uneven terrain. Not suitable for wheelchairs, people hard of walking, or children's buggies.
Facilities: There is a fireplace area along the nearby lake with firewood. Remember that you can only use the fireplace when there is no forest fire warning on.
When to go: Make sure you go when it is light. In twilight or waning light, the trail and the gorge become hazardous. You can visit the site when it's slippery, wet, or snowy but just remember that duckboards will always require extra attention. Also note that if you climb the cliffs, there are no safety rails along the edge of the gorge.
What to wear: Make sure you've got a sturdy pair of shoes on. Due to the high humidity and amounts of water, when it's raining, make sure to wear gum boots.
What else is near?