Paattinen nature trail in Turku is a 1,8 km long circle trail with a beautiful lean-to shelter in a peaceful location. I was surprised to find myself alone in this trail on a beautiful autumn day in October. No other people in sight, what a bliss! The trail takes you from Vähäjoki river by a new walking bridge up to the lean-to shelter, which is overlooking a deer feeding station in the forest. I was taking my time on this short trail, enjoying the quiet nature around me.
Paattinen is a suburb in Turku, and this nature destination is easily reached by public transportation. That is one reason why I thought it would be busier on a beautiful day like this. Maybe the trail is a little short, but there are also 2,5 km long Jokipolku and even longer Airikinpolku trails nearby. Unfortunately I couldn't venture to Jokipolku due to mud on the river banks.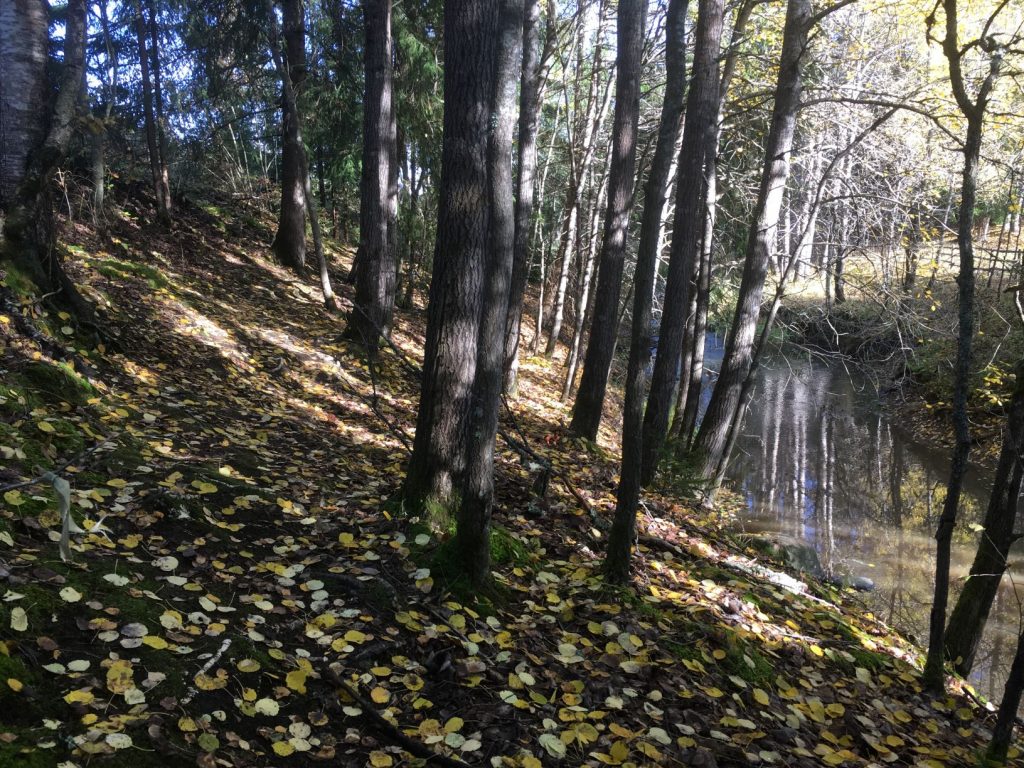 The Paattinen nature trail is meant to be walked anticlockwise, so the trail begins at the back of the parking lot, where you need to cross a small wooden walkway bridge over a little ditch and continue walking by the river until you come to a bigger bridge crossing it. On your way back you will use the large bridge on Männistöntie road.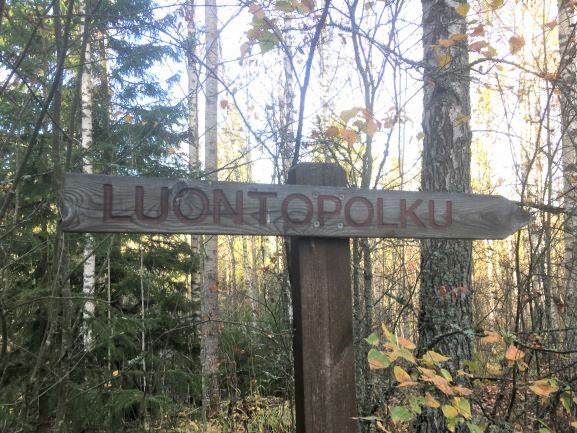 The trail has few sign posts in intersections, but otherwise minimal markings. But the path is quite visible most of the time, so you won't need a lot of imagination to stay on it. Also the area is small, and you are almost in the backyard of few houses, so it's pretty easy to stay on track of your whereabouts even with this simplified map.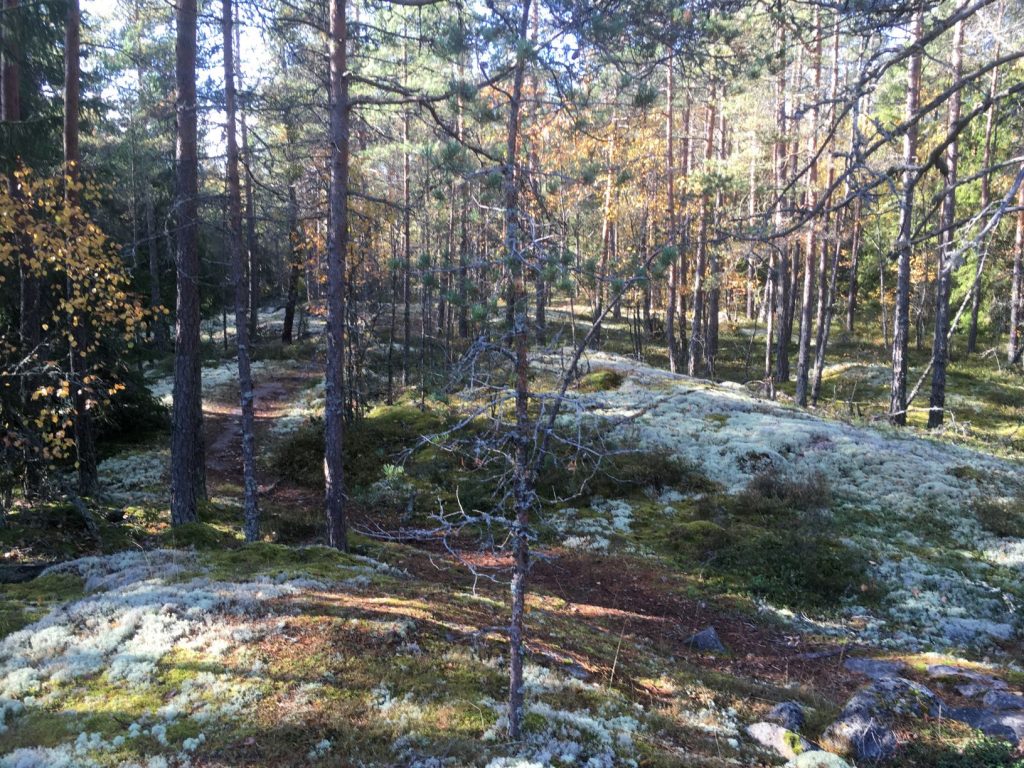 I found the trail surprisingly versatile for such a short distance. The river vegetation changed into a swampy type of area and then to moss covered rocks and pine tree forests. The feeding station surrounded by birch and spruce trees was empty but salt stone next to it implied to me that this place will be in use in the wintertime. I was wondering that they probably are hunting moose or deer in this area, if the land owners have given permissions for it. The moose hunting was about to begin and the deer hunting was already ongoing, when I was visiting Paattinen in the beginning of October.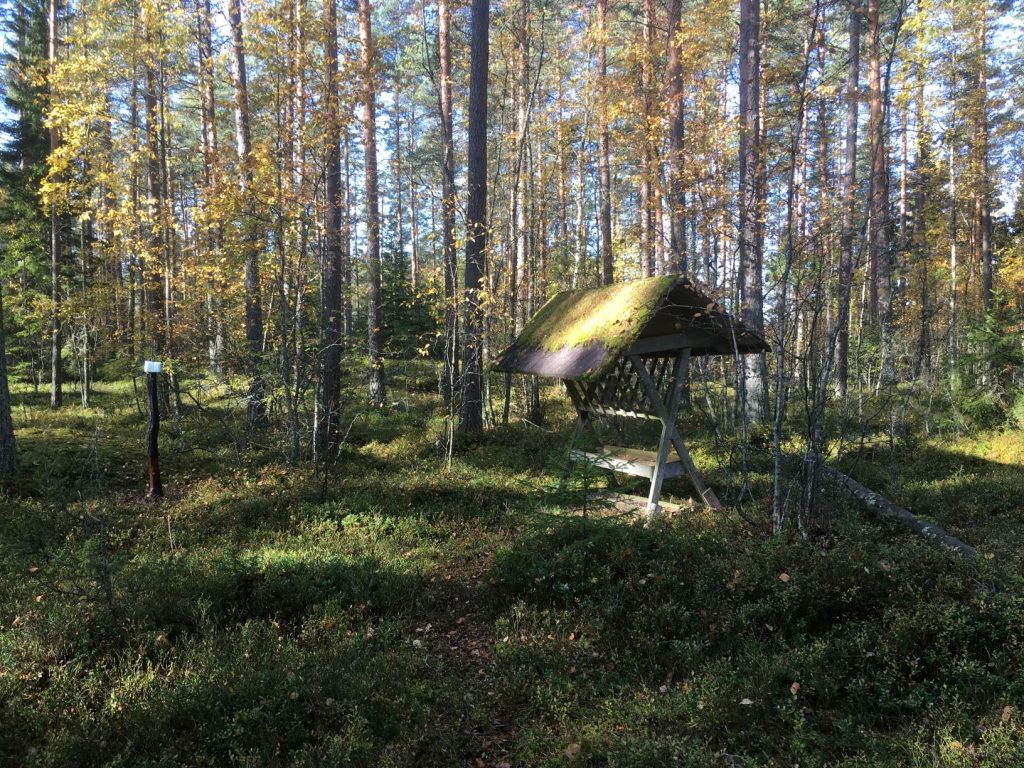 The lean-to shelter was at the top of a rocky hill. I sat down to have a sip of water and enjoy the silence that this place had to offer. Sometimes it doesn't matter how many kilometers you cover on the nature trail. Moments like this in places like this are good for the soul. I was listening to birds, and wondering if the locals use this lean-to shelter much. I definitely would if I was living close by.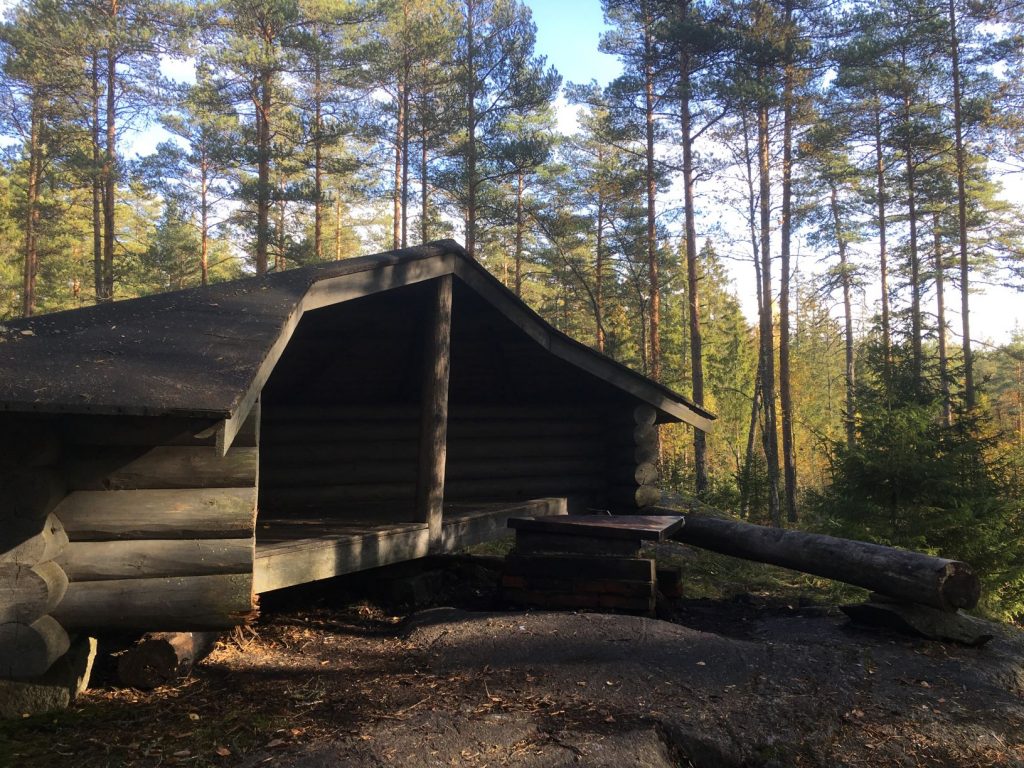 Directions to Paattinen
Address:
Männistöntie 1
21330 Turku
How to get there: You can get to Paattinen by car, by bicycle or by bus easilly from the centre of Turku.
Car: Set Männistöntie 1 Turku to your navigator and follow the instructions until you reach the parking lot. Arriving from the direction of Turku you should follow E63 towards Aura until Moisio, where you turn left to Paattistentie. In 7.8 km you will see a small parking lot on the right at the intersection of Männistöntie and Paattistentie.
Bicycle: The Paattinen nature trail is accessible by public roads.
Public transport: Buses 21 or 23 pass the Paattistentie road from Puutori in the centre of Turku in just half an hour. The closest bus stop is called Männistöntie 1126. Be careful not to select Männistöntie Rusko or Männistöntie Kaarina when searching for timetables and tickets at Föli website – it must be Männistöntie 1126.
Accessibility: The nature trail does not support wheelchairs or children's buggies at all. The area is suitable for children, as long as you pay attention to river area and river crossings. The nature trail is blocked by fallen trees and broken duckboards at places, so you need to be able to walk around those small obstacles.
When to go: I recommend visiting this area when there isn't any snow on the ground.
What to wear: Normal hiking shoes are fine as long as it's not raining. The trail by the river can become muddy and slippery on a rainy day. The muddiest part is right at the beginning when departing the parking lot.
Also visit in the area
Katariinanlaakso nature reserve in Ilpoinen suburb in Turku provides also short trails for an easy day trip. Special characteristics of Katariinanlaakso include rich oaks and little-leaf lindens, some historical boulders, and many curious little squirrels. Katariinanlaakso is also an excellent location for birdwatching.