Vaarniemi nature trail at the border of Turku and Kaarina in Finland is a beautiful hiking destination all year round. The area belongs to Natura 2000 nature protection network. Rocky hill, pine forest, and stunning views from observation tower make this place worth a visit. It's also a part of ancient pilgrim route from Turku to Trondheim, Norway.
We headed to Vaarniemi in early March when there was plenty of snow on the ground. It's sometimes challenging to find hiking destinations in winter when many places are turned into cross-country skiing tracks. Vaarniemi had its hiking trails in good condition, although very slippery at times.
Equipped with spikes on our shoes and Nordic walking poles, we bravely headed towards the hilly hiking trail. Some people were cross-country skiing on the field, enjoying the sunshine and taking full advantage of icy snow crust that every skier loves. In weather like this, the skiers don't even need any tracks. The world is open for them to ski on fields and bogs, and slide gently downhill with a minimal effort. I was almost jealous for not having skis, but only the walking poles.
My friend knew this area well, so she lead us to Vaarniemi by circling to Mastotie first. There is a staircase for more direct access from the parking lot, but those are extremely slippery at this time of the year. The trail was icy but manageable when avoiding the steepest parts. The contrast of the icy trail to pine trees and blue sky was breathtakingly beautiful.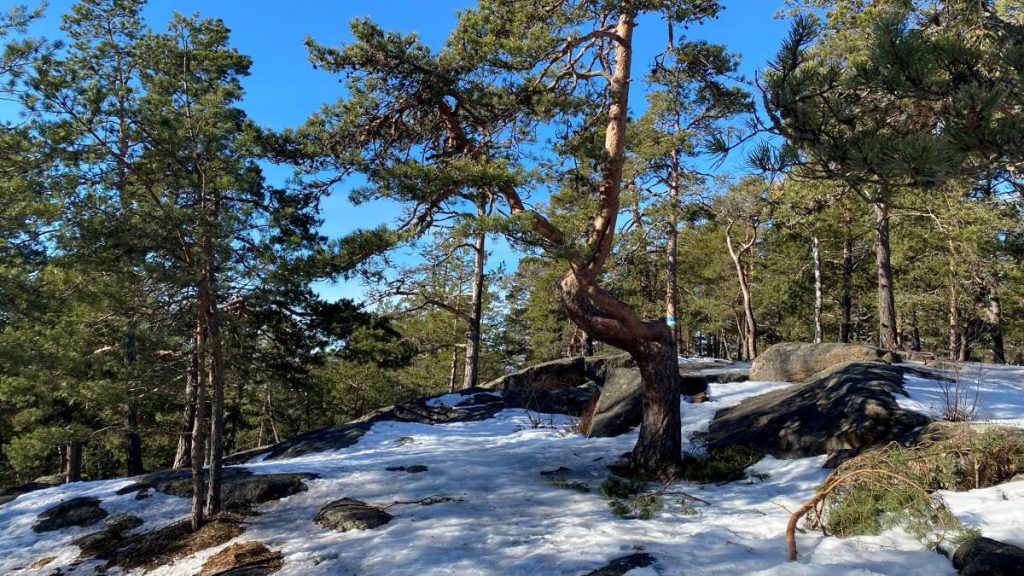 Vaarniemi observation tower
The observation tower at the highest point of the hill allows you to see over the pine trees towards the sea. From the tower you can see Rauvolanlahti bay and large Hirvensalo island. Turku market square is actually only about 8 kilometers away.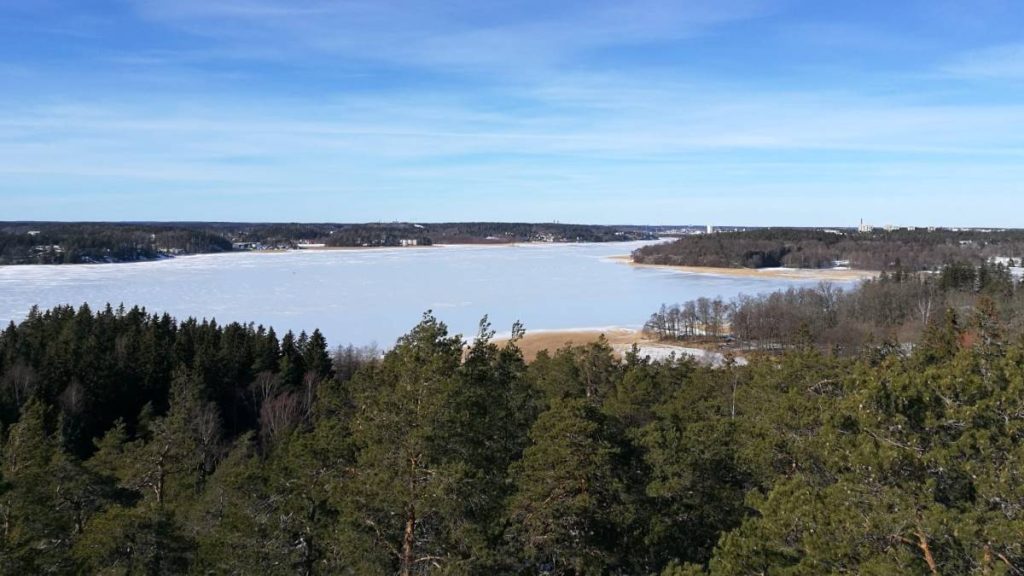 St. Olav Waterway
At the Vaarniemi tower you will find a sign that welcomes you to St. Olav Waterway:
"You have arrived at the path that leads pilgrims 1,200 km from Turku to Trondheim, over sea and land.

Already a thousand years ago, people wanted to travel to Nidaros, the medieval city of Trondheim, to visit St. Olav's burial site. Olav Haraldsson (995-1030) was king of Norway. After his death he became the most important Nordic Saint of the Middle Ages.

A pilgrimage is a fine way to lead a simpler life, enjoy nature's beauty and meet new people. Along the route there are several historic places and sights, each more wondrous than the next.

Good luck on your journey back in time."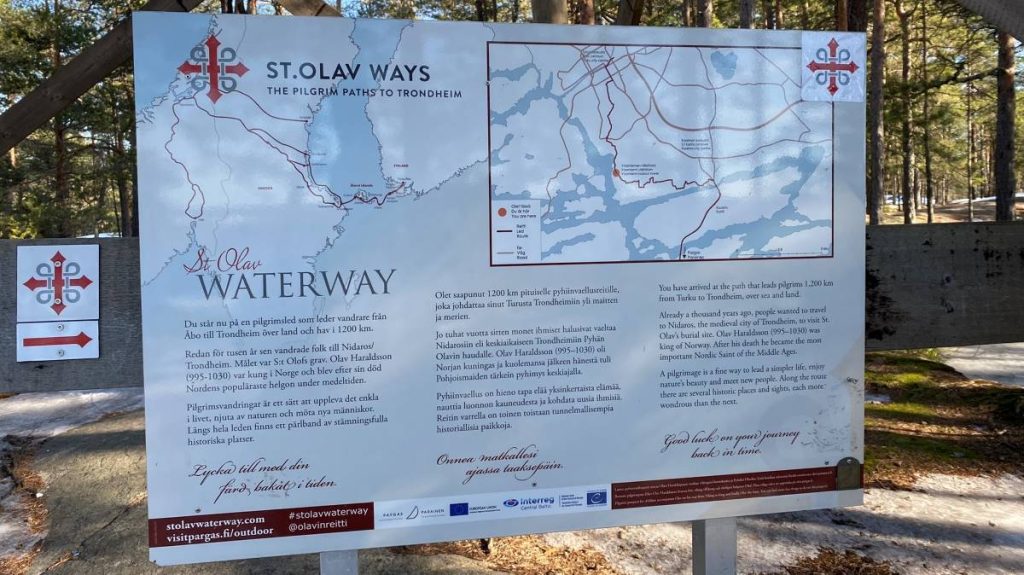 Wishing Viking's curse on people who litter
Filthy lean-to shelter along the trail was a huge dissapointment. It made me upset to see old chicken nuggets on the grill and raw chicken inside the lean-to shelter to feed rats. This lean-to shelter is definitely not suitable for sleeping. It's a shame that people do this for premises that are provided for them free of charge. On top of the filthy fire place, I spotted couple of axes and a half cut tree nearby. What kind of idiot tries to cut down a tree when there is free firewood available?
After a little rest by one of the picnic tables it was time for us to head back down. Coming down the hill was definitely more challenging than getting up there. My friend solved the challenge of slippery slopes in the safest way: If in doubt, you can always slide down on your bum.
Four nature preserves at once
Vaarniemi is connected to Rauvolanlahti, Katariinanlaakso, and Kivikkomäki nature preserves. This area protects birds and you should note that there are limitations to wander outside of marked trails from April to end of July due to nesting time. Remember to keep your dog on the leash. From Vaarniemi you can easily continue to Rauvolanlahti nature trail on the bay.
Directions to Vaarniemi in Kaarina
Address:
Rauvolantie 151
20760 Kaarina
Car: The parking lot can be found at Rauvolantie 151. From Piispanristi in Kaarina, follow Kairiskulmantie towards Rauvola. Turn left to Pyhän Katariinan tie and take a right to Rauvolantie. Continue Rauvolantie for 1,5 km until you will see the parking lot on your right.
Bicycle: The Vaarniemi hill is not suitable for cycling due to stairs and rocks, but you can reach the area easily by bicycle from Turku.
Public transport: The closest bus stop is called Rauvolantie about 1,5 km away from the beginning of the trail. See timetables and tickets at Föli website.
Accessibility: This area does not offer any services for the disabled and the trail is challenging in winter. The nature trail is well marked.
When to go: You can visit at any time of the year.
Facilities: There is an observation tower, lean-to shelter, and an outhouse at the top of the hill. Firewood is available at the bottom of the stairs. Please note that making fire is prohibited in any other location than the designated fire place.
Special to know: Geocachers might be interested to know that there are several demanding geocaches in the area. A good reason for us to come back in summer.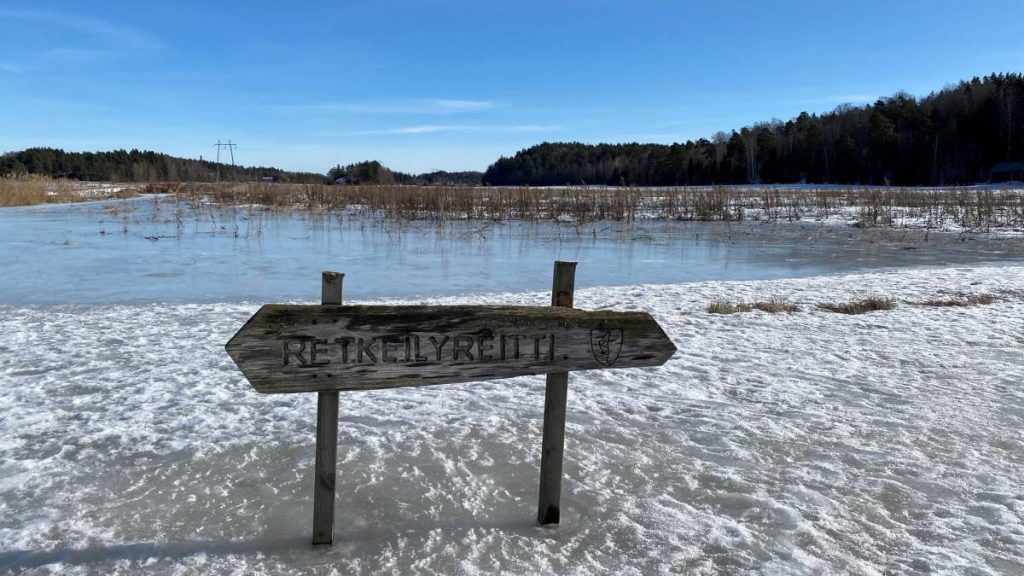 Check out also