Hiekkahelmi trail in Paimio is also known as Paimio trails, Paimion polut. Hiekkahelmi is an artificial pond with a nice beach, located near road 110 in Paimio. There is a recreational area with a network of hiking and cycling trails departing from Hiekkahelmi. What I especially like about this location are the hiking trails it provides in winter. We currently have plenty of snow in Finland, so most hiking trails turn into cross-country skiing tracks. It's fun, but you cannot take dogs to hike on the skiing tracks, and Nalle is not the best at skiing. So it was delightful to find a location where you can walk or bike in the winter.
Hiekkahelmi in Finnish means sand pearl, but it's challenging to comprehend the meaning with all the snow. In summer, you would be able to see how Valkojannummi area has earned its name from the sand pits turned into ponds. Like little pearls in the sand.
This location is not to be mixed with 4 kilometers long Paimio hiking trail, which is a beautiful nature destination with ancient stone shore and watchtower. It's located about 3 kilometers northeast from Hiekkahelmi. The Paimio hiking trail is also suitable for hiking in winter, and due to it's barbecue place and short length it is usually more popular than Hiekkahelmi trails.
Meeting new hiking friends
Meeting new friends is never easy, but it's even harder in Finland. I recently ended up to a Facebook group for new hiking buddies in Southwest Finland. The group was a spin off from another much larger hiking group, and it was established by a amicable woman living in Paimio. She wanted to meet new friends, but she was really nervous about organising the first event. I can relate to that, having been working remotely for couple of years and not meeting that many new people during these times. I'm ecstatic that she found the courage to establish our group and ask us to join us for this hike.
We met at the parking lot of Hiekkahelmi. No-one had cancelled. We were all there, ready to explore the trails and meet actual human beings. We followed our local guide's lead. We did quite a zig zag in the forest, chatting and getting to know each other. We had a sandwich lunch and ended up spending over 3 hours on our first hike together. We were from different cities, but we had one thing in common: love for nature. We talked about versatile nature destinations in Southwest Finland and nature activities we could do together. It was like a breath of fresh air meeting this new group of friends, and I'm already looking forward our next trip together.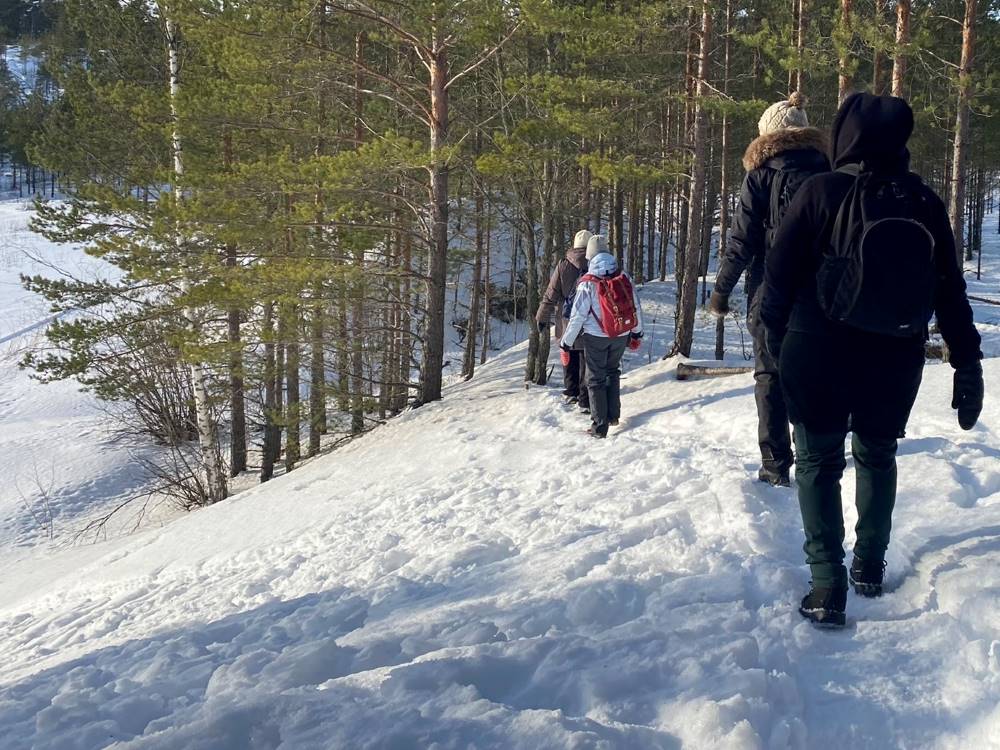 Other fun activities to do at Hiekkahelmi
"I've already fallen 3 times", a woman yelled happily when she passed us with her bicycle. Trails were somewhat icy, but there were many mountain bikers enjoying the trails – and apparently also the snow next to them. Paimion polku is 17 kilometers long trail, so mountain biking is popular here. We didn't walk that much at our slow pace, but it's easy to choose shorter options.
We spotted some people ice fishing in one of the ponds that with snow coverage looked like a field. There are actually several ponds in Hiekkaharju, but swimming is allowed only in the one next to the parking lot as this is groundwater area. Ice fishing is quite commonly allowed in Finland by everyman's rights, but we always recommend checking permissions and limitations.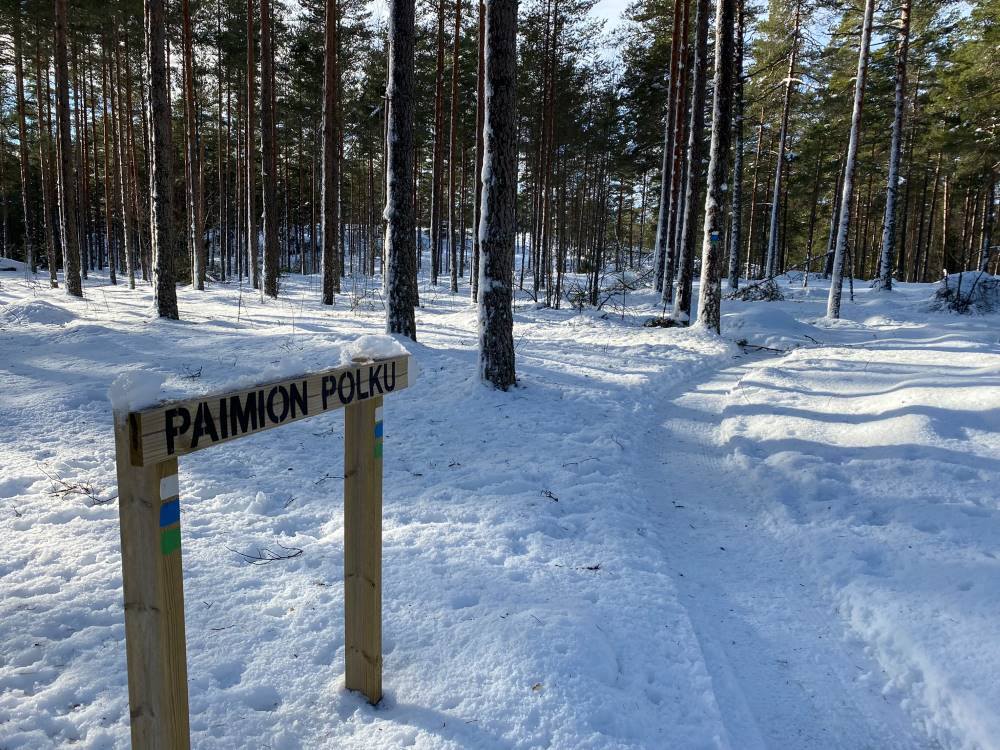 Directions to Hiekkahelmi
Address:
Hiekkahelmi
Valtatie 589
21530 Paimio
Car: The location is easy to find just by typing address Hiekkahelmi into your navigator. The parking lot is about 400 meters from road 110 and also close to highway 1 between Helsinki and Turku.
Bicycle: There are great cycling trails in the area so make sure you try them out.
Public transport: You could, in theory, reach the location by bus from the center of Paimio. The closest bus stop is called Valkoja. See timetables and tickets at Matkahuolto.
Accessibility: This area does not offer any services for the disabled.
When to go: You can visit at any time of the year. The cross-country skiing trails depart from Urheilupuisto (Vistantie 63, 21530 Paimio).
Special to know: Hiekkahelmi is home to some interesting species. Sand lizards had not been detected in Finland for decades until recent sightings in Paimio. Rare rattle grasshopper have also been spotted hopping in here.
Make sure you also check out these