Environmental art combines nature to art, creating unique experiences surrounded by the great outdoors. This extraordinary artwork called Silent People (Hiljainen kansa in Finnish) is located the middle of nowhere, at Suomussalmi in Kainuu region of Northern Ostrobothnia. It is definitely a place to visit even if you think you are not a fan of art.
Hiljainen kansa, the Silent People
The Hiljainen Kansa or Silent People artwork was designed by artist and dancer Reijo Kela in 1988. On a far-away field, alongside highway 5, thousands of silent figures stand side by side. Their clothes sway gently in the wind. There are wedding dresses, straw hats, gum boots, and sharp business suits. You can almost hear the noise of thousands of people milling around you… but the field is completely silent. All you can hear are the murmurs of visitors like yourself walking on the field, whispering among themselves as if the peat-headed scarecrows could hear them.
Zombies?
In early 2021, Google Earth enthusiasts published a TikTok video about this strange landscape filled with still, lifeless human-like forms.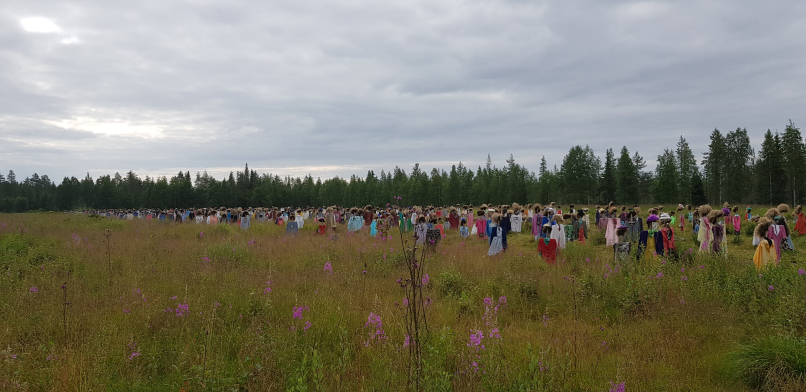 It is difficult to pinpoint how we felt when we saw the Silent People. It was a strange mixture of being moved close to tears but also feeling like someone is constantly watching you. And not necessarily in a good way. Are these forgotten people? People who have lost their voice? Or are they people who we should remember? Do these silent people maybe represent the Finns in a stereotypical way? No matter what, in the rising mist of the field, these figures will definitely get your creative mind racing.
As with any art, the meaning of Silent People is in the eye of the beholder. You can read more about the art installation from Suomussalmi's own website.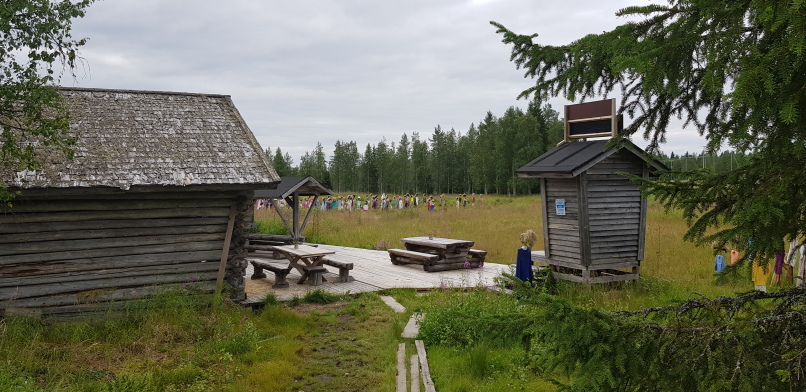 Directions to the Silent People
How to get there: The Silent People artwork is alongside highway 5 in Suomussalmi town. The most convenient way to get close is by car.
Car: Type Hiljainen kansa on your navigator. The address is Viitostie 545, Suomussalmi.
Bicycle: You can cycle to the site but you have to share the road with cars.
Public transport: The closest bus (bus 40 from Suomussalmi town) takes you to Hiljainen kansa; check timetables here. Check for costs by Rukan taksi here. Note that the bus service is

very

irregular. The closest train station to Suomussalmi is in Kajaani (timetables for trains here). Check for bus time tables from Kajaani to Suomussalmi here. The same bus, number 40, goes from Kajaani all the way to Hiljainen kansa.
Accessibility: The Silent People is open at all times. It is also suitable for all ages. The art installation can be enjoyed best by walking in their midst. However, you can also enjoy them from the accessible area next to the coffee shop.
Facilities: There is a coffee shop and a restaurant in the area called Niittykahvila.
When to go: We recommend visiting this special place at any time of the year.
Sights nearby
While you are in the area, check out these: