Lean-to etiquette is useful to know when travelling in nature destinations in Finland as there are lean-to shelter literally everywhere. Mieliö's lean-to shelter was our daytrip destination while we were in Urjala with my dog Nalle. The Mieliö lean-to shelter is located at the top of a hill called Mieliönlamminvuori, overlooking Mieliönlammi pond. It's a great nature destination for anyone who enjoys peaceful nature all for themselves. A guestbook at the shelter revealed that it is in fact a popular place to visit, but a visitor per day means that it's not overcrowded.
Mieliönlammi pond wasn't clearly visible from the lean-to shelter, only peeping somewhere behind the trees. Nalle wanted to go to swim, as usual, so we made our way down the hill. It turned out to be very, very steep. It had been raining recently, so the trail was slippery, and it took me a while to slide down the hill. Nalle helped a lot by pulling the leash. The shore of the pond was very uneven terrain. I let Nalle go to the water to cool off, as the day was warm, but I didn't let him off the leash.
After his refreshing dip, we started making our way back to the lean-to shelter. The moss was wet and I didn't want to try climbing back this hill and peeling all the moss away from the rocks, so I decided to go around the whole hill. It was still a little climb and I could have used some refreshing dip after that. Too bad the path to the shore wasn't easier and the shoreline also more suitable for swimming, as that would have made this place even more stunning.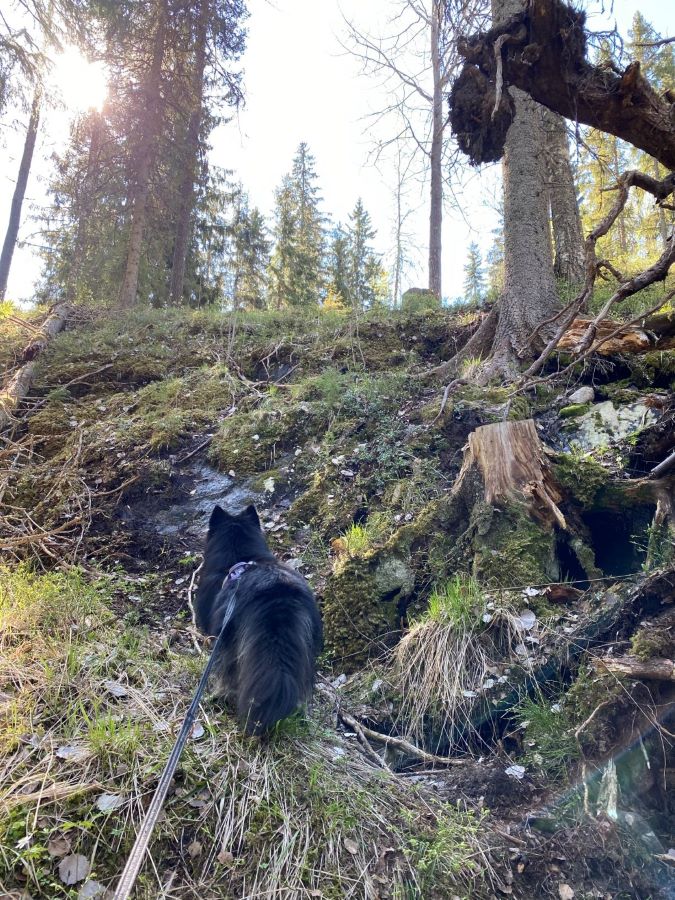 We sat down by the fireplace (without any fire at this time) and had a sandwich for lunch. I noticed there were some blueberry bushes around the area. The lean-to shelter is maintained by Urjala municipality, and it had plenty of firewood available. The lean-to itself is large and there are benches that could host a group of people by the fireplace.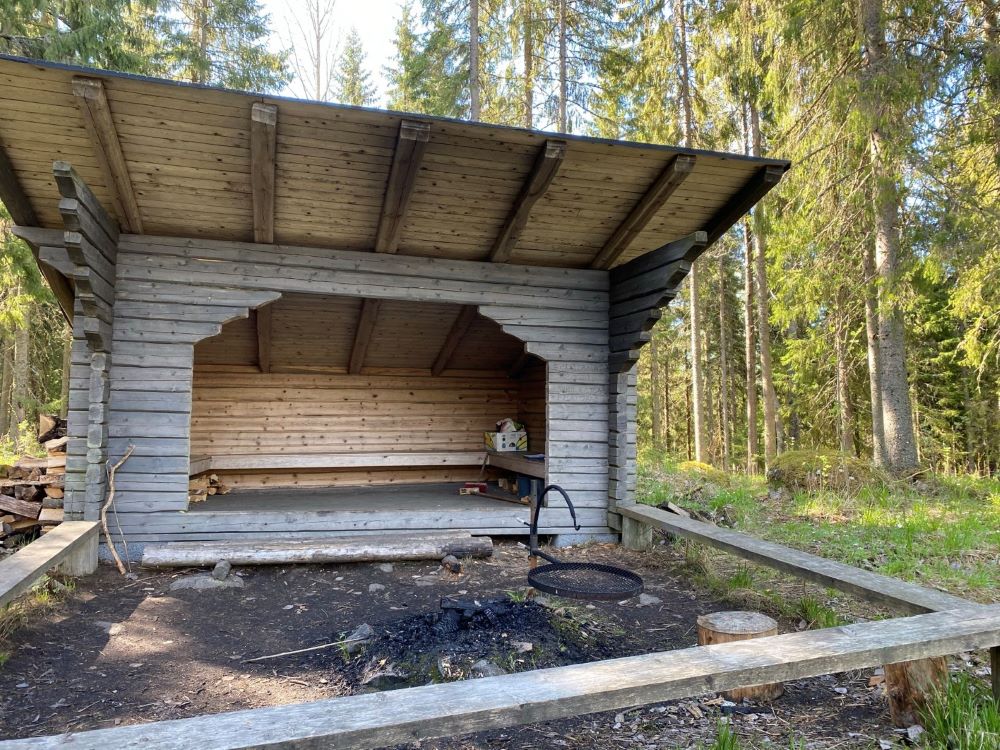 I began thinking how blessed we are with so many amazing lean-to shelters all around us for free to use. Many are maintained by municipalities, the state, recreation clubs, or volunteers. In case you are wondering how to use these kind of public lean-to shelters, here are few basic rules.
Lean-to shelter etiquette in Finland
Do not reserve the lean-to shelter just for yourself or your group
Acknowledge and make space for others
Dogs are welcome, but should be kept on the leash
Make sure your dog doesn't disturb others
Alwayss check out forest fire warning before lighting the fire
Do not collect any firewood from the nature, nor branches nor bark from living trees
Bring your own firewood or utilize the firewood provided
Move further away from the fire to eat when your food is ready if others are waiting for their turn to cook
Do not do dishes directly in the lake or river
Drunken behaviour is not appreciated while drinking some alcohol is fine
Do not play loud music as that could disturb nature such as birds nesting nearby
Observe wildlife respectfully
It's polite to sign a guestbook if there is one
Take away all trash and leave lean-to shelter and its surroundings tidy
Turn off the fire properly if you had one
Directions to Mieliö lean-to shelter
Address:
Mieliön laavu (Mieliö's lean-to shelter)
Mieliönlammintie
31700 Urjala
How to get there: Mieliö's lean-to shelter is located close to highway 9 / E63 between Turku and Tampere in Urjala.
Car: The lean-to shelter is easy to reach by turning from Hanhisuontie road to Mieliölammintie road and following signs to "Laavu". There is no defined parking area, but there is enough space to park the car along Mieliölammintie. Bicycle: Mieliön laavu is about 15 km from Urjala centre by bike, if you choose a smaller road on the east. We don't necessarily recommend cycling on highway 9 / E63, but it is allowed.
Public transport: The closest bus stop is Nuutajärvi th E on highway 9 / E63 about 3,5 kilometers from the lean-to shelter. See tickets and timetables at Matkahuolto website.
Facilities: Large lean-to shelter with plenty of firewood, and an outhouse toilet. A birdhouse.
Accessibility: There are no services for the disabled in the area, and the trail to the lean-to shelter is uneven. The shelter is suitable for families with children, but not for prams. The pond is not the best for kids to go swimming, there is no sandy beach.
Special to remember: Lighting a campfire is forbidden even in the lean-to shelter if the forest fire warning is in effect. Check the latest information on forest fire warnings at the Finnish Meteorological Institute's website.
Also visit in the area
Check out also delightful Pölkinvuori flower garden in Urjala. It's located 10 kilometers west from the Mieliönlammi.