Dark green pine forests, shining blue lakes, magnificent high fjells, and the open sky as far as the eye can see. That is what you have at Koli, which is probably the most famous of all Finnish landscapes. I have visited Koli several times and every single time when I climb those last few steps to the top of the hill and stop, I am silenced by the majesty of the landscape in front of my eyes.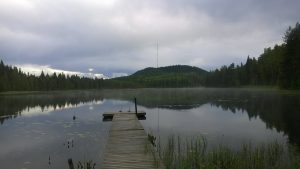 The drive up to Koli goes through some dense forests which occasionally open into tiny villages. The atmosphere surrounding Koli national park can easily whisk you away to a different realm of woodland elves and pixies, giants and gods of the forest. In this part of Finland, anything is possible.
Best of Koli
Being allergic to mosquitoes and horseflies, I have concluded that it is best for me (and possible travel companions) that we only do daytrips and don't even attempt overnighting in the forest. Even though it would have been great to check out all the different trails at Koli, we have always just chosen to make some sandwiches and walk on top of Koli. Koli has so many trails that it is best to check out the official Finnish National Parks Service maps to see what suits you best. There are trails suitable for winter and summer hiking.
Huippujen kierros trail (Trail of the Tops)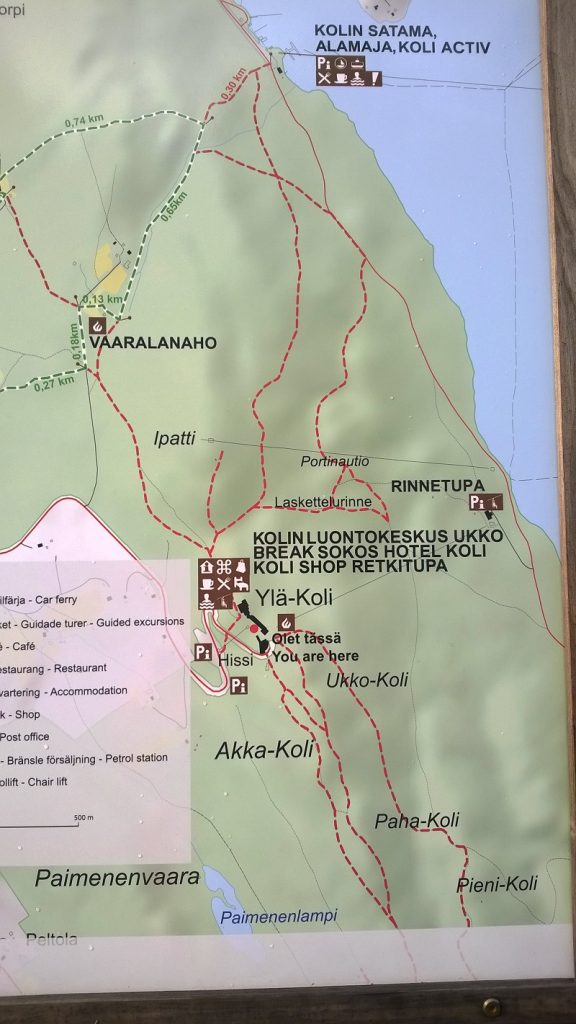 My favourite trail is the 1.5km (0,9 miles) heading straight uphill from the nature centre. It shows visitors the three main summits of Koli as well as the incredible views over Pielinen lake and the surrounding woodlands. The first summit is called Ukko-Koli, which could be translated to "Old Man Koli" but the name Ukko actually refers to the ancient Finnish high god. You can see the scenery stretching out before you from the road but if you are adventurous and careful as well as respectful of the surrounding nature, you can venture a bit further on the cliffs to see more. Especially when it has rained, the forest floor and the cliffs get slippery – I have slipped many times and I am used to that sort of tricky nature stuff. But… the views are breath-taking.
I always stay on the cliffs overlooking lake Pielinen for a long time. These views feel very sacred and they are actually best viewed with respect to the wonder of nature. All those who know me would never say that I object to speaking but here, I feel quiet gives the soul time to absorb everything.
From the hilltop, the path continues toward Paha-Koli, which means "Evil" or "Bad Koli". Despite the ominous-sounding name, once again this summit is very beautiful.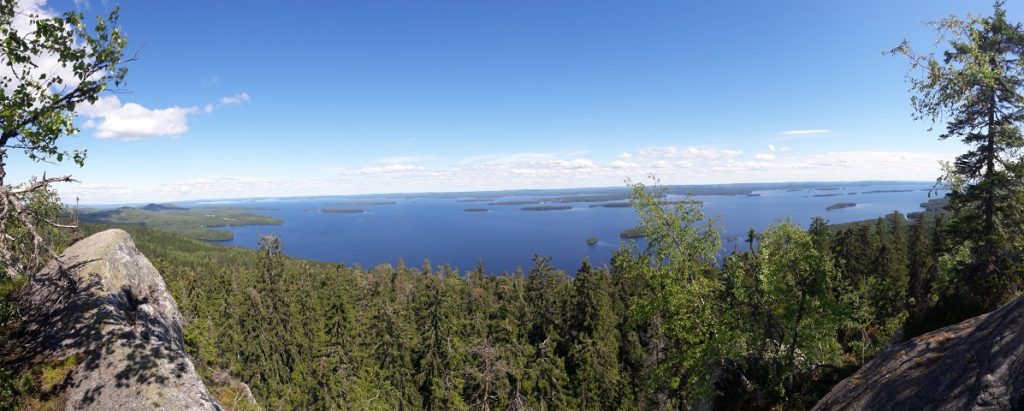 Akka-Koli or "Old Woman Koli" is the third summit, and its slopes are much more treacherous than those of the two other summits so be extra careful. Akka-Koli looks over dense woodlands, and the cliffs themselves are slightly darker than those of the two other summits.

The paths wind down toward the nature centre through dense spruce forests where you can really imagine how it must have felt like to live in times before modernity. Some even think that ancient druids and witches came to Koli to worship…. so it's no small wonder it feels so magical.
Directions
Address: Ylä-kolintie 33, Lieksa. This address has a carpark where you can park your car or your bikes there for the time you spend. The road continues from here but it's meant only for the residents of the Koli Hotel on top of the national park.
How to get there: You can get to Koli by car, by bicycle or by bus.
Car: Simply typing Koli on your navigator will take you closest to the national park.
Bicycle: The bicycle routes follow closely to the car route. The cycling route is basically the same road cars use so please take care.
Public transport: The best (and only) way to get to Koli is to travel to Lieksa town by train and by bus. The closest bus stop to Koli is Kolinportti right next to a petrol station. From there, you will either have to walk 11km (about 8 miles) or catch a taxi to the top. Check out ideas via the Routeplanner.
Accessibility: Some of the paths on Koli support wheelchairs and children's buggies. However, there are many places that aren't accessible and require careful attention especially with children. There are no safety nets or ropes in the area. There are sections which are marked 'accessible', and areas with stairs are also marked. Note that a lot of the path is actually the natural forest floor as well as bedrock with moss, branches, and rocks. There are some low-hanging tree branches to watch out for, and you will have to walk a up/downhill to reach viewpoints. Depending if you want to explore viewpoints along the paths, the severity of the climbs can vary.
When to go: You can visit the area at any time of the year – the views are incredible no matter what time of the year. You can visit the park during snowy or wintery seasons but make sure you are careful because there is no winter upkeep (no snow removal) and a lot of the more tricky areas can be hidden by snow. You don't want to fall and injure yourself (or worse). Also note that there are no lights in the area so make sure you visit the area when there is enough light.
What to wear: Because the hills can be slippery, hiking shoes are good but normal sneakers will suffice as long as they have a good grip on them. Mosquito repellent in the summer as there are a lot of mosquitoes and gnats on top of Koli. As Koli is high, it is also windier on top so make sure you have enough clothes on even when it's hot. If you go to Koli during the winter, make sure you always tell someone where you are going and carry enough food and water with you.
Special to remember: Make sure to check out where and when you are allowed to make a fire (if you're camping in the area). You can pick berries and mushroom in the national park. You are also allowed to fish as long as you respect Everyman's rights. If you want to swim in the area, check it doesn't have blue-green algae in it as it's a health hazard to humans and animals. The Lake Wiki shows up-to-date algae info. If you intend to go camping in the national park, check out more tips here.
Extras: There is a full-functioning hotel on top of Koli as well as a nature centre. Make sure you check out the centre and its exhibitions on the unique nature around Koli.