Kanavuori, Chicken Mountain, is a hill and nature trail located in Jyväskylä, Central Finland, and in the western part of the Finnish Lakeland. It is not a mountain, let's be clear on that. The hill may not sound high at 197 meters, but it totally surprised us with its steepness.
Kanavuori is located in Vaajakoski about 9 km from the Jyväskylä city centre, just off from a a Finnish national road number 4. You can reach it by bus or by bike from Jyväskylä centre. Bus lines 1, 3 or 38 take you close, but please check the detailed and current information from Linkki – Jyväskylä Region Public Transport website. If you are arriving by car, you should park in Naissaari, where there is a free parking lot in front of a cafeteria. A first sign in the parking lot in Naissaari guides you to the right direction.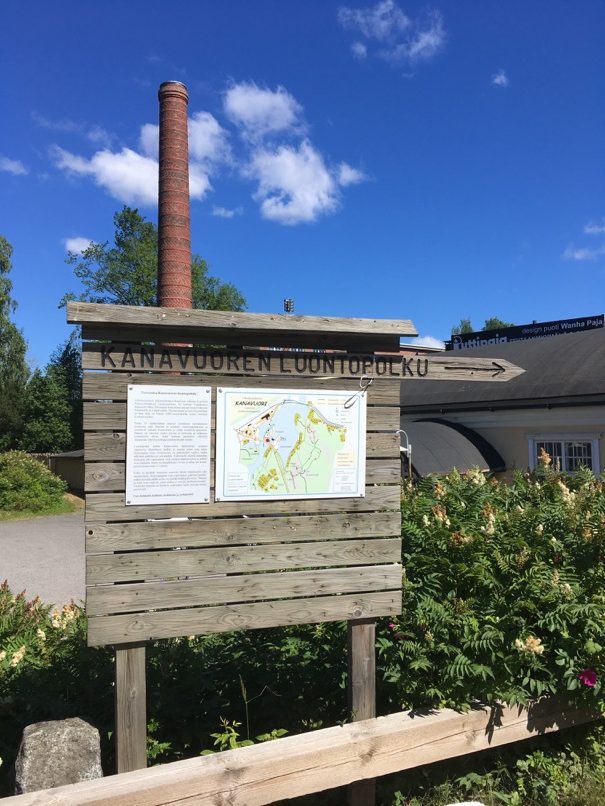 We parked in Naissaari and then walked pass this sign and a design store along Saltuntie about 600 meters until we reached Etu-Kanavuorentie. The sign to the trail from Etu-Kanavuorentie cannot be seen from a far so keep your eyes open. We nearly walked pass it as we had no idea where the trail starts, but you have been warned so you should be able to find it. The trail begins on the right hand side at the very beginning of Etu-Kanavuorentie.
Climbing to the hill begins almost instantly as you start the trail. It begins with narrow stairs and the stairs are followed by a rope railing, which helps you keep the balance. I was very surprised to see how steep the climb actually was. There are big rocks along the way and you need good shoes for this short but demanding trail. Needless to say, this is not suitable for all. We did see a family with small children climbing the stairs, I guess the local kids learn to climb this hill at a pretty young age.
When you reach the first flat area, the trail continues straight up even though there is another path going to the right. The one going to the right might be tempting as it doesn't ascent anymore, but it leads to a dirt road further away from hill. We know, because we tried it.. So, you have to keep going straight. And up. The sign at this section of the path was so old that it wasn't readable anymore. But when you continue straight, there soon is a proper sign guiding you to a first viewing point. That is called Pikku-Leuha. From there you are starting to see the scenery of Jyväskylä.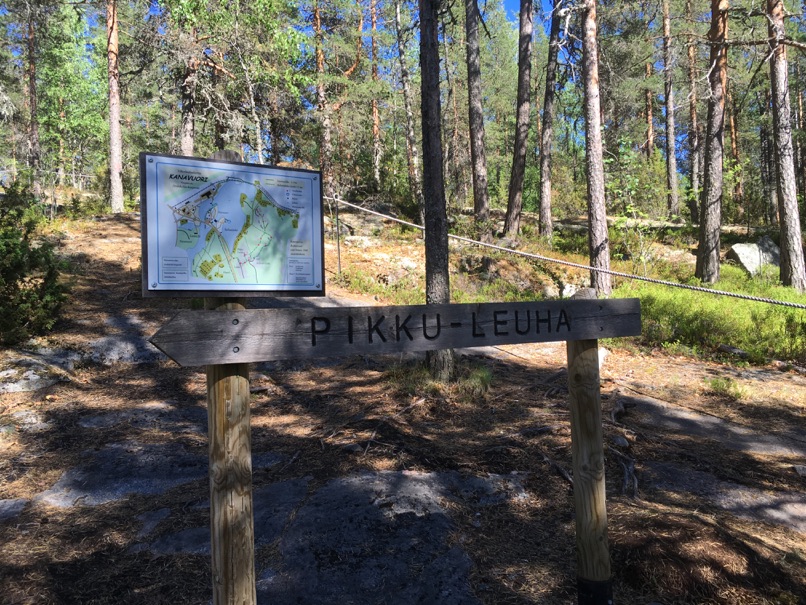 Kanavuori nature trail
Etu-Kanavuorentie 1
40800 Vaajakoski Jyväskylä
Parking lot:
Naissaarentie 2
40800 Vaajakoski Jyväskylä
We descended from Kanavuori and head back to Naissaari, which by the way is a nice location for a little stroll on a sunny day. We visited the design shop and cafe before making our way back to the city. Jyväskylä has a lot of hills and nice views, but Kanavuori is a good place to start.