Taatsi seida, or Taatsin seita in Finnish, by Taatsi lake is an ancient Sámi culture site where the local Sámi people brought offerings to the gods. It is located in Pokka village between Kittilä and Inari. The seida is about 10 meter high rock structure rising from a lake, and it was believed that a spirit or an elf lived in it. Near seida there is Taatsi church, a rock wall by the lake. Taatsijärvi wilderness hut isn't far either.
Old Sámi people believed in an animistic ideology, according to which everything has a spirit. The notion of holy was perceived in a very broad sense, for it was present everywhere. But seidas especially were believed to be the home of gods, spirits and elf folk. Most seida rocks are noticeable landmarks and clearly stand out in their environment.
We have visited this sacret site of Taatsi seida several times, so photos in this post are from different occassions.
Village of Pokka in Kittilä municipality
Pokka is a tiny village in Kittilä by Inarintie road. And by tiny we really mean tiny as there are 8 households in Pokka. There aren't any grocery stores, but there is one restaurant/cafeteria in the village which has some local knowledge as well as a very traditional array of taxidermy. Pokka is known as the coldest location in Finland as it hit -51,5 degrees Celcius in January 1999. There is an old poster celebrating this achievement by the information board in the crossroad of Taatsintie and Inarintie in the village. Nearby municipality Enontekiö holds a record for highest amount of snow, and that was 190 cm.
Taatsi seida
The Taatsi seida has also been known as the Powerful Seida and the Taatsi God, and it is by far the biggest tourist destination in Pokka. The Taatsi Seida was dedicated to deer, fish and later also to reindeer.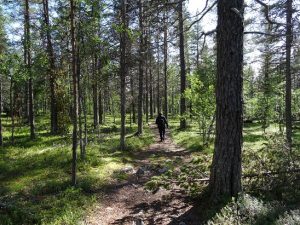 The road from Pokka to Taatsi seida is a gravel road so even during the best of weather it can be tricky to drive because of potholes and slippery gravel. There is a parking lot by Taatsintie road, and the trail departs from the left side of the road. The road continues straight, so be careful not to pass the parking lot. The trail to Taatsi seida is short, only about 100 meters. You should stay on the trail in this area as it is protected.

You will reach the seida from the top, so one important warning is, that you shouldn't let small kids run ahead and reach the cliff before you. And be careful if decending to the lake shore or seida as the hill is pretty steep.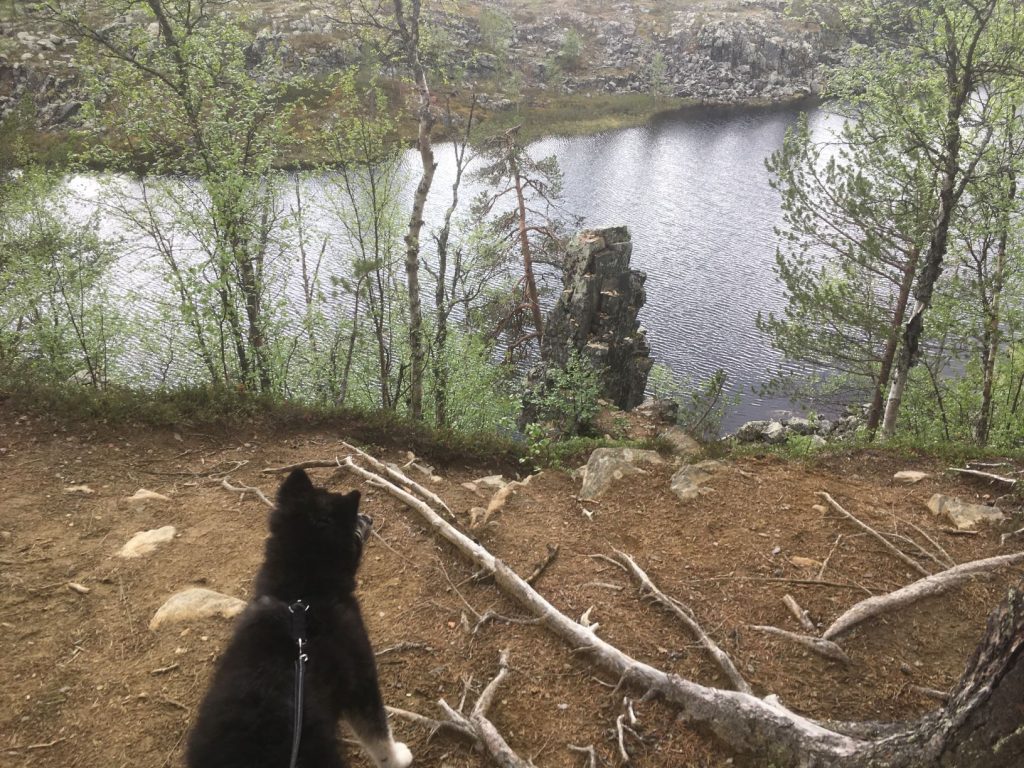 Pro tip: If you are hiking in the area and heading to Taatsijärvi wilderness hut to fish, it might be a good idea to give some sacrifice to the gods by the Taatsi seida first. When we have visited the seida, it had reindeer antlers, coins and many other things on it. The seida is protected by Antiquities Act, and damaging it is forbidden.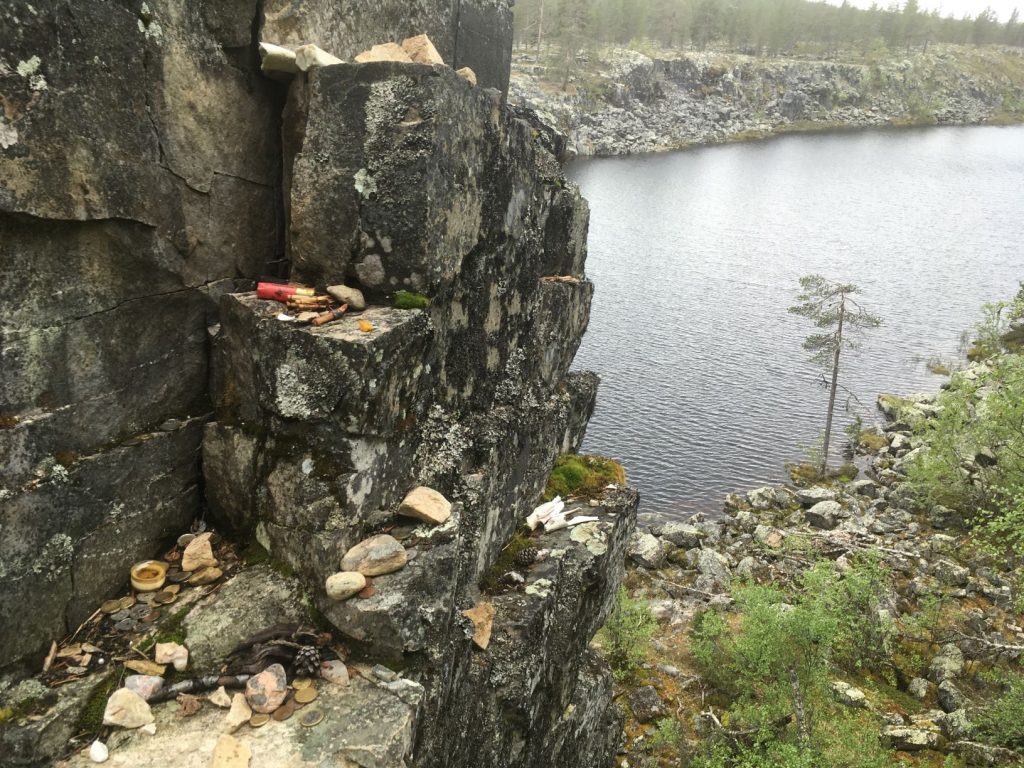 Geocachers might be interested to know that there is one fun geocache in this area!
Taatsinkirkko rock formation
About 100 meters west from the Taatsi seida you can find Taatsinkirkko, Taatsi church, which is a rock wall with a church-like echo if you sing by it. The Taatsinkirkko rock formation was thought to have been made by giants due to its unusual and peculiar shape. There are rocks that seem to be forming benches to the church. This rock wall was used not only for religious events but also for hunting as people used chase deers over the edge.
Taatsijärvi wilderness hut by the lake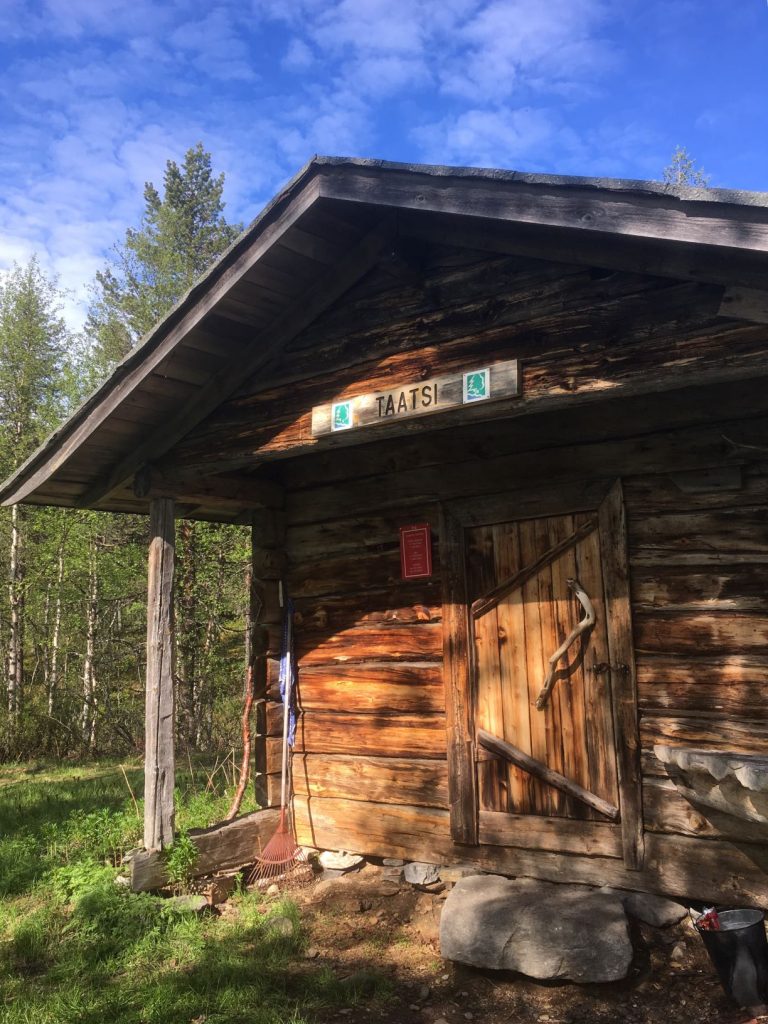 The Taatsijärvi wilderness hut is located by the same Taatsijärvi lake only about 1km from Taatsi parking lot back towards Pokka. It provides a nice setting for picnic, and the premises include outhouse toilet as well.
This wilderness hut was built in the fifties to fishermen from Pokka village. Fishing with a worm is allowed by everyman's rights. For all other fishing you will need to buy permits. The fisheries management fee is required if you are 18-64 years of age and will be fishing with lures or traps. For this area you also need Western Lapland 2410 permit. Remember to check forest fire warning status before cooking the fish by setting fire outside. You are allowed to set a fire inside the wilderness hut fireplace even if the forest fire warning is on as it has a chimney.
Wilderness huts in Finland are intended for hikers, skiers and other individuals moving under their own steam to use as resting points or for overnight stays lasting 1 to 2 nights. Visitors using other mode of transport may only use open wilderness huts as resting points during the day. Read more guidelines for using wilderness huts by Metsähallitus.
Directions to Taatsi seida
Address:
Taatsin seita
Taatsintie
99195 Kittilä
How to get there: You can get to Taatsi seida by car, bicycle or snowmobile.
Car: Simply typing Taatsin seita on your navigator will take you to Taatsi. The Taatsi lake is situated in Pokka village in Kittilä about 85km from Levi, 100km from Kittilä or 120km from Inari. When driving to Taatsin seita from Levi, first take Inarintie/Route 955 to Pokka village, then turn left to Taatsintie road and follow that approximately 11 kilometers to the parking lot. You should note that the Taatsintie road is not plowed during the winter. If there's snow, you can access to the site on a snowmobile. With snowmobile you must follow the official snowmobile tracks from Pulju to Pokka.
Bicycle: The cycling route is the same road cars use so please take care.
Public transport: There is no public transport available.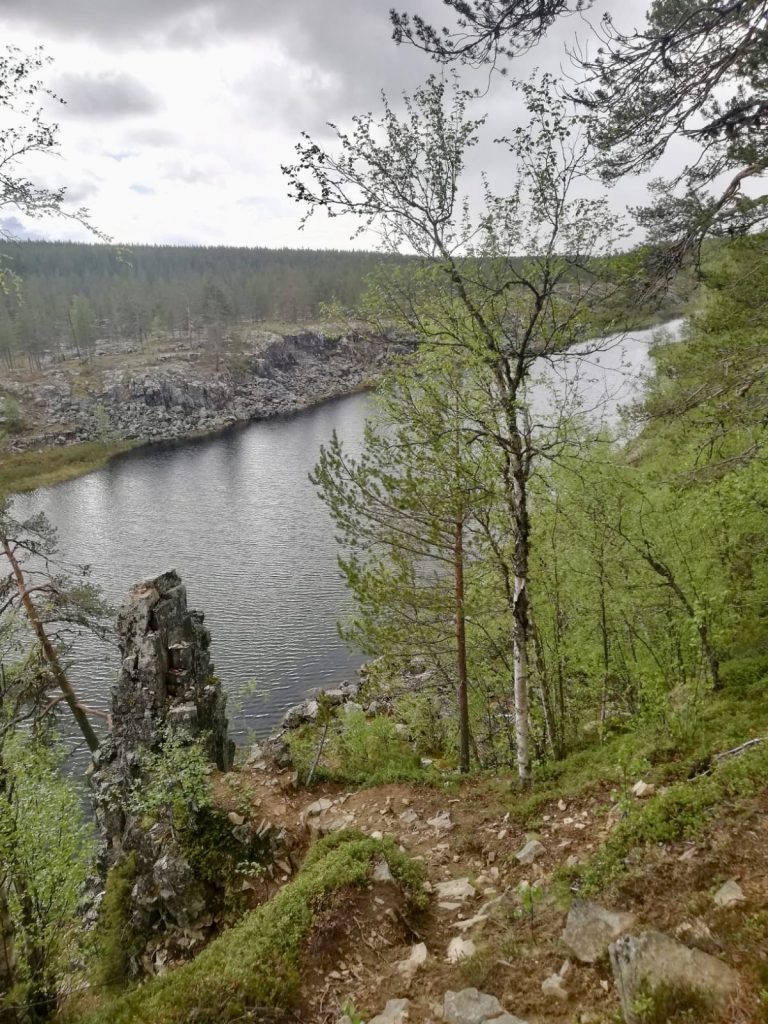 Accessibility: The path to Taatsi seida from the parking lot is wide enough for wheelchairs and children's buggies.
When to go: You can visit the area during summer months when there isn't any snow on the ground as the Taatsintie road is not plowed during the winter.
What to wear: Hiking shoes are good but normal sneakers will suffice. Remember mosquito repellent in the summer as there are a lot of mosquitoes in the area.
Special to remember: As usual in the Finnish nature, there is no staff to clean up the surroundings including the wilderness huts, so take all trash with you.