Harjureitti is 28 kilometers long trail network in Loimaa, Säkylä, Huittinen and Oripää municipalities in Southwestern Finland. It was established in 1998. Harjureitti, ridge trail, is a popular hiking and cross-country skiing trail on Säkylänharju ridge. There are many lean-to shelters in the area, so it is a perfect place for families to experience nature.
Parts of Säkylänharju are protected by Natura 2000. The ridge and its geology were formed during ice age. You should note, that part of the trails will cross to military area and it is prohibited to walk outside of the trail at those locations. There are signs to warn you about that along the trails. A Finnish army unit Pori Brigade is based in Huovinrinne in Säkylä, and its area extends to the Säkylänharju.

Table of contents
Map and trails of Harjureitti
Exploring Harjureitti and its sights
Näköalalaavu lean-to shelter in Porsaanharju ridge
Kantolaavu lean-to shelter
Juvankoskilaavu lean-to shelter
Myllylähde spring and Turvekammi
Directions to Vampulan Ulkoilumaja
Map and trails of Harjureitti
Map below shows you the Harjureitti trail network, its facilities and parking areas. As most of the trails are used as skiing trails in winter, they are wide. In the map some trails are marked with yellow, and that means the skiing trail has street lights in winter. A useful feature in the Finnish winter.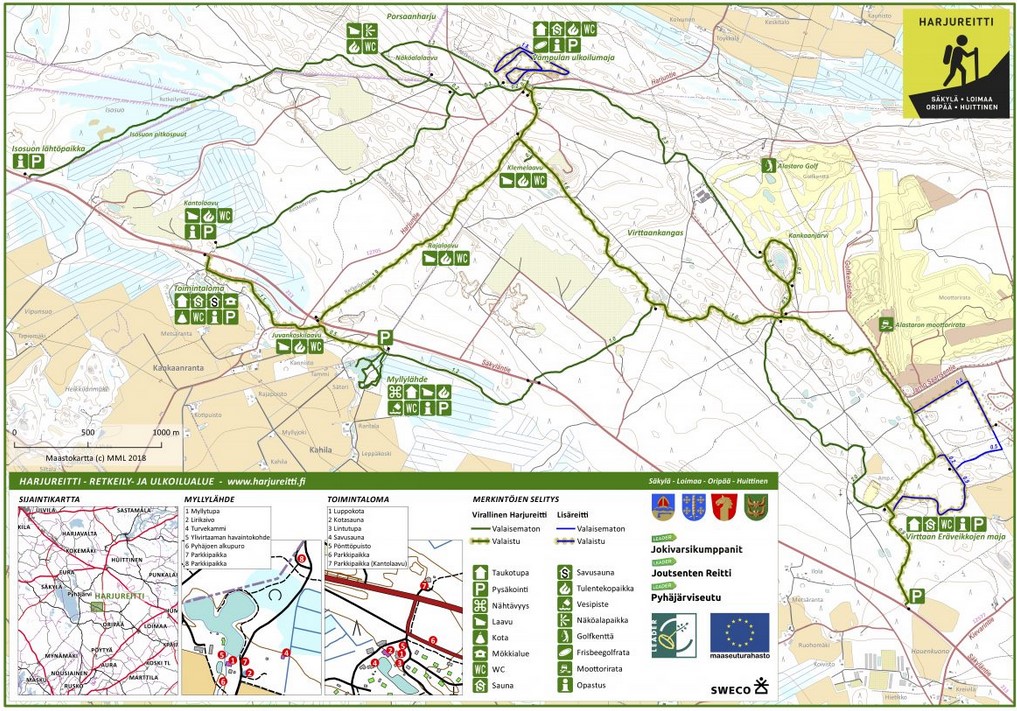 You can choose your own trail flexibly, but these are some recommended trails:
Sivuharjun ja lähdeluonnon reitti (side ridge and spring nature trail), 4 km: Toimintaloma-Juvankoskilaavu-Myllylähde-Toimintaloma
Isosuo duckboards, 7 km: Isosuon lähtöpaikka (departure point of Isosuo)-Näköalalaavu-Kantolaavu-Isosuon lähtöpaikka
Pääharjun kierros (main ridge trail), 8 km: Kantolaavu-Luppokota-Juvankoskilaavu-Rajalaavu-Klemelaavu-Vampulan ulkoilumaja-Näköalalaavu-Kantolaavu
Here are addresses for the different parking areas in the map:
Vampulan Ulkoilumaja: Harjuntie 407, Huittinen (Vampula)
Isosuo: Säkyläntie 845, Oripää
Kantolaavu: Säkyläntie 717, Oripää
Myllylähde: Myllylähteentie 32, Loimaa (there is another Myllylähde in Oripää south from this, do not mix them!)
Toimintaloma: Toimintalomantie 2, Alastaro (Virttaa)
Virttaan Erä-Veikkojen maja: Säkyläntie 215, Alastaro (Virttaa)
Exploring Harjureitti and its sights
We headed to Harjureitti on a cloudy Sunday in October and from multiple parking options we chose Vampulan ulkoilumaja. There were plenty of cars in the parking lot. Disc golf and nordic walking seemed to be the most popular activities in here in October.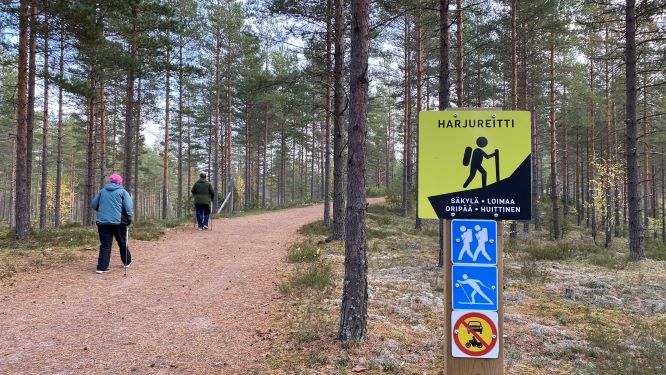 Before we even got to the trails, one man was walking towards the parking lot and noticed my dog Nalle. "Is he like Äijä?" the man curiously asked. Äijä is a Finnish Lapphund, who has become famous on the TV because of TV show Eränkävijät. In that show Äijä explores Lapland and often goes fishing grayling together with his owner Aki. So thanks to Äijä, all Finnish Lapphunds are now recognized as Äijä. Especially Nalle, who looks very similar. Follow the real Äijä in Instagram or check out Eränkävijät on Yle Areena. Nalle is also a fan!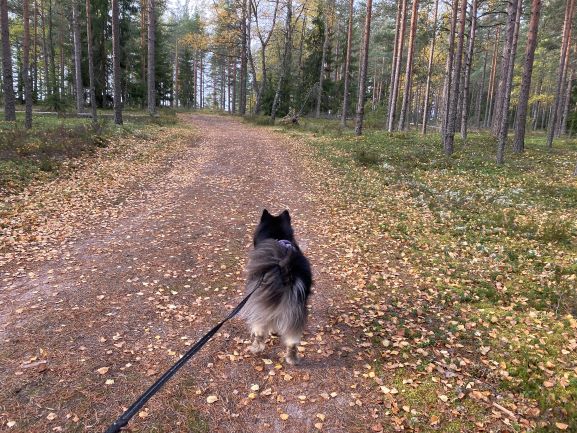 Näköalalaavu lean-to shelter in Porsaanharju ridge
We decided to first head to Porsaanharju ridge, because its lean-to shelter was called Näköalalaavu, literally lean-to shelter with a view. The Porsaanharju was a good first pit stop, but the view left a lot for imagination. The hill down from Porsaanharju was really steep but as the ridge is in the middle of the forest, the view wasn't very open. If you were to climb a tree, you would see Lake Pyhäjärvi in Säkylä in the distance. But it is still the highest point of this Porsaanharju ridge why this place is called the Pikkulappi, Little Lapland.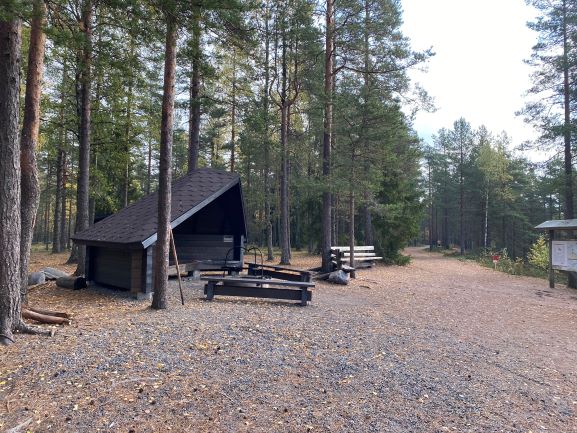 After Porsaanharju I wanted to head to Myllylähde spring, but I had several trail options to choose from. I decided to stay away from the duckboards, which you will find on the trail over Isosuo bog. Instead, I chose to head to Kantolaavu lean-to shelter next.
Kantolaavu lean-to shelter
On my way to the Kantolaavu I started thinking, that somehow this place does remind me of Lapland. I think it was mainly pine forests, sandy soil and lichen. I was almost expecting some reindeers to appear from around the corner. Nalle too, I'm sure. But, you won't find any reindeers here. Deers or moose you could possibly see.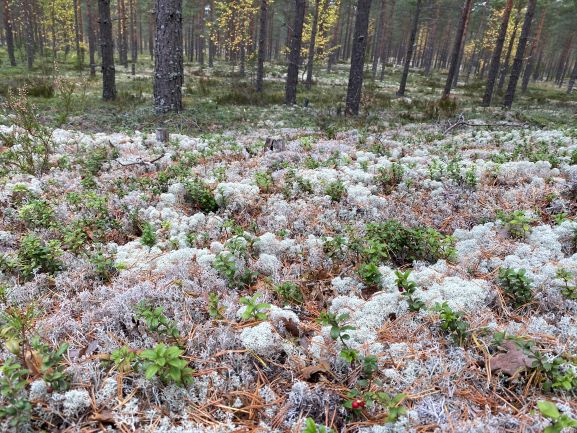 One thing constantly reminded me that we are not in remote wilderness of the real Lapland. I could hear motorcycles on Alastaro Circuit most of the time. The circuit is a famous motorsport center located only few kilometers away. Part of the trail actually passes the Alastaro Circuit, so on a summer or autumn weekend you would get to enjoy some motorsports.
The Kantolaavu was one of the most impressive lean-to shelters I have seen. It was massive in size, and had three big stumps on its roof. Kanto in Finnish means stump, so the name Kantolaavu is pretty descriptive. At least more than the name Näköalalaavu in Porsaanharju. Kantolaavu is located right by Säkyläntie road, so it is easy to visit.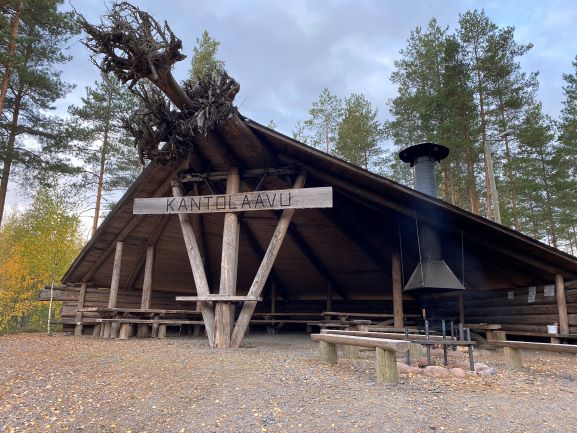 Juvankoskilaavu lean-to shelter
On the way to Myllylähde I passed Juvankoskilaavu lean-to shelter, which would also be easy to reach if you visit this area with small children. But it wasn't as impressive as Kantolaavu.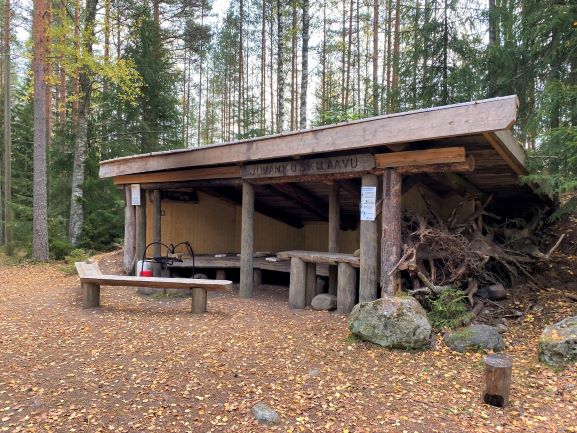 Myllylähde spring and Turvekammi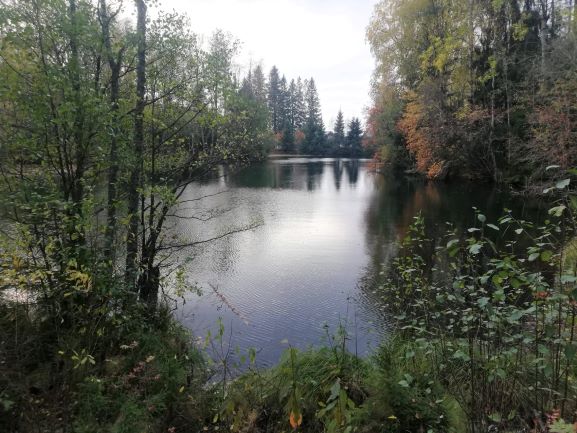 The Myllylähde spring lake is pretty. There is a functioning artesian well, which produces clean water throughout the year. Next to Myllylampi you will find a Turvekammi barbeque hut.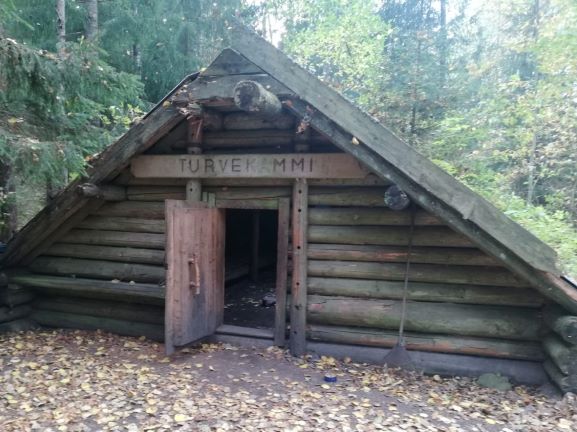 The best part of the Harjureitti are the many lean-to shelters and wide trails. I didn't even visit them all! I would love to come back here in winter for cross-country skiing.
Directions to Vampulan Ulkoilumaja
Address:
Harjuntie 407
32610 Huittinen (Vampula)
How to get there:
Car: Vampulan ulkoilumaja is easy to find by Harjuntie road. It is nowadays located in Huittinen municipality, as Vampula has been merged to Huittinen. It's located about 75 kilometers north from Turku.
Bicycle: Check out unmarked Harjunkierto bicycle trail that begins from Säkylä. Bicycles are allowed on Harjureitti trails.
Public transport: You can reach Säkylä by bus from Turku, but from there it's over 10 kilometers walk to the nature trails. Check out timetables at Matkahuolto.
Accessibility: For example the Kantolaavu lean-to shelter is accessible as it is located by the Säkyläntie road. Most trails are wide and accessible, but there are some hills in the ridge area. Duckboards are located at Isosuo bog.
Facilities: There are excellent facilities in the area as you can see on the map. Remember that you can only use the open fireplaces when there is no forest fire warning on. You can also find saunas for rent in here. Unfortunately one rental sauna in Myllylähde was destroyed by fire last year.
When to go: You can enjoy the place at any time of the year. In winter when there is snow, most of the trails serve as skiing tracks. Remember that dogs are not allowed on the skiing tracks. Not even Äijä.
More information:
The official website of Harjureitti
Bike rentals in Virttaa
Disc golf
Alastaro Golf
Alastaro Circuit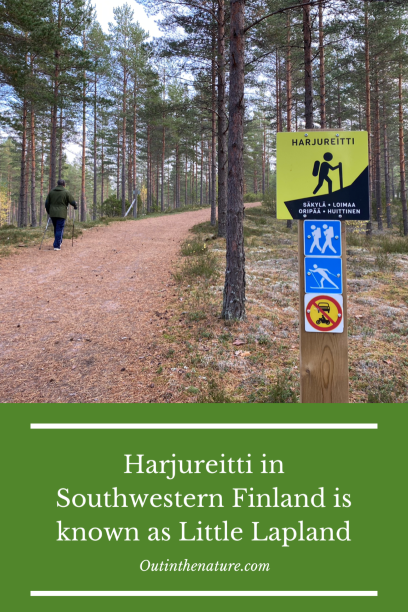 Check out these similar destinations