Vanhankylänniemi is a culture-historically important site on the shore of Tuusulanjärvi lake. It is one of the more popular recreation areas. We've been there several times during different seasons and it always manages to be fun.
Recreation all year round
At any time of the year you can check out the accessible and easy 4km nature path that goes around the headland. You can jump on the path from anywhere but the easiest place to start is by the old pinkish manor house by the lake.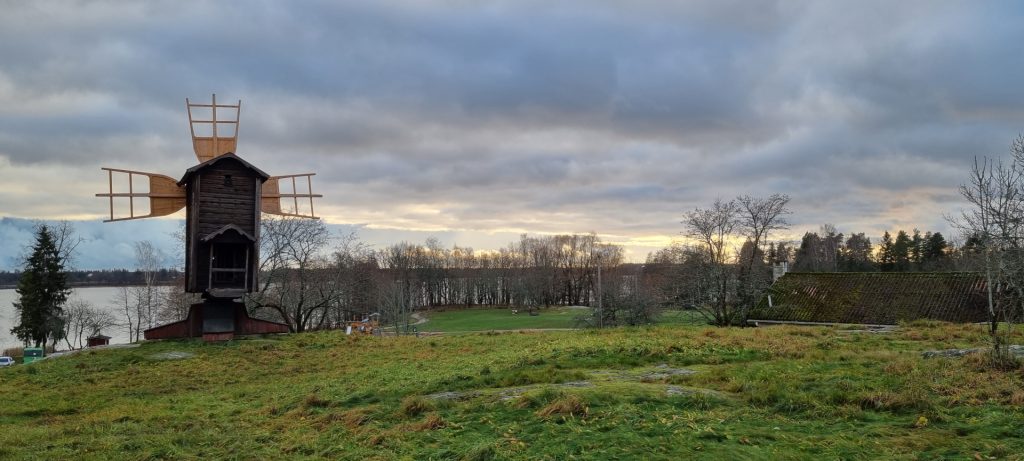 The lovely manor house dominates the view but right next to it are three remaining crofter houses on the hill. In the manor's heyday, there were over 60 buildings housing almost 500 people. There is also a windmill, which was originally from the Pihtipudas area in Finland. It was built in 1850 and moved from Pihtipudas to Järvenpää in 1985.
Next to Vähälahti Bay are some cottages. The area near the bay is very low-lying ground, mainly marshland so in the spring and summer there will be lots of birds around. The path follows the lakeside and rises higher up to give lovely views over the headland tip. This is where the Puistoblues, a blues and jazz festival originating from 1977, is traditionally held. The tip is a lovely park area with naturally gently sloping banks perfectly suited for picnic blankets and a stage at the lake shore.
Throughout the Vanhankylänniemi area you can see lots of mature hardwood. Some are just dot the landscape but near Annitädinkenttä (the large park area) is a lovely oak-lined path. A bit further from the path is a proper picnic table area but the grassland around also invites people to spread a blanket anywhere. Obviously, picnics outside are easier in the summer but nothing prevents you from having them at any time of the year! In Finland, eating outside is always possible – it just requires you to dress properly to suit any weather.
Winter at Vanhankylänlahti and Tuusulanjärvi
In the winter, Tuusulanjärvi is truly transformed. In mid-winter, when the lake ice is strong enough, local ski groups snap into action. They clear away some of the snow to create long lanes for tour skating (also known as toerschaatsen in Dutch). In total, there are about 15km of lanes for tour skaters and an equal amount of tracks for skiers. You can bring your own equipment or rent them from the area. The most important thing is to check the condition of the ice first because even shorter warm spells may damage the ice and make it dangerous. You should also always have safety equipment such as ice claws and a rope throw bag with you in case the worst happens and you need to get yourself out of icy water. You can check for info on the ice conditions from Tuusula's own website or from local volunteers.
A lot of people spend the entire day enjoying Vanhankylänniemi. They bring firewood and barbecue sets with them to keep warm in the brisk winter weather. Obviously, if you choose to do this, you must make sure it is safe to make a fire and make sure you don't make an illegal firepit on the ground. Nature is to be enjoyed, not destroyed.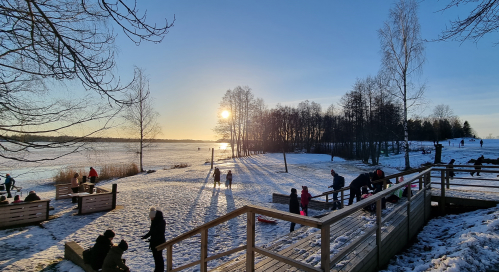 Interestingly, there are dedicated areas of Tuusulanjärvi lake which are kept open in the winter. The reason is that these are used by winter swimmers, those people who swim in a hole carved into ice. It is an interesting sight to see winter swimmers dip in between the floating lake ice while skiers and skaters zoom past.
History and culture galore
The Vanhankylänniemi recreation area is centered around the old manor house, which now houses a cafe. The story of the Vanhankylän kartano manor begins in 1621. That's when ensign Niilo Lauri's son (or Larsson) from Siuntio got a hold of two decrepit farms which were his wife's inheritance. He became a decorated soldier when he (according to the legend) sneaked into the enemy's camp and stole the bolt locks of their weapons. Queen Christina of Sweden rewarded him with a peerage and a new name Ståhlhana (=steel bolt).
The Ståhlhana family governed the manor for almost 200 years. However, in 1805 the death of Nils Ståhlhane caused problems because the manor couldn't be divided between his 27 heirs. In 1810, the manor was bought by Karl Peter Nyberg who began to remodel the manor. Later on, the manor was then inhabited by his friends and their descendants. The last persons to live in the manor were the widow Wilhelmiina Tallgren and her daughter Anna Natalia (also known as Auntie Anni or Anni-täti, after which Annitädintie road is named) until 1915.
One fun "relic" is the church boat Niilo Ståhlhana used to get from his manor to the church on the opposite side of Tuusulanjärvi lake. Church boats (kirkkovene in Finnish) are long and sit anywhere from 12 to 60 people in one row boat. Niilo's church boat is stored near the windmill so make sure you check it out.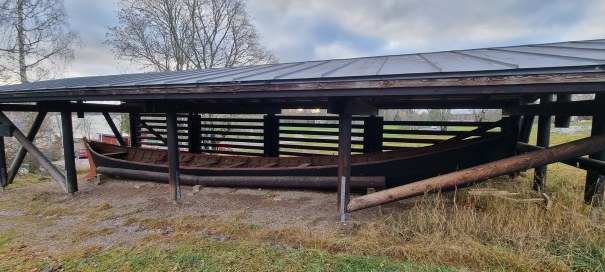 Finnish golden era artists at Tuusulanjärvi lake
In general, the area around Tuusulanjärvi lake is famous for its artist "colony" which began to develop there in the turn of the 20th century. In 1897, author Juhani Aho and his spouse, painter Venny Soldan-Brofeldt were the first artists to rent a villa from Järvenpää manor on the other side of Tuusulanjärvi lake. This manor is called Ahola. Other "Finnish golden era" artists followed. Painter Eero Järnefelt had his house Suviranta built in 1901, painter Pekka Halonen and poet J.H. Erkko had their houses, Halosenniemi and Erkkola respectively, built in 1902. In 1904, the famous Finnish composer Jean Sibelius moved his family in their house Ainola. All these houses are currently museums that can be visited.
Directions to Vanhankylänniemi
Address: You can type Vanhankylänniemi on your navigator. It will take you to the start of the nature path.
Car: There are several parking areas at Vanhankylänniemi free of charge.

The largest parking area is at Annitädinkenttä (you can type that directly on your navigator)
A medium-sized parking area is at Tuulimyllyntie 4, 04400 Järvenpää
A smaller parking area is at Stålhanentie, 04400 Järvenpää

Bicycle: There are great cycling trails in the Järvenpää area and around Tuusulanjärvi lake so make sure you try them out.
Public transport: You can get to Vanhankylänniemi by public transport very easily. Trains go to the centre of Järvenpää, and you can catch a bus from the station. You can also walk from the train/bus station as it's only 3km to Vanhankylänniemi and you get to walk along the gorgeous Tuusulanjärvi lake side. Check out timetables from Route planner.
Accessibility: Vanhankylänniemi and its nature path are fully accessible.
When to go: You can visit at any time of the year.
Facilities: There are cafes at Vanhankylänniemi, where you can use the facilities. Outside their opening hours, there are no facilities such as toilets available.
Make sure you also check out
Myllykoski rapids and nature path are not too far away from Järvenpää, so make sure to check them out, too.