Renting a cottage in Finland is the best accommodation option, especially if you are traveling by car, you have a family or pets with you, you want to explore nature destinations, and you want the full experience of Finnish cottage life. The cottages are not always more expensive than the hotel rooms, but you usually get more space for the same amount of money. There might be many beneficial features and amenities included in the rental cottage such as a yard, a lake access, a barbeque hut, a sauna, and even some sports equipment such as rowing boats and fishing gear, bicycles, or snowshoes. Finland has hundreds of thousands of cottages to choose from. How do you know which kind of cottage is suitable for you? Here are our tips for renting a cottage in Finland!
Before we get into tips, let's look at sustainable tourism and the positive impact it can have on a local society. Choosing accommodation is an important decision because by choosing where you spend your money, you can directly aid the locals. If you go with a large international travel company to book your trip or use large hotel chains, it might not be the best way to travel. Why? When you rent a cottage from private owner, you help money stay in remote areas. It also allows all to engage in sustainable ecotourism.
What do you need to take into consideration when renting a cottage?
Finland is a vast country and first you need to decide the area where you will be travelling. If you don't have a specific town in mind for your cottage holiday, think about what you want to see and experience. Study the different destinations in Finland. We have divided Finland into five main destinations in our site: Lapland, the Oulu region and Kainuu, Eastern Finland, Western Finland, and Southern Finland. Check out the Finnish map and short destination descriptions.
It's good to acknowledge that some cottages are located in the remote wilderness and there might not be any grocery stores or restaurants near by. So after you know the area or town where you want to look for cottages, think about what else do you want. Do you want easy access to shops or would you rather enjoy the nature? Cottages close to the cities or in the skiing centres are often a more pricey than the ones in more remote locations. So, decide do you want to be closer or further from other people.
When you know roughly the location for the cottage, you need to ask yourself if a sea, lake or river is a must or would you rather settle for a cottage on a dry land. Cottages with a private access to water can be more expensive than dry land cottages. Lakeside cottage on the other hand might be dangerous if you have small children who can't swim.
Cottages can vary from basic log cabins to fancy villas and instagrammable glass iglus. You should note that there are cottages without electricity or running water, so always check that. Cottages can be rented from so called cottage villages where amenities such as sauna are shared with others and need to be booked separately. Cottages can also be rented from private people and be equipped with a private sauna. For us Finns, the sauna is a must have. There are also different types of saunas, from wood burning to electrical, and they can be located inside the cottage or in a separate building in the yard.
Even if the cottage has running water and electricity, they don't always have water toilet inside the cottage. Are you be prepared to go to outhouse and deal with the compost toilet? Think hard if a normal toilet is your "must have"? Kitchen equipment level also varies. Some cottages have a fridge and oven but no dishwasher or laundry washer. More facilities and equipment cost money versus the bare necessities.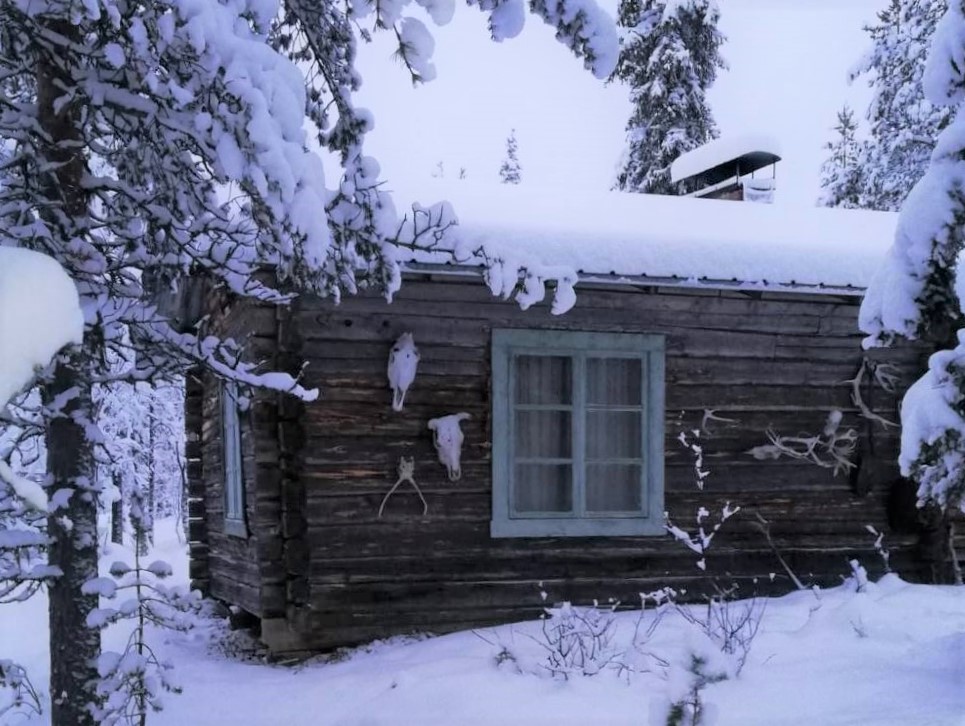 Checklist for your basic requirements:
Location (area, distance to airports, cities, ski centres, national parks etc.)
Services near by (grocery stores, restaurants, attractions)
Water access or dry land cottage
Electricity and running water
Wood burning or electrical sauna, hot tub or pool
Barbecue hut or area
Indoor or outhouse toilet
How many beds or bedrooms (some beds may be located on an open balcony or even in a separate shed)
Kitchen equipment (oven, fridge, freezer, microwave, dishwasher, coffee maker, toaster, water kettle, washer and so on)
Car heating socket for winter or possibility to charge an electric car.
Do you travel with a pet? Check that pets are allowed. I have always booked dog friendly cottages, and they have often included a fenced area or a long leash for the dog. I wouldn't leave my dog alone in a strange yard anyway, but fenced area gives him a bit more freedom to run around. Unfortunately dog friendly cottages might also mean some dog hair on furniture and not so clean carpets.
Many cottage owners provide outdoor equipment such as rowing boats, SUP boards, bikes, skis, or snowshoes for rent or to use free of charge. My friend who is renting cottages in the countryside even delivers a hot tub on wheels for those guests who request that. It is always worth asking what activities you could do near the cottage. This way you can take full advantage of your Finnish cottage life experience.
Top 10 cottage towns in Finland

Cottages are everywhere in Finland. However, these are the top 10 cottage towns when measured simply by the amount of cottages.
Kuopio, Mikkeli, and Savonlinna are in the Finnish lake district, and the beauty of the area undoubtedly influences to the amount of cottages. Check out our post about Puijo tower in Kuopio and you get the idea of the scenery in. Savonlinna is also well known for Olavinlinna castle and its world famous Opera Festival.
Parainen, Lohja, Raasepori, and Salo are located in densely populated southern part of the country and within immediate proximity to the beautiful Finnish archipelago. Here the amount of population directly influences to the amount of cottages. Many people in the capital area also like to have cottages near as the average distance to a cottage for a Finn is only about 90 kilometres. Teijo National Park and historic ironworks villages are located in Salo.
Häme castle and Aulanko nature reserve are Hämeenlinna's most popular destinations. The view from Aulanko lookout tower is one of the most famous sceneries in Finland.
Kouvola is located about 140 kilometer northeast of Helsinki. Repovesi National Park is the absolute gem of Kouvola area.
Finnish Lapland is definitely a popular region to go to. However, there are less cottages in its vast wilderness areas than densely populated coast or Lakeland. Kuusamo is the only destination in the north that made it to the top 10.
Where to find rental cottages in Finland?
Many cottage villages have their own websites where you can rent a cottage. Those private people we mentioned earlier use various websites to promote their cabins. The websites we have used for renting privately owned cottages in Finland include Lomarengas, Booking.com, GoFinland, and Airbnb. The benefit of these sites is feedback you get to review before renting, and generally good descriptions of the cottages.
Fair warning: There are sometimes scammers that try to rent non-existent cottages. So, watch out for deals that are too good to be true. Make sure there are proper contact details available, pay by credit card and not directly to an individual account. Also, use trusted sites, ask recommendations or read the landlord's feedback. Finally, check the address and pictures of the cottage in Google search. Even if you could get your money back in a fraud case, the harm is already done. You don't need lots of extra stress and perhaps even a ruined vacation.
Arrival to the rental cottage
I would kindly like to remind you that it might be useful to buy groceries on the way if there is no store nearby. There's nothing worse than arriving to the cottage hungry and having no food available! My uncle once made his way to a cottage in remote wilderness in Lapland without shopping any groceries. He didn't realize that the nearest grocery store was about 60 kilometres away and closed during those hours. Luckily, the cottage had emergency food storage with plenty of cans and dry bread available, so he didn't starve. However, rental cottages won't have an emergency stash of cookies for you to survive on.
There are several ways of getting keys to your rental cottage in Finland. You may need to pick up the keys from the owner's house, or there might be a code for the key box at the cottage. If the cottage is part of the holiday resort, there is probably a reception. Check the opening hours and let the landlord or reception know your ETA, especially if you are arriving late. If you have ordered some extra items such as linen and towels, those are usually paid upon arrival if not already in the booking.
Soon after your arrival, it is good to check the basic functions of the cottage such as electricity, water, and smoke detectors. Don't be afraid to ask questions, especially when they concern your safety. Heating a sauna, using a fire place or barbecue, operating a boat, or anything like that might require some special knowledge. We have always had some instructions on a cottage book, so check if there is one available.
While most cottages in Finland have electricity, power outages occur especially in winter when heavy snow is disturbing power lines. Make sure your phone is charged, and that you have a torch easily available in the cottage. Emergency app 112 Suomi is useful to have on your phone. Download it as a safeguard because it shares your location to authorities when calling for help.
When it's time to leave
Remember that the price of the cottage doesn't always include cleaning or even sheets and towels. So, check this beforehand and consider if you are willing to clean the cottage at end of your holiday or would you rather pay for that service. Final cleaning is probably the most common cause of arguments in cottage rentals. Make sure that you understand what is expected, if you take care of the cleaning by yourself.
Usually trash collection is not organized from the cottage, especially from remotely located ones. Also make sure you know where to take the trash, and take Finnish recycling rules into consideration.
Returning the keys is the final thing to remember, and of course rate your experience so that you help other travellers in renting the cottage.
Have you ever rented a cottage in Finland or is it something that you are considering? Comment below!