On a sunny and crisp spring morning, we had the same idea as many others: let's go hiking. We ended up heading towards Vihti and the Palakoski recreation area. I knew it would be a challenging place due to the differences in height elevations. However, I thought we were mentally prepared and ready to go. Because we were a larger group of people, we went by car. Several hundreds of metres before our destination, we saw some volunteers in high-visibility vests directing traffic. We were told that the largest carpark was nearly full and we would have to wait. Thankfully, the wait was short and we managed to find a spot that wasn't mushy snow nor muddy sludge (i.e. you could get out of it, too).
Circle route, cliff viewing, or best of both?
There are three routes available at Palakoski. You can easily divide the 4.3km circular route called Palakosken kierros into two routes (marked with orange). This is because they are bisected by the 1km route to Mummusali cliff viewing point (marked with pink).
The best way to enjoy Palakoski is to take the demanding circular route, which means you will have to walk up the steps to Mummusali cliff viewing point. The Mummusali cliffs route is moderate and you can return the same way (making it 2km and more suitable for children).
We chose to walk directly to Mummusali and then hike down to the rapids and Palojärvi lake (the so-called "top half of Palakoski". All in all, this route ended up being about 3.3km and quite demanding. Our route showcased all the best sights of the Palakoski recreation area. In all fairness, it was so slippery that we were exhausted after such a short hike. On top of it being slippy, the snow no longer supported our weight fully so our uneven walking looked peculiar to say the least. These snow conditions are called kantohanki in Finnish: kanto comes from the Finnish verb "to carry" (kantaa) and hanki is a type of packed snow (thanks Varpu for the explanation!)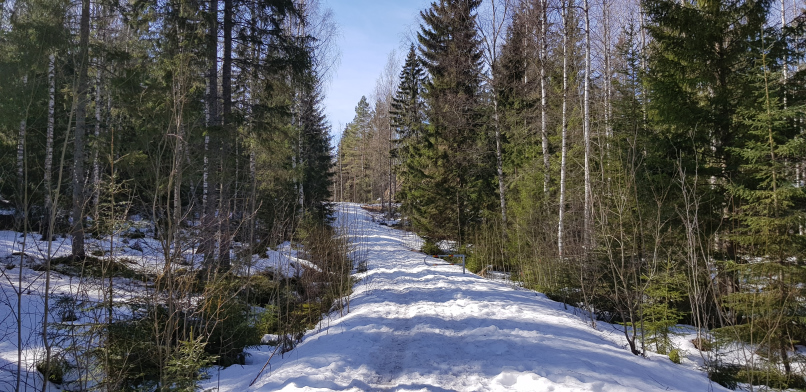 Mummusali cliffs are worth the effort
As soon as we left the info and map notice board, the path towards Mummusali cliffs goes uphill. Trudging through mushy snow, we eventually got to the top of the first hill baked by the spring sun. The path wasn't always very easy to follow and sometimes we had to really look hard for the pink dots marking the way. At the edge of a forest, there were only two metal posts but no pink dots visible: we eventually decided to go through metal "gate" and ended up finding the pink dots about 150m in front of us.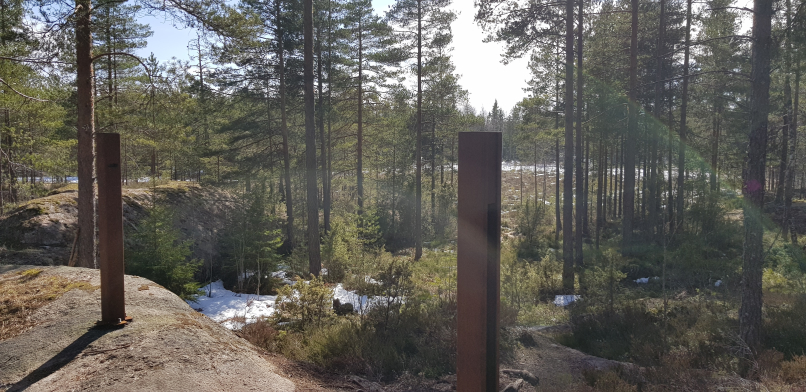 I will admit that the 1km hike felt longer simply because we had to be careful not to slip. But, when we finally began to see less forest and more radiantly blue sky in front of us, we knew it had been worth it. There were some wood benches facing the view but mostly people were sitting on sun-warmed cliffs, enjoying their snacks. Some children were naturally curious about the huge cliffs so everyone kept a close eye on them (there are no fences to prevent falls). Apparently Mummusali cliffs are popular among advanced rock climbers, too.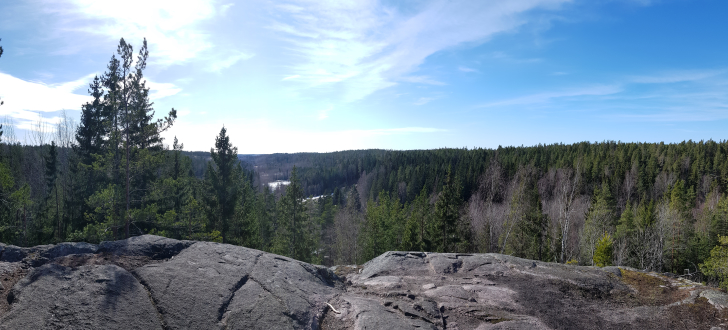 Palakoski rapids and more glorious cliffs
Descending from Mummusali down towards the river was s-l-i-p-p-e-r-y! The problem wasn't always the ice but also the soggy moss and crumbly forest floor. Thankfully we had some Nordic walking sticks for added stability and grip as well as studded shoes. If you fall here, it takes an awfully long time to reach the bottom of the cliffs. So…. we took our time.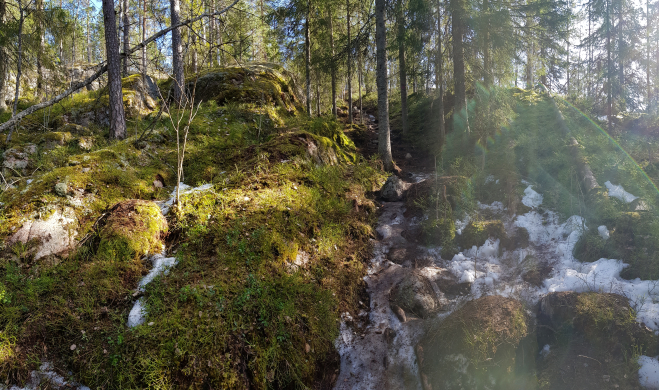 When we reached the river, there is a sign directing you back on the circular track. We heard the rapids in front of us and went to take a peek. Pictures never do any justice to rapids but these were lovely! If it hadn't been so chilly under the dark forest canopy, it would have been a great place to stop for a snack.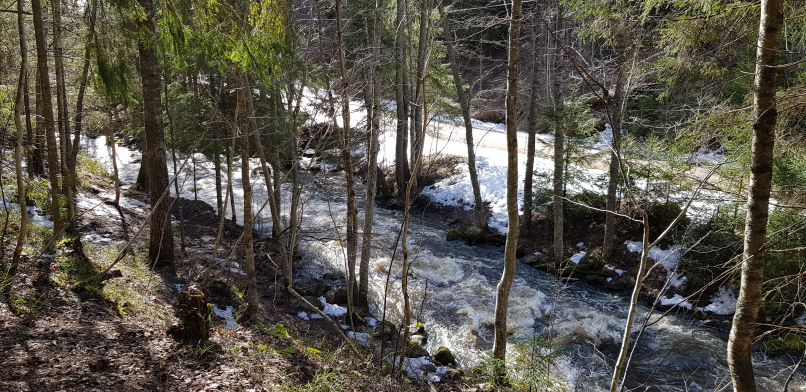 We continued along the path that took us within a falling distance of the river. Occasionally, the path was even slightly under water so we clambered up the banks to stay dry. Oh, and don't think it was just ice and water – mud was also present. But that's springtime out in the nature: anything can and will happen!
A the end of the trail, you climb from the lake level back up to the trail head and emerge back onto sun-baked hills. Our hike hike took us a total of 2,5h but we only walked for about 1h15min of that time. Next time we will visit in the summer or autumn to check out how the views change.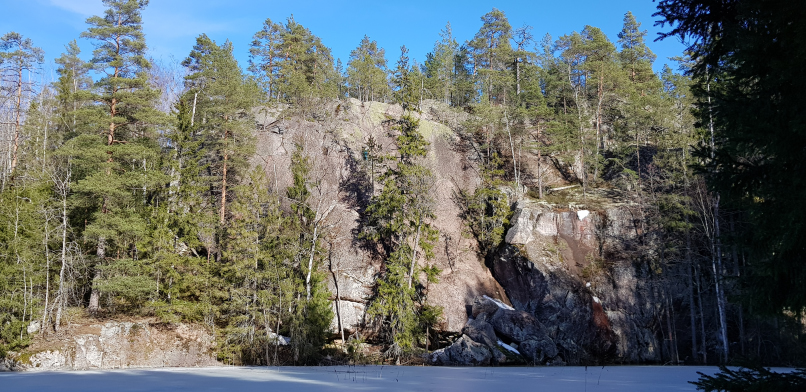 Directions to Palakoski
Address: Type Palojärven metsätie 416, 03150 Vihti on your navigator. Alternatively, you can also type in Palakosken virkistysalue.
Car: There are three parking areas at Palakoski:

There is a smaller one (fits about 3 cars) along Palojärven metsätie about 100m before the large carpark
The largest parking area is in the intersection where you turn toward the recreation area (type in Palakosken virkistysalueen pysäköinti on your navigator).
The third parking area is on top of a hill at the Palakoski trailhead, past the large car park.

Bicycle: Don't feel like cycling next to the busy E18 road? There are plenty of smaller roads such as the 110 through Veikkola to cycle on while enjoying the countryside.
Public transport: You can get close to Palakoski by public transport but you still have to walk for about 5.5km. The nearest bus stop is called Korissuonmäki P. Check out timetables from Route planner.
Trailhead: The trailhead is at Palojärven metsätie 416, Vihti.
Accessibility: Palakoski is not accessible. The area has some well-worn paths but the terrain is varying. Palakoski is demanding so it should only be attempted with children who have enough patience to take it easy in the roughest patches.
When to go: You can visit at any time of the year. In the winter, the cliffs and stairs get very slippery so make sure you wear your studded shoes and maybe take Nordic walking sticks with you, too.
What to wear: Studded shoes during the winter/slippery season. Sturdy shoes at other times because the stairs may be slippery.
Facilities: There are is no fireplace in the area. You must not build an illegal fireplace. There is a dry toilet in the area.
Make sure you also check out
Klassarinkierros at Nuuksio National park is nearby if you feel like exploring more forests. Lahokallio nature path is also nearby at Lohja and suitable for people of all ages.