Birdwatching event Pihabongaus was organized in Finland 29-30 January 2022 by BirdLife Finland. It's a great event to observe winter birds visiting your bird feeding station and to report the results for the BirdLife's database. We were happy to take part, and so did over 25 000 other birdwatchers from their yards all around the country!
BirdLife Finland is the Finnish partner of BirdLife International, which is a global partnership of conservation organizations that strive to conserve birds, their habitats and global biodiversity. The Pihabongaus event was organized for the 17th time. It is an excellent way to collect data on bird species and their amounts.
BirdLife has now shared the results and these are the 10 most common birds visiting our yards in Finland:
Great tit, talitiainen
Yellowhammer, keltasirkku
Eurasian blue tit, sinitiainen
Eurasian tree sparrow, pikkuvarpunen
Bullfinch, punatulkku
Bohemian waxwing, tilhi
Western jackdaw, naakka
Fieldfare, räkättirastas
Common blackbird, mustarastas
Eurasian magpie, harakka
Birds we spotted at Pihabongaus birdwatching event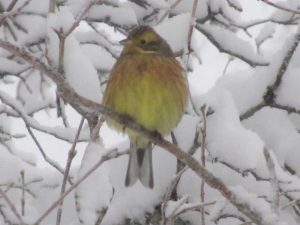 Out of the ten most common winter birds, we spotted six, and also few others that didn't make it to top ten list. I was spotting the birds for an hour, as instructed by the BirdLife Finland. The three most common winter bird species in our spotting session were yellowhammers, great tits, and blue tits, exactly like on the list. It was interesting to see how many I could recognize, and also observe how differently the different bird species behaved. Yellowhammers were mainly eating seeds from the ground, and occasionally visiting Nalle's fenced yard.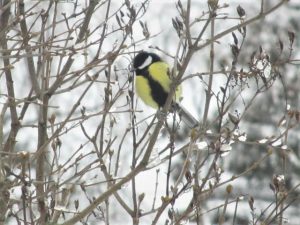 The great tit is one of the first birds that I learned to recognize as a kid by its yellow and black coloring, black head with white cheeks. The tits were fighting each other at the bird feeder, great tit easily being the most aggressive one. They attacked others and tried to chase them away. It's funny how you start to like and dislike some birds based on their behavior. In addition to the great tits, I managed to see one coal tit briefly visiting our yard. Not as colorful as some of its relatives, the coal tit has a greyish chest and back, and a black cap. It is the smallest tit in Finland. Its smaller, slenderer bill than blue or great tits means it can feed more successfully in conifers. It comes to visit the bird feeder briefly, but seems to carry the seeds away. In comparison to the great tits, I'm in team coal tit, for sure.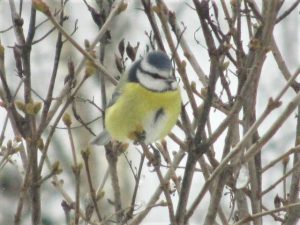 Blue tits are smaller than great tits, and quite colorful birds. They have a fun blue cap on their heads. There was a flock of blue tits, hanging out together, fighting the great tits. Observing these little birds looking angry reminds me of Angry birds, a popular mobile video game developed by a Finnish company Rovio. It's not difficult to imagine where the inspiration for that game could have come from. Maybe someone else was also taking a break from the laptop, sitting by their window, and spotting the winter birds outside!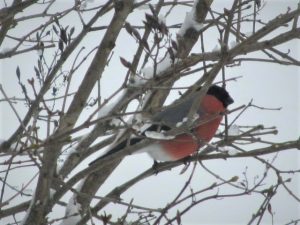 I also spotted four bullfinches in our yard on the Pihabongaus event. A male bullfinch has a lovely red chest, female being much paler in color. Bullfinch's picture is often seen in Christmas cards in Finland, perhaps due to its color. The bullfinch was observing the bird feeder action high from rowan before approaching. It joined the yellowhammers picking seeds from the snow on the ground, and soon flew back on to the tree. The two couples who visited our yard didn't stay for long before flying away. But they got counted, and reported to the BirdLife Finland.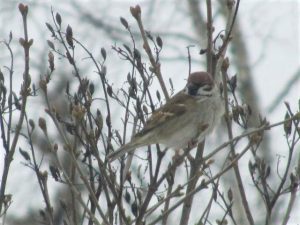 We had two tree sparrows bravely visiting the bird feeder guarded by the aggressive great tits. Brown and grey colored tree sparrows looked shy and a little curious, and they quickly won me over like the coal tit. The tree sparrow is smaller and more common in Finland than a house sparrow. The tree sparrow has a brown cap and grey chest, whereas the house sparrow has a grey cap. Sparrow is, in fact, another famous Christmas bird in Finland, featuring in a sentimental song Varpunen jouluaamuna.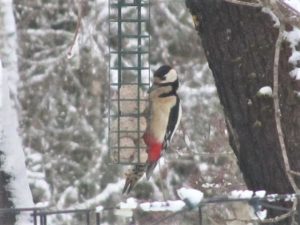 We have one great spotted woodpecker as a regular visitor in our yard. He dominates the bird feeding stations by his sheer size, and very loudly pecks the nearby trees and birdhouses. I have told Nalle that he is allowed to chase the woodpecker away, but for Nalle all birds are his friends.
In addition, I recorded two common blackbirds as my sightings. I spotted one European greenfinch, but I nearly didn't believe my eyes. According to the BirdLife Finland, the amount of the greenfinches has been diminishing, similar to the house sparrows and magpies. Unfortunately, also the number of tits like coal tit, willow tit, and European crested tit is decreasing. This year, Eurasian siskin was spotted more than usually. The amount of tree sparrows has been growing and remained in a good level.
Interested in taking part? In 2023 the event is organized 28-29 January and everyone is welcome to join. More information (in Finnish or Swedish): www.pihabongaus.fi
If you start feeding birds in winter, remember to continue feeding them as long as there is snow on the ground and the ground is frozen.
Read also