"It's a chilly morning when I rise up from the depths of my tent. Our morning routine functions perfectly with you. I know it works because we've been working for so long together. You walk towards the cooking area with our food supplies and start prepping our breakfast. I automatically start to decamp and put away our tent. Food is ready just as I manage to pack up. Our feet take us towards Tuiskukuru gulch and away from Salonlampi. The journey is three times as long as the one yesterday, even though shorter in length. The terrain is as bouncy as my malamute's mood, and the height differences almost lead us to despair while hiking.
We are already close to Tuiskukuru gulch at Urho Kekkonen National Park, and our feet weigh a ton from trekking. Our thoughts are already fixated on lunch, because the highlight of the day is our menu of mashed potatoes and dried chanterelle mushroom sauce! There are already some people at the Tuiskukuru hut, so we decide to put our rucksacks down further away to another fireplace and prep our lunch outside. I turn my gaze on Viima asleep at the foot of a tree. My dog is a bit too tired, and we still have more than half a day left to hike. So, I decide to reduce the weight of Viima's pack so that the rest of the hike would be more comfortable for it.
This national park has incredibly biodiversity. If you are trekking in Lapland for the very first time, Urho Kekkonen National Park is more than well suited for you. You can find terrains to fit any mood and every preference. If you are looking for rough fell vistas of Lapland, the best place to start your hike is at the northern end of the national park. There, head to the edge of the so-called Itäkaira in the east (kaira is the word for a wooded wilderness between rivers). This route allows you to enjoy the rugged views for considerably longer than elsewhere. If you prefer clear rivers, wooded landscapes, and flat fells, the bets way to start is further south at Niilanpää. I myself am a lover of rugged views, so I really enjoy the Sokosti area and the border of the Itäkaira area.
"The rucksack is hoisted up once more. Last trek of the day, towards Luirojärvi lake where we will spend the night. I glance behind me at Tuiskukuru hut and see a young man exiting. He stays to chat with me for a long while, telling me that he is on a photography tour. He has never hiked before. Considering that this is his first hike in Lapland, I tip my hat off to this young man. He has dared out alone for a week's hike in Lapland. Brave, maybe slightly foolhardy even?"
From Tuiskukuru gulch to Luirojärvi lake
Luirojärvi lake is a pleasant place to stay in the middle of our hike because it has a wilderness sauna with excellent amenities. You can have a good washup if you can't make yourself go into freezing water otherwise. The sauna costs 7 EUR / person nowadays, but thankfully you don't have to carry cash around with you. You just pay the cost when you have reached civilisation at www.eraluvat.fi -site. This way you contribute to general well-being and maintenance of the national park. Your money is never wasted!
"I untie my laces at the southern end of Luirojärvi lake, on the left side of the river. One more wade across the rover and we will have reached the halfway point of our hike.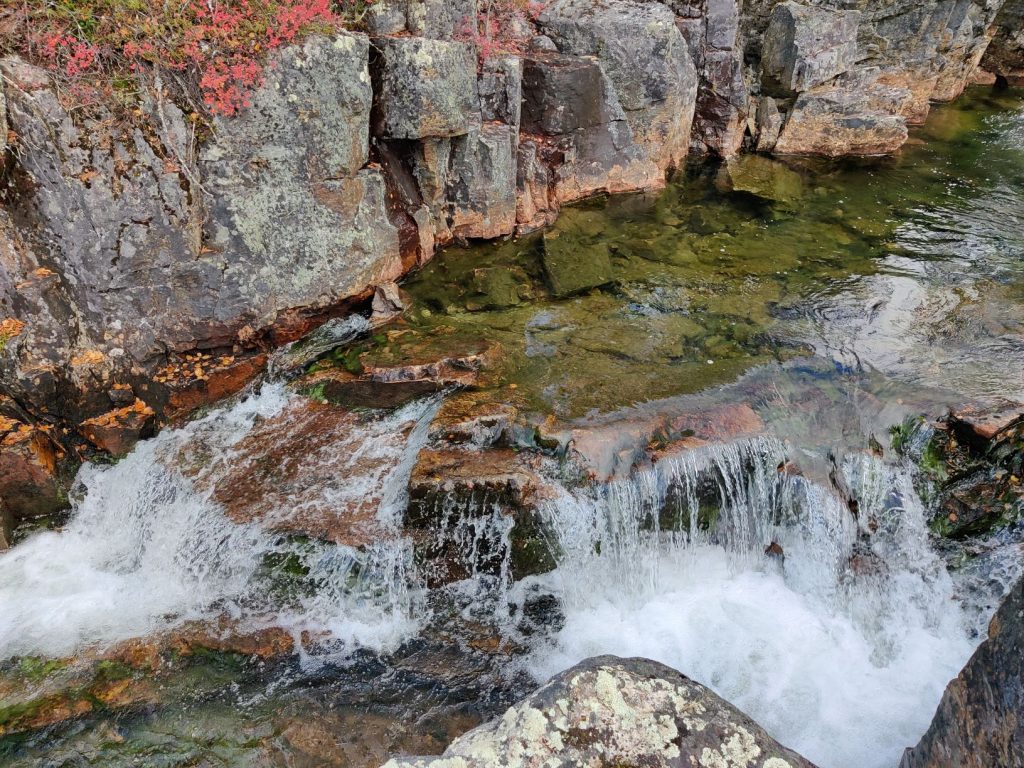 We look around at the Luiro Hilton and see loads of tents as usual. I think there were roughly ten tents plus people staying at wilderness cabins and rental cabins. It was still the least crowded of all the times I've hiked here myself.
Camping was considerably faster the second time. The women's sauna shift was starting in 15 minutes, and we were both exhausted and happy to get into a sauna to relax. The heat felt so good in our utterly spent-out muscles. The mood in the sauna was incredible: in the pitch-black darkness of the room hikers told stories of where they had come, when, and why. No one asks, who you are, what age, or where you work, which is the usual spiel when meeting strangers. Those things just have no meaning here.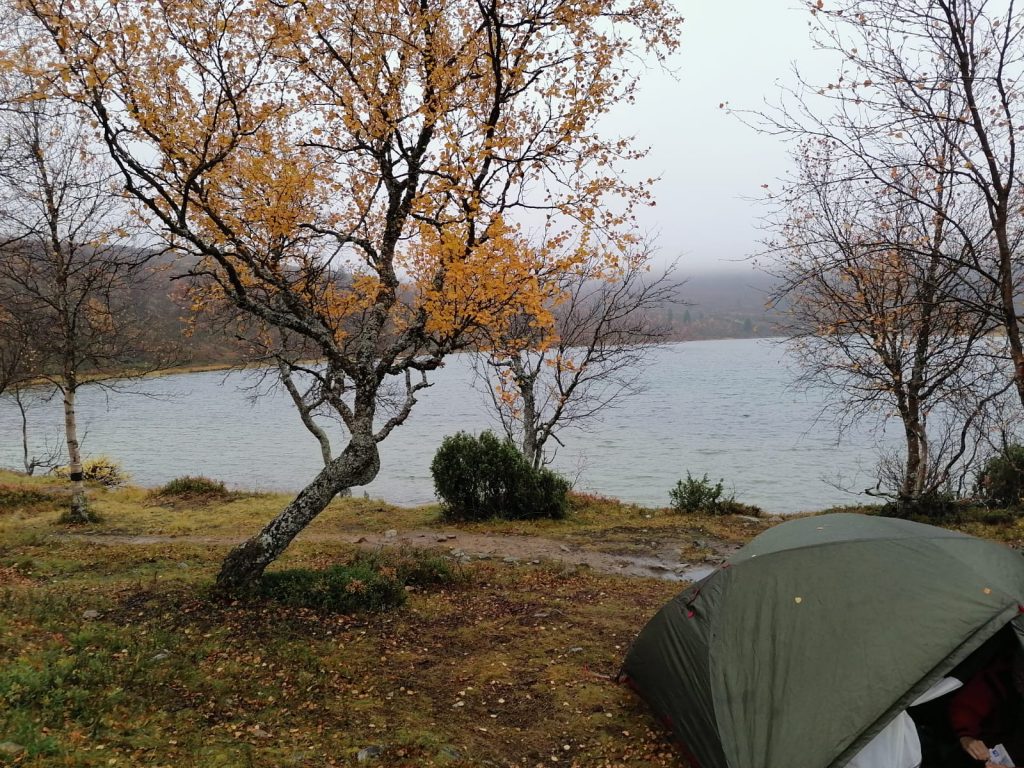 The next day was reserved for the summiting of Sokosti, the highest fell at Saariselkä (718m / 2355ft). I couldn't wait to see the views again. The weather was overcast but still relatively clear. No rain or snow, no frost or wind. The weather was excellent because hiking up a fell in sunny weather means being soaked in sweat. The views from the top were as incredible as I remembered them. Mind you, the climb was definitely not an easy feat because of the blockfield we had to walk on, but we did it!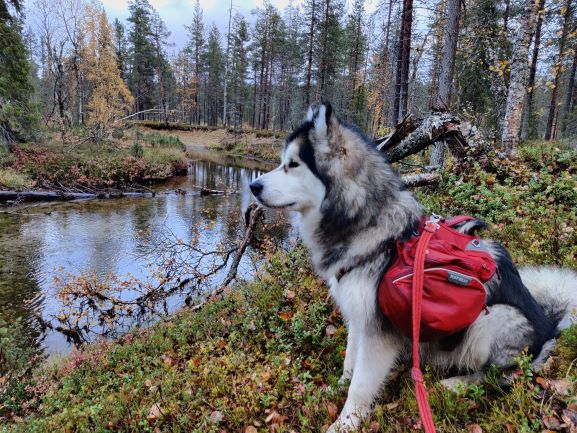 When we got back to camp, we had lunch and decided to continue trekking because it wasn't late, and we felt energetic. Now, this is the moment where, in hindsight, I can tell you it was a bit reckless and foolhardy. However, it was exactly the type of adventure spirit I miss most on these trips. If you don't go a bit too close to your own limits, is it really even a proper hike?
Darkness descends surprisingly quickly here, almost smacking you in the face when it arrives. I kept my eye on the time, and I even felt a bit stressed whether my hiking skills would be enough in the dark and in bad weather. As you may have guessed, rain, pitch-black conditions, tiredness, and blockfields with no trails make for a very bad combination for hiking. So, we decided to stop our day's hike on a spot I had no clue about. We weren't where we were supposed to be, and I couldn't locate us on the map in the darkness. We just set up camp, ate our evening meal and decided to check out the situation in the morning with fresh eyes.
As we set out in the morning, I still couldn't locate us, so we just kept walking to see our surroundings and possibly find a reference point for our map.
Lost in Lapland?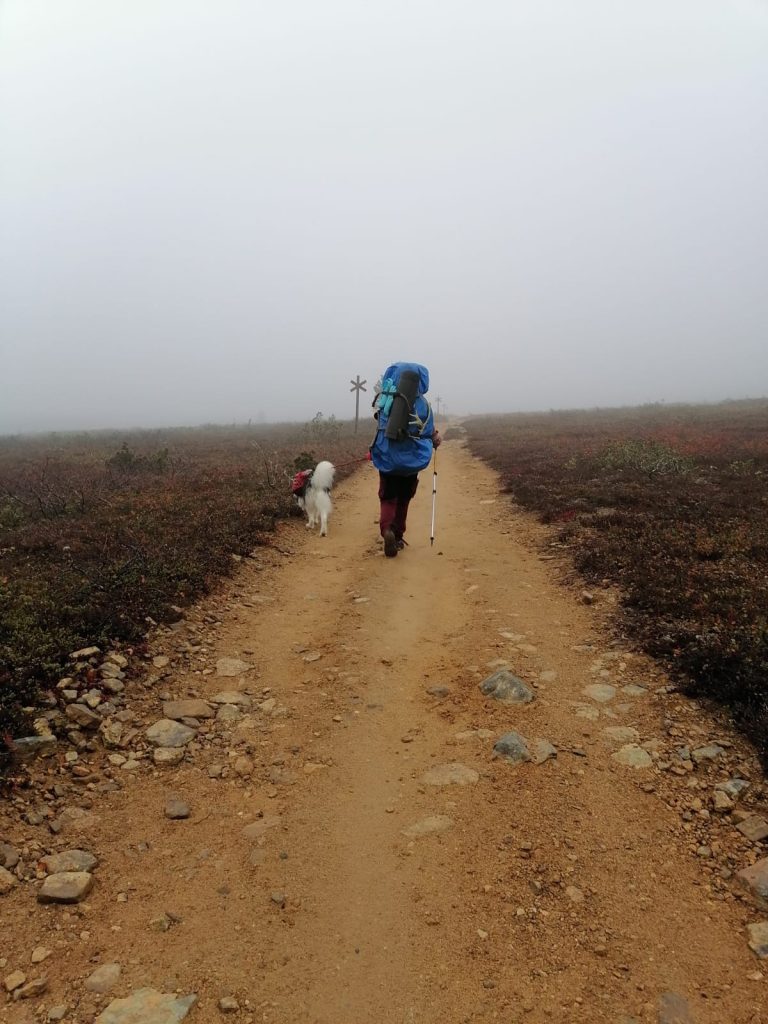 Now here's a good tip for you: if you are unsure of your location, it pays to take a few deep breaths and estimate, whether it is smarter to continue or to stop and camp. What are the current weather conditions? Visibility? Your own level of exhaustion? Time of day? How long until darkness? It's unwise to continue forcefully when you're tired because you are more likely to make mistakes then. Weather conditions such as rain, fog, a blizzard, or something similar may also hinder looking for a reference point in the landscape to figure out where you are. In these cases it's best to stop and wait for the weather to clear.
"After walking for a while, I recognized a rock from my old hikes and managed to locate us on the map. My own rough estimate had been accurate, but I kept wondering, how we had ended up on such a path that shouldn't have been anywhere close to our route.
Foolhardy and not learning from our previous mistakes, we naturally kept walking too long the next day as well: we hiked in the darkness again, and in even poorer weather than previously. My dog Viima refused to walk in the front. It only does this when it feels it's safer to let a human lead, most often because of tiredness or in darkness. Otherwise Viima is a leader dog until the bitter end, and rarely allows for anyone else to walk in front of it on hikes. It began to snow and visibility was extremely poor. We started to cross the fell in the dark and in a snowstorm, which made me super-excited. We are both daredevils, so when someone suggests something, it only takes a minute for the other one to be ready to go, no matter how stupid the suggestion is.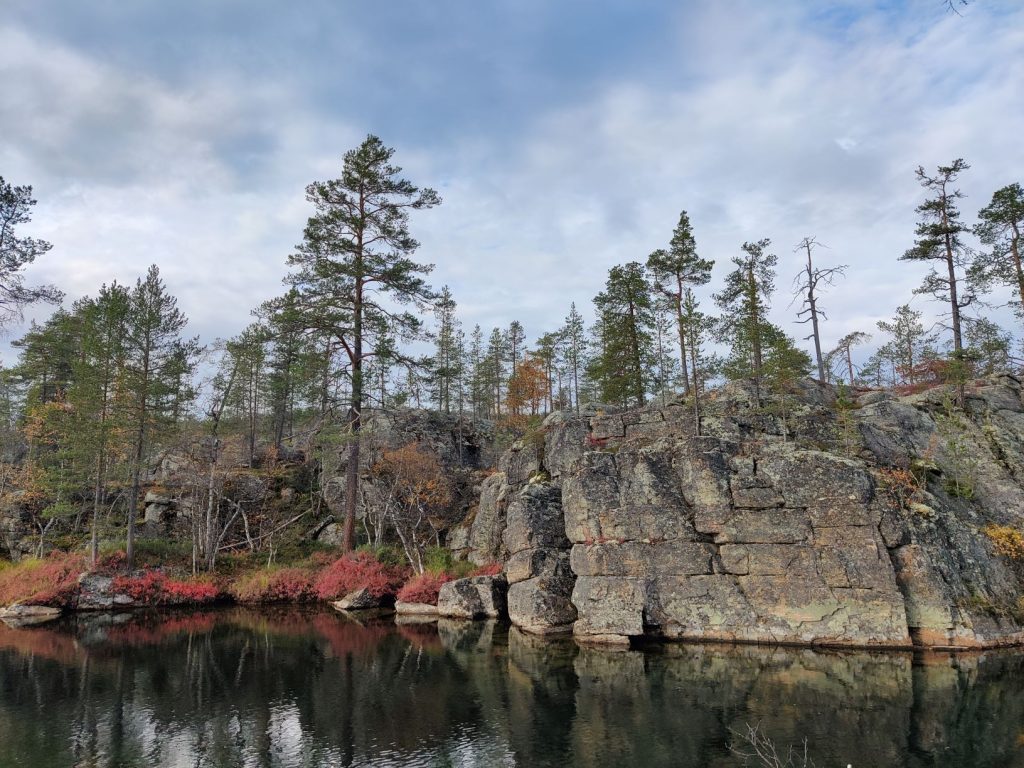 This time we didn't get lost but our brain really works funnily when it's tired because they begin to question your abilities to success all the time. We kept glancing at the map every kilometre, making sure we weren't lost. It didn't really help us much because of the poor visibility, though. We began to feel a bit desperate as the trek felt endless. But, finally, I saw a flame flickering in the utter darkness. I sighed with relief because we couldn't have set up camp on the fell in the storm.
Wet and tired, we had reached out destination and our last sleeping site at Rautulampi at the Urho Kekkonen National Park.
The last day's hike back to Kiilopää was good even though tired and rather quiet. Neither of us said a word because we were both exhausted but still, very happy. When we reached our car, we swapped into dry clothes and headed for a good meal at Hotel Niilanpää.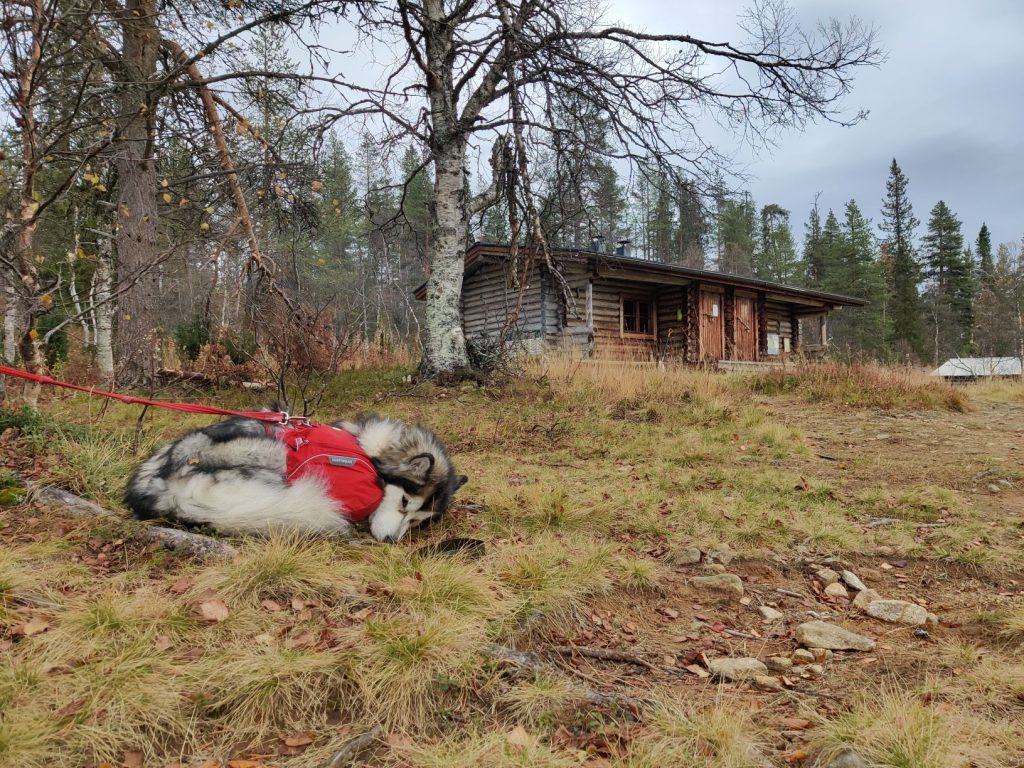 Where on the map?
Tuiskukuru gulch and its wilderness hut
Luirojärvi lake
Rautulampi pond
Check out the first part of Ella's adventures of trekking at Urho Kekkonen National Park. Follow more Ella's adventures on Instagram at ellashiking.
Read more about all National Parks in Finland. You can also take our fun quiz to find out which Finnish national park suits you the best!