Vattukuru nature trail is one of many summer hiking trails at Syöte National Park. It is only 2,1 kilometers long trail that takes hikers through an old forest and meadows to a magnificent ravine. Vattukuru ravine was formed by the Ice Age meltwaters, which gouged massive channels into the rocks of the Maaselkä area in Syöte. Vattukuru lean-to shelter at the bottom of the ravine is a splendid location for a little lunch break or picnic.
Syöte National Park provides many activities all year round. The national park was established in 2000 to provide shelter for many rare species. For example Zygodon moss, which is rare in Finland, can be found from Vattukuru ravine's rocks.
Short and sweet Vattukuru nature trail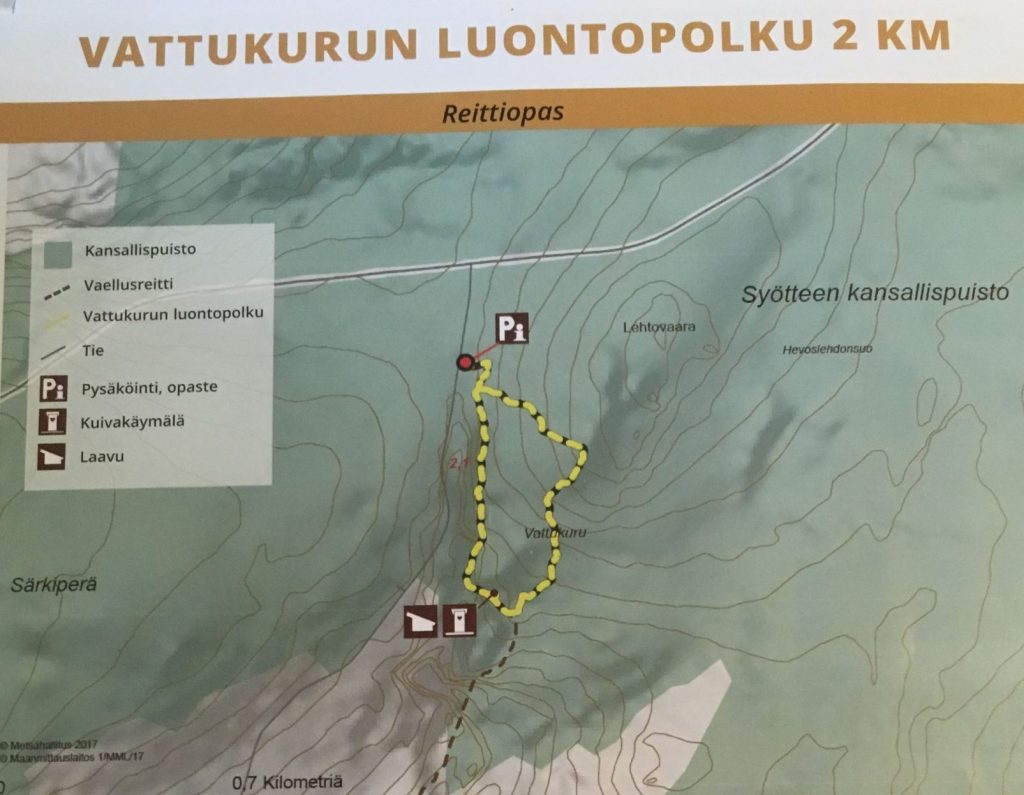 Vattukuru parking lot is easy to find close to Syötekyläntie road. Someone had parked their campervan here so we tried to be quiet when parking our car and heading to the trail early in one morning late this summer. There is a sign welcoming dogs to the area and reminding you to keep your dog on the leash. Dogs loves playing with sticks and digging dirt, but those kind of activities should naturally be avoided in the national park.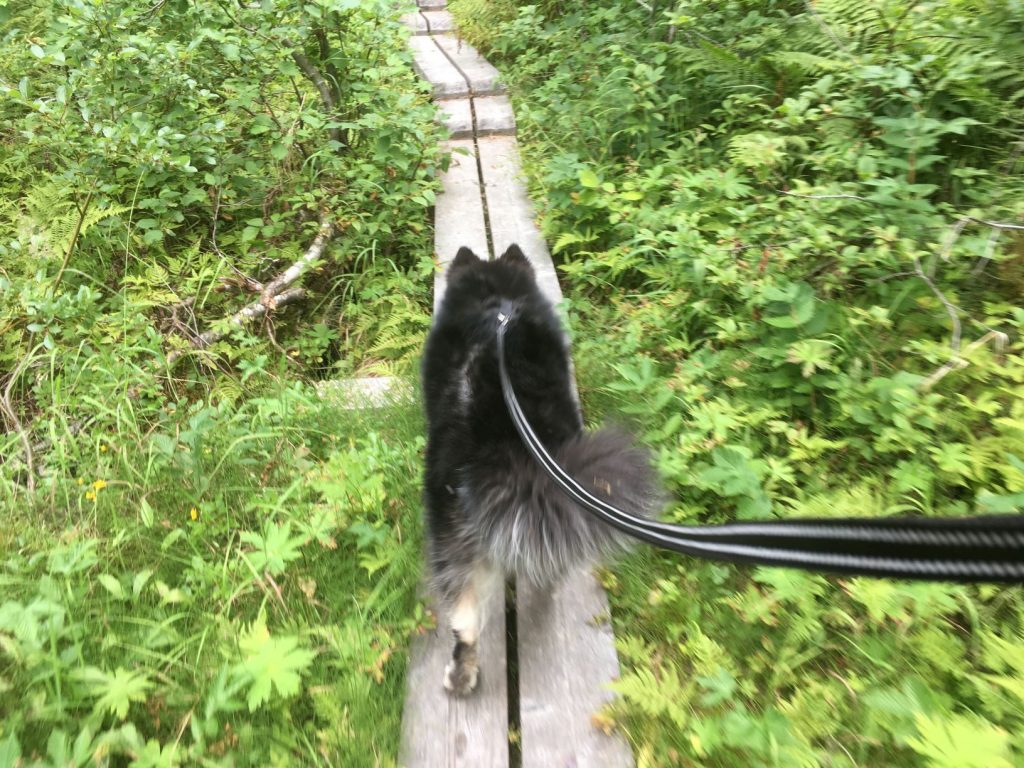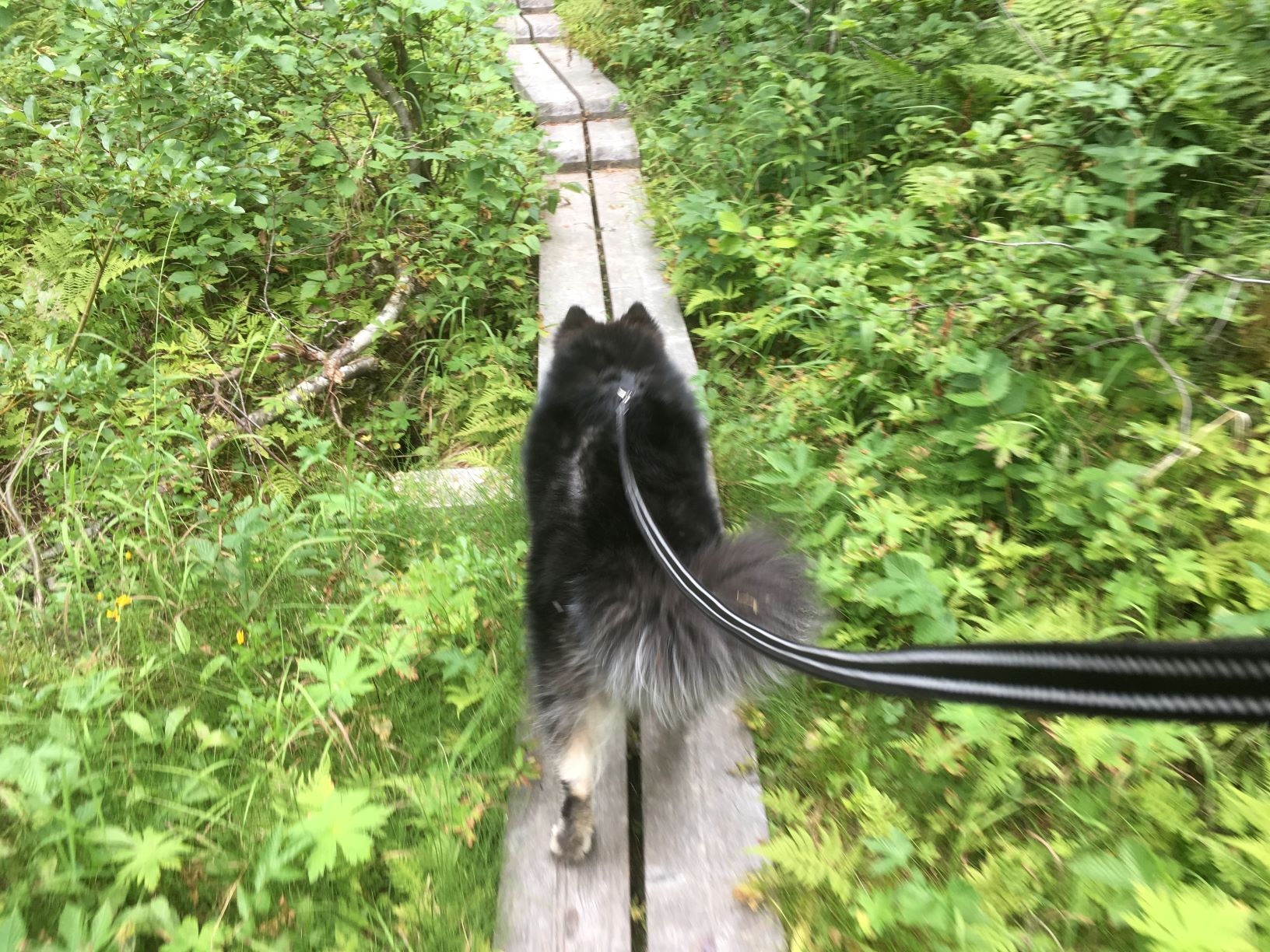 When you began walking on the trail, soon you will come to an intersection where you have options to walk 1,1 km or 0,7 km to Vattukuru. We decided to walk Vattukuru nature trail clockwise as recommended in some maps, so we turned left at the intersection towards the 1,1 km part. After the intersection the trail ascents slightly when walking towards Lehtovaara hill.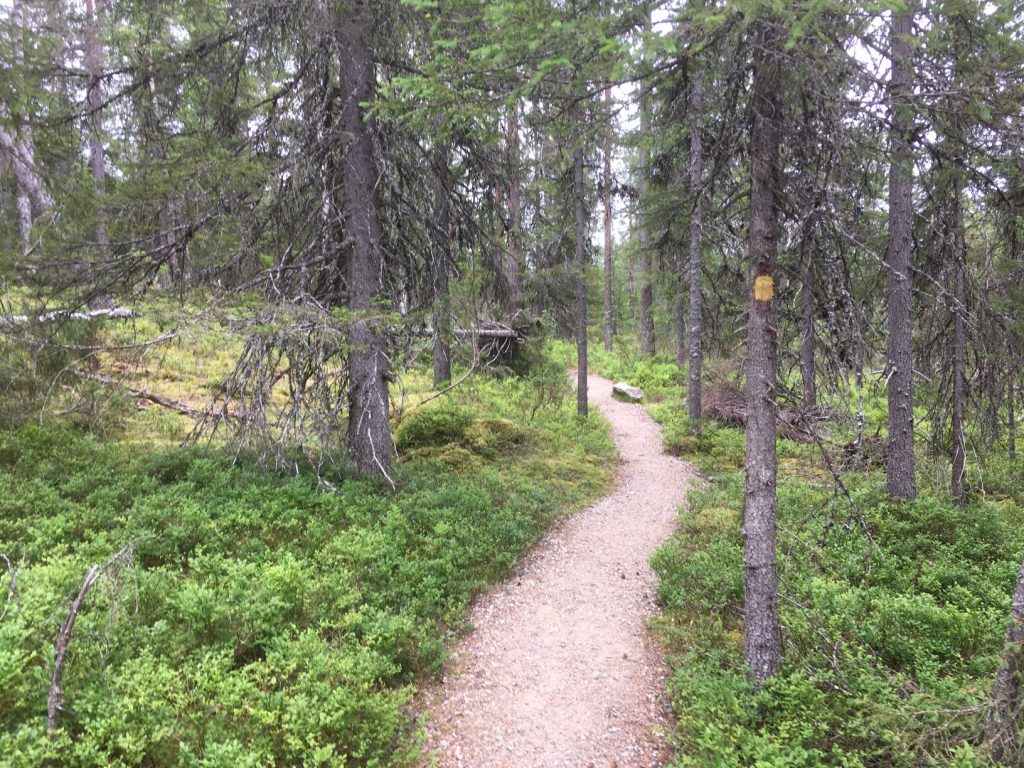 There are few big boulders at the top of the hill, giving you a glimpse of the massive forces that shaped this area when the ice was melting. The trail begins to descent and soon you will pass a meadow on your left. At the bottom of the hill is a wet area without duckboards. When you get through that, you will arrive to the lean-to shelter.
Vattukuru ravine showcases nature's forces
At the Vattukuru lean-to shelter we felt protected by the massive rocky hillsides. These rocks have been shaped over thousands of years when ice has broken them into smaller pieces. My pictures are not making any justice for this place, it is massive and breathtaking in real life.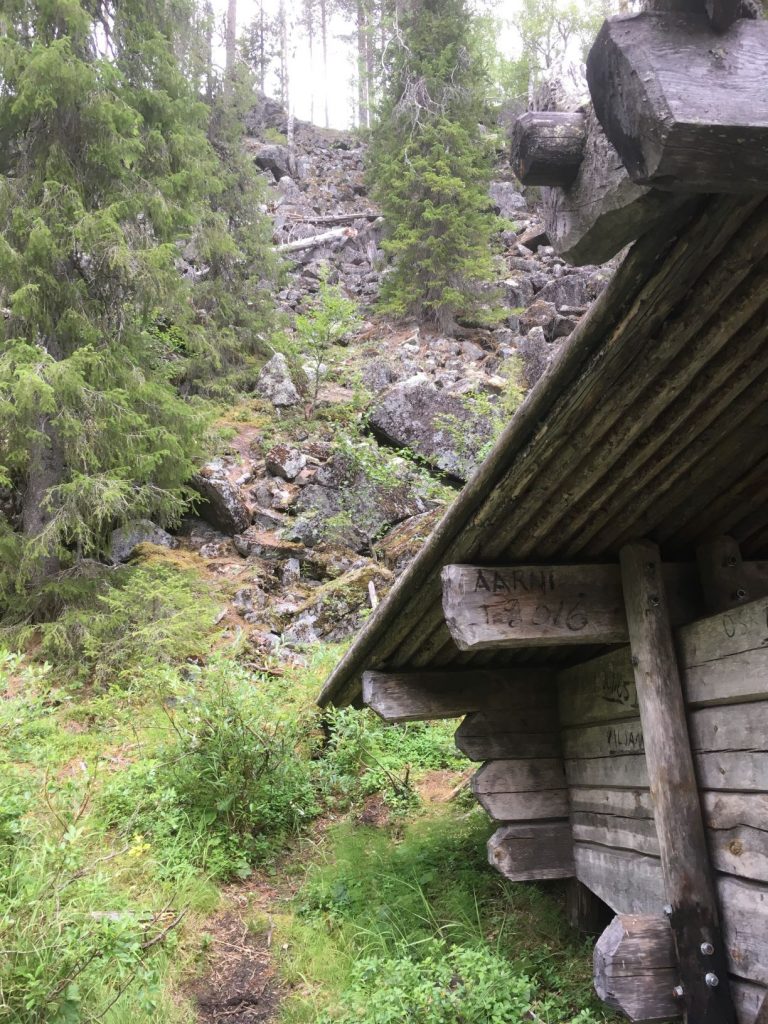 We signed the guestbook at the lean-to shelter but didn't stay for long as it wasn't lunchtime yet. Long staircase leading away from the ravine has recently been renewed, so it was easy to walk up the hill. After the staircase, the trail back to the parking lot seemed short.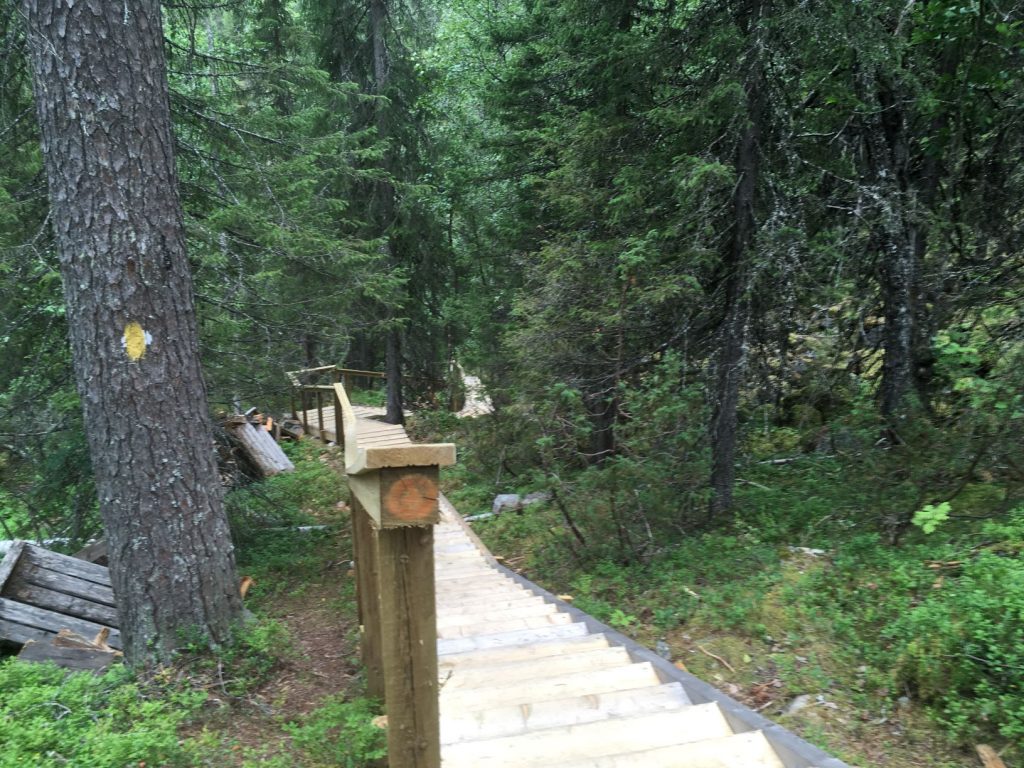 Directions
Address:
Syötekyläntie 1638
93280 Pudasjärvi
How to get there: Vattukuru nature trail is best reached by car or bicycle.
Car: The parking lot is located only about 100 meters from Syötekyläntie road, so this place is easy to find. The approximate address is Syötekyläntie 1638, about 10 kilometers east from Iso-Syöte.
Bicycle: The cycling routes follow vehicle roads. Note that cycling is allowed in Syöte area only on specific trails, and Vattukuru is not one of them.
Accessibility: Vattukuru nature trail has long staircase and it is therefore not accessible by wheelchairs or children's buggies.

When to go: Summer is the best time to visit Vattukuru nature trail, but it is accessible by snowshoes during winter.
What to wear: Normal sneakers will suffice during dry summer months, otherwise rubber boots or waterproof hiking shoes are recommended. Despite of bridges and duckboards there are few wet parts along the trail.
Special to remember: Cycling is allowed in Syöte area only on specific trails, and Vattukuru is not one of them. Dogs should be kept on leash. Do not leave any trash behind, and remember to check the forest fire warning at the Finnish Meteorological Institute's website before making fire by the Vattukuru lean-to shelter.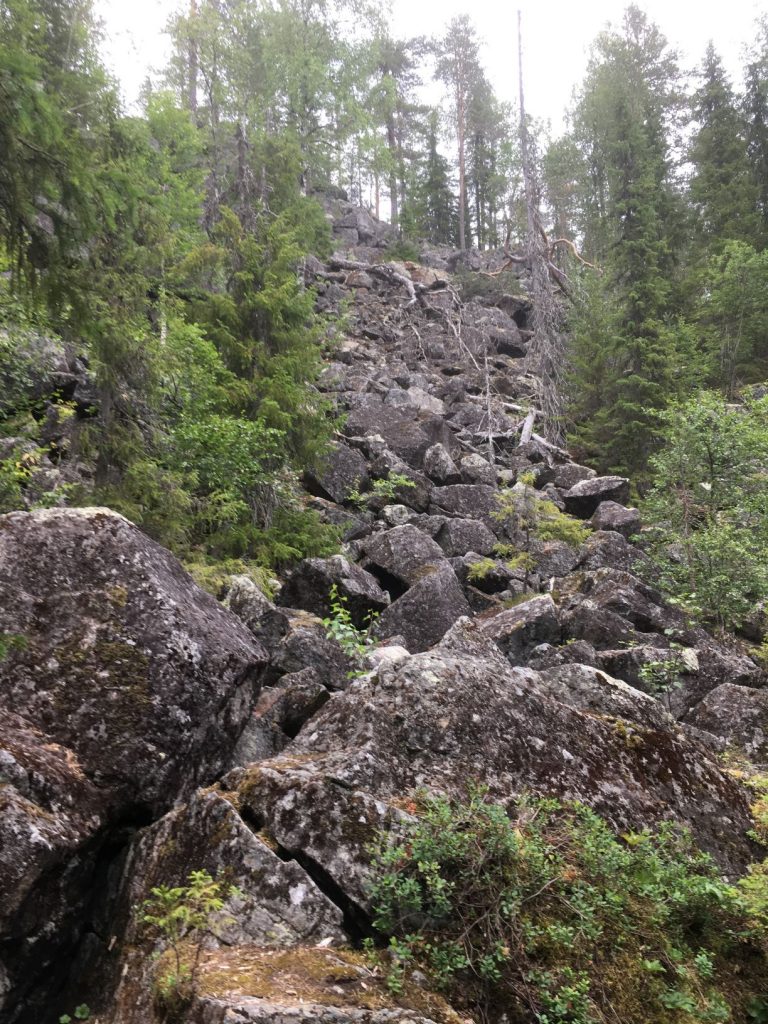 Also visit in the area
The beautiful Iso-Syöte fell provides nice views in all directions all year round. Rumavaara is a small hill that overlooks Korentojärvi lake about 45 kilometers south from Iso-Syöte.