Sorlampi nature trail is a great introduction into Finnish forest landscapes. It has rocky outcroppings over waterways, lush forests, and even Ice Age glacial potholes called giant's kettles. Moreover, Sorlampi is at Nuuksio National Park, one of the most visited national parks in Finland. Sorlampi, however, is less crowded that some other areas of Nuuksio. This makes it a good place to explore this national park in more peace and with more space. There are two circular routes available: the longer 5km Sorlampi nature trail and the shorter, 2km long Laihalampi trail.
Sorlampi is a part of Nuuksio
I have been going to Sorlampi in Nuuksio for decades to pick blueberries with my family. However, this was the first time we actually walked the entire 5km route and explored this side of Nuuksio national park. Similarly with all other carparks in Nuuksio, the carpark next to the trail-head is always very crowded. We were prepared to leave our car further away and walk back if necessary. Fortunately, one family just departed as we came in so we could slide our car into the spot it left. Because Nuuksio in the capital area, it is the most popular national park in Finland. Some of Nuuksio's 30 trails connect to each other: from Sorlampi, by following the gravel road, you can make it all the way to Solvalla sports academy and Haltia, the Finnish Nature Centre.
Snow had fallen again and there was a chill in the air when we went to Sorlampi. It just shows how both autumn and spring in Finland are unpredictable things. The path down to the trail-head looked smooth and easy but the thawed out mud was now frozen solid and super-slippery! All in all, the Sorlampi nature trail is not accessible and moderately demanding at times. Here, hikers need to stop and think before going forward.
Sorlampi, its trails and areas
There is a map of the circular Sorlampi route by the trail-head. There are two routes available in the area: the longer 5km route is the Sorlampi nature trail, and the shorter is a 2km circular trail to Laihalampi pond and back. Cooking areas and toilets are handily marked on the map, and there are also markers pointing out sights along the way. We decided to walk the path anti-clockwise, thus avoiding uphill cliffs.
The trail starts by sloping uphill almost immediately. Underneath our feet the ground went from resembling frozen brownie mix all the way to chocolate milkshake. Thankfully we were prepared and were wearing hiking boots. There are duckboards covering most of the really tricky areas of the path such as swamps and ponds. The problem was that some of the duckboards were very close to the water surface and kept dipping into the icy water. This meant that the boards were covered with a layer of sheer ice.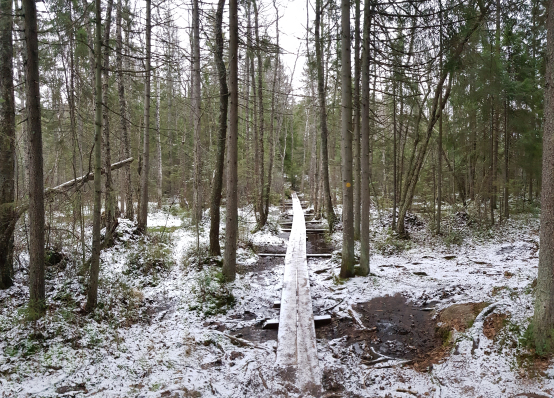 One particularly tricky place was a swamp next to a tiny pond: its duckboards were super-slippery and surrounded by open water. My mom's shoes had better grip on them and successfully penguin-walked her way to the other side.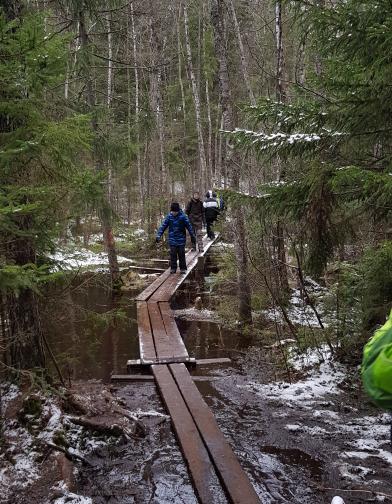 I, on the other hand, got nowhere with my trusty hiking boots. Even when I stood still, my shoes kept sliding on the slightly sloped duckboards. If I went further, I would fall in the water 100%. So, I made a calculated choice and decided to try to make my way through the swamp by walking on the tussocks dotting it. I grabbed a large and sturdy stick from the ground as support. The small swamp spread in front of me so I surveyed it before choosing which way to go. I managed to hop from tussock to tussock without getting wet, and my stick really helped in keeping me upright.
Victorious, I emerged on the other side of the swamp! I even managed to snap a picture of a family following us on the duckboards: it was very close one of the parents didn't fall in the swamp because of slippery shoes.
Giant's kettles, giant's nests, and thin ponds
Soon after this ordeal, we came upon a sign showing the nature trail (luontopolku) going downhill and a sign pointing to the giant's kettles (hiidenkirnut). I really like giant's kettles, so we headed left until we reached a proper gravel path with a sign pointing at the kettles.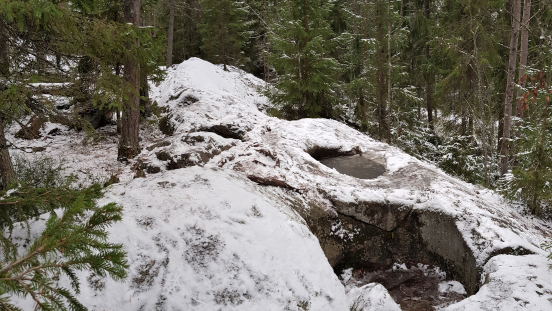 There are seven kettles carved into the side of a small cliff by the Ice Age, and they were definitely worth seeing. I even wrote a separate blog entry about these Sorlampi giant's kettles.
When we got back from the giant's kettles, we didn't immediately return to the nature path. Instead, we walked on the nice gravel road, which is part of the array of gravel roads crisscrossing Nuuksio (often used by skiers in the winter). There were signs for both the toilets and the cooking area at Sorlampi pond: the cooking area was very crowded so we decided to just keep going.
From the cooking area onward, the nature path goes up again. The cliffs were slippery even though some of the snow had already melted. Signs along the way showed that this protected area is home to Siberian flying-squirrels and black woodpeckers. In fact, the Siberian flying-squirrels are the symbol of Nuuksio National Park! As promised, the rocky outcroppings towered over the still partially frozen Sorlampi pond. On a sunny day, this would be the perfect spot for some snacks and rest.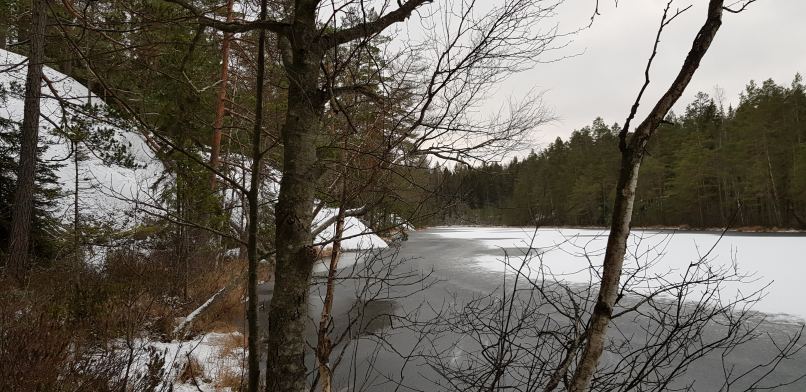 In the forest, the landscape kept going up and down from one valley to another. In one valley was a sign for a giant's nest (hiidenpesä) up on the hill. Since it was so slippery, we chose not to climb up and come tumbling down. The sign did say that you can go into the cave even though it's opening is only 0,5m tall because the interior of the cave is 2m x 5m.
The deeper we went into the forest, the less snow there was on the thawing ground. We noticed how well-suited for blueberries the area was and made a mental note to come back in the summer. Coming down one particularly mossy hill, we saw Laihalampi pond in front of us: this was the destination of the shorter circular route from the trail-head. This smaller pond had the thinnest ice covering it but in the summer it would be a great place to swim in. The walk back to the trail-head went alongside a stream bubbling along happily. Once back by our car, we toasted our success with hot chocolate. Hooray to us for managing to avoid taking a dive into freezing swamp waters!
Directions to Sorlampi nature trail
Address for the Sorlampi nature trail:
The easiest way to find Sorlampi nature trail is by typing Sorlammen luontopolku in your navigator.
How to get there: Sorlampi is in Nuuksio national park. There is a bus that goes there but you can also use a car (parking is very limited, though) or a bike.
Car: Type Sorlammen luontopolku to your navigator. Note that there are some parking spaces but they are often full first thing in the morning.
Bicycle: You can easily cycle to Nuuksio but you may often have to share the road with cars.
Public transport: The best way to get to Nuuksio and Sorlampi is by bus (no worries about parking then). Bus 245 stops at Kaitakorpi bus stop; check timetables here.
Accessibility: National parks are open at all times but remember that there are no lights. Make sure you are well prepared for your hike. This hike is demanding so it is not perhaps suited for the very youngest children. There is a more accessible gravel walkway shown in the blog post about the area's giant's kettles.
Facilities: There is a dry toilet near the giant's kettles. There is also a lean-to with a possibility of building a fire nearby, next to Sorlampi pond.
When to go: We recommend visiting this area at any time of the year. Deepest, snowiest winter may still mean that trail is more dangerous because roots and holes are completely covered with snow.