While visiting Kasnäs on Kemiö island (Kemiönsaari in Finnish, Kimitoön in Swedish), one of the places I wanted to visit was this devil's field. It is actually a part of the ancient shoreline of the Litorina Sea from around 11 000 – 6000 BCE. Even though our car nearly got stuck during the last kilometre, we managed to inch our way to this devil's field. The ancient shingle beach is surrounded by huge glacial erratics were naturally (as all beaches are) … in the middle of a forest. Of course.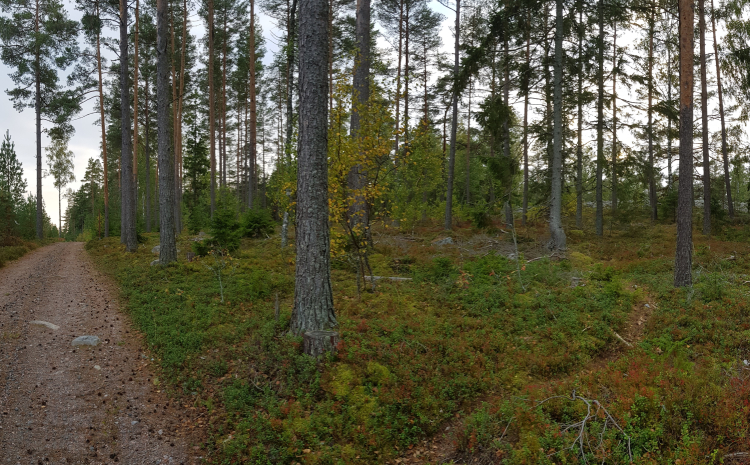 When we arrived at the site in Kasnäs, we parked our car in a handy little niche. It was perfectly located as a parking area for exactly one car. The devil's field was only about 20m from the gravel road up in the forest. Massive trees surrounded a barren rock field, and there was no growth on the dark rocks. Only at the very edges some deep green moss had managed to cover a rock or two.
Devil's fields?
The shingle beach is an ancient seashore of the Litorina sea, and it was created about 7500-4000 BP (Before Present), so after the last Ice age. These shingle beaches are called Devil's fields (pirunpelto) in Finnish because earlier on, people thought the Devil had thrown rocks willy-nilly. Another explanation was that only the Devil is able to have plowed this field of rocks. In short, it was impossible for mortals to grow crops on them. These rock formations are common in the ancient shorelines of the Litorina sea, and they can be seen easily due to their lack of vegetation. The rocks are loose, so animals nor trees find them suitable. Still, they are an exciting reminder of all the curious wonders we find in our nearby forests.

Directions
Address: Write Mustaniementie 153, Kemiönsaari on your navigator. That is the exact address of the one car parking area next to the devil's field of Kasnäs.
How to get there: You can get to Kasnäs best by car but you can also go by bicycle or by bus.
Car: Type Muinaisranta parkkipaikka (address: Mustaniementie 153) on your navigator and it should give you the correct area. NB! Don't trust Google maps and go all the way to Peuratie and to the start of Mustaniementie. This road is very uneven and there is a chance your car will get stuck or damaged. Instead, turn from the main road towards the Högsåra Svartnäs ferry, which is an unnamed but much better road.
Bicycle: The bicycle routes follow closely to the car route.
Public transport: The closest bus stop is called Träskedet. The best way to get to Kemiönsaari by bus is from Turku. Check out bus timetables (mainly bus 702) here.
Accessibility: Only the main road is accessible. If you want to get closer to the devil's field, you will have to walk about 20m in the forest. Also, the loose rocks are very dangerous and slippery so make sure you take care.
When to go: The best time to visit the ancient shoreline is when there is no snow. You won't be able to see the rocks if there is snow.
More to see
Since you are already in the area, make sure you check out the maiden's dance rock maze at Jarlsgård. Also check out Söderlångvik manor, and the Purunpää nature area with incredible views over the archipelago.
If you're interested in similar sights, check out areas in eastern Helsinki like the Bay trail.