The protected Haukkavuori area is a unique nature destination because it has been left almost entirely undisturbed. There you can see how energy in all its forms flows through the forest ecosystem. It means that the old-growth forest at Haukkavuori has multiple layers of growth. Young saplings grow together with standing dead trees, and the forest floor is covered with shrubs and fungi of all kinds. This biodiversity is different and definitely worth experiencing. The exciting visuals along the path are great for kids or anyone who wants to learn more about local animals and plants.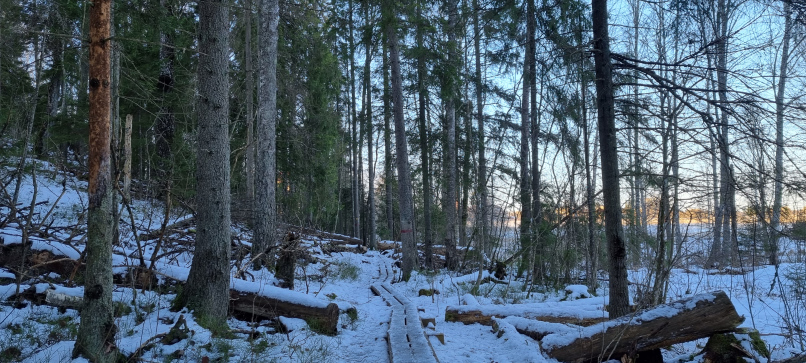 Visitors at Haukkavuori are often directed to walk on duckboards so that the protected forest floor stays intact. By protecting this area, Kerava municipality participates in a voluntary programme by WWF on protecting heritage forests. In the winter, the duckboards tend to be slippery so it was good we had our Nordic walking sticks with us for extra balance. In fact, when we visited Haukkavuori, it was so slippery that I had to forego hiking to the top of the hill since I quite like my ankles unbroken.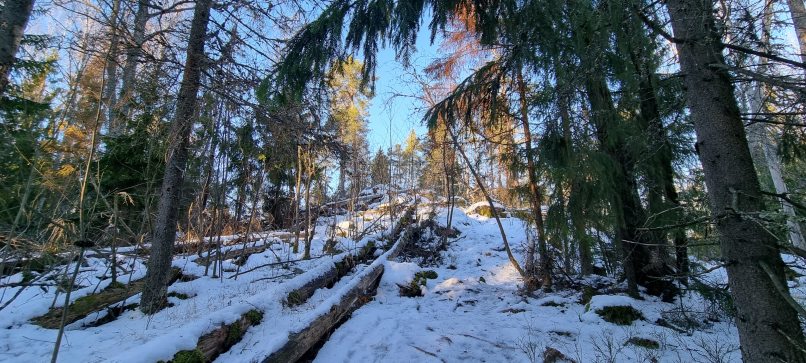 The circular nature path is about 2km long, so perfect for a short outing or for a longer and more detailed exploratory mission.

Nature path next to an old penitentiary
Haukkavuori nature path is literally across the river from the former Kerava prison. Don't worry though – the prison moved in 2020. If you peer across the Kerava river, you can see some of the prison buildings which were built in the 1890s. These old buildings are a sight to see on their own, and there are several wooden and red brick buildings on the premises.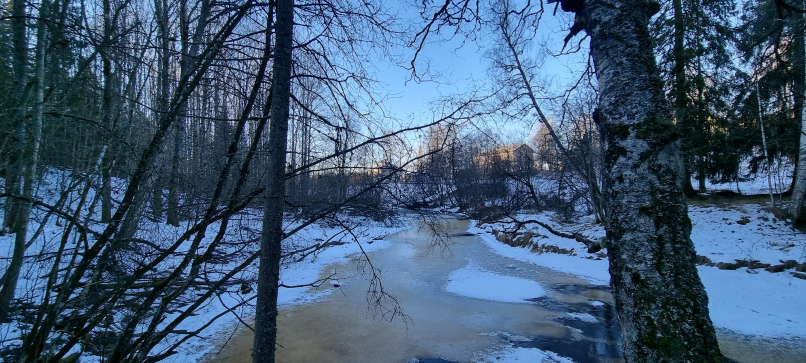 The nature path has well-made and visual representations of all the different flora and fauna found in the area. The top of Haukkavuori (which means hawk mountain in Finnish) rises 35m above the river level so it is considerably rougher-looking than the lush groves near the river or the rugged spruce forest in between. At Haukkavuori, you may see otters fishing in the river at all times of the year and it's also possible to see a protected Siberian flying squirrel! Spring and summer are the best time for those wanting to see most species in the area: you may spot rare greenish warblers, incredible 433 different types of large butterflies (Macrolepidoptera), and at least four different species of bat such as the whiskered bat.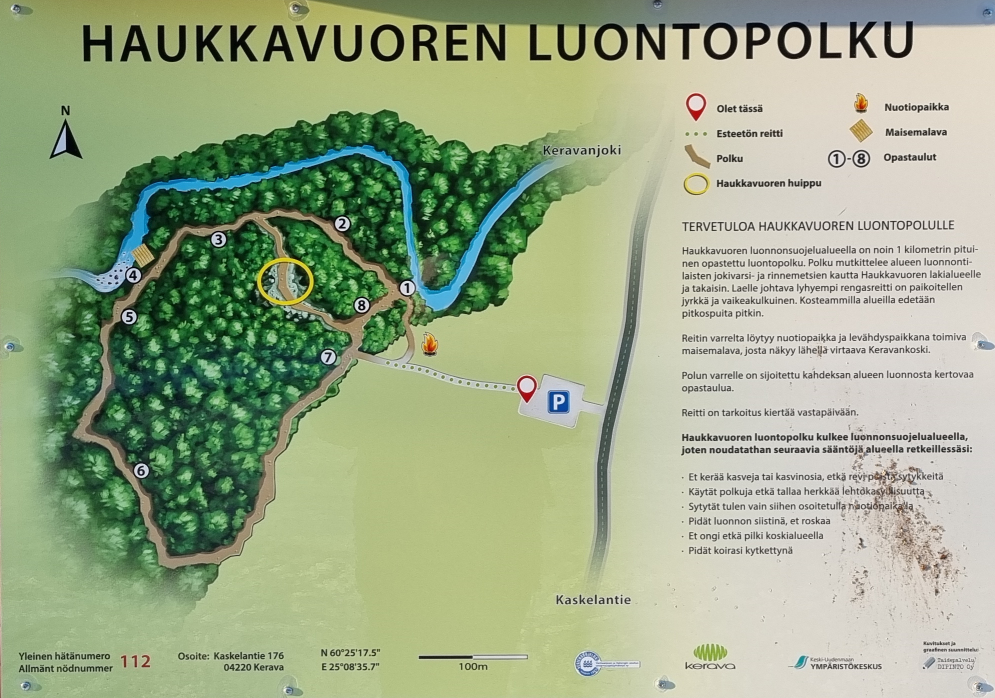 The undulating landscapes kept us entertained in the crisp late winter weather. Sun was shining on the some-what icy slopes but all we could see was the "old man's beard" usnea hanging from tree branches. Definitely clean air, here! It was a shame we didn't know there was a fireplace at Haukkavuori – we would have braved the cold by making a fire!
Directions to Haukkavuori
Address: Type Kaskelantie 176, Kerava on your navigator.
Car: There are two parking areas at Haukkavuori:

One is at Kaskelantie 176, Kerava
Another is across a logging area at Lahdentie 637, Kerava.

Bicycle: Don't feel like cycling next to the busy E75 road? There are plenty of smaller roads to cycle on while enjoying the countryside.
Public transport: You can get to Haukkavuori by public transport very easily. Trains go to the centre of Kerava, and you can catch a bus from the station. You can also walk from the train/bus station as it's only 3km to Haukkavuori. Check out timetables from Route planner.
Accessibility: Haukkavuori is partially accessible. There is a proper path but also duckboards and some hills. It is suitable for children but not for wheelchairs or children's buggies.
When to go: You can visit at any time of the year. In the winter, the area may get slippery so make sure you wear your studded shoes.
Facilities: There are is a fireplace with firewood provided. Remember that because it doesn't have a chimney, you can only use the fireplace when there is no forest fire warning on. There is no toilet in the area.
Make sure you also check out
The culture-historically interesting Tuusulanjärvi and Vanhankylänniemi recreation area are right next to Haukkavuori. Myllykoski rapids and nature path are not too far away from Kerava, so make sure to check them out, too.