Finnish kuksa is a ecological cup made of birch burl. It's a popular souvenier to buy when visiting in Lapland. It's not uncommon to encounter Finnish nature travellers who carry with them this wooden cup as their only mug. What is the story of this wooden mug, why are they a thing in Finland?
What is the wooden cup from Lapland called?
Kuksa is a Finnish name for this mug, and it can be also called guksi in Sámi languages, and kåsa or sometimes koxa in Swedish. In Germany it is known as die Kuksa, traditionelle Birkenknollentasse aus Lappland. Indigenous Sámi people used them as personal drinking cups in areas that today encompass parts of northern Sweden, Norway, Finland, and the Kola Peninsula of Russia.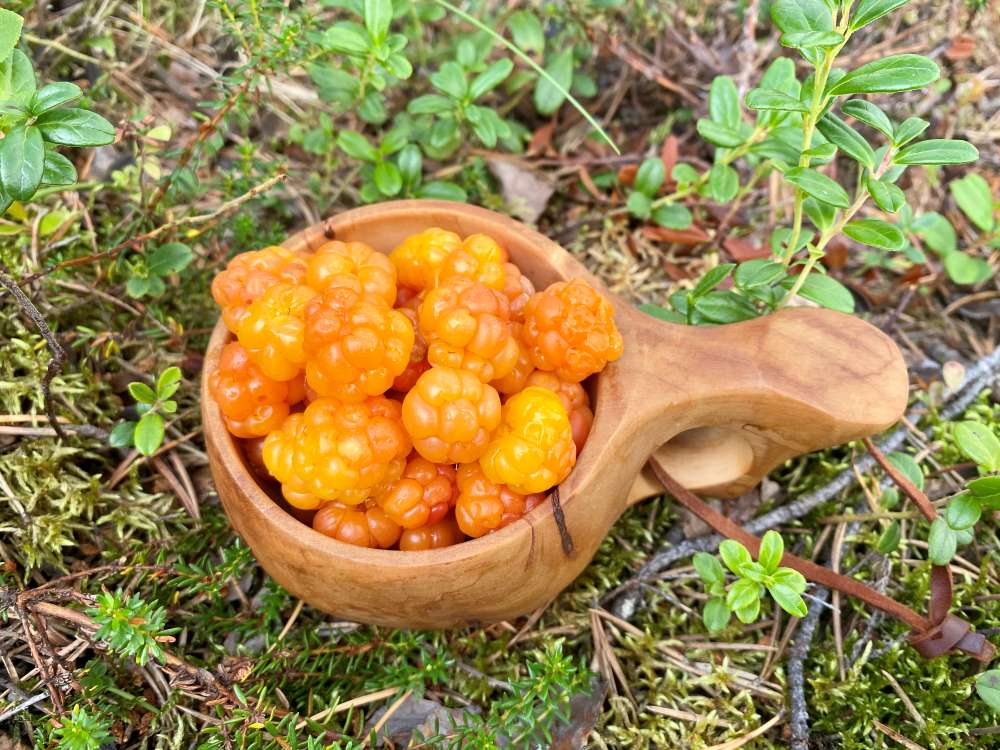 What is the best wood for kuksa?
Traditionally, kuksa is made of birch burl, and many claim that it is the only correct material for it. Burls are spherical woody growths on the trunks.
Birch is also a common raw material. Some kuksas can be made of pine pulp, and unfortunately there are also plastic kuksas available in the market.
How is kuksa made?
The traditional way of making kuksa isn't called carving, it is a method of pulling. A hand made burl kuksa a real treasure to hold on to.
Some people believe that every self-respecting outdoorsman should craft their kuksa by themselves. If you get this kind of idea to your head, remember that you need a permission from the forest owner to go and pick burls from the forest. I have one burl drying and waiting for me to begin my project someday.
Fresh burl is machine cut into blanks that are boiled in salt water. The salt water treatment makes them durable. After that the blanks are hand carved into their final shape, treated with coffee, sanded, and oiled. You can recognize burl kuksa by its lightly salty taste.
Where to buy a Finnish kuksa?
Most souvenir shops and even grocery stores in Lapland sell kuksas, but beware that there are many different types of kuksas in the market in different price range. If you are looking for an original Finnish kuksa made of birch burl, make sure that its tag states the country of origin and raw material used. Sámi Duodji is the name from which you can recognize original Sámi handicraft. Check out for example Duodji Shop, or Pahkataide (not sponsored links) for kuksas made in Finland.
How to take care of your kuksa drinking cup?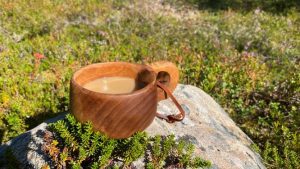 Many instructions recommend rubbing used coffee grounds to the inside of the cup to create a protective grease layer in it before you even take it into use. This makes the cup to dry even faster, and dry and salty surface keep bacteria away. If burl kuksa tastes too salty in the beginning, it can be rinsed with warm coffee to clean. Salt dissolves into warm liquid in few minutes.
As a general rule, the more you use your kuksa, the better condition it stays. If you don't use it, it dries and might crack. It should be used on a daily basis. After each use, rinse your kuksa with clean water and let it dry. Never wash the kuksa with dishwashing liquid or put it in the dishwasher.
I think only one question remains. Is the kuksa half full or half empty?
You might find also these posts interesting