Isojärvi national park is located in Kuhmoinen municipality in Central Finland. The main attractions in this area are hills and valleys surrounding the lakes, former lumberjacks' cabins, and beavers. Large boulders are also common in this area, and the most famous one of them is called King of the hill. The park has over 30 km of marked trails and several campfire sites.
I was on my way to Jyväskylä when I decided to spend few hours outdoors, hiking some nature trails. I hadn't been to Isojärvi national park before, but it was established in 1982 among 10 other national parks. The oldest part of the Isojärvi park is in Latokuusikko, where some spruces are almost 30 meters long. The park is in average about 100 metres above the sea level and I expected some hills as it is common in Central Finland. I learned that the waters north of Lortikanvuori hill flow into Lake Päijänne, and the waters south of it flow into Lake Längelmävesi. Lake Isojärvi has deep shores and clear water, but Lake Kurkijärvi has a scenic little bridge, which is always exciting for kids.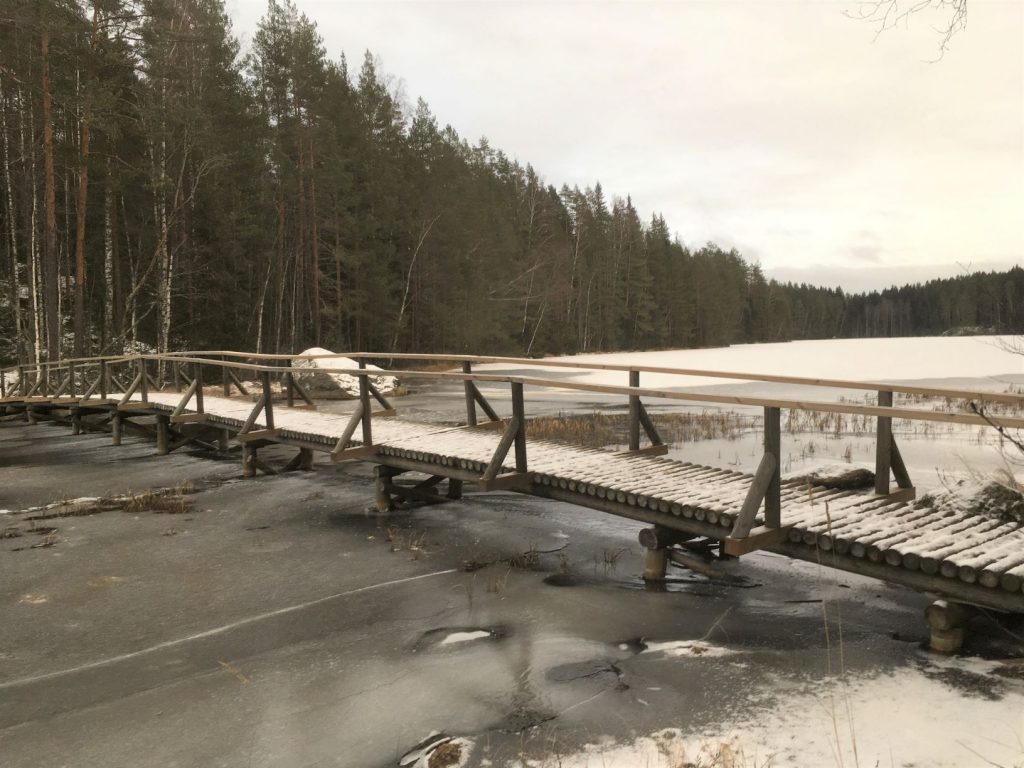 There are traces of Ice Age in the area as the most common soil type is moraine, which was formed under the ice. I was most interested in seeing the King of the hill, as it reminds me of Kummakivi balancing rock in Ruokolahti. The King of the hill is a large rock formation, probably a work of the Ice Age, and at ancient times it was believed to be carved and carried by giants. This 100-tonne boulder rests on top of three smaller boulders and is truly an interesting sight in the middle of the forest.
Needless to say that I didn't see any beavers. All beavers living in Isojärvi national park are Canadian Beavers, which have been spotted by others in the area since the 80s. The original beaver species in Finland was the European Beaver, but they became extinct in the mid 1800s because of hunting. Beavers are hard to spot as they mostly move during night, but you should be able to find traces of them in Isojärvi national park.
As I visited the national park in December, the lumberjack cabin in Heretty was closed for public. But the cabin hosts a cafeteria in summers when it's also open for visitors. It dates back to 1946 and in its busiest times served as a cottage for up to 40 lumberjacks and horsemen. The lumberjack cabin retired from its original functions in the 70s and now has a historical photo gallery in addition to the summer cafe.

Trails at Isojärvi national park
Most trails depart from Heretty or Kalalahti parking area. There are two nature trails (marked with red paint) and several other ring trails (marked with blue paint), which can all be combined to one 20 km trail. All trails are somewhat challenging as the terrain is difficult at places.

Trails from Heretty:
– Heretty nature trail 3,5 km
– Heretty – Latokuusikko – Kuorejärvi – Heretty 7 km
– Heretty – Latokuusikko – Vahterjärvi – Heretty 10 km
– Heretty – Latokuusikko – Vahterjärvi – Kalalahti – Lortikka – Heretty 20 km

Highlights of Heretty trails include the former lumberjacks' cabins in Heretty and Lortikka, a beaver area in Hevosjärvi, and a picnic area and cooking shelter in Kannuslahti. Kannuslahti is located only about 500 m from Heretty parking lot and it can be accessed with a children trolley. Heretty nature trail takes you to the King of the hill.

Trails from Kalalahti:
– Kalalahti trail 4,5 km
– Vahterjärvi trail 11 km

Highlights of Kalalahti trails include beaver area in Kalakorpi, lean-to shelter in Kalalahti, former lumberjacks' cabin Lortikka, and another shelter in Vahterjärvi.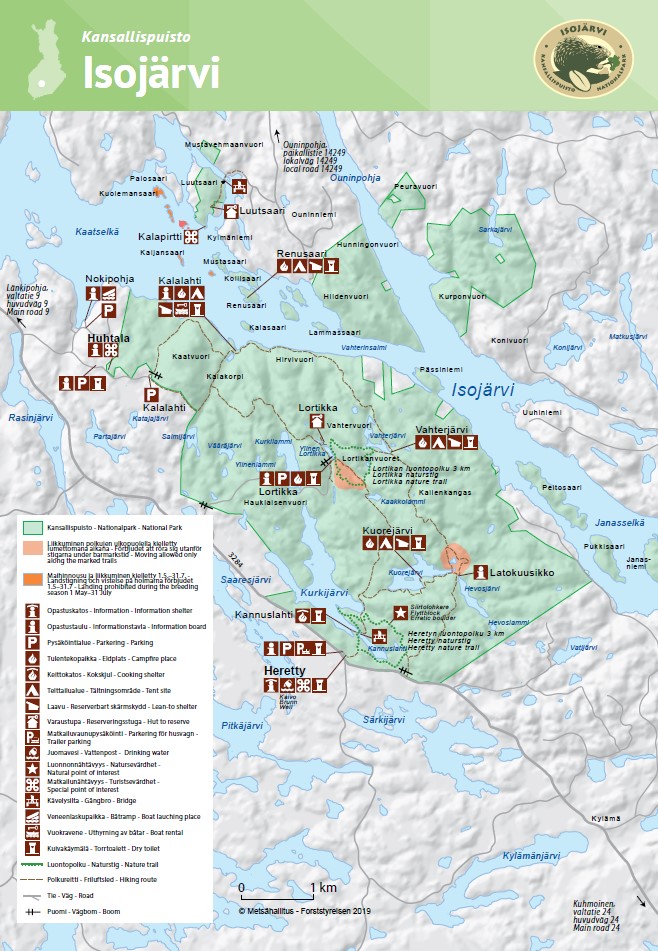 Directions
Address:
Kylämäntie 1335
17950 Kuhmoinen
How to get there:

Car: Set address Kylämäntie 1335 to your navigator and it takes you to Heretty parking lot, which is the best place to start your visit. The parking lot is located along the road 3284 (Kuhmoinen – Länkipohja) about 15 kilometers from Tampere-Jyväskylä road E63 or just over 17 kilometers from Lahti-Jämsä road 24. There are also good signs in both of the bigger roads and along the way.
Public transport: There is no public transport available to Isojärvi national park. The nearest bus stops to the national park are located in Länkipohja (14 km) and in Kuhmoinen (17 km).
When to visit: The best time to visit this national park is in summer, but it is of course open all year. Only Heretty parking area is bloughed during winter time.
Accessibility: Isojärvi national park is suitable for all ages, but the terrain is challenging and it has no services for disabled. The trail to Kannuslahti will be renewed to be suitable for disabled as part of an improvement program in 2018-2020 when also a fatbike trail will be built.

Special to remember: In the restricted areas of Lortikanvuori and Latokuusikko, walking is only allowed on trails during the time when there is no snow. On the islands of Kaatselkä area on Lake Isojärvi, landing and moving around is forbidden 1.5. – 31.7. because of nesting time. Otherwise everyman's rights and restrictions apply and forest fire warning status should be checked from the Finnish Meteorological Institute website before lighting fire. It is only allowed at sites marked for this purpose. When the forest fire warning is in effect, fire lighting is allowed only in the built fireplace of the cooking shelter in Kannuslahti.
Read more about camping at Isojärvi National Park or all National Parks in Finland, or take our fun quiz to find out which Finnish national park suits you the best!
Also visit in the area
Juveninkoski waterfall in Jämsä, the largest waterfall in Central Finland, is not far from Isojärvi national park.