Leivonmäki National Park in Joutsa municipality is a lovely nature destination, which is easy to reach from highway 4. There are 28 kilometers of marked trails at Leivonmäki. The national park can be visited any time of the year, and I happened to be there right after the first snow flakes had snowed in the Central Finland region.
I visited Leivonmäki few weeks ago very early in the morning. As it had been snowing lightly at night, the trails and duckboards where covered with a thin layer of snow. Only one car was at the parking lot and one set of footprints had departed to the trails before me. I knew how busy national parks can be on the weekends now when so many people spend time outdoors, so I fully embraced this moment of being almost alone in the national park.
Trails at Leivonmäki National Park
The trails at Leivonmäki depart from three different locations. From Kirveslampi parking area (Vartiamäentie 1073, Joutsa) you can access the following trails:
Harjunlahden yhdysreitti / Harjulahti connecting trail, 3 km one way
The recreational skiing trail, 10 km in winter
From Selänpohja parking area (Syysniementie 1072, Joutsa) you have access to these trails:
Harjunkierros / Esker trail, 4.5 km circle trail
Mäyränkierros / Badger trail, 5.5 km circle trail
Rutalahti connecting trail, 11 km one way
Mountain biking trail, 22 km
From Rutalahti (Koskelantie 128, 41710 Rutalahti) you can access to this trail:
The Koskikara trail, 3,5 km circle trail
Kirveslammen kierros, 1,7 km circle trail
I decided to go check out the duckboards on Kirveslammen kierros since it was so quiet in the Leivonmäki National Park. Kirveslampi was where the other footprints were also heading. Those footprints were much bigger than mine, probably at least size 48. I didn't have Nalle with me, so it was nice to know that someone else had been walking here recently. This trail is recommended to be walked anticlockwise, and that is also the direction I was heading. First a downhill, then a short part on the duckboards, then the trail took me to a forest and climbed a little higher so I could see the bog on the left side of me. I was heading to the birdwatching tower on the bog, so I knew that there would be more duckboards coming soon.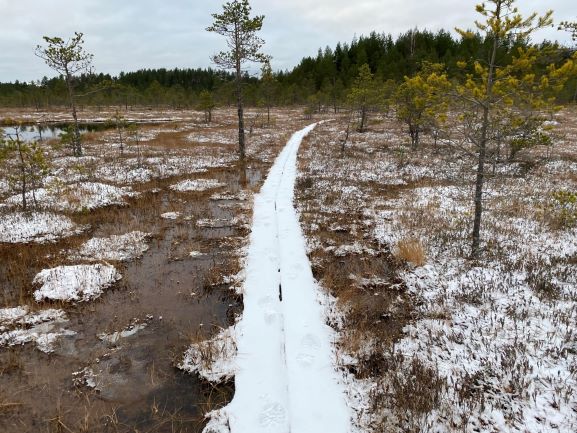 The duckboards on the bog had some snow but I was glad that my hiking shoes were not slippery at all. I still walked like a duck, balancing on two duckboards and trying not to slip. The bigger footprints were still going ahead of me and I wondered if someone was just walking on the trail or if they were at the birdwatching tower. I continued on the duckboards until I suddenly noticed that the footprints on the snow dissapeared. What, where did that person go? If I had Nalle with me, I'm sure he would have shown me where those footprints went. But I didn't see anything on the bog, only that in one moment they were on the snow on the duckboards and then suddenly stepped of the duckboards and vanished. I stopped, listened and had a glance around but obviously there was no-one around me. I continued along the duckboards and soon arrived to the birdwatching tower.
I climbed the birdwatching tower and had nice 360 degree view. I didn't see any birds, animals, nor hikers with at least size 48 shoes. I was alone on the bog and it was very peaceful and quiet. Kirveslampi was a little pond in front of the birdwathing tower. It wasn't frozen yet.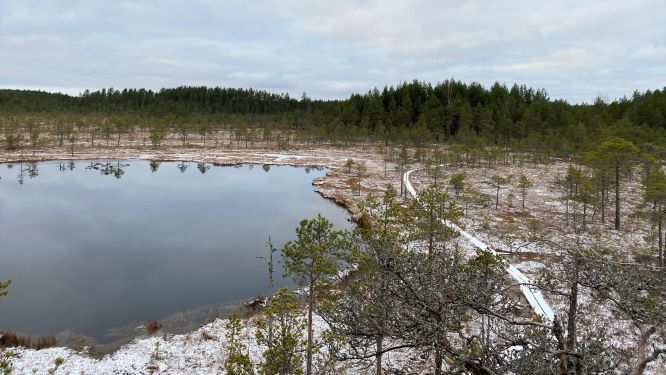 I stepped down from the tower and continued along the trail. Soon I came back into the forest, where the trail led me back to the parking lot. I was curious to see more and decided to continue to the second circle trail.
Luupään lenkki, 2,2 km circle trail
Similar to Kirveslampi trail, Luupään lenkki is recommended to be walked anticlockwise. So I did. Signboards on this trail explain things in multiple languages. The first sign was set up in the forest in front of a suppa depression. Traces of ice age are seen everywhere at Leivonmäki National Park.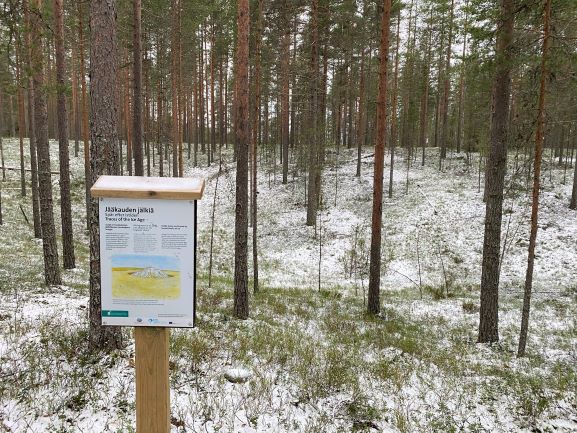 This time I could see small footprints coming towards me, with a set of tiny paw prints. Probably a woman who had been walking her dog on this trail. The trail soon crossed the road that had led to the parking lot and next I saw a big boulder that had been transported here by the moving ice during the ice age. Imagine those forces that have shaped this landscape and moved these kind of erratic boulders for long distances. This buddy weights about 40 000 kilograms.
Harjujärvi accessible trail 0,7 km
Soon I arrived to Turasenlammit, which is accessible for a wheelchair or stroller. The end of Luupään lenkki is accessible and called Harjujärvi accessible trail. It departs from the Harjujärvi lean-to shelter to the Turasenlammit.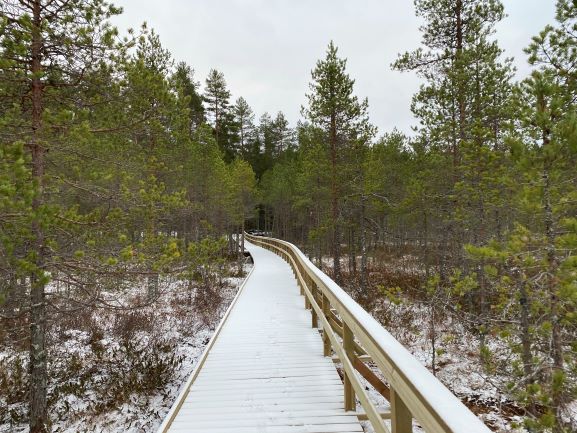 I continued on the wide trail to the Harjujärvi lean-to shelter. I stopped here for a moment to enjoy the view from the deck towards the lake. I had spend few hours exploring Leivonmäki National Park and its amazing traces of the ice age. This part of Leivonmäki is an excellent place to visit with the whole family. Trails are quite easy with only few moderate climbs.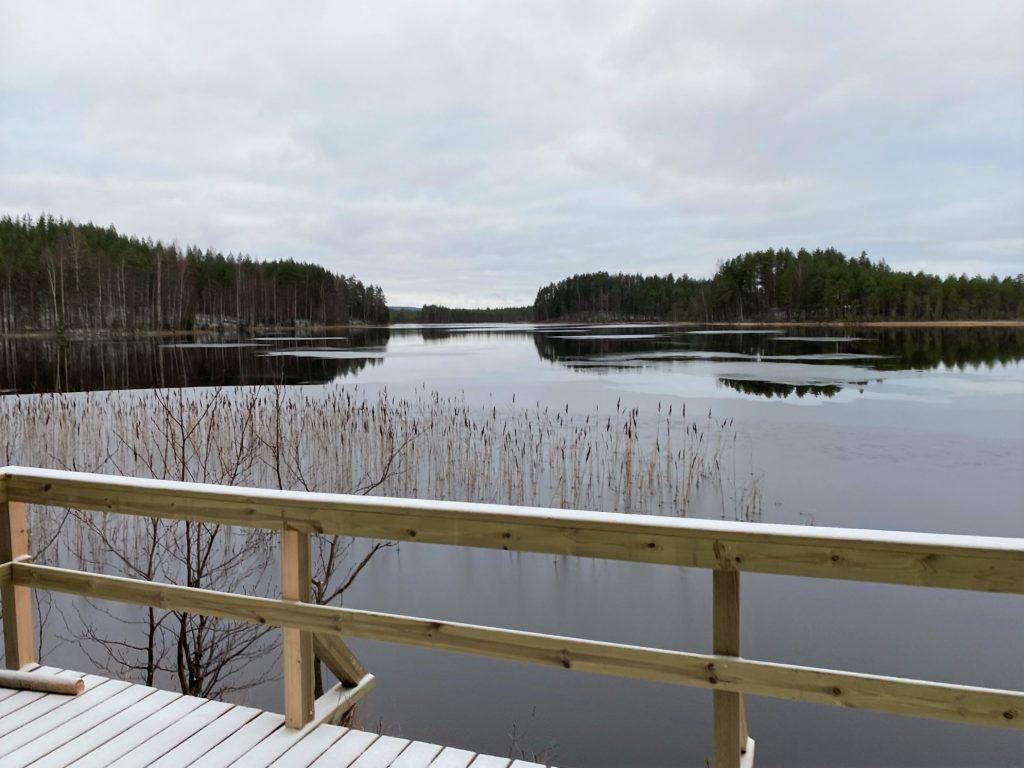 Directions to Kirveslampi at Leivonmäki National Park
Address:
Vartiamäentie 1073
41730 Joutsa
How to get there:
Car: The Kirveslampi parking area is easy to reach from the highway 4. Turn to Harjunlahdentie road and follow it for abotu 6,2 kilometers. Then turn left onto Vartiamäentie road and follow it for another 1,8 kilometers. The parking area will be on your left.
Bicycle: You could cycle to Leivonmäki but note that cycling is not allowed on the highway 4. Mountain biking trails at the national park depart from the Selänpohja.
Public transport: You can take the bus from Jyväskylä Tracel Centre to a bust stop called Leivonmäki on the highway 4 and Harjunlahdentie intersection. From there you can walk 5,8 kilometers on Harjulahdentie to reach the beginning of the Harjulahti connecting trail, which takes you to the rest of the trails. See the timetables and fares at Matkahuolto website.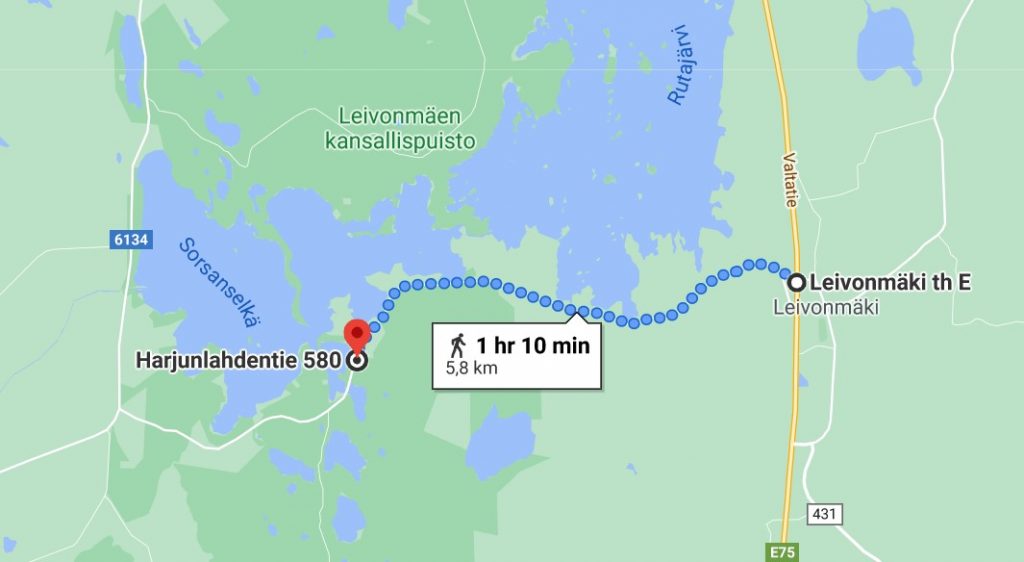 Accessibility: The Harjujärvi trail is accessible by wheelchair.
When to visit: The Leivonmäki can be visited any time of the year. The parking areas are available in winter, but there may be delays in ploughing. Walking on the duckboards is not possible when there is a lot of snow, but cross-country skiing tracks will then be available. You are also allowed to go snowshoeing or cross-country skiing off the trails.
Special to know: Camping is allowed at Soimalampi lean-to shelter or in your own tent at Harjujärvi or Lintuniemi camping areas. Berry picking and mushroom foraging are allowed except in the restricted area of Haapasuo during bird's nesting time from 15 April to 15 July.
Also visit in the area
Kanavuori, Chicken Mountain, is a hill and nature trail in Jyväskylä, Central Finland. It is located in Vaajakoski about 9 km from the Jyväskylä city centre, just off from the highway 4. You can reach Kanavuori by bus or by bike from Jyväskylä centre. Please note that we don't recommend visiting Kanavuori during slippery times.