This is a story about Kulta-Kustaa and his excavation pit Kustaan kaivanto in Vaskio in Finland. Kulta-Kustaa was a famous character of a small village as he dedicated his life for trying to find gold. Along Turilantie from Kuusjoki to Vaskio you will see a small sign that simply states "Kustaan kaivanto". I have passed that sign many times, and known vaguely about this story. But last time I was passing the sign, I decided it was time to go check out the excavation pit in the forest.
Tragic story of Kulta-Kustaa
Kustaa was living in a small Voitilanpyöli village in the 19th century. He had a family with many kids. One night Kustaa had a dream about gold inside a bedrock near Kakossuo. Since then Kustaa dedicated his life for finding gold. Apparently there are several excavation pits that Kulta-Kustaa digged in Vaskio, but Kustaan kaivanto is the most famous one.
Vaskio is located in Salo municipality in Finland Proper, about halfway between Helsinki and Turku. There have always been gold miners in Finland, but usually in Lapland. Vaskio is not exactly in the gold area, being located about thousand kilometers south from Lapland, but in theory you could still find gold in here. What makes Kulta-Kustaa's story so special is the fact that he tried to find gold from inside a rock in the 19th century.
Kustaan kaivanto as nature destination
You can visit the Kustaan kaivanto and protected Kakossuo bog by following the sign from Turilantie. The actual pit is an easy walk on a nature trail from the road. Some trees have fallen over the pit but you can still see the hole, which Kustaa has made. He has probably digged that with very simple tools. Standing over this pit in the middle of the forest makes you wonder about the dream that Kulta-Kustaa had. What kind of dream makes a man believe in gold this much? It's quite tragic story for sure.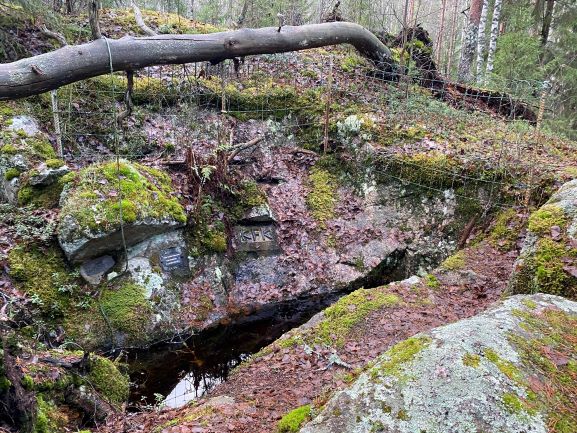 The rocks that Kustaa has digged out of the pit are massive. I don't know how he did that during that time. Maybe he had a horse to help him to pull them, but imagine if you had to break a rock into pieces with an iron pickaxe.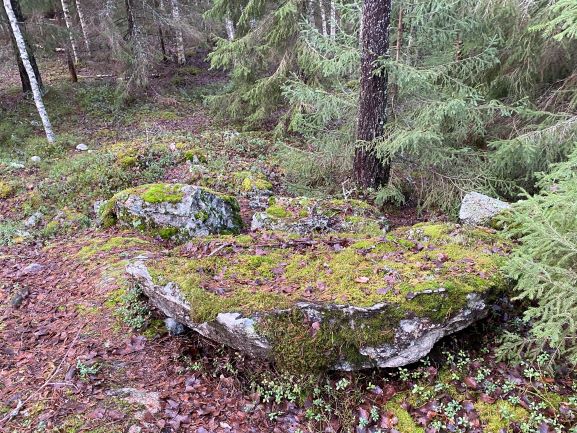 Kustaan kaivanto is located in Kakossuo, which is a Natura 2000 protected area, approximately 222 hectares in size. It has been protected since 2013 to maintain the bog's protected species and their habitat. Hiking and cross-country skiing are allowed in this protected area, as well as berry picking and mushroom foraging.
Directions to Kustaan kaivanto
Turilantie 466
25260 Salo
How to get there: Follow the sign from Turilantie road about one kilometer until you see a sign pointing right. Turn to that road and follow that about 500 meters until there is a small nature trail beginning on the left side of the road. There are no signs along the trail but you should be able to make your way to the Kulta-Kustaa's pit, the trail is pretty visible.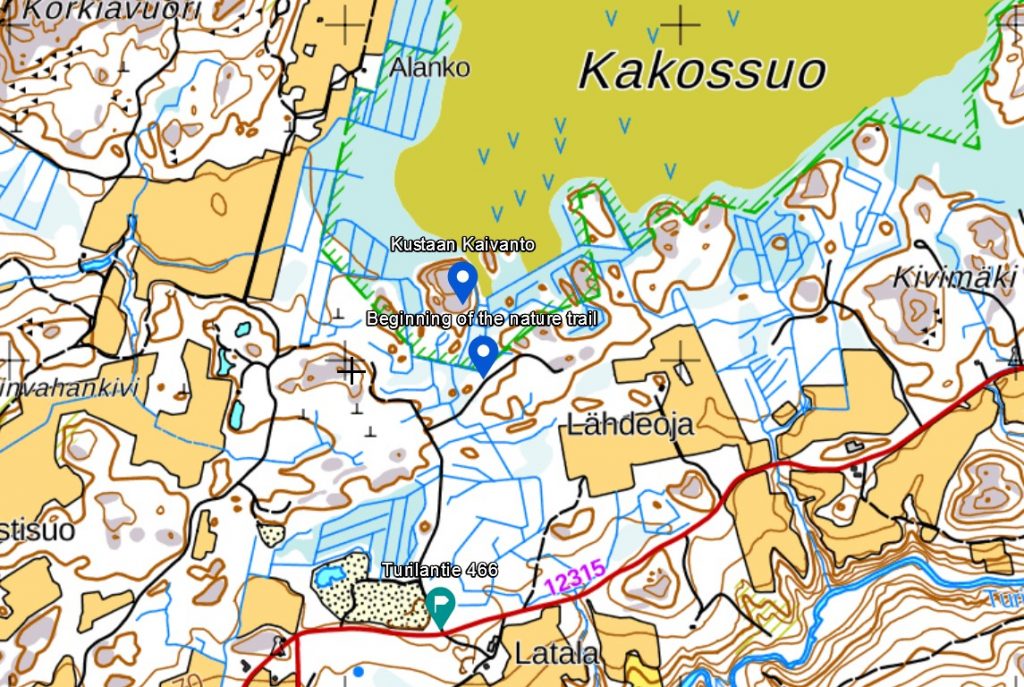 When to visit: From spring to autumn when there isn't any snow on the ground.
Accessibility: This place is not accessible for all. The trail to the pit from the road is short, but it can be muddy and you have to be able to jump over one ditch.
Special to know: Along the same Turilantie road there is a tombstone that also caught my attention. I had to stop and read what it says. It said 10/12/1913 murdered Mariana Jokela. Mariana was born in 1894 and lived in Turila village in Vaskio. A local man called Kalle was significantly older than Mariana but he was in love with her. He even asked her hand from Mariana's father, who in a modern way had replied that it's not for father to give but for Mariana to decide. One evening Mariana was on her way home when shots were heard from the road. Mariana and Kalle were both found death along the road. Kalle had murdered Mariana. The tombstone had been ordered by a neighbor. Some say that the tombstone was made by Kulta-Kustaa.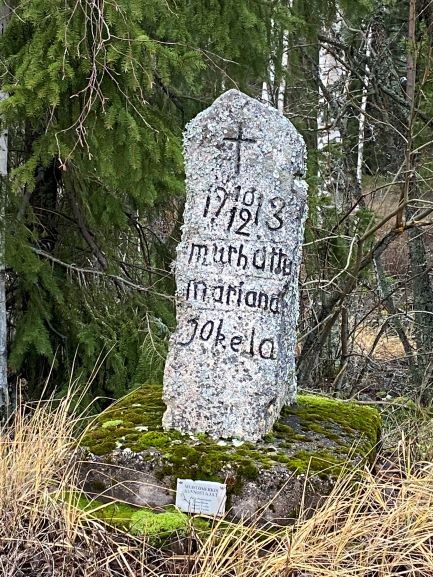 Also in the area
Secret sacrifice spring in Salainen is located nearby. Salainen Uhrilähde is also known as Someroja natural spring. Uhrilähde means that the spring used to be a sacrificial place. People hoped to get rid of illnesses by tossing sacrificial coins to the hallowed spring and used its holy water to bathe the illnesses away.