Are you wondering how to make a BIY birdhouse from a log? Early spring is the best time to make birdhouses, and this time we made a DIY birdhouse from a log. We have many birdhouses in our yard and at the cottage already, but there is always space for more. Making birdhouses is fun and rewarding, and birdhouses make observing the birds easier. Birds have shortage of nests, so by making birdhouses you can make a big difference.
The most common birds that need birdhouses in Finland are great tit, blue tit, coal tit, pied flycatcher, spotted flycatcher, common starling, true sparrow, tree sparrow, common redstart, common swift, northern wryneck, western jackdaw, common goldeneye, and common kestrel. Birdhouses have different hole sizes and designs based on the species they are meant for. For example, Eurasian treecreeper has a very specific style house where the hole is next to the tree. The size of the treecreeper's house is about 12×35 cm and the hole is about 4 cm in diameter.
The easiest way how to make a DIY birdhouse from a log
Usually, you would make a birdhouse from planks, but this time we happened to have logs as materials. My dad's brilliant design consisted of two parts joined together by Z-joint. So, one part had roof and back of the house, and the other part had bottom and front of the house. This way carving the log didn't take a long time, like it would if you made the house from a whole log and carved it from one end. This birdhouse didn't even have a hole at the top, but we added a sheet metal roof anyway, so that the birdhouse would be protected from elements and last longer. Peeling the logs could make them even more durable. The hole was also protected with sheet metal plate, so nobody can carve the hole bigger. These are meant for species like great tit and pied flycatcher, so the houses don't have any sawdust inside.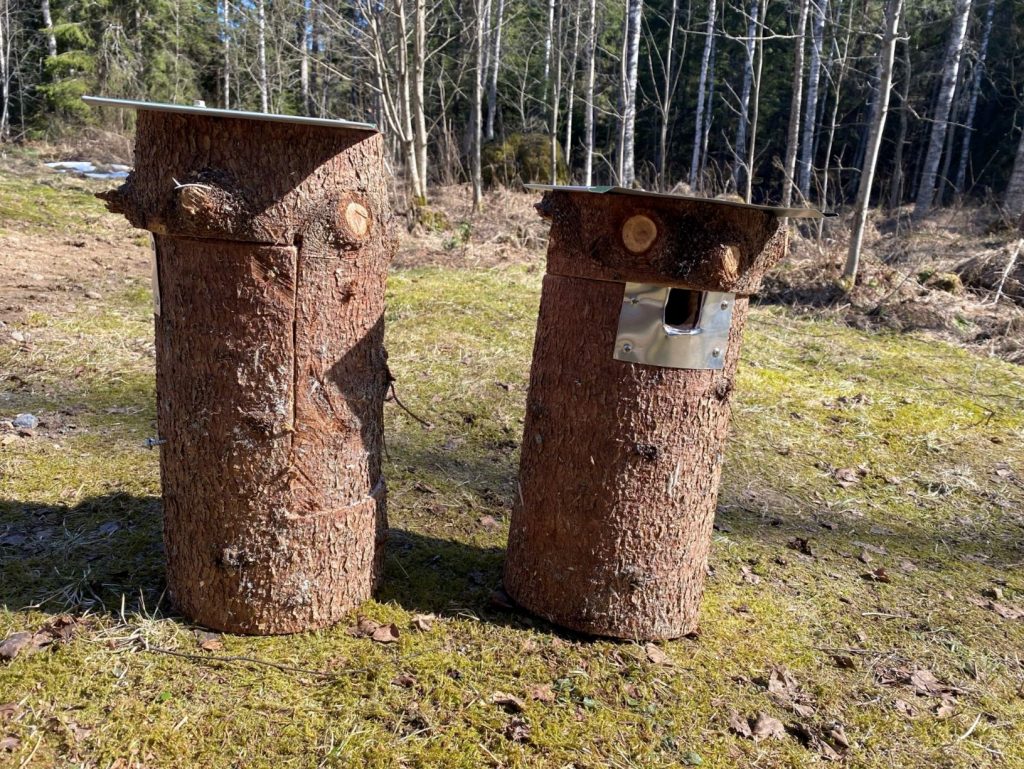 We used a steel wire to attach our DIY birdhouses to the trees, and at the moment they are a bit loose, so that the trees have room to grow. The wires also have enough length to adjust them later when the trees grow even bigger. These two new birdhouses from a spruce log are now looking for new tenants.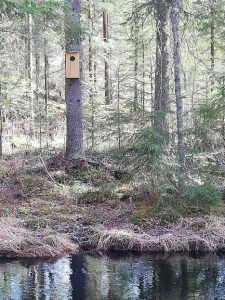 You shouldn't forget the maintenance of the birdhouses, and making sure that they don't harm the trees in years to come. But remember carry out the maintenance only when the houses are not occupied. We noticed our old goldeneye house was in poor condition, so we made a new one. It was a bit bigger project than I thought as the planks weren't wide enough and we had to make walls. This birdhouse is about 25x25x55, with a hole that is 11,5 cm in diameter. There is some assistance for the youngsters to climb out of the hole when they are ready to head to the river. Goldeneye also likes a good layer of sawdust on the floor, so this unit is already fully furnished.
For more specific instructions on birdhouses, please see BirdLife Suomi. Few years ago, there was a successful campaign in Finland for making one million birdhouses in one year. Let's not stop there!
If you are interested in our other DIY projects, read about building an insect hotel for the garden, DIY butterfly feeder and other ways to attract butterflies, or how to build a Finnish lean-to shelter.