I was driving down a jagged gravel road, on my way to a cabin at Heretty, which is located in Isojärvi National Park near the petrol station at Länkipohja. The road was in rough shape, so I had to slow down to a crawl.
This is one of those places which draws me back time and time again. It is also the first place where I started my solitary hikes, so that's probably why it's such a special place to me.
Isojärvi National Park is 22 km2 in size, and it was founded in 1982. It sits in a quiet, peaceful area of Kuhmoinen, completely surrounded by forests. Rumour has it that the national park may be enlarged in the near future, so that would mean even more hiking trails.
I step out of the car with my dog Viima. Beyond excited to get out of the car, Viima clearly can't stay still for even one moment. I laugh out loud and hoist my backpack up and wonder how light it feels this time. I walk by the Heretty cabin and its summer café where I've spent many coffee breaks after my hikes. Now it's winter, so the coffee shop is closed due to decreased amounts of customers.
The most popular spot at Isojärvi is the Heretty cabin, and no wonder: it's full of nostalgia and spectacular countryside vistas, which whisk you directly back to the early 20th century. Personally, I love the mood of this place and one of my favourite things is to read the information plaques on the barns every time I visit. They offer insights into the history of this place like no other. The coffee shop is also an important part of visiting Isojärvi – I haven't seen such happy staff anywhere else or felt as welcome as there.

Our feet take us towards Kuorejärvi lean-to, and from the trails of Heretty cabin we head right to go around Kannuslahti bay. Immediately I feel more tranquil again as soon as I am in the forest. I listen to the birds in the background, recognising the sounds made by a great spotted woodpecker, a woodpigeon, and a willow warbler. I am actually good at recognising birds by their sounds, but smaller birds all sound the same to me unless I can verify my suspicions with some visual cues.
My dog is over-the-moon happy even while carrying a heavy backpack of its own. Being on a lead is always tough for the first few kilometres but after that Viima calms down. The more intense roving while carrying a packpack, the faster Viima's high energy levels drop.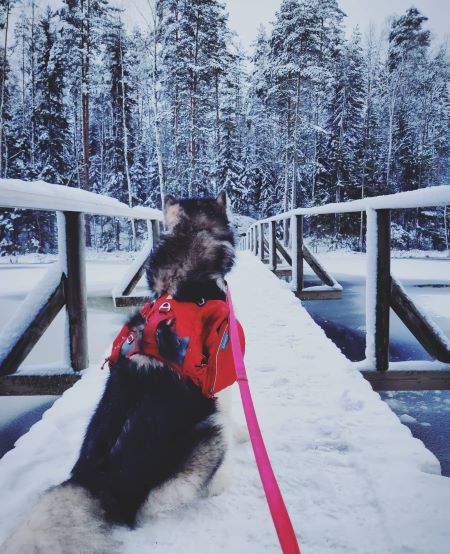 Hiking with a dog was challenging in the very beginning because Viima couldn't ration its energy consumption. It simply didn't have any idea what was coming and how far we were going to hike. Nowadays, as soon as I put a backpack on Viima, it goes into a sort of a working mode and focuses: it stops concentrating on everything around it and tries to be as conservative on spending energy as possible in order to hike long distances. It is incredible to see how your dog develops so much.
When we arrived at Kuorejärvi lean-to, I dug out cooking utensils from my backpack. There were others at the lean-to fireplace, so we happily moved further away to another fireplace and set up our own fire. I always carry a portable stove just in case, but I only use it if it's absolutely impossible to get a proper fire going. Food du jour was chicken risotto by Blå Band, and yes, I will admit I am a bit lazy when it comes to camping food. I am actually a chef by profession, but when I can take a break from cooking, I welcome it gladly.
When I am done with my food, I scrape all the leftovers in a bowl. I set it down in front of Viima and then give it permission to "go get it": Viima wolfs down the food in a nanosecond.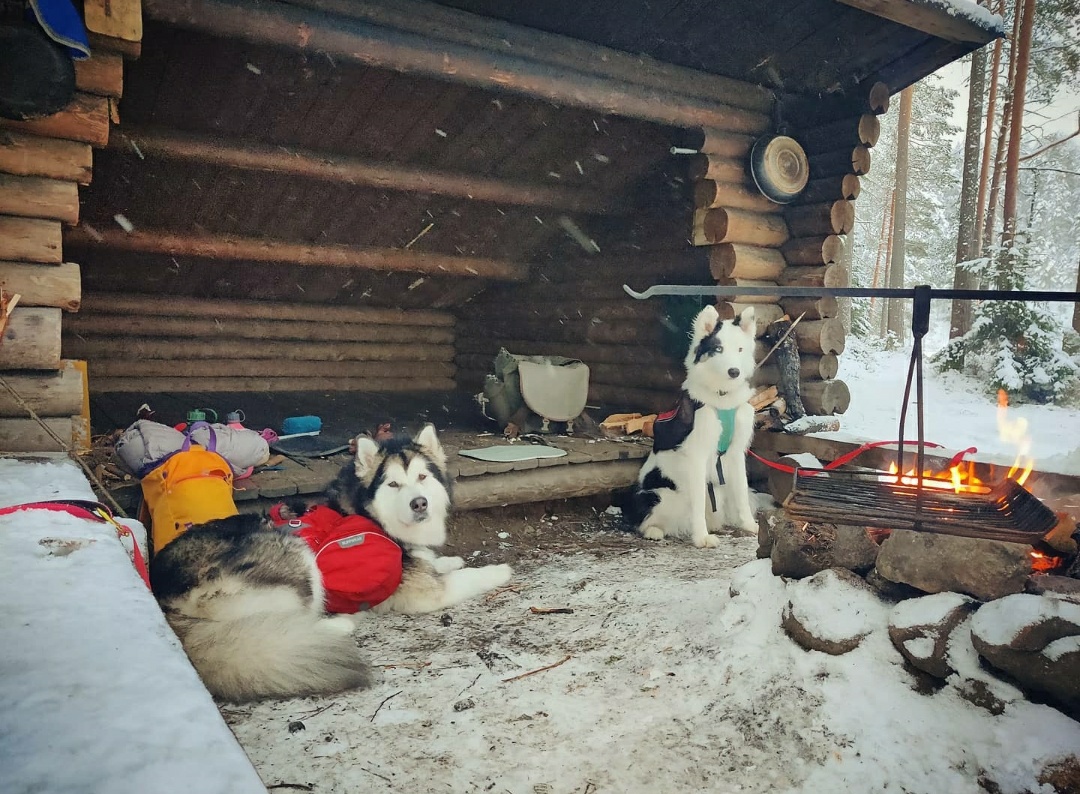 We continue our trek to Vahterjärvi lean-to where we spend the night. Camping and putting up my tent is very familiar to me, so as darkness fast approaches and I don't particularly enjoy spending time in the dark, I crawl into my tent to lie down. I grab a headlight and a book from my backpack and delve deep into some silly antics of a Nora Roberts romance novel. Viima falls asleep in a heartbeat in the comfortable tent.
I was positively surprised at how well the night went. I wasn't too cold, and my double-sleeping bag arrangement worked. It was only around -10C, so the weather was nice and dry but still my gear was sufficient for the cold air.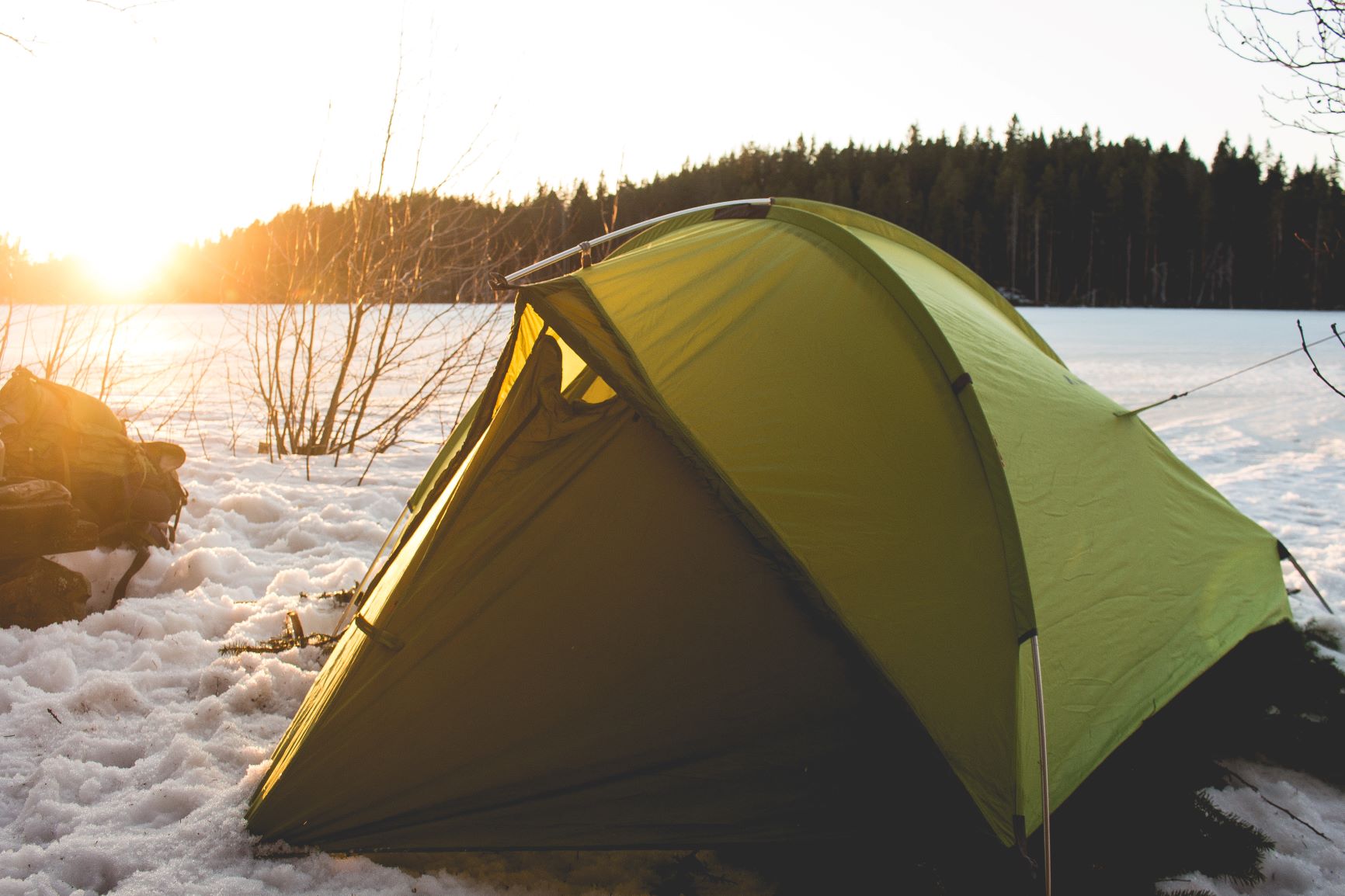 As we were making our morning porridge, Viima of course had its own portion of porridge along its usual doggie food. A dog's energy consumption is at different levels out in the freezing weather, especially when carrying a heavy backpack of its own.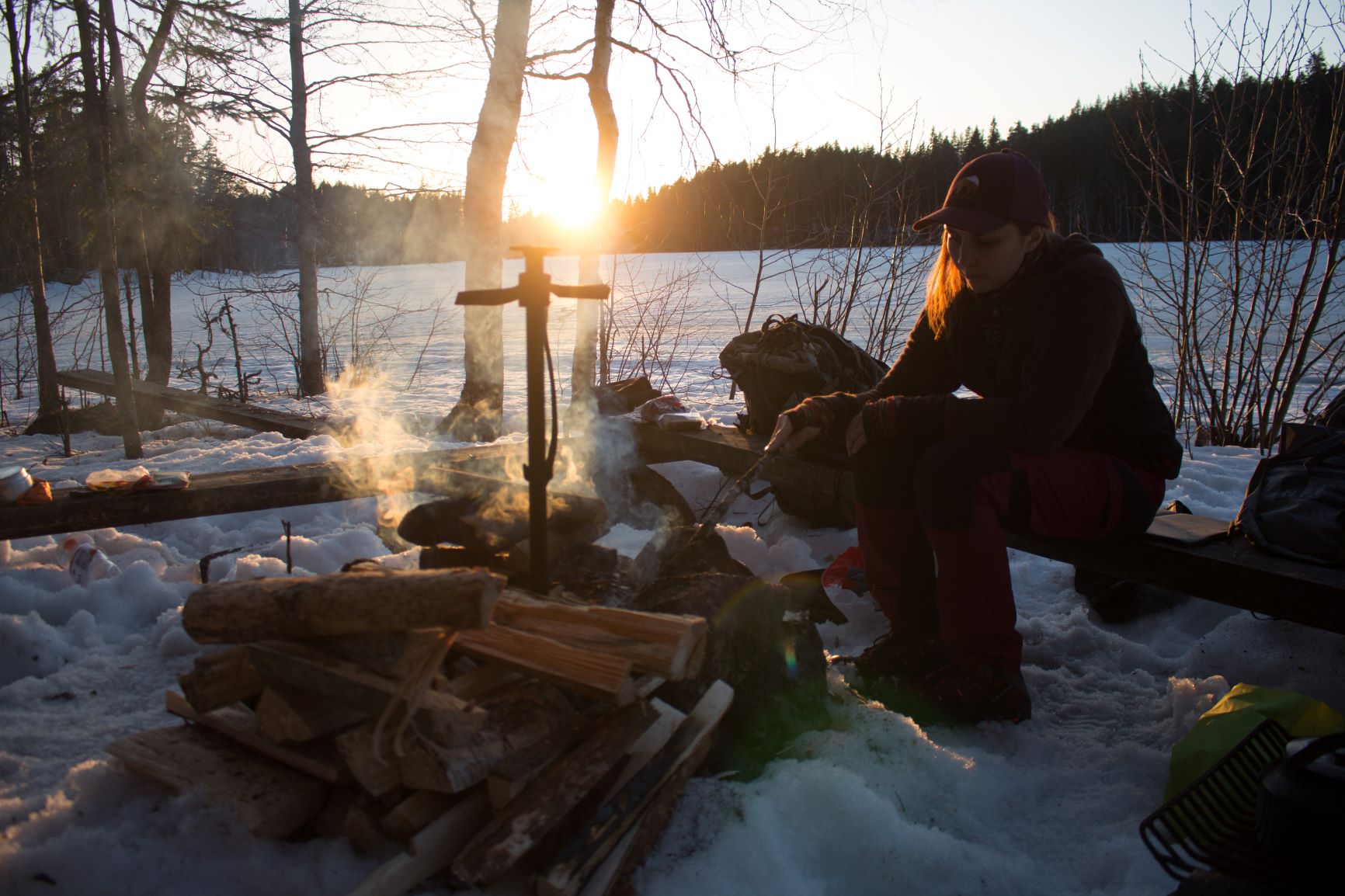 Whenever I am heading back, I seem to walk faster. I enjoy my time in the forest, but I always move swiftly towards home, and I usually take half the time it took me to get to my camp site.
When we get to Heretty cabin, I grab Viima's backpack off. I end up laughing out loud because Viima seems to be almost sulking after only one night away. Nonetheless, it is happy to crawl into the car, roll up, and sleep as we drive home.
Follow Ella and her adventures on Instagram at ellashiking!
Read more