Practically at the heart of the Finnish capital, Helsinki, lies an island called Lauttasaari (Ferry island). This suburb is famous for its leisurely pace as well as an abundance of nature. Vattuniemi (Raspberry headland) is a peninsula at the southernmost tip of Lauttasaari island, and a very popular urban recreational area for the locals. There is a sandy beach, trails for walkers and joggers, perfect spots for fishing, and plenty of historical sights to admire. You can even do some ship-spotting if you're interested in it!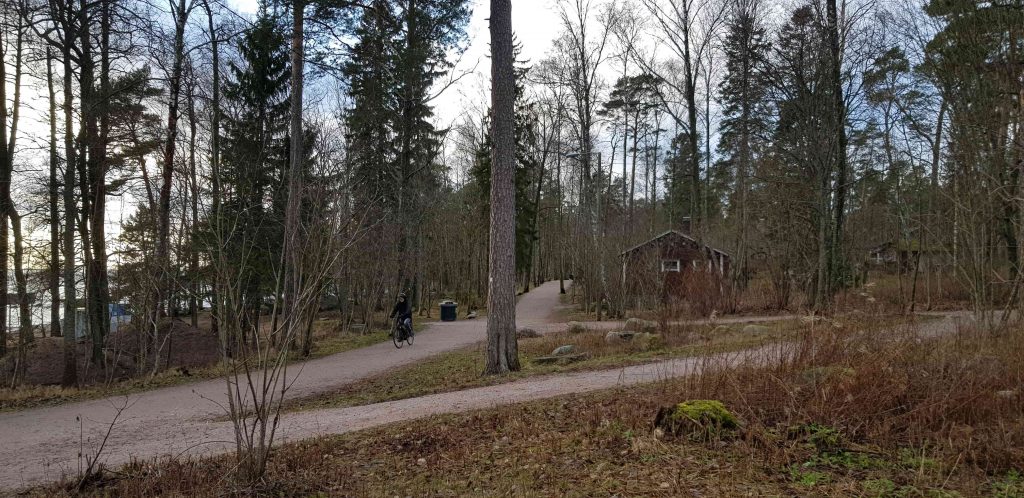 Three sides of Vattuniemi
Vattuniemi can be roughly divided into three sections. The western side of the peninsula consists of a park called Särkiniemi park (Särkiniemen puisto), a sandy beach of Veijarivuori (Veijarivuoren ranta or "rascal mountain beach) at the southermost tip, and the Lauttasaari recreational area with fortifications from the Crimean war and a memorial for aerial defense on the eastern side.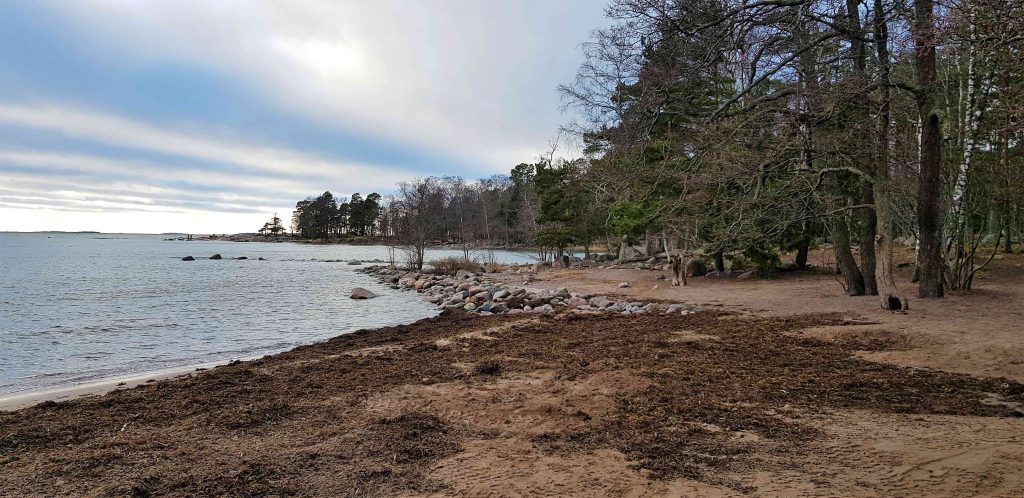 Särkiniemi park has vast flat seaside cliffs perfect for picnics, sunbathing, and enjoying the views. When the sea is frozen, these flat cliffs make it easier to access the sea-ice, on top of which people tend to hike (just check the ice is thick enough and that you don't go near shipping lanes!).
The southern area of Vattuniemi near the beach used to be a popular folkpark since the 1920s when lot of people camped there. You should note that even though Lauttasaari is now a suburb of Helsinki, the first bridge across to Helsinki wasn't finished until 1935, after which Lauttasaari was merged into Helsinki in 1946.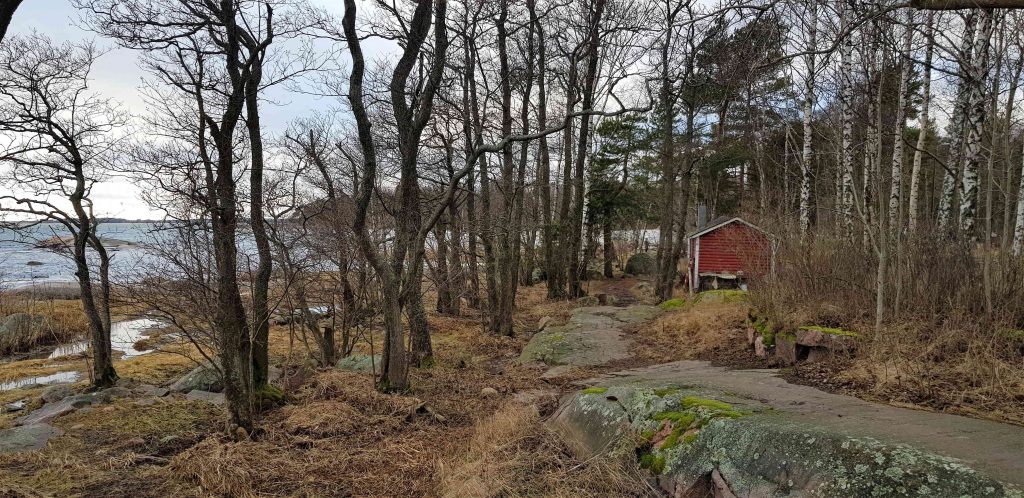 As a reminder of times gone past, there are tiny summer huts dotted in between the forests with their lovely gardens. These are private areas so please respect their privacy.
There is a quaint pavilion rented by the local swimmers' association called Humauksen maja. It overlooks to Helsinki and the new suburb of Jätkäsaari, which used to be entirely used by cargo ships.
You can still see drive-on ferries on their way to and from Tallinn by Jätkäsaari as well as yachts and sailboats on their way elsewhere in the Helsinki archipelago.
Historical forts and islets
Close to the official beach are some very special islets, and the larger one has a very funny name: Sisä-Hattu or Inner Hat. The water depth near one closest to the shore is so shallow that you can walk to it; you need wading boots or shorts to get to Sisä-Hattu. Wading to Sisä-Hattu is definitely worth your while because there are some amazing rock carvings made by sailors centuries ago.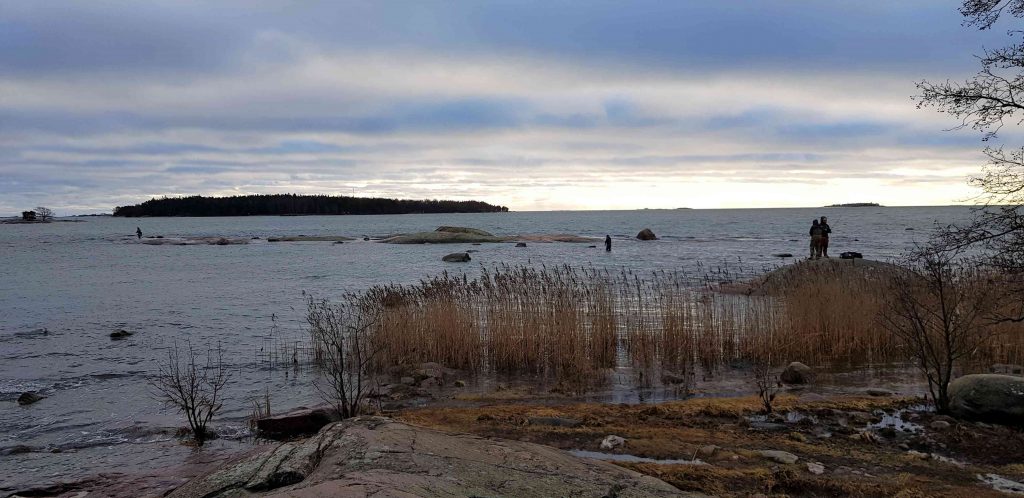 Sisä-Hattu is also popular among anglers and fishers. When I visited the area, there were some sea anglers in their waders standing in the middle of the two islets. If you're interested in angling, remember to buy a fishing permit.
Another historical feature of this urban park is next to these islets: the ruins of Crimean war fortifications all around Vattuniemi. When Russia ended up in a war with Britain over the control of the Turkish straits in 1853, Britain tried to cut off Russia's access to the West. The main fort protecting Helsinki and St. Petersburg was Viapori (Suomenlinna) but other fortifications were needed as well, and Vattuniemi was one of the areas where new fortifications were built.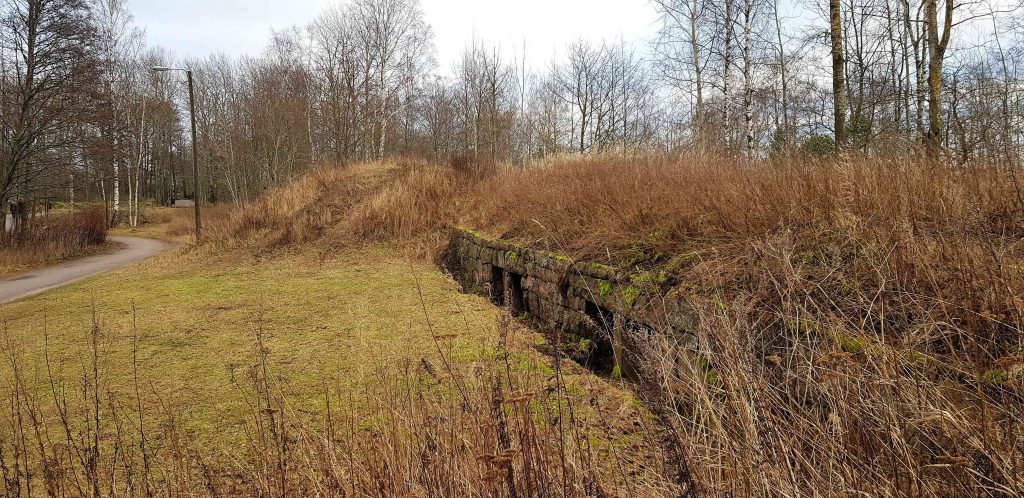 Despite the rush to build, the fortifications were not finished until 1856 after the Crimean war was already over. There was a casualty on Lauttasaari during the war, but the tomb of the unknown soldier is on the other side of Lauttasaari island.
Directions to Vattuniemi
Address: Itälahdenkatu 1-5, 00210 Helsinki.
How to get there: The easiest way to get to Vattuniemi is by public transport, on a bicycle or just by walking. There are three main roads that lead to Vattuniemi: at the end of Särkiniementie, Itälahdenkatu, or Purjeentekijänkuja 1.
Car: Vattuniemi is right in the centre of suburbia so it may be difficult to find a parking spot for your car. You can try the large carpark close to the end of Särkiniementie, too.
Bicycle: There are a lot of cycle paths on Lauttasaari island that will offer seaside views.
Public transport: The best way to get to Vattuniemi is by metro and by bus.

The metro takes only 5 min from the centre of Helsinki. From the metro, there is a 1,5km so about 15-20mins walk.
Bus number 21 or 21B takes you from the metro station to Melkonkuja bus stop only 300m from the beach. Check details from the Route Planner.
Accessibility: Most of the trails at Vattuniemi are accessible and wide. There is also winter upkeep of the trails.
When to go: You can visit the area at any time of the year. There are lights along all the official paths.
What to wear: No special shoes are required on the official paths.
Facilities: There is a cafe at Vattuniemi. There are also some piers with floating devices for swimmers but these piers can't be used as berths for boats.
Since you're already here…
Since you're nearby, check out the seaside promenade of Rantaraitti heading from the other side of Lauttasaari to Espoo. You can also try urban kayaking in the Espoo-Helsinki archipelago.