Nurminiemi lean-to shelter located in Virrat has been on my radar for quite some time. I wanted to visit this nature destination as I heard that there is a cool lean-to shelter in a really beautiful location, and that there was also a large boulder to see. There is no shortage of beautiful lean-to shelters in Finland, but I wanted to visit Nurminiemi for its view and the boulder. When finally got the chance to visit Nurminiemi, it totally lived up to my expectations.
Virrat is a town and municipality in Finland. It is located in Pirkanmaa region, about 100 kilometres north of Tampere and 110 kilometres west of Jyväskylä. Nurminiemi is a peninsula in Virrat next to Vaskivesi lake. Vaskivesi-Visuvesi lake area actually consists of two lakes and 300 little islands. The lake is apparently good for fishing pike and pike perch.
The nature at Virrat is unique due to its diversity. In addition to lakes, forests, cultivated fields, and swamps you will find rugged cliffs such as Raiskinkallio at Virrat. The most famous nature destination here is Toriseva gorge lakes next to route 66, about 10 kilometers east from Nurminiemi.
Nurminiemi lean-to shelter has excellent view
Nurminiemi lean-to shelter is located only couple hundred meters off Nurminiementie road, but at the bottom on a steep hill. It is also along 300 km long Pirkan Taipale trekking trail network that extends to 11 different municipalities in Finland. I must say that the lean-to shelter's terraza with a view made this lean-to feel extra special.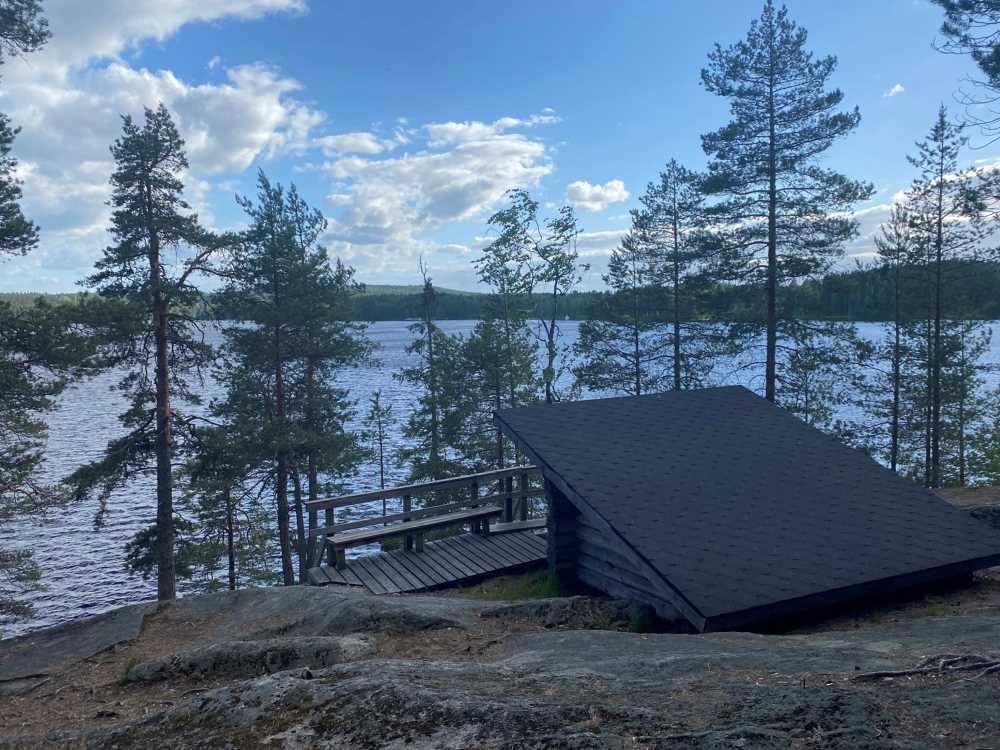 The lean-to could even be visited by a boat from Vaskivesi as there are nice stairs raising from the lake to the lean-to shelter. Everything was in good condition. I visited this place with my dog Nalle and the kids, but I wouldn't recommend this for families with small children as the shore is steep and it could be unsafe.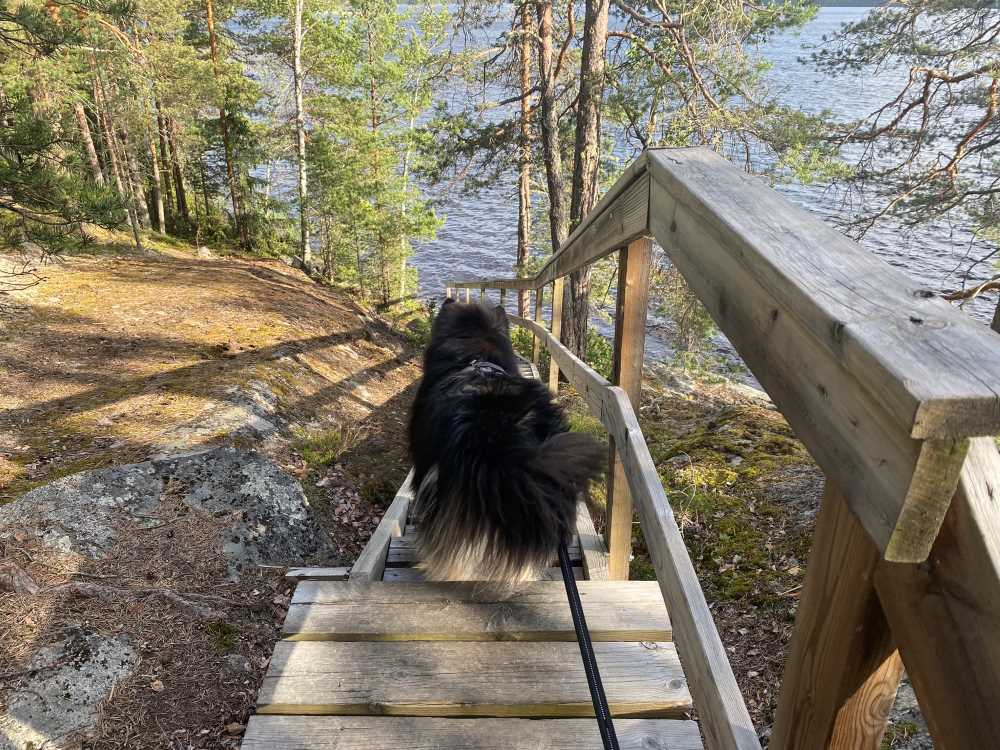 Nurminiemi boulder
The Nurminiemi boulder is leaning towards the lake and looks like it could start rolling any minute. The kids were excited about the boulder, and also about one geocache in the area. The boulder is the reason why this lean-to shelter is also known as Isonkiven laavu. The boulder is about 4 meters high, and under it there is a tiny passage or a cave.
Directions to Nurminiemi lean-to shelter
Address:
Nurminiemen siirtolohkare
Nurminiementie
34740 Virrat
Car: There is a small carpark by Nurminiementie road, approximately 700 meters from Kantatie 65. There is a sign to Nurminiemi at the parking lot.
Bicycle: Nurminiemi is a good pitstop for cyclists as well. Check out for example Näsi Lake Trail if you are interested in cycling in Tampere region.
When to go: I recommend visiting this location when there is no snow on the ground. The cliffs and stairs might get very slippery in winter and when it rains.
Facilities: Make sure to check forest fire warning from Finnish Meteorological Institute website before making any fire at the lean-to shelter. When a forest fire warning is in force, it is forbidden to start an open fire. There is a dry toilet in the area. Firewood is also available free of charge.
Special to know if you are into fishing: Hook and line fishing, ice fishing and fishing with a simple herring rig are general fishing rights and do not require a fishing permit as defined in the Fishing Act. If you go lure fishing to Vaskivesi, don't forget to pay general fisheries managament fee for example at Eräluvat-store. The fisheries management fee is required if you are 18-64 years of age and will be fishing with lures or traps or crayfishing.