I have visited the stunningly beautiful Paavolan tammi oak several times, and every time it takes my breath away. Seeing this green giant in all its sun-covered glory transports you to another dimension… a dimension with tree sprites, goblins, and magic.
The 1km nature path that takes you to Paavolan tammi oak departs from the yard of an old school. While you make your way to the oak, test your knowledge on the 15 questions.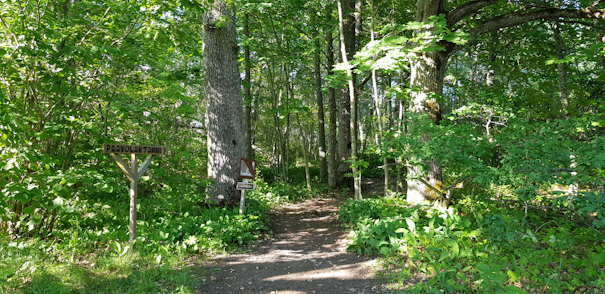 When you get to Paavolan tammi oak, you almost have to attempt to put your arms around it. You won't succeed, though, because its circumference is about 668cm (22ft)! The height is about 12m (40ft).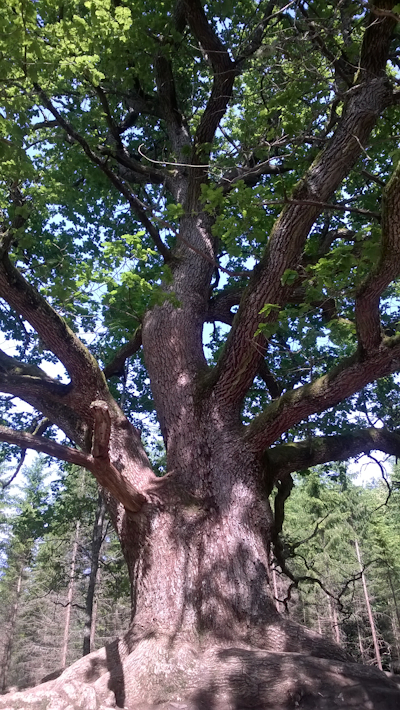 The oak has been protected as a nature monument so make sure you don't harm it in any way. The duckboards around the oak have been built so that the area stays as undamaged as possible, so please make sure to abide by this.
Experts have estimated that Paavolan tammi oak is about 300-400 years, and it's a rarity for sure. Oak trees can live up to 1000 years old, so many generations of visitors can be inspired by Paavolan tammi oak in the future. What's even more interesting, it grows alone on a plane of nothing but spruce trees. These gray spruce trunks emphasise the vitality and deep green of the oak tree in all its magnificence.
The area around Lohjanjärvi lake is especially fertile and rich in its vegetation. One of the main reasons for this is the high concentration of lime in the soil. There are also limestone rocks all around Lohja. These broad leaf woodlands are perfect for cultivating such miracles as the Paavolan tammi oak.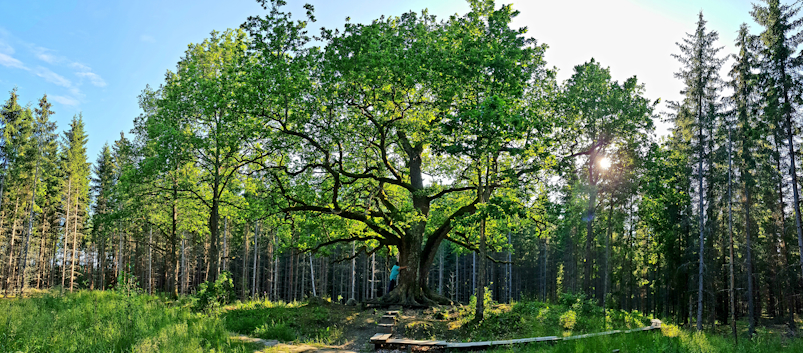 Directions to Paavolan tammi
Address: You can type Paavolan tammi on your navigator.
How to get there:
Car: Type in Pietiläntie 23, Lohja, which will take you to the parking area next to an old school. The official parking area for Paavolan tammi is this one.
Bicycle: There are plenty of smaller roads s to cycle on while enjoying the countryside and lovely Lohja lakeside.
Public transport: You can get to Lohja by public transport. Check out timetables from

Route planner

. The nearest stop to Paavolan tammi is Mårbacka I. From there, you unfortunately have to walk 10km to get to Paavolan tammi.
Accessibility: The area has some well-worn paths but the terrain is varying. There are also some wide duckboards to ease walking on top of tree roots. The very base of Paavolan tammi oak is not accessible. There are some benches at the oak.
When to go: You can visit at any time of the year. However, the best time is when there are leaves on this massive oak so you can fully appreciate its magnificence.
What to wear: Normal walking shoes are fine. Just notice that sometimes the nature path can get slippery.
Facilities: There are is no fireplace in the area. You must not build an illegal fireplace. There is no dry toilet in the area.
Make sure you also check out
Since you're already at Lohja, check out the unique giant's kettles at Talvia. If you're interested in another nature path, try the one across Lohjanjärvi lake at Lahokallio.