Näkkälä's Seita in Enontekiö has been used as sacrificial site by both fishermen and reindeer herders. It's a 2.5 meters high rock, which is particularly well known as reindeer seida as once two male reindeer were hooked on each other by their horns by this rock. Please note that Näkkälä's Seita is protected by the Ancient Monuments Act. If you visit this site, do not harm it or the nature around it in any way, and treat the whole area with respect.
The village of Näkkälä is situated north of Hetta in Enontekiö, close to Pyörisjärvi wilderness area. There are 40 residents who make their living mainly by reindeer herding and fishing. The Sámi people have inhabited the village for hundreds of years, but most of the houses were destroyed in Lapland War and rebuilt after the war in 1945. Näkkälä attracts some nature tourists as you can access the Pyörisjärvi wilderness area and Näkkälä-Hetta trail from here.
Näkkälänjärvi lake is the second biggest lake in Enontekiö
Näkkälänjärvi lake took my breath away by its beauty. Behind the lake begins the Pöyrisjärvi wilderness area.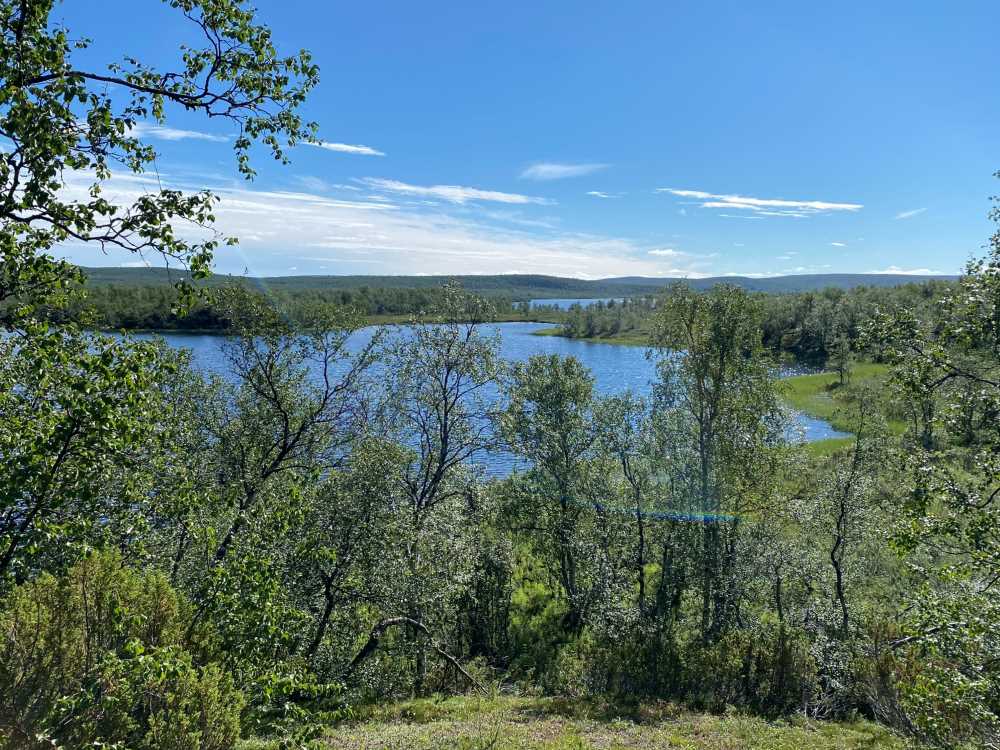 The lake's clear water was moving gently when little waves hit the shoreline. There was some hollow spot underneath the ground in the shoreline where the water hit, and it made this weird sound. Maybe the seida was talking to us, thanking us for the visit. Nalle was investigating the sound and checking the water temperature, but he didn't jump into swim. That was exceptional. Even Nalle respected the sacred area with his behavior.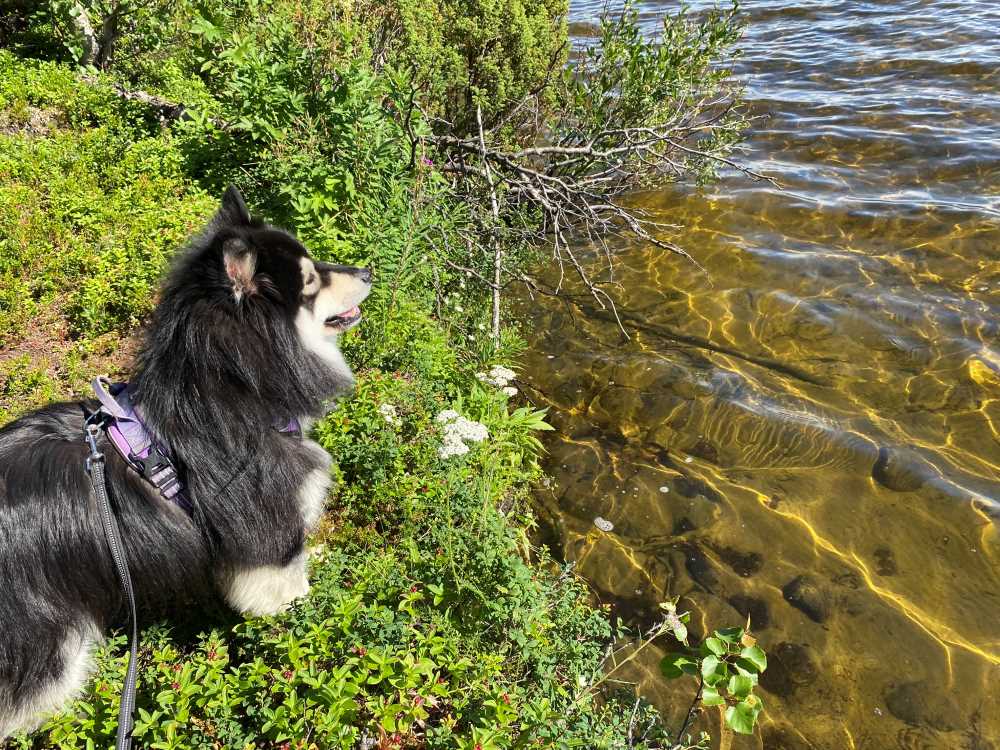 Leaving a sacrifice to sacred Näkkälä's Seita
Seida rocks are typically noticeable landmarks and clearly stand out in their environment. They were believed to be the home of gods, spirits and elf folk. Every village had its own, some made of wood. The oldest piece of writing to mention the Sámi people worshiping rocks dates to the 16th century. The use of seidas declined little by little as Christianity spread to the present-day Sámi area in the 17th and 18th centuries.
If you look at the surface of this seida rock closely, you can see variance in color that could almost look like rock painting. There has been some debate about that, but it has been determined that it is the rock's natural color containing feldspar and not rock painting.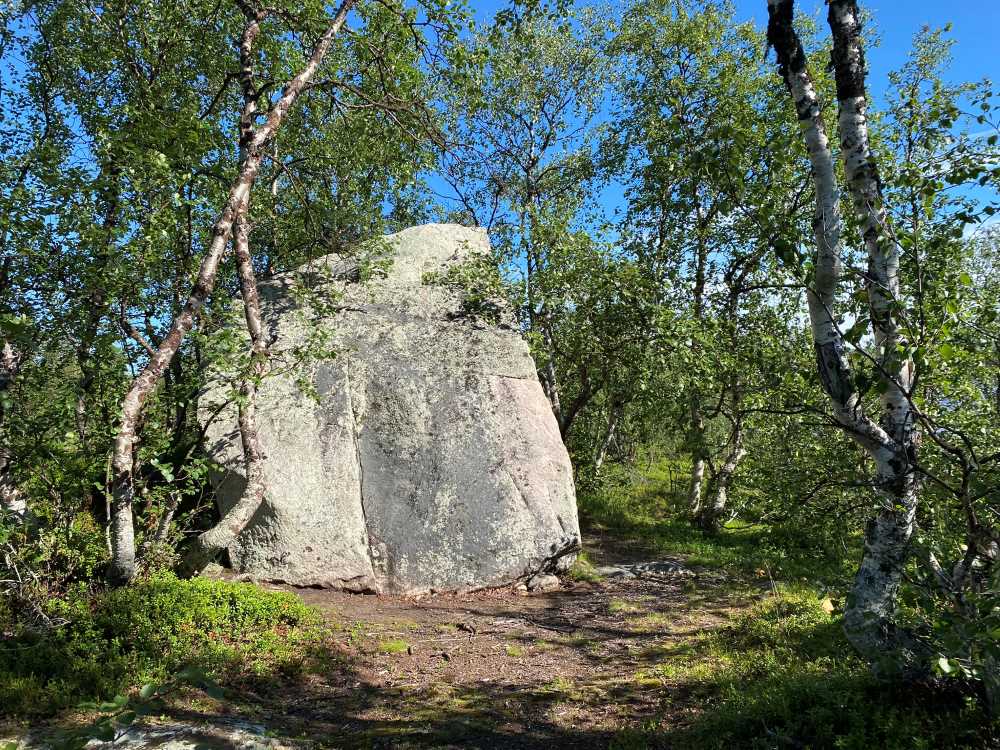 I had seen an enormous number of Leccinum mushroom growing in the forests everywhere in Lapland but I had not managed to find any penny buns. I knew penny buns grow close to spruce, and I had been in pine and birch tree forests, which partly explained my bad luck in finding them. At the back of my mind, I was thinking that maybe I need to leave a little sacrifice to the seida rock in hopes of having better luck in finding penny buns. As mobile pay and credit cards are not accepted, I had reserved a few coins for my visit to the seida. In closer inspection of the seida rock I could see that I wasn't the only one hoping for better luck in foraging, fishing, or hunting.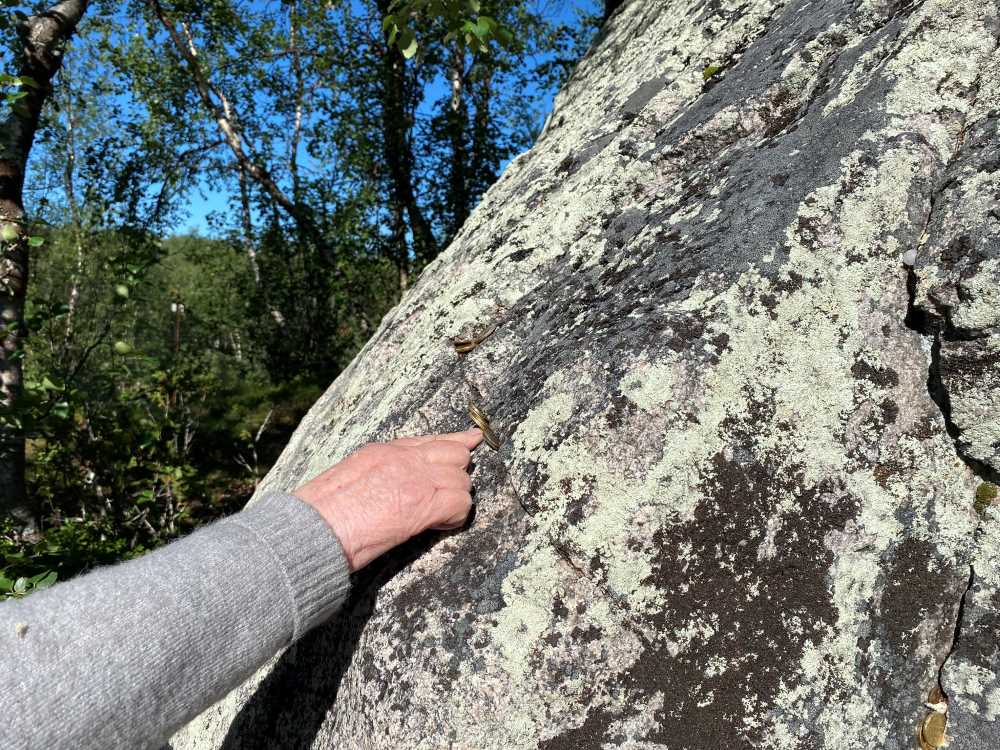 So, what happened to my mushroom foraging luck after visiting the seida rock? The next day I found plenty of benny buns, and later I also managed to catch a grayling from a river. I don't know how much I really believe in old traditions and folklore, but enough to respect them. I would not mess with the seida.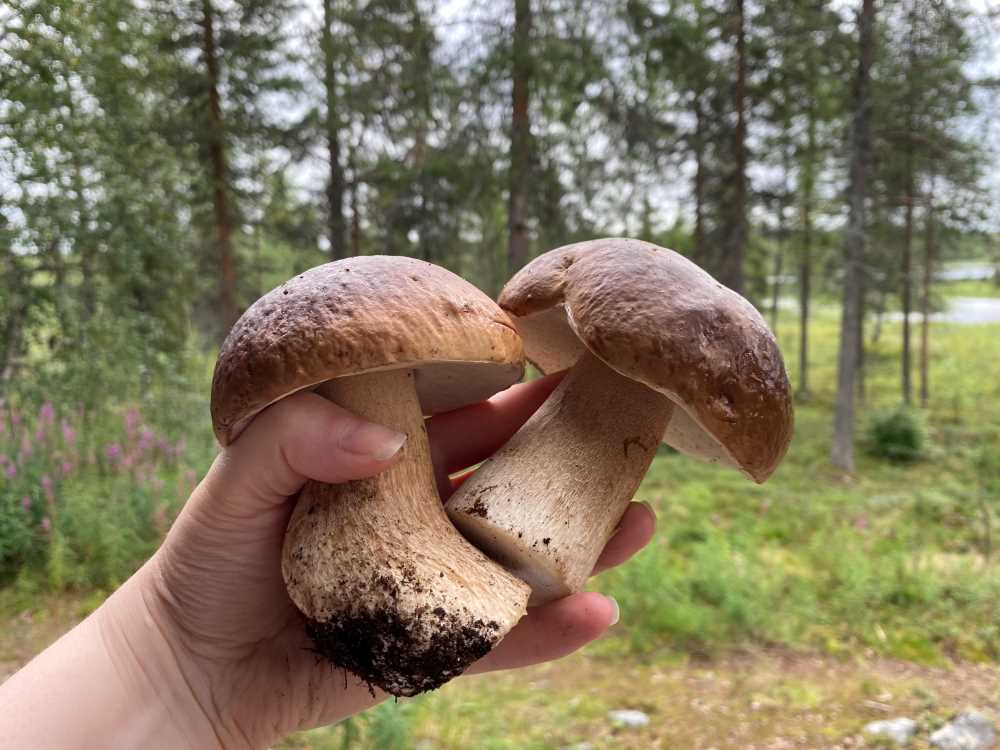 Unfortunately, believing in seida rock's capability of bringing good luck is not enough today. The villagers have been vocal about climate change and talked about how they see the effects on nature in the arctic region. Climate change is not only threatening to come, but also happening right now. Its effects are visible in Lapland. Warmer winter was especially fatal for reindeer in 2019-2020 due to how snow layers melted and froze again. It takes a bit more than a coin on the seida rock to change this course.
Directions to Näkkälä's Seita
Address:
Lauttajärventie 117
99440 Enontekiö
How to get there:
Car: From Hetta, drive north on route 93 towards Kautokeino for 25 kilometers. Turn right onto Näkkäläntie and continue for 12 kilometers. Turn right onto Lauttajärventie. You will pass by a few houses so drive slowly. There might also be reindeer on the road. Park your car at the last intersection before the lake as there is a sign prohibiting you from driving any further even though Lauttajärventie still continues. Continue walking straight towards the lake and you will see the seida on a little hill between the road and the lake.
Accessibility: This location is not accessible for all as you must cross a little ditch by the road to walk to the seida rock. Small children could visit the location, being careful by the shore of the lake.
When to go: In summer when there is no snow on the ground.
Facilities: There are no facilities in the area.

Special to remember: Keep your dog on the leash for reindeer. Trekking in wilderness areas is not suitable for inexperienced hikers.
Other sacred seidas in Lapland
We have previously visited other seidas in Lapland:
Sami sacret site Taatsi seida is a magical place
Taatsi seida, or Taatsin seita, by Taatsi lake is an ancient Sámi culture site where the local Sámi people brought offerings to the gods. It is in Pokka village between Kittilä and Inari. The seida is about 10-meter-high rock structure rising from a lake. Very impressive!
Astonishing Äkässaivo on Saivonkierros nature trail in Muonio
Äkässaivo lake and impressive seida rock Seitapahta in Muonio can be visited by a 3 kilometers long circle trail called Saivonkierros.
Pakasaivo, the Hell of Lapland
Pakasaivo lake and Kirkkopahta seida rock are located 25 kilometers from Äkäslompolo village and 13 kilometers from Hannukainen in Muonio, Lapland. This remote nature destination contains many fascinating stories.