Vihiluoto coastal trail next to the Gulf of Bothnia departs behind Finlandia Airport Hotel Oulu. Vihiluoto provides a variety of outdoor activities such as birdwatching to check out the local bird life in the area. The trail is popular among dog owners.
We visited the coastal trail in early spring, but I have heard that the area is especially nice during summer with beach, football field, beach volleyball field and plenty of other activities available. You can even rent a canoe or a rowing boat from the hotel reception. Check out the official website of Vihiluoto for more information. The accessible trail is about 800 meters long, but you can continue walking along Torpankuja to the peninsula, where there is a small boat harbor in summer. You might be able to find one geocache from the area.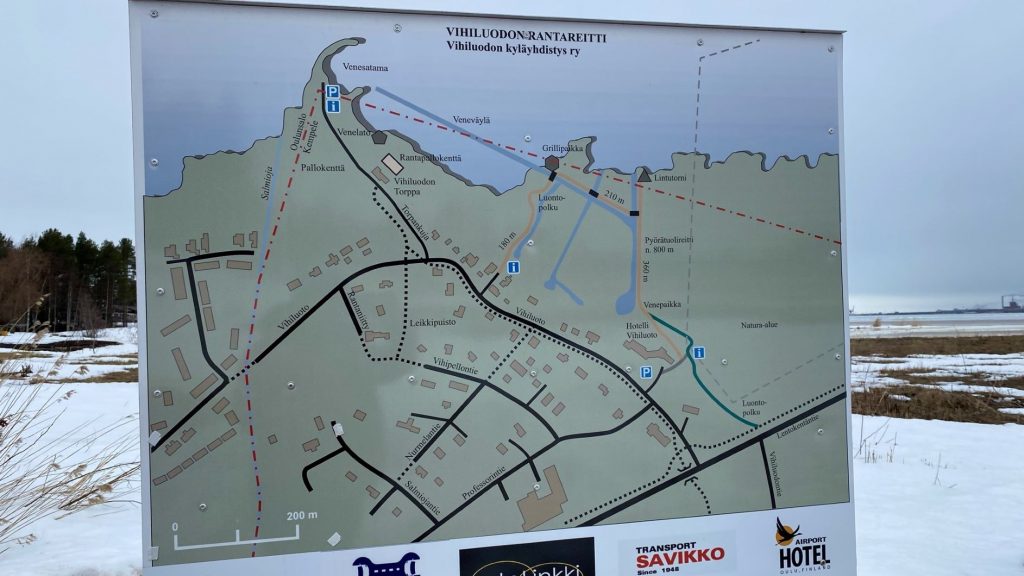 East of the nature trail you will find Kempele Bay. It is a protected area close to the city of Oulu. There is another birdwatching tower that is accessible by duckboards. There are hundreds of birds that nest in the area. Among the birds that can be seen from the birdwatching towers in the area are green sandpiper, redshank, common buzzard, common shelduck, western marsh harrier, white-tailed eagle, and many other waterbirds.
Directions to Vihiluoto coastal trail
Address:
Finlandia Airport Hotel Oulu
Vihiluoto 10
90440 Kempele
How to get there:
Car: Type "Finland Hotel Airport Oulu" to your navigator or use the address "Vihiluoto". The hotel is about 4 kilometers from highway 4 / E8.
Public transport: The nature trail is easily reached by public transport from the center of Oulu. Take for example by 9K from Virastotalo towards Airport of Oulu. The closest bus stop is called "Vihiluoto E". Tickets and information: Oulun joukkoliikenne / Oulu public transport.
Accessibility: The accessible trail is 800 meters long.

Facilities: A birdwatching tower and a fireplace. Several outdoor activitities available within close proximity to the nature trail.
When to go: This area can be visited anytime of the year. The best time for birdwatching begins at the end of April.
What to wear: Don't forget your binoculars for birdwatching. You should note that it can be windy and chilly in winter, but swimming suit might be useful during warm summer days.