A rock formation called Kastelli Giant's Church in Pattijoki in Raahe is the largest of its kind in Finland. What is it? And why is it worth visiting if you are in Raahe or driving by along highway 8? This impressive historical site provided us with plenty of surprises when we visited it in August.
What are Finnish giant churches?
A giant's church, jätinkirkko or jatulinkirkko in Finnish, is the name given to prehistoric stone enclosures. There are about 40 of them in the Ostrobothnia region of Finland. Although located inland today, they were originally on the seashore when they were used.
Last Ice Age took place 11 500 years ago, and during that time Finland was at times fully covered with ice. When the ice began melting, it revealed land areas from the south upwards. While northern parts of the country were still covered by ice, the first people inhabited the southern areas in 8850 BC. That marks the beginning of Stone Age in Finland. The Neolithic period took place from 5200 to 1700 BC. Giant's churches originate from the Sub Neolithic period, circa 3000 to 2000 BC.
Kastelli Giant's Church is an enormous mystery
Kastelli Giant's Church is also known as Pattijoen Kastelli as it is in former Pattijoki municipality, now part of Raahe. It's officially called Linnakankaan Kastelli, after Linnakangas, which is the ridge where the giant's church sits.
Kastelli Giant's Church, which encloses an area of 60 by 35 metres (197 by 115 ft), is a rectancle rock formation with rounded corners. The outer walls are seven meters wide and one or two meters high. There are six gateways in the main structure. Nobody knows why, but giant's churches were constructed in specific solar orientation, like Stonehenge.
Near to the giant's church, there are more than 30 different pits and stone structures. Six of them contain traces of long-term residences, which have not been found inside of the main structure. In Stone Age, people in Finland lived in log framed huts. It's uncertain whether the dwelling sites existed at the same time when the Kastelli was in use. It could have been a castle and a small village. But for a defense castle it sits in an odd location and has a lot of openings.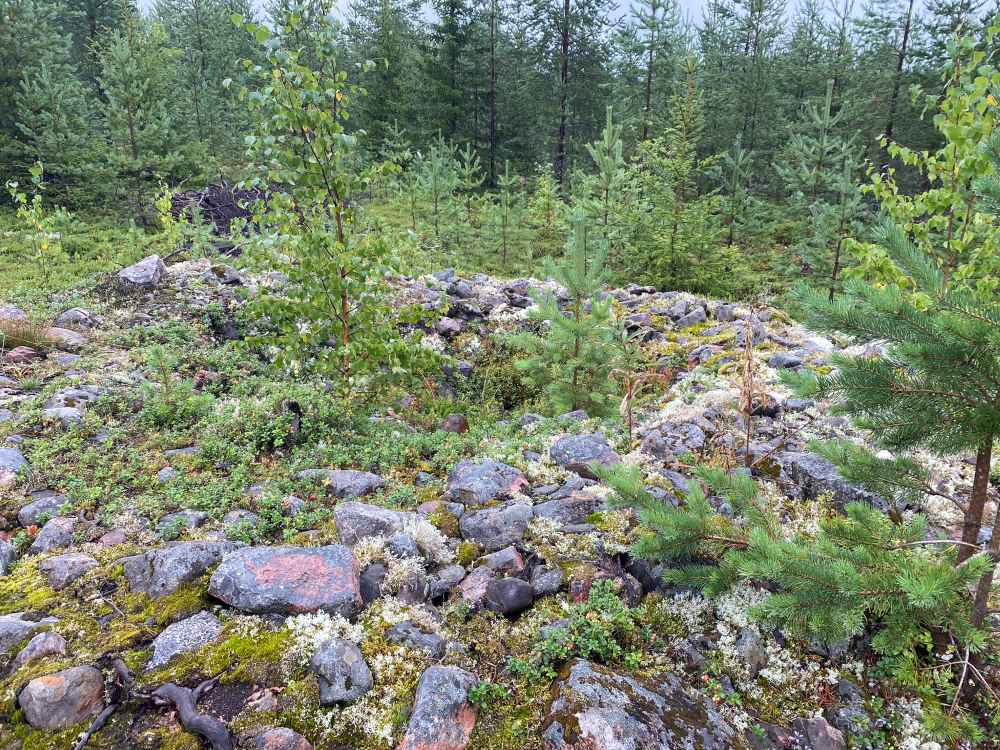 It is still uncertain how old the structure is. It is now believed that Kastelli Giant's Church dates to around 2500 BC. It has been researched since 1850. Parts of the site were excavated in the 1920s. At that time there was a strong hypothesis, that Kastelli was only a natural seashore. That was later revoked.
Whoever built Kastelli, lived by catching seals and waterfowl, and fishing. They were hunter-gatherers who belonged to the Pöljä ceramic culture and returned repeatedly to the same places. Some may have already settled permanently in their areas. A couple of hundred years later, around 1800 BC, the giant churches were abandoned, and the Bronze Age began.
The biggest mystery remains. What was Kastelli Giant's Church used for? Was it used in seal hunting? Was it a ceremonial monument? Or was it used for both, at various times? As I was standing at the Kastelli Giant's Church in the quiet forest, I was impressed by the mystery that it holds. Who knew that we have our own Stonehenge in Finland!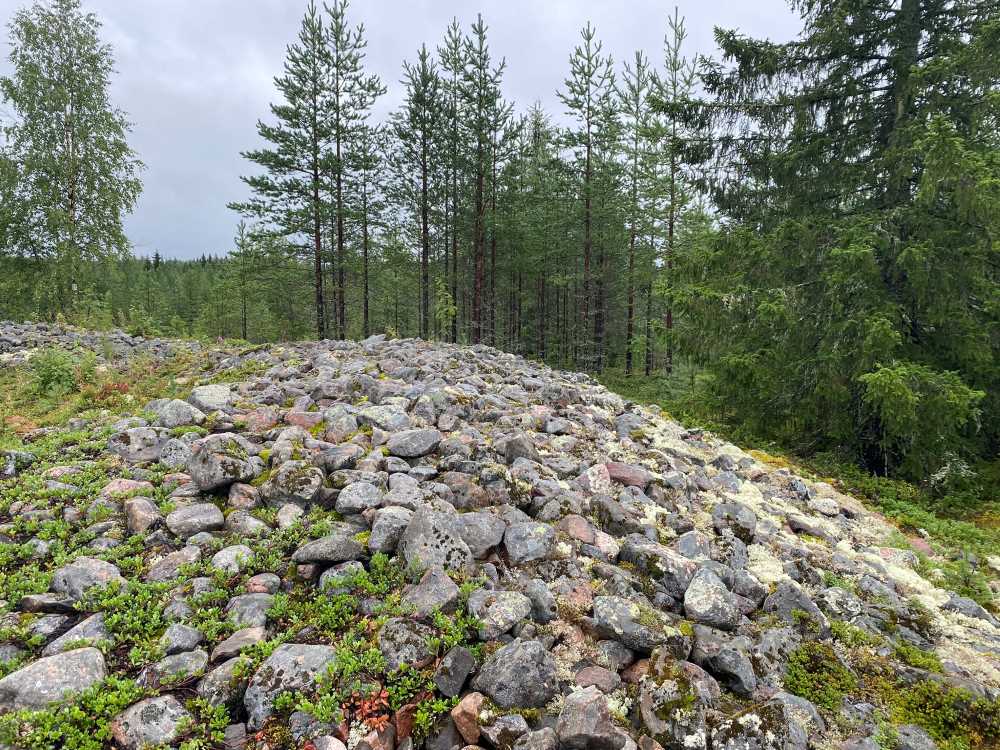 And then we were caught by surprise
When we were admiring the Kastelli Giant's Church, we were caught by a surprise. Turns out, there are some residents at the moment. A huge adder was moving slowly on the ground. It scared me, mainly because it was so close to my dog Nalle. We whisked Nalle away and I tried to take few photos of the adder without disturbing it. It was a little curious. I guess we both were.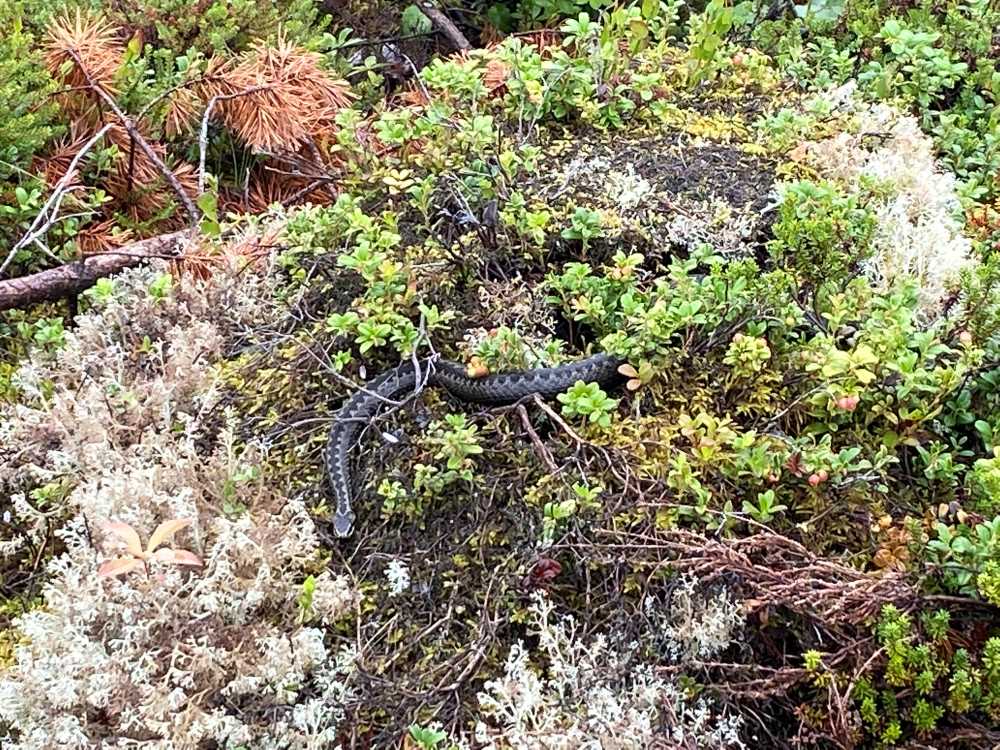 Adder, also known as viper, is Finland's only venomous snake species. It's usually easy to recognize by the dark dorsal pattern on its back. They can also be black, and then it could be mistaken with non-venomous grass-snake. The grass-snake has yellow dots behind its head. Female adders are usually brownish, the males are pure grey with black markings. The biggest adder found in Finland is 94 cm long. If you ask me, this is it, because I swear this had to be nearly a meter long.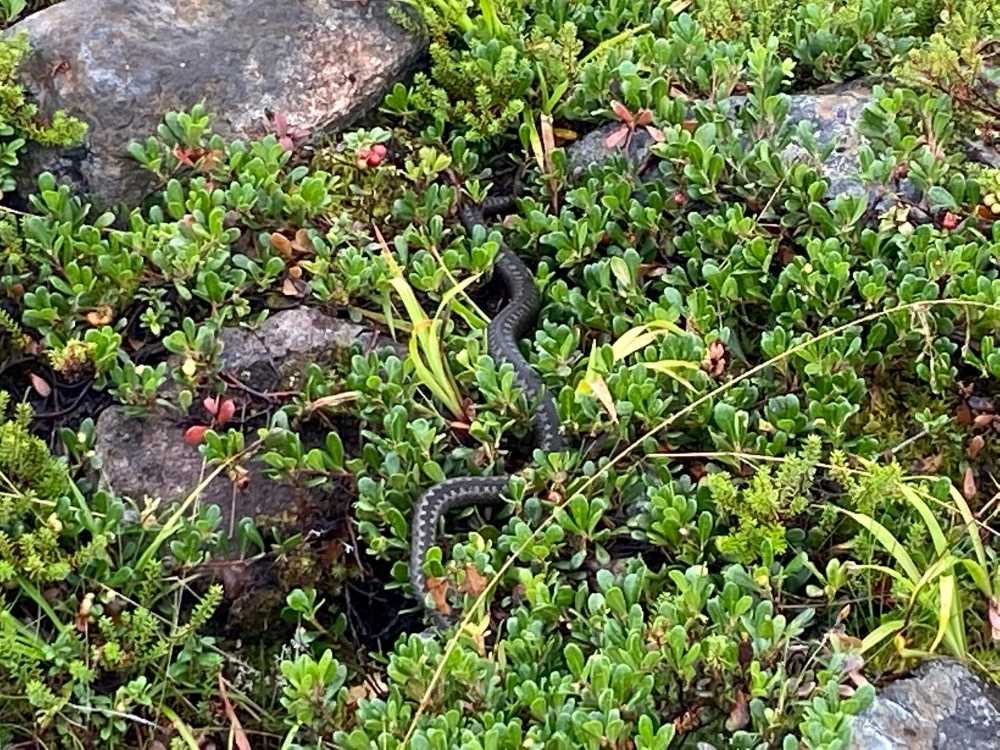 Like this friendly little creature, adder is not aggressive and usually bites only when provoked, stepped on, or picked up. So, stomp your feet to let them know you are approaching, and they usually slither away without you even seeing them. Adders hibernate through winters. In Finland, you might encounter them from April to September. They especially like edges of fields and marshes, a rocky terrain that provides a nice shelter for winter, and an opening that guarantees plenty of sunlight. There might be several, even hundreds of, snakes hibernating in the same location, and they return there year after year. Interestingly, adders can live up to 25 years old.
Directions to Kastelli Giant's Church / Kastellin jätinkirkko
Address:
Kastellin jätinkirkko / Kastellin linnanrauniot
Linnalantie
92240 Kastellinperä Raahe
Car: The parking lot can be found near Linnalantie at Ylipää village in Raahe. There are good signs guiding you from Kastellintie road.
Bicycle: You can reach the area by bicycle following the same route as cars.
Public transport: You can reach the area by bus from Raahe. The closest bus stop is called Ylipää, 2,3 kilometers away from the destination. See tickets and timetables at Matkahuolto website.
Accessibility: This area does not offer any services for the disabled.
When to go: Whenever there is no snow on the ground.
Facilities: There is an outhouse by the parking lot. You can also find a short nature trail in the area.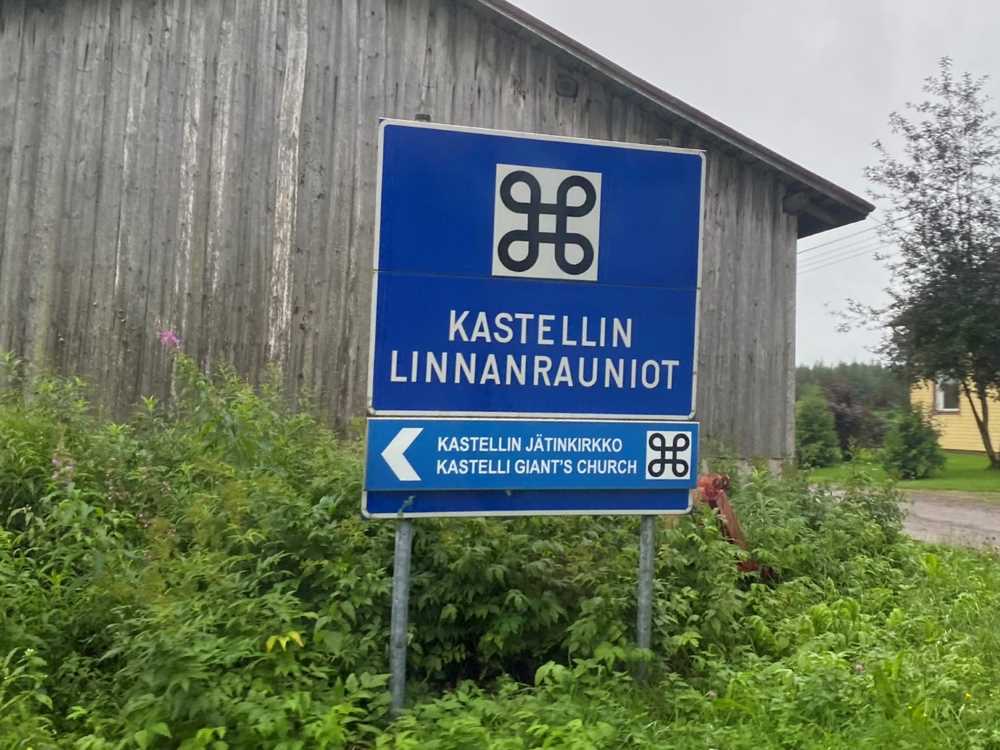 Visit nearby
Alakestilä Arboretum in Liminka can also be found in the Northern Ostrobothnia region in Finland. The arboretum is spread over an area of about three hectares on the banks of the Liminka River. There are many domestic species of trees and shrubs at the arboretum, but also some exotic rarities.