Devil's church of Puolanka and its protected forest are located next to Paljakka Nature Reserve in Kainuu region of Finland. The Devil's church is a unique nature sight and rock formation worth visiting if you are in Puolanka. What is the story behind this thrilling nature destination? And why is it known as the Devil's church?
The Devil's church and Paljakka are both protected by Natura 2000. Paljakka Nature Reserve was protected by law already in 1956 and expanded in 1981 and 1992. In 1998, the Devil's church forest, Pirunkirkko in Finnish, was also protected. Louhenjoki river runs next to Holstinvaara and Latvavaara hills that are part of Paljakka nature reserve, and Pirunkirkko protected forest is a separate area on the west of the river.
Devil's church makes your imagination run wild
There are several devil's churches in Finland as devil's church is a common name for a peculiar rock formation that makes your imagination run wild. The Devil's church of Puolanka, Puolangan Pirunkirkko, is perhaps the most famous one. It is located in Louhenjoki river, which runs through steep and rocky gorge. The gorge alone is an impressive sight from the top.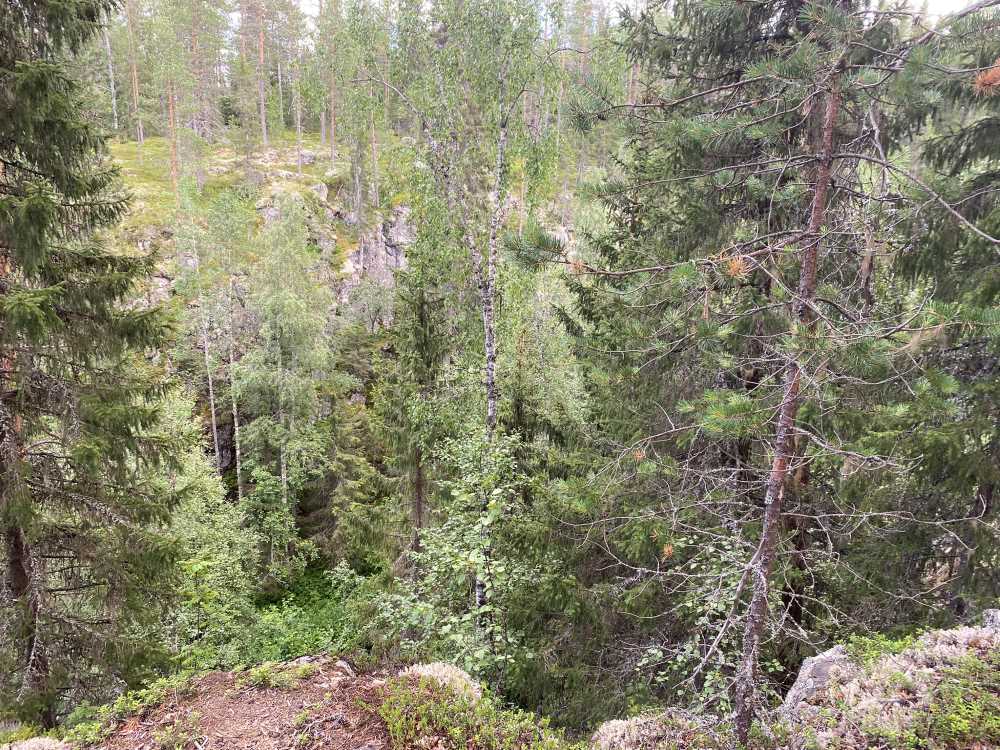 Once you descend to the river and find the rock formation upstream, it's easy to understand where this place gets its name. According to one legend, the place was called Devil's church by a local priest who thought one rock reminded him of pulpit. One legend is about a lumberjack, who had climbed on top of the rock to share his stories while other's thought he is preaching like a devil.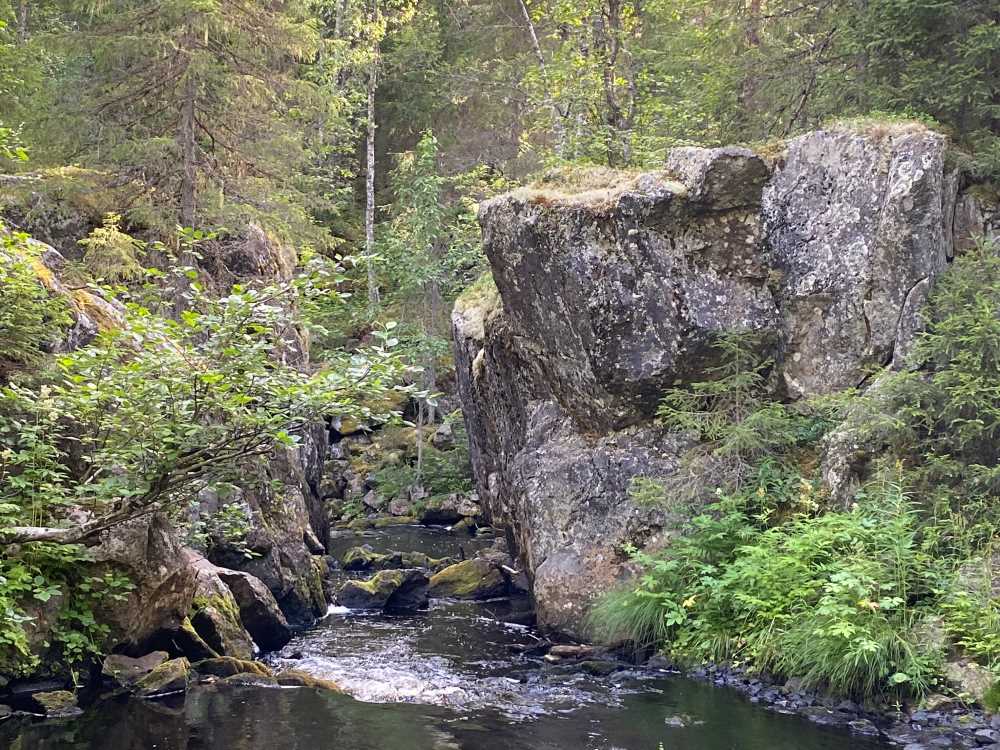 I felt a bit scared, standing by the stream leading through this rock formation and staring at the Devil's pulpit. On the other hand, this location served as a great reminder that nature always finds its way, just like the river has. My dog Nalle wanted to go for a swim, as usual, but I felt this place is too sacred for playing in the water. We sat on the shore for a while, listening to the little rapids in the river.
I was thinking about the lumberjacks and their work. I had an image in my head that their job was about balancing on logs in a huge river and rapids. But it must have been incredibly challenging to get logs through places like this. I would struggle to get a match through those rocks, let alone logs.
Devil's church of Puolanka is a challenging nature destination to reach
According to Metsähallitus, "the path is easy to navigate, and stairs and duckboards have been built in difficult places". This information is simply outdated. The old trail with beautiful stairs and duckboards is not in use anymore. Here's what happened to the trail and staircase in a storm in 2014 (in Finnish): Pirulliset säät sulkivat tien Pirunkirkolle.
So, you must make your way to the second parking lot 150 meters further. The sign at the second parking lot says 0,3 km to the Devil's church, which is untrue. After 300 meters, all you will find, is another sign pointing 0,3 km to the Devil's church. But the distance is not the issue.
The trail gets extremely challenging near the river. At the top of the gorge, there are some ropes. There are no observation decks nor any structures near the gorge to guarantee your safety. Last hundred meters to the Pirunkirkko are demanding and require little bit of climbing over some rocks. Keep this in mind when visiting the Devil's church.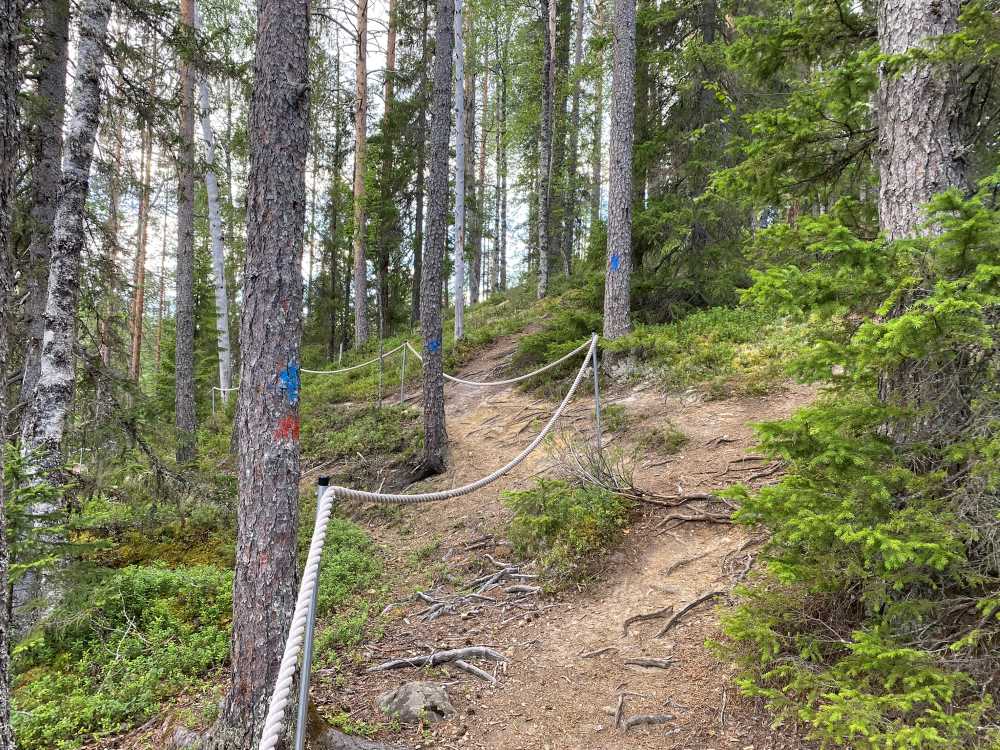 Directions
Address:
Pirunkirkko
Holstintie 34
89140 Puolanka
How to get there:
Car: From Hoikanvaarantie, turn to Holstintie. The first parking lot is where the blue trail crosses Holstintie road, but that is the old and closed trail to Pirunkirkko. You can, however, reach the day hut from there. To access Pirunkirkko, you must continue 150 meters to the second parking lot, which in this map is the red dot Olet tässä. From there follow the trail towards Pirunkirkko. When you arrive in the gorge, walk north to find the rock formation.
Bicycle: You must cycle on the side of the road. Cycling along the Pirunkirkko trail is not possible.
Public transport: There is no public transport available.
Accessibility: This location is not accessible for all and not suitable for families with small children.
Special to know: The Paljakka Nature Reserve can be visited by a nature trail, but it is not meant to be explored outside of trails. Berry and mushroom picking at Paljakka Nature Reserve is prohibited. Moose hunting is prohibited at Paljakka Nature Reserve but allowed in Pirunkirkko forest. Keep this in mind if you are visiting the area during moose hunting from October onwards. Fishing at Louhenjoki river requires a permit. 
Facilities: There is a day hut near the Devil's church, downstream.
When to visit: In summer months when there is no snow on the ground. I would not recommend this at all during rainy (=slippery) weather.
Check out also