Our nature bloggers' Finnish Nature Day meetup in a sauna cottage was a testament to the power of nature and the bonds it can create. Finnish Nature Day, also known as Suomen luonnon päivä in Finnish, is a special occasion that allows everyone to go out in the nature and celebrate the breathtaking natural heritage that makes Finland so unique. This year, our nature bloggers' meetup took place at Poikkipuoliainen sauna cottage located in Somero in Western Finland.
Finnish Nature Day is also an official flag day
The Finnish Nature Day is celebrated on the last Saturday of August. It is a new tradition since it was celebrated for the first time in 2013. In 2017, the Finnish Ministry of the Interior issued an official flag recommendation for Finland's Nature Day. At that time, Finland reportedly became the first country in the world to officially fly a flag in honor of its nature. Flagging was also recommended in the following years until the Ministry of the Interior announced that from 2023 onwards, Finland's Nature Day will be an established flag day.
One of the primary goals of Finnish Nature Day is to encourage people to spend time in the great outdoors and celebrate the pristine nature of this country. You can find out more about the day and its celebrations from the official website of Finnish Nature Day, maintained by Parks & Wildlife Finland, Metsähallitus.
The Finnish sauna cottage Poikkipuoliainen: A perfect gathering spot
Finland is known as a country where nature and sauna go hand in hand. What could be a better way to spend Finnish Nature Day than to head outdoors and heat up sauna in the evening?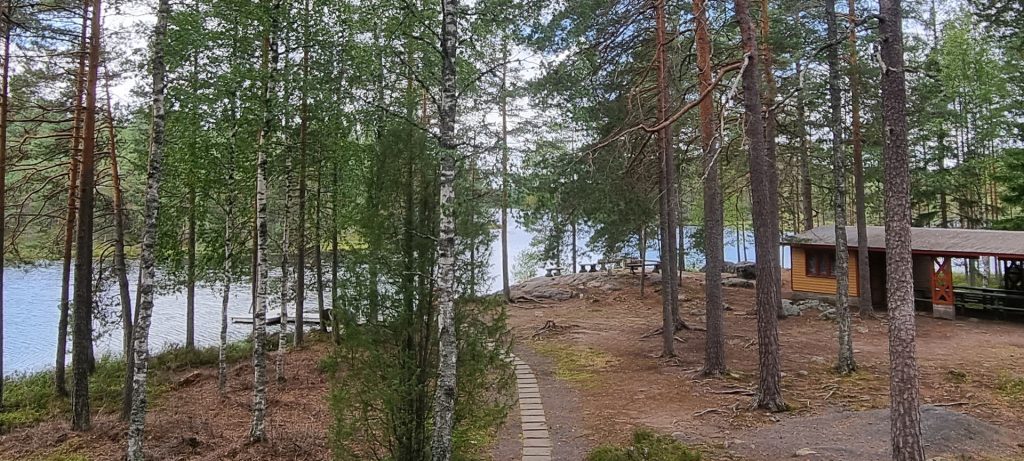 We packed plenty of food with us and met at Poikkipuoliainen sauna cottage. It's a sauna that you can rent from the municipality of Somero. It's located in the middle of the forest by the beautiful Poikkipuoliainen lake. Apparently, there is another Poikkipuoliainen at Vihti, but luckily none of our bloggers went to the wrong place.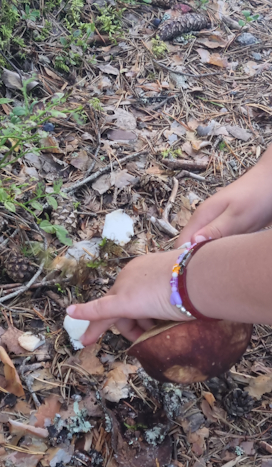 Our day began with an outdoor lunch, but more about the food in the following post. After the lunch, some of us decided to head to a forest to forage mushrooms and blueberries. We found plenty of berries from a spruce forest nearby. Also, our mushroom baskets soon had many chanterelles, slippery jacks, penny buns, and hedgehog mushrooms.
There was a rowing boat available to use at the cottage, but it was chained to a tree with a lock and there were no oars in sight. This cottage was lacking some instructions, because it feels like we were always looking for something. Eventually, we managed to find the key to the boat from the cottage and proper oars, in addition to the very old oars we also found from the firewood shelter. We had brought life jackets with us, so kids were able row on the lake safely. The lake turned out to be generous as we caught few perch with a worm fishing rod.
Heating the wood-burning sauna and swimming in the refreshingly cold lake was one of the highlights of our day. We also played some traditional cottage yard games before barbecue dinner. As we shared stories, laughter, and the beauty of the Finnish lake and forest, we discovered that no matter where we roam, our shared love for nature unites us.