Viitankruunu is an ancient tomb site located in Salo in Southwest Finland. Viitanmäki hosts three Bronze Age burial mounds on top of a hill overlooking Halikonlahti bay. Out in the Nature bloggers visited Viitankruunu at the end of June, and our visit turned out to be Indiana Jones-like adventure!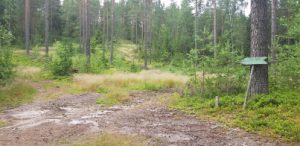 We all gathered at a parking area next to the forested area where all the burial mounds were located. Happy to notice there were little signposts leading into the correct area, we headed off. The went slowly uphill through knee-high grass.
The first two burial mounds were on the left side of the trail, up a slightly steeper hill with some loose rocks. The one on the left was perched right next to a drop, the other one stood further away and had a hole in the middle.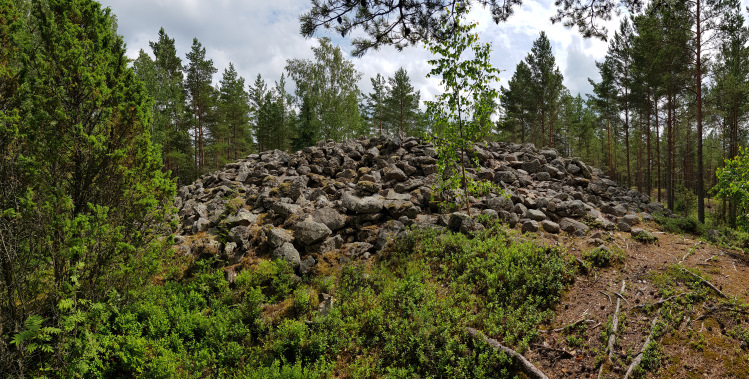 When we came down and returned to the trail, we soon found a sign showing the multitude of burial mounds in the area. Even though only in Finnish (unfortunately), the sign tells about the significance of the area. The Salo area is, in fact, one of the most important Bronze Age burial sites in Finland.
Viitankruunu, the largest burial mound
Viitankruunu is the largest of the burial mounds with a size of 25 x 22 x 4 meters. According to a research conducted in 1886, the largest mound covers burnt bones, that are on a smooth stone slab on top of a layer of sand. In addition, a piece of a clay dish, a piece of sharpened silicon, and some carbon were found. All three tombstones are constructed of rounded boulders, and have a pit in the middle. It is probably due to their crown-like shape why the largest one is called Viitankruunu.
Bronze Age tombs in Finland
Heap tombs made their way into Finland from other Nordic Countries during the Bronze Age. During the Bronze Age in 1500-500BCE, connections across the sea to other countries increased. Ancient Finns adopted many traditions such as heap tomb burials.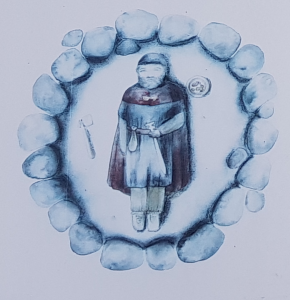 Notable persons revered by their communities were buried in these monuments so that they would always have a good view of the water. The water level was 15-20m higher in the Bronze Age, so people buried here had fantastic views over the gleaming waters.
These tombs are called röykkiöhauta in Finnish but they are also known as barrows or burial mounds depending on how they were built and where. They were used until the 12th century, after which other burial practises mainly from Christianity replaced them.
The tombs also have their place in Finnish folklore. When the real meaning behind burial mounds was forgotten in history, superstitions began to take hold. They began to be known as giant's stoves, hiidenkiuas in Finnish. It was thought that goblins (hiisi) or devils lived inside these mounds.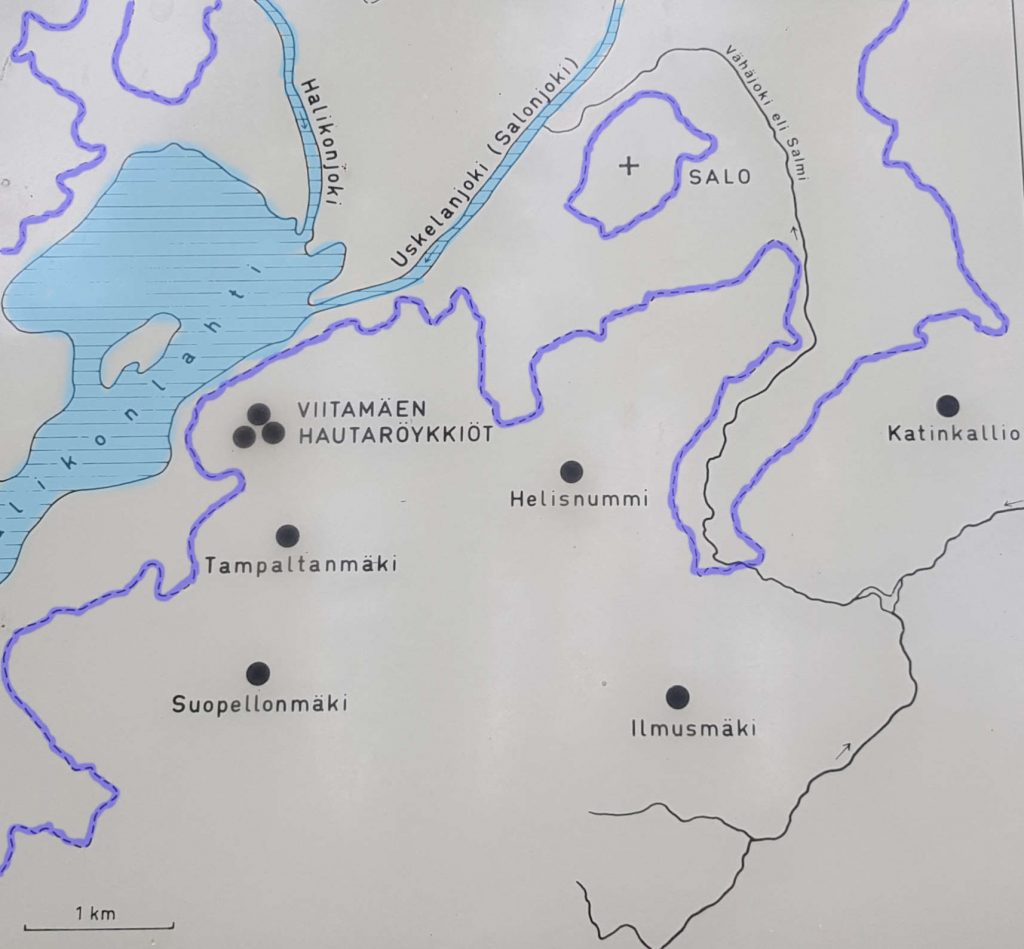 Directions to Viitanmäki
Address:
Viitanmäen hautaröykkiöt / Viitankruunu
Merikulmantie 261, Salo
How to get there:
Car: Use the approximate address "Merikulmantie 261". There is a sign to "Viitankruunu" pointing towards the parking lot by Merikulmantie road.
Bicycle: Viitanmäki is located about 4,4 kilometers from Salo market square, so it is easily reached by bike from the center of Salo.
Public transport: There is a local bus route (number 3) passing the area from bus station of Salo. The closest bus stop is called Viitannummi only few hundred meters from the parking lot. See timetables and tickets (in Finnish) at Paikku website.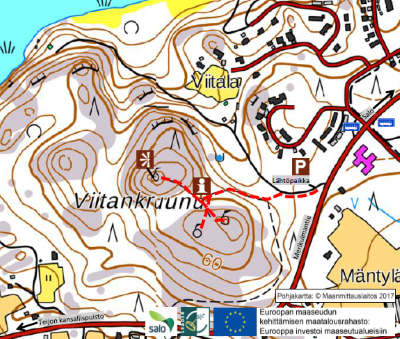 Accessibility: There is a trail leading to the burial mounds but it is not suitable for buggies or wheelchairs. However, the climb is very moderate, so it is doable with children or those hard of walking.
What to wear: No special gear is necessary. However, remember that vipers (indigenous snakes) prefer the crevices of the tombs. We spotted one, and survived the snake encounter like Mr. Jones, only with a small scream. Always stomp your feet to make sure any unwanted visitors stay further away. There may also be ticks, so make sure to check for them when you are done with your adventure.
When to visit: Viitankruunu can be visited only when there is no snow on the ground.
Special to know: The burial mounds are protected by law. Do not move any rocks. Please note that there is no upkeeping of this site as that has been terminated by Finnish Heritage Agency. Make sure you carry your trash away. We picked some cigarette butts from the area, as they don't belong in the nature.
Check these out, too
If you are interested in history, you can find similar Bronze Age heap tombs mainly around the southern coastal areas of Finland. There is one only some kilometres away on the top of Ilmusmäki! You can also visit them at Hanikka in Espoo, and Lehtisaari or Kasakallio in Helsinki.