Ristinpolku in Toholampi is a memorial trail for two young girls who got lost while foraging cranberries in 1906. Toholampi is a small municipality located in the region of Central Ostrobothnia in Finland. It is a rural area characterized by flat terrain, forests, and particularly vast marsh areas. I was passing by Toholampi and at random stopped near this location to take my dog Nalle for a walk. I noticed a sign towards Ristinpolku, and I became intrigued. What is Ristinpolku trail, and why is it here?
Tragic story of Lempi Saario and Aili Kopsala
I learned that in April 1906 four young girls from Kopsala village, Lempi and Siiri Saario as well as Aili and Hilda Kopsala, went to forage cranberries from Rytineva bog. Hilda and Siiri returned home while 8-year-olds Aili and Lempi continued looking for the berries. The girls got lost.
A man called Kalle Peltola had been collecting firewood from a forest when he heard angels cry. He was so far away from any houses that he didn't think it could have been a living soul crying. Subsequently, he discovered the girls' disappearance and recounted his experience of hearing an angel's cry in the vicinity. Unfortunately, it was too late and the girls were found dead from this location three days after they went missing. They had wondered about 10 kilometers trying to find their way back home.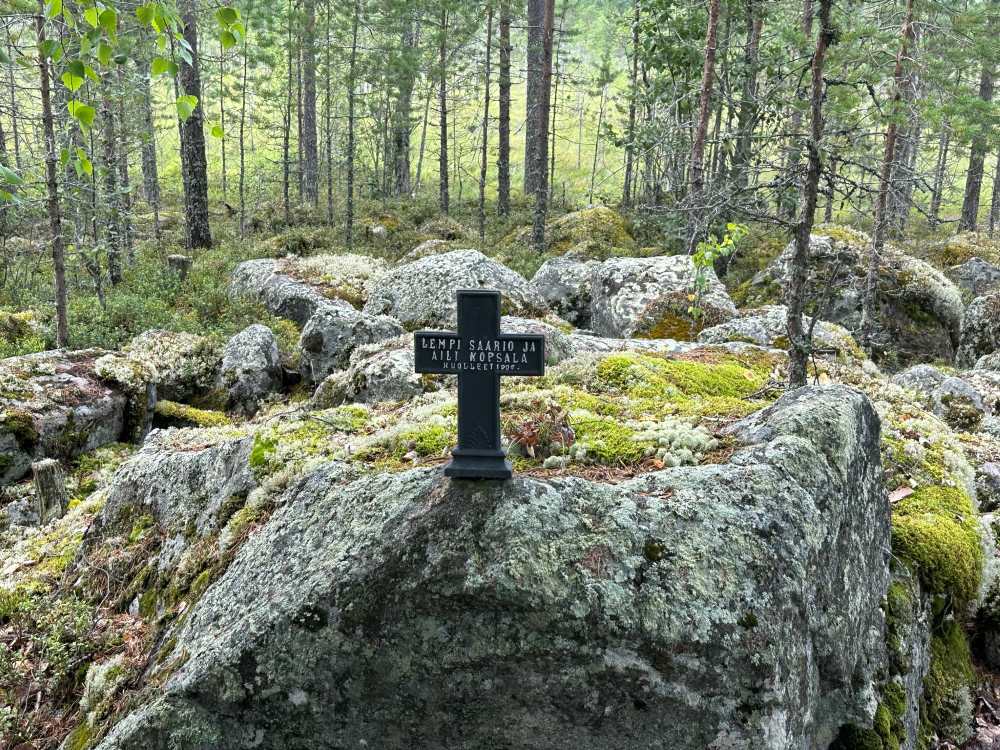 I sat down and stared at the iron cross that had their names on it. I wondered what life had been like for these girls. At those days, there were no rubber boots. It was April, so it must have been cold at night. Main form of transportation was walking and horse carriages as the first automobiles had only just arrived to Finland. In early 1900s many people went to seek better life in America, especially from this region. Life must have been really hard. The girls were foraging cranberries to survive.
Maan korvessa kulkevi lapsosen tie,
vaan ihana enkeli kotihin vie.
Niin pitkä on matka, ei kotia näy,
vaan ihana enkeli vieressä käy,
vaan ihana enkeli vieressä käy.

Hymn: Maan korvessa kulkevi lapsosen tie
The path of the little child wanders in the wilderness,
but a lovely angel guides her home.
The journey is so long, home is not in sight,
yet a beautiful angel walks by their side,
yet a beautiful angel walks by their side.

Loosely translated from traditional hymn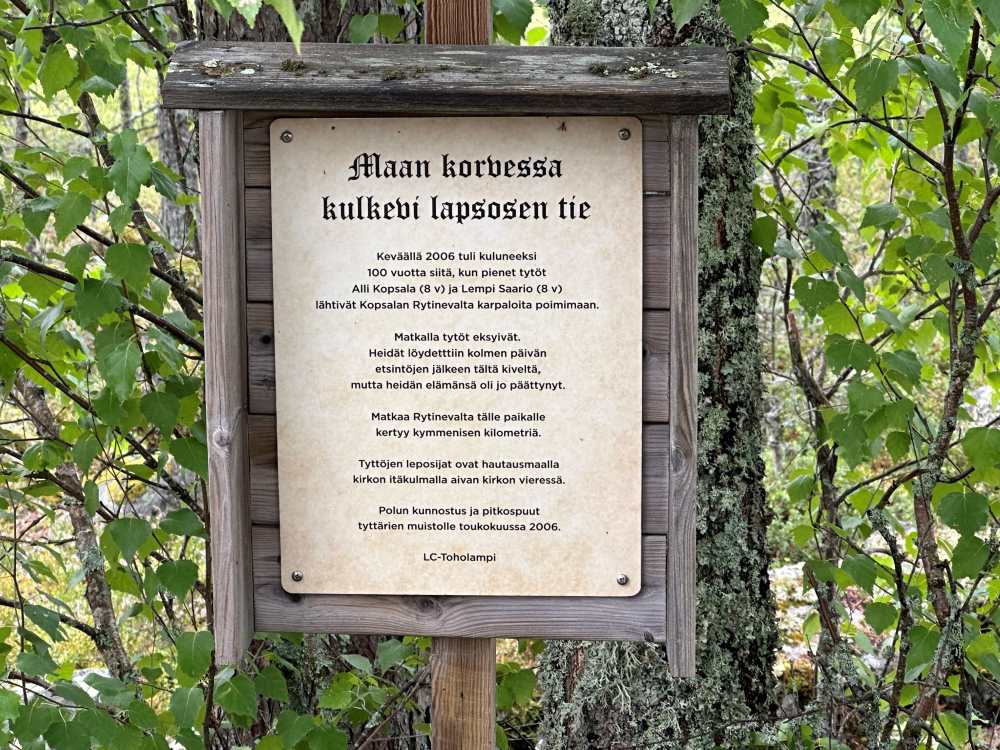 Aili Kopsala and Lempi Saario have been buried in Toholampi cemetery. A hundred years later, in 2006, Lions Club Toholampi constructed duckboards and benches to this memorial. The duckboards were renewed in 2022 and they were in excellent condition when I visited this place.
Directions to Ristinpolku in Toholampi
Car: From Toholampi, head southwest on Ullavantie/Route 63. In about 9 kilometers when Iso Hongistonjärvi lake is on your left, turn right to a small forest road when you see a sign towards Ristinpolku.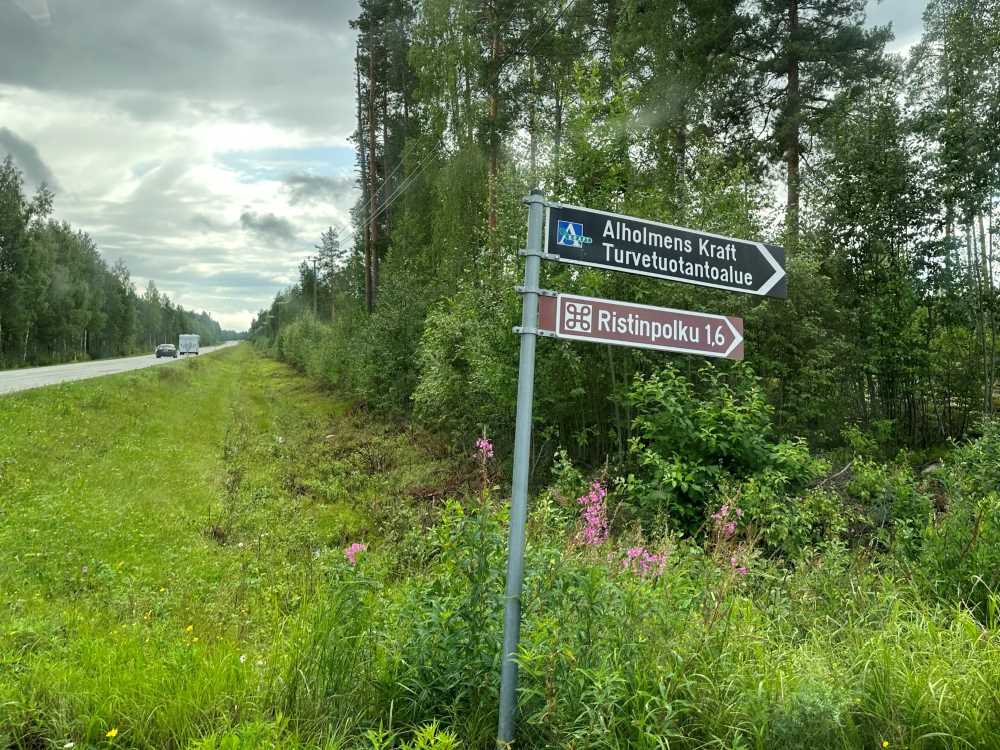 Drive along the small road for about 1,4 kilometers until you see another Ristinpolku sign pointing to the forest. There is a peat production area nearby, so please be aware that there might be truck traffic on this road. The trail from the road to the memorial is only about 200 meters long.
Facilities: There are no facilities in the area.
Accessibility: This trail is not accessible for all. There are duckboards along the trail.
When to go: I recommend visiting this place when there is no snow on the ground.
Visit nearby